Civilians
A number of local people also recalled their memories of RAF Wick during the war.
Mrs Jean Murray, Inverness
Mr James Bremner, Wick
Mr David Miller, Upper Ackergill Farm, Nr Wick
Don Harper, Halkirk
John Miller, Wick
Others
Probably the largest number of letters we received could not be put into any specific category but were from men involved in a wide range of activities at Wick airport. Others tell of specific memories of events or people they met.
John Telfer, Glasgow
J W Hazeldine, Sedgely, West Midlands
Flt/Lt Thomas Hasty, Blackpool, Lancs
Mr C F Cheekley, Newport Pagnell, Bucks
Hubert Nettleton, Leeds, West Yorkshire
A Connelly, Blairgowrie, Perthshire
Rev Leonard Arridge, Bangor, Gwynedd
Jack Hughes, Mold, Clwyd
G Angus, Leven, Fife
E J Curtis, Shifnal, Shropshire
Ray Weir, Bury, LancsKenneth Marsden, Bolton
Frank Manson, Wolverhampton
L Turner, Wolverhampton
Mr E Dover, Over Hulton, Bolton
Charlie Simpson, East Kilbride
Dane Dunnett, Great Sutton, South Wirral
G G Lang, Glasgow
Ron Whyte, Margate, KentDouglas Johnston, Lochgelly, Fife
Alex Campbell, Duns, Berwickshire
J Scanlaw, Barlanark, Glasgow
Mr T Cooper, Braintree, Essex
Ernest Dawson, Sutton Coldfield
T Gwynn Jones, Menai Bridge, Gwynedd
Ernest Neil, Heaton, Newcastle Upon Tyne
L M MacRae, Northampton
Mr Steven Batt, Dudley, Worcestershire
James Swanson, Edinburgh
Mr P Woods, Glasgow
Mr E A Holt, Flint, Clwyd
Mr S Kennedy, Montrose, Angus
C W Cox, Newton Abbot, Devon
Robert Y Carnie, Edinburgh
Women At War
A great number of women were posted to Wick during the war to aid the work of the Royal Air Force. Many women wrote and told us of their wartime experiences in Wick.
Mrs Sue Best, Hartlepool, Cleveland
Wilma L Hall (nee Dewar), Belmont, Durham
Pam Dickson, Alloa, Clackmannanshire
Miss Barbara Guild, Blairgowrie
Sheila Thomson (nee Rankin), Edinburgh
Doris Jones, Long Whatton
Mrs W Vickerstaff, Belper, Derbyshire
Mr & Mrs R Conner, Thornliebank, Glasgow
Vi Mitchell, Dundee
lsobel Harvey, Newcastle Upon Tyne
Mrs Elizabeth Robertson, Dundee
Mrs Frances Smith, Darlington, Co. Durham
Mrs M Young, Glasgow
Mrs Helen Rowan
Mrs N Watson, Stourbridge, West Midlands
Mrs C F Elkington, Braintree, Essex
Airfield And Aircraft Defence
Although at first, the Seaforth regiment carried out airfield defence in Wick, RAF regiments later replaced them. A number of artillery units were also placed in the area to defend against attacking aircraft. Replies were received from a number of men involved with these activities.
Colin Campbell, Haywards Heath, West Sussex
D G Jubb, Norton, Near Doncaster, South Yorks
Roy Jack, Crosby, Liverpool
Alick George, Cross Heath, Newcastle, Staffs
Mr J Cowan, Dalkeith, Midlothian
D E Reynolds, Wolverhampton
J Thorpe, Farnworth, Bolton
W H Newton, Wickford, Essex
Kenneth Williams, Newbridge, Newport
Glad To Land
Although not stationed at Wick some airmen were only too delighted to land there. We received two such replies.
D Thomas, Eaton, Grantham
Frank Harper, Pathfinders, North Cornwall
Fighter Squadrons
Fighter squadrons were based in Wick for the early months of 1940 as protection for Scapa Flow. Later the fighter squadron were more likely to be based at the satellite station of Castletown. Only one reply was received from a member of a fighter squadron based at Wick.
Mr C H Grace, Southampton, Hants
Squadrons 48 & 608
E W Robinson, Southampton
Leo Maturi, Birmingham
Flt Lt Douglas A Weaver, Birmingham
Andrew Hendrie, Storrington
Mr S Chaffers, Liverpool
Mr W F Booth, Portsmouth
Charles W Brown, Banff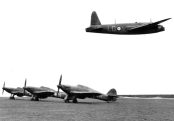 Hurricanes & Lancaster at Wick
Probably the aeroplane which flew from Wick more than any other during the first three years of World War Two was the Lockheed Hudson. This plane was involved in reconnaissance, anti-submarine patrols, convoy escort and strikes against the enemy in Norway and Norwegian waters. The following letters were received from those who helped perform and support such activities with Lockheed Hudsons in squadrons 269, 48 & 608 and 220.
Squadron 269
Ex Wing Commander T.R.N. Wheatley Smith,
Hitchin, Herts
Kenny Martin, Glasgow
W LeRay, Ramsgate, Kent
J Owen-King, Worthing, West Sussex
E Preston, Forfar, Angus
David Stirling, Ardrossan, Ayrshire
Jim Robertson, Newmill, Keith
M Saunders, Renfrew
Alex Scott, Wyke, Bradford
Squadron 220
Eric A Stone, D.F.C., Dunmow
R R Smith, Billingham, Cleveland
Squadron 612
Another squadron, which could be classed as "Scottish" and were based at Wick was 612 squadron - the City of Aberdeen Auxiliary Squadron - which flew Whitley aircraft from Wick and were involved mainly in convoy patrol and anti U-boat activity.
Cliff Peters, MBE, Bristol
Duncan Radburn, Stockton on Tees
James McMallan, Aberdeen
H M (Bunny) March, Canada
Mr H J Belcher, Newcastle-upon-Tyne
R Walker, Newbiggin-by-Sea
Gordon Anderson, Aberdeen
John Adam, Ellon
Mr 0 Dennett, Anlaby, Near Hull
Met Flights
In the second half of World War Two, Wick became home for important meteorological flights which were used to collect important weather data. It is said that the date of D-day was changed as a result of one of those flights. At first the small unit 1406 were based at Wick and this later developed into 519 squadron.
L F Hart, Orpington, Kent
F Vaisey, Moulton, Northants
Mr David Bain, Wick
Stanley Chambers, lpswich
Peter Rackliff, Wokingham, Berks
Squadron 43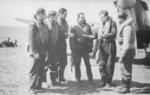 Probably one of the most notable events involving a fighter squadron at Wick was the landing of a German Heinkel III bomber on Wick airfield. This capture was made by Squadron 43 - "The Fighting Cocks" who flew Hurricanes from Wick. The story is a fascinating one.
F Lt Peter Townsend in his version from his book "Duel Of The Eagles" and Cook Butcher with the RAF Harry Thompson remembers that night.



Heinkel 111 Shot Down At Wick Airport
Torpedo Squadrons
After the German invasion of Norway, the Germans often used Norwegian fiords to hide their large battleships. Wick and the satellite station of Skitten often housed squadrons of torpedo bombers, which could be used to attack such shipping targets. The following letters were received from men involved in such activity.
F S Holly, Deganwy, Gwynedd
J Blyth, Musselburgh
J A Scorey, Walsall, West Midlands
F/Lt W D Barrett, Stratford on Avon
Gilbert White, Hartlepool, Cleveland
T A McGarry, Chichester, West Sussex
J Broombam, Walsall, West Midlands
Bill Newby, Sherburn Village, Durham
Charles M Tapper, Christchurch 6, New Zealand
Canadian Squadrons
A number of Canadian Squadrons involved in anti U-boat activity and shipping strikes used Wick as a base in 1943 and 1944. Through the Canadian Air Crew Association several of these men were contacted.
C E Walker, Vancouver, B.C.
F/L Hornell, Canada - Awarded The Victoria Cross
M A Botham, Winnipeg, Manitoba
Harry F Brant, Toronto, Ontario.
D M Asp, Calgary, Alberta.
W D (Wally) Thomsett, North Vancouver, BC
Lloyd M. Goring, Mississauga, Ontario.