Probably one of the most notable events involving a fighter squadron at Wick was the landing of a German Heinkel III bomber on Wick airfield. This capture was made by Squadron 43 - "The Fighting Cocks" who flew Hurricanes from Wick. The story is a fascinating one.

Before the Battle of Britain and the Blitz had begun, the North of Scotland had been getting some of the heaviest bombing raids of the war on Scapa Flow - the naval base in Orkney. The John O'Groat Journal of April the 12th 1940 reads: "Orkney experienced its fourth air raid on Monday night when enemy planes made a determined attack on Scapa Flow, but failed to do any damage, being driven off by British fighters and heavy fire from shore batteries. Various observers describe it as the heaviest one yet. "

Although the raid was on Scapa, people in Wick saw the German planes flying over the sea. The Groat reported. "Monday evening's air raid on Scapa provided another thrilling sensation for the people of this locality, who had a clear view of the German raiders and the reception they met when they crossed the Pentland Firth. "

Probably for wartime security reasons the local paper missed out one important fact. On April the 8th 1940 the 43rd Squadron (The Fighting Cocks) based at Wick shot down a Heinkel III. This Heinkel made a forced landing on Wick airport.

The Daily Operations Record Book from Squadron 43 gives brief details of the action the squadron saw on the night of 8th April 1940. Four Hurricanes left Wick at 19.55. L2116 flown by Flt Lt Townsend returned at 21.40. Remarks in the Log Book states "X raid. Intercepted 2 He IIIs, one down in sea". L1727 and Ll723 flown by F/0 Edmonds and Sgt Arbuthnots both returned at 20.35. Remarks in the Log Book state for both pilots. "X raid. Dusk Patrol. Intercepted 6 He IIIs one down in sea". L1742 flown by Sgt Hallowes returned 21.15. Remarks in the Log Book states "X raid. Intercepted 2 He IIIs one down on drome. " This was a rare event in wartime - a German plane landing at a British airport!

Two of the pilots involved in the operation gave detailed accounts of that evening. Sgt Jim Hallowes, who was credited with the capture told his story. Returning to Wick after his squadron had engaged the enemy over Scapa Flow, Sergeant Pilot Hallowes noticed anti-aircraft fire as he was crossing the Pentland Firth, around 8000 feet to the west of him. He went to look and saw two Heinkel He IIIs flying west to east. He closed to within about 400 yards before opening fire. He later said,

"After two short bursts –about 200 rounds – my guns ceased to fire due to a fractured pneumatic line, I broke off the attack as both the enemy aircraft dived into some rain clouds and were lost to view. As I came through the rain clouds I saw an enemy aircraft in the distance when I went into Wick and landed. The Heinkel followed me down on to the flare path but it was so badly damaged it made a forced landing. I understood he thought he was landing in Scapa Flow!

As I got out of my machine, the Intelligence Officer came over and told me that I had shot down a Hudson. I took him over to the Heinkel and let him have a look. The pilot was standing in the snow without boots on. As far as I know, and this is only hearsay, he had one engine out of action and both his upper and rear lower gunner were either dead or dying, so he decided to land in order to get medical attention for them. I don't think he realised just how badly injured they were."

Peter Townsend's version was told in his book "Duel of Eagles".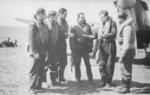 Fighter Pilots From 43 Squadron
"…20 minutes later the flashing beacon at Duncansby Head told me I was nearing base at Wick. I arrived above it and saw, not the flare path, but a confusion of lights. 'Don't land yet, called the Controller, but my tanks were nearly empty so I touched down clear of the lights and taxied over to them. In the middle of the airfield lay a Heinkel He III wheels up and propellers bent. Apparently Hallowes had hit it and the pilot had turned back to the coast. Mistaking our flare path for lights on the sea he decided to ditch.
Before the astonished eyes of the air control officer the Heinkel ground to a standstill. A door was opened, a dinghy thrown out and two of the crew - bootless for easier swimming - dived out onto dry land. Rumour even had it that they climbed into their dinghy and began rowing! Later they insisted that a Spitfire had attacked them. It was the first sign of the Luftwaffe's "Spitfire Snobbery". There were no Spitfires within miles. "
The reason why the Heinkel landed at Wick is unclear although it had been badly shot up. Two of the Heinkel's crew, Lt Weigel and Oberfw Rehbein were captured and taken prisoner. The other crewmembers Oberfeldwebels Rost and Geedts were killed.
The Heinkel had been hit, particularly in the tail, from bullets from the Hurricanes.
The Heinkel was W.Nr.5614 of the 6th Staffel squadron KG26 - known as the Lowen or Lion Geschwader and had flown from Westerland on the island of Sylt, just off the coast of Northern Germany. The Heinkel carried its squadron emblem, a red lion.
The target of the attack was the naval base at Scapa Flow in Orkney. On the night the Heinkel crash-landed at RAF Wick, two other Heinkels from the same squadron were shot down off the coast. The "John O'Groat Journal" of April 12th 1940 reported that: "A Royal Air Force tender has picked up off Orkney three German airmen who had been 12 hours adrift in a rubber boat. It is believed that their machine was shot down off Orkney on Monday night. The tender transferred the airmen to a British warship."
The squadron credited with the successes against the German attackers was Squadron 43 who saw a lot of action from Wick in the early months of 1940. A book called "Combat Report" written by Hector Bolitho, tells of a fighter pilot named John from the 43rd squadron. In 1940 John was based at Wick and wrote, in letters to friends, of his time there.
"We were billeted in the Station Hotel, run by Dan Sutherland and his wife Elsie. Like most Scots, once they like you, they made you feel at home. After we have been flying into the night and come back dog tired we get the next morning off until one o'clock. Elsie and Dan Sutherland always wait up for us and give us a drink before we go to bed. And they have a great deal of work to do in the hotel. She usually wakes us up herself, fairly late next day, and brings us our breakfast in bed. The war has taught me that these are really the great British people, who work hard and seem to have more to give people because of it. They are very fond of each other and completely unselfish. They are really marvellous to the whole squadron. Did I tell you that they give us a bottle of champagne every time we shoot down a Hun?"
In another letter John tells how whilst flying from Wick he shot down a Dornier Flying Pencil, the first to be shot down off the British coast.
"We were to patrol the aerodrome below cloud while another flight had to patrol above. The cloud was grey and thick. We were told that enemy aircraft were coming from the west and that they were nearing the aerodrome.
We had just got up to 3000 feet when I heard the other flight give a Tallyho! I rather thought we were out of it. One Hun was already being fired on by the six aircraft above us and it was no use my joining in. We flew on under the clouds out to sea and I felt a bit peeved at not being able to use my guns. I was about to turn back to base when I saw another Hun, a long, slim, green aircraft, flying beneath a cloud, hugging it and just staying enough in the open to be able to see the water. We must have been about 4O miles out to sea. It was beautifully calm. I was terribly lucky because I was in a perfect position to open fire with a full deflection shot, almost the moment I saw him. Unfortunately, I was out of range with my first burst and I think that I missed. He tried to climb back into cover of the cloud, but I got him with my next burst before he disappeared. It was terrific. I blew his nose right off. I must have killed the pilot. It burned furiously and dived into the sea and exploded, a terrible but a wonderful sight. Three people had jumped out of the rear gun position and I saw them fall from about 800 feet into the sea. I could not see the aircraft after it crashed into the water, only a column of fire and black smoke. I saw one of the Germans in the water. I noted my position and flew back to base.
I honestly did not care a bit. l hate their guts now after so many of my friends have been killed. I found that I took this one in my stride without a tremor. But I still feel quite sick when I am on the ground, before I take off. I suppose this is some kind of fear. Once I am in the air this vanishes and I become excited instead. But I am always pleased when I land".
F/Lt Townsend also reflected on his battles with Heinkel aircraft during his posting to Wick.
"In aerial combat, you usually only hear the enemy's fire if you stop a close one. But there in the darkness, far out to sea, Heinkel and Hurricane were fighting a terrible gun battle at point blank range, so that when I came in for the coup de grace I could actually hear the Heinkel's guns in their last dying fury, firing just above my head. l was now seized with an irresistible desire to destroy. Down went the bomber into the sea, and with it four more dead men. I all but died with them, as I realised when, next morning, I examined my Hurricane. It was riddled with bullets.
That fight made me think. The killing game was increasing in pace, and this time I had barely escaped death. It as a sobering thought. But a more awful one was that l myself had become an implacable agent of death. Next day, when a small horde of us pounced on another Heinkel, I did not bother to fire - the machine was already floundering. I flew close beside it.
The young pilot and his companions regarded me helplessly as their flying tumbril bore them on, down to the sea. I would have given anything to save them! Instead, I found myself escorting them to their grave. A few minutes later, they were swallowed up by the sea."
Harry Thompson a cook butcher with the RAF at Wick remembers the night the Heinkel landed.
I joined the RAF in Leeds, in Yorkshire, before the war in 1939. I'd worked in a butcher's shop in Pickering. I was a cook butcher in the RAF. You need to be a cook as well. You can't just do butchering in the RAF. I was posted to headquarters in Wick from April 1st 1940 to April 20th 1943.
At first I was billeted in room 13 of the North School. l was on duty the night the Heinkel landed. They phoned me from the operations room asking for coffee and sandwiches and I went down with them. lt was about 8 or 9 at night. l knocked at the door and the officer that was in charge shouted for me to come in. I went in and he told me to set it on the table. As I went out the two Germans were coming in. At that time it was the Seaforths that did the guard on the drome. There were three Seaforth guards with them and they marched them in.
I fed the two Germans in the guardroom, next morning, when I took them their breakfast. One of them was a German Canadian and he showed me pictures of his family. He had been a boxer. He could speak English. The two Germans were at the drome for a few days.
We were confined to camp for 24 hours because the Heinkel had so much stuff pinched from it, wirelesses - everything. I know one man who had a packet of cigarettes off the plane. They were in a small cardboard packet of ten, which was covered in silver paper. One chap even had a 10 lb bomb in his locker that came off it. Everyone was confined to barracks and the stuff was meant to be returned.
This chappie, Paddy O'Kane, was a guard on the plane and he used to come in to the cookhouse when he came off guard. He asked me if I wanted anything off the German plane. I said I wouldn't mind something. He came back to me with one of these great big oil clocks with about two feet of steel cable attached to it. He said, "I couldn't cut it any closer!" The clock was all in German numerals. l gave it to someone else because it was so big. l did get a ring made for my wife from the aluminium of the Heinkel and it had some red and green beads placed in it. l also had a ring and a snake bangle made out of Perspex from the Heinkel. I bought a photo of the Heinkel because the boys in the photography department were selling the photos for 2 shillings. My photo showed where someone had tried to cut the swastika out of the tail.
H Thompson, Milton, By Wick