The final section of this booklet is given to those airmen who did not return. There are no official figures available on the number of men who died flying from Wick although the figure is clearly in the hundreds, each and every one a tragedy. To hear of the deaths of aircrew from relatives of the men involved, highlights how sad the loss of each and every airman is.
Your letter which appeared in our local newspaper "Express & Star" sent my mind back 50 odd years, and although I cannot help you in your research, I can tell you that my brother, Arthur Davies, was stationed at Wick for a short time in the early 1940's before being posted to Iceland. He came back to England to a Bomber Squadron at Woodhall Spa, and sad to say he, and all the crew lost their lives when their Lancaster plane was shot down near Krefeld, during one of the thousand bomber raids over Germany in June 1943.
He came home on leave only once from Wick, and because members of the Forces were not allowed to talk of where they were living, he told us nothing of life there. He did write and tell us that their return journey to camp was quite hilarious. The train ran into a snowstorm, and many snowdrifts, delaying them for many hours - all in the blackout. We always wondered if everyone got out to help dig the train out, we will never know, but obviously he enjoyed it.
Mrs H Phillips, Wolverhampton
My brother served in Wick on Coastal Command etc. and his last flight was from Skitten on Nov 19/20th 1942 on "Operation Freshman". He and the other six members of the Halifax bomber are buried in Norway. His name was Flt/Sgt Buckton. He was only 23 years old.
Mrs Anne Browell, Hartlepool, Cleveland
My brother was Sgt John Craig 759047 and was stationed in Wick, in 1940 he was in 639 squadron but sadly he was killed on 11 June 1940. He was only 20 years of age.
He was on a raid over Norway when the RAF were bombing the German battleship "Scharnhorst". The plane was shot down in the sea at Buvik about 20 minutes outside Trondheim.
There were four of a crew and the plane was a Lockheed Hudson. When they were shot down my brother John and Pilot Officer Robson were both killed. One crewmember was taken prisoner and the other escaped into Sweden. The Norwegian people were wonderful and helped him to escape over the mountains to Sweden and because that was a neutral country he was sent back to Britain. That's when we found out what had happened to John.
Now 50 years later in 1990 my husband and myself, my daughter and her husband decided to go to Norway on holiday and sort of make it a pilgrimage to see Buvik ourselves. We found that the people of Buvik had put up a beautiful memorial stone to the two men who had given their lives up for them. We also learned that the plane is still in the water just as it fell in June 1940.
Mrs May Roberts, Moodiesburn, Glasgow
Sgt Pilot Len Williams was a member of the RAAF (Royal Australian Air Force) during World War 2 - attached to RAF Squadron 58 Coastal Command. On 25th July 1942, 10 Whitley aircraft and crews from that squadron were temporarily detached from their station at St Eval, Cornwall to Wick for special duty of U-boat reconnaissance.
Sgt Williams only flew twice from Wick. The first occasion was on the 4th August 1942 when he was in flight for nearly 11 hours. The Daily Operations Book reports "Saw 3 trawlers, one of which opened fire on aircraft which immediately fired recognition cartridge".
The second occasion was two days later on the 6th August 1942 when a Mark VII Whitley aircraft No Z9525, radio call sign "J", with Sgt Pilot Williams and five other crew members took off from Wick airport at 12.15pm, for another anti-submarine patrol over the North Sea. It was Len William's 21st birthday. The plane did not return and there was no radio contact with it after it left. The other crew members were P/0 Gordon J Strutt, Pilot, Sgt G A (Mickey) Morgan, Observer and Sgt E W (Ted) Griffiths, Sgt Albert Hooper and Sgt Edward T Prior, all Wireless Operators/Air Gunners.
Len William's death gives us a special chance to see how sad the loss of a single airman from Wick was. All his letters sent home to his mother and some of those sent by his mother to Len which he never had a chance to open are published in a book "Letters To Mother". Extracts from Len's mother's diary are also included in this book.
On the day he died, his 21st birthday, Len's mother wrote to him:
"My dear boy,
You are 21 today, it is a lovely day here. I am sitting on the bed on the front of the verandah where I can look at your photo on the wireless, as I write to you. . . I think I told you in my last letter, every day makes a difference and brings it a day nearer for your coming home. I mustn't say things that will make you homesick, l try not to but I wouldn't like you to think that we don't think of you son, indeed I woke Dad before 2 o'clock this morning, and my thoughts were with you".
This letter was one of several, marked "Return To Sender" and sent back to Mrs Williams.
The entries in Len's motherís diary show how much she suffered.
"Motherís Diary.
27th August 1942: 21 days, how long the time seems and no news of our boy.
3rd September 1942: A month today. If only we knew, my boy if I could only see you and be with you. I miss you so. I wonder so much if he's hurt. I spend so much of my time with him in thought
3rd October 1942: I miss my boy more than ever, if only we knew.
21st October 1942: Len's photo and letter came, took them to town and had lunch with Stan : Jeans call up came.
12th November 1942: 14 weeks today - If only we knew, my dear, dear boy.
23rd November 1942: Couldn't sleep, thoughts of Len all night, also very much yesterday. If only we knew, my boy I miss you so and look for your letters.
26th November 1942: Miss my boy more and more as time goes by, 17 weeks today. Where are you son, what happened to you? If you could only let us know. Oh the heartache, day after day and you can't say. "
Len Williams' body was never recovered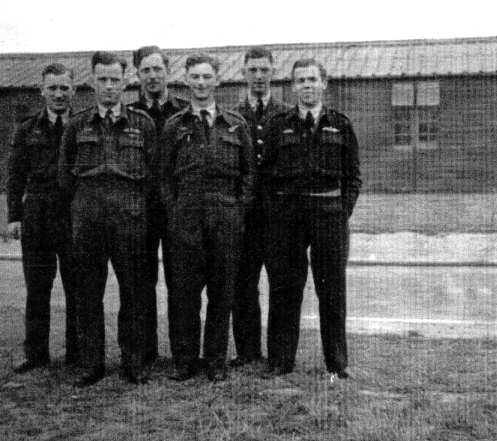 Sgt. Pilot Len Williams of the Royal Australian Airforce (right of the picture) along with other members of the Whitley bomber which flew from Wick and was lost over the North Sea on August 6th 1942. Sgt. Pilot Len Williams' navy blue uniform from the RAAF stands out against the RAF uniform of his colleagues. Sgt. Pilot Williams died on his 21st birthday.
Update -
Received 11 November 2014.
Dear Bill I stumbled upon the article titled For Those Who Did Not Return posted on your website. It had been posted to Facebook by an Australian man. What I found most interesting was the photo. In it, second from the left with the half smile my son and I share, is my great-uncle Gordon Strutt from Shawville, Canada. He was my grandfather's younger brother. My grandfather must have loved his brother greatly, for when my mother was born in Sept 1943, he gave her the middle name of Gordon. She has his medals. We had never seen this picture before. On behalf of my mother and her brothers and sisters, I thank you for giving my family this gift and for honoring the memory of Gordon Strutt. - Sara Bourgoin