Miller Family Photo Album - Page One

Miller Family Photo Album - Page Two
More family pictures plus postcards from Wick in various years

Miller Family Photo Album - Page Three
School Photo added 3 March 2001
A Miller Family Group 1916 added 25 February 2001
Additions 28 January 2001
New 25 January 2001
Miller Family Photo Album - Page Four - 21 March 2001
More Miller Pictures and now introducing Thackray.
Boer War connections and medals.
Miller Family Photo Album - Page Five - 14 April 2001
Postcards To and From Caithness 11 January 2000
Notes & Comments 11 January 2001
Some Military Information 28 January 2001
Donald Angus Miller -Reports of his Death Rochdale Observer 13 May 2001
Documents On Deaths Of Millers 30 August 2001
Newspaper clippings and documents relating to George S Miller who was killed in action and other members of the Miller family
Photo Album 6 23 January 2002
Mackays added 25 April 04
Maureen Materi is looking for moe information on this photo so get in touch if you have any more names of details.
Photo Album 8 - added 18 September 2005
18 September 2005
Photo Album 8
Mainly Helen Miller in this section with her husband and daughter, Mrs More and her sister-in-law.
25 April 04
Mackays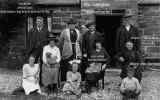 Maureen Materi is looking for more information on this photo so get in touch if you have any more names of details.
24 April 04
Miller Family Group

From Maureen Materi 23 April 04
Headstone Of Nigel Robertson Miller With Earlier Photo

A man from Belgium generously offered to put a picture of Nigel Roberton Miller on his headstone in the Lijssenthoek Military Cemetery, Poperinge, West-Vlaanderen, Belgium. V. D. 28. Nigel died, Thursday, 6th. April 1916, when he was in the Canadian Infantry (Central Ontario Regiment) 19th. Bn. The picture was taken when he was in Wick, and believe this is when he fought for the British Forces in the Boer War.
24 January 04
Patriotic Pulteneytown Family


This article from the John O'Groat Journal Friday, April 7, 1916 shows the impact the First World War had on many Caithness families including the Millers both in Caithness and Canada.

21 June 2003
Another Miller Family Group Photo Pre 1912

21 June 2003
Private Angus Miller Wounded - 1916


16 June 2003
Maureen On The Trail - Does Anyone Have Information?
I am looking for the last of my grandmother's brothers families.
Donald Angus MILLER (write up on death and enquiry on the site)
Parents: Captain Alexander MILLER & Margaret MILLER nee ANGUS
b. 11 Jan 1877, Latheron, Caithness
live in 1881: Nottingham, Latheron, Caithness
1881: Wick, Pultneytown, Wick, Caithness
1891: Wick, Pultneytown, Wick, Caithness
Married: Caroline READER 20 Oct 1900, Castle Croft Congregational Chapel, Bury, England
Died: 15 Jun 1922 (write up on death and enquiry on the site)
Buried: 20 June 1922, Rochdale Cemetery, Rochdale, England
His wife Caroline READER b. Abt 1876, probably Heywood, England
Their children:
Alexander MILLER b. 12 April 1902, Scarborough, Ontario, Canada
Donald Angus MILLER b. 7 Aug 1904, Chesterfield, England
d. 15 June 1949
George Frederick MILLER b. 1 Nov 1905, Kettering, Northampton, England
Caroline Mary MILLER b. 11 May 1907, Guilford, Surrey, England
David Angus MILLER b. 22 July 1910, Chesterfield, England
Margaret MILLER b. 29 Jul 1914, Vancouver, B. C. Canada
d. 11 June 1964, Vancouver, B. C. Canada
11 May 2003
Photo Album 7 Starts
More family pictures from Maureen Materi
4 May 2003
Postcards
Maureen Materi has begun to send postcards sent to or from her ancestors. They show some of the places the family got to. As the collection is quite extensive and likely to grow as Maureen sends in more postcards they will be divided up into categories Caithness, Non Caithness UK, Canada, England, New Zealand and so on. If other postcards are sent by other people with Caithness connects they will be added in separate sections so that anyone just interested in Maureen Materi's collection can view them on their own. but whether you have a family connection or not the postcards are a very interesting look at Caithness, Canada and other places in the early 20th century.
7 September 2002
Nigel and Teenie Miller
Anyone who has changed their email please contact Maureen Materi immediately, if they are relatives of Nigel and Teenie Miller
Documents On Deaths
Items Relating to the deaths of Miller Family members and particularly George S Miller who was killed in Action.
Accounts of the death of Donald Angus Miller from the Rochdale Observer 1922
In response to many enquiries additional information has been entered to the
The Miller Family Picture of 1892
Another page added to the Photo album. This has a picture of Thackrays Mrs Materi's Grandparents, a picutre of the homestead in Moose Jaw, Saskatchewan.
Also an unknown family of Millers 1915/16. Mrs Materi would appreciate any help in identifying this section of the family.
Mrs Materi's section on the Miller Family has been very successful. Many people have contacted her since some of her research has been placed on Caithness.org. Her mother died on 8 February 2001 and she has many family matters to attend to.
Due to the success of her pages showing a small part of many years work she has decided to take steps to make it easier for her to distribute other information she holds. Her many years of work cover many aspects including family history connected to not only Millers but many connected families. It is not possible to present many years of work quickly without a great deal of further preparation.
With respect to Miller connections she will get to many of your requests - just bear with her as she reorganises her records and sets up some new equipment to help make it easier to retrieve and send out more information to distant relatives who are now coming forward in ever greater numbers.
The connections to Caithness are many, but there are many other connections in her family records and it will take some considerable time for someone working on their own to put it into a form that makes it possible to put it onto a web site or send to individuals. Many of the papers have been acquired after many years of research and the cost in time and financial terms has been considerable. Mrs Materi is happy to provide information to relatives no matter how distant and to make more of her research available on the web. but this will take time. Please be patient.
Caithness.org will be assisting Mrs Materi in any way possible to exhibit any material she feels can be put in the public domain. For certain information she will only do so where permission has been granted by family members Where permission is not granted the material will not be published.