James Bremner 1784 - 1856 Shipbuilder
Roads & Tracks Through History Part Two
London Caithness Association History
This history commences at the start of the association and gives for the first time an idea of what the organisation did since 1856.
Thurso Parish History Group
Group formed in October 2000 has now set up and is building a resource on Thurso at the library.
Old Staxigoe
There are several old photographs of Staxigoe in the Staxigoe Pages in the A to Z section.
Wick Parish Church 1830 - 1930
This centenary booklet was produced to celebrate the first 100 years of the church in Wick.
Wick Life Saving Company 1875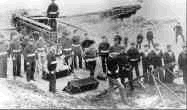 A Picture From The Past
Brochs in Caithness Section Started 17 February 2001
The Sea Battle Off Raudabjorg Caithness Between Earl Thorfinn And Earl Rognvald - the Orkneyinga Saga
Harrow Pavement Works
The story of Harrow pavement works has its origins in 1853, during the time of Alexander the 13th Earl of Caithness, and owner of the Mey Estate.
Memoirs of Hetty Munro
I was born in the little town of Thurso before the First World War and grew up there. In those days it really was a little grey town on a little grey bay as John Horne, the Caithness historian, called it. We had to be self contained as we had very little contact with the south...
Queen Aud Sails from Caithness to Iceland
The Norwegian prince Olaf arrived in the Minches with a great fleet in 853 to repel the attacks of the latecoming northmen from Denmark on Norwegian settlements in Ireland....
A Tacksman at Borlum, 1765
JAMES Hogg, then 36, moved with his family from East Lothian to become a tacksman at Borlum farm, Reay. He introduced improvements, successfully sued a farmer who stole his sheep and when a ship was wrecked, he took out search warrants to recover the looted goods....
The Artillery Batteries at Mey and Castletown
An official circular, issued on 12th May 1859 to Lord Lieutenants, authorised the formation of local volunteer regiments. The country was not then at war and the immediate public enthusiasm for this patriotic venture quite surprised the Government for instantly, all over the country, companies sprang up....
The Battle of Altimarlach and the Last Clan War
Building the John O'Groats Mill in 1901
1898 Fleet Paymaster Bremner, R.N. - The Career of a Distinguished Gentleman
By Thomas Sinclair, 1898
Visitors to Caithness will find a number of Museums and Galleries which give a great deal of information and have huge amounts of archive material as well as artifacts covering the last few hundred years. Resources in the county for the Historian or interested observer are:
Thurso
Thurso Library
Swanson Gallery in Thurso Library
Thurso Heritage Centre
Wick
Wick Library
St Fergus Gallery in Wick Library
North Highland Archive Centre - In Wick Library
Other Museums
Dunbeath Heritage Centre
Laidhay Croft Museum
Mary Ann's Cottage
Viking Centre - information not yet available.
Flagstone Industry at Castlehill in Caithness
Take a short walk round the Flagstone Trail.
Prehistoric Caithness
There are a huge number of prehistoric sites in Caithness. Little has been done to investigate most of them. The listing here gives only a small number of the easily accessible sites. There are about 100 known Brochs and many standing stones, rows and circles. Other sites are being discovered regularly by keen local historians and walkers.
Many interesting walks taking in particular sites are organised by
Caithness Field Club who are happy to welcome visitors.
A Short History Of Sand Yachting
Dounreay Historical Photo Gallery
St Fergus Masonic Lodge, Wick - History
Statistical Account Of Scotland by Sir John Sinclair
Introduction At Edinburgh University
All the parishes in Scotland including Caithness are available for the 1791 - 99 and 1845 accounts.
History Of Latheron
A small section ready to receive more information at a later date.
John Dunster's booklet on McIvor & Allan
The History Of Chip Carving In Caithness
History of Caithness J T Calder
We will bring you the whole History of Caithness by J T Calder. Still one of the most complete histories of Caithness. Several hundred pages of information the second edition of which was published in 1887. Not yet completed as at 7 Jan 2007
Wings Over Wick
Memories from RAF personnel in Wartime Wick
The Statistical Accounts Of Scotland 1791 - 1845
The Caithness Parishes Are Linked Below for (1791-99),
Check the site for others.
Bower
14 October 11
Web Sites For Caithness History
Thurso Heritage
Wick Heritage
Caithness Family History Society

17 February 09
From The Archives Of The New York Times
MISCELLANEOUS CITY NEWS; THE EARL OF CAITHNESS.
March 30, 1881, Wednesday
14 October 08
The Place Names Of Canisbay By John Mowat
Thanks to Hugh Ross for transcribing the text from the original published in 1931. Check out some of the places with old 6 inch maps at http://geo.nls.uk/os6inch/
Am Baile - Gaelic Village
Well worth a few visits for Caithness and many other Highland places. The site is in Gaelic and English. A fantastic resource for history and general interest with a rapidly expanding number of pages and photographs and links to other sites.
2 March 08
Scotland's Rural Past Project
Launches Teachers' Resource Pack
An exciting heritage project that was established in October 2006 to investigate and document abandoned rural settlements throughout Scotland is about to launch a Teachers' Resource Pack for use by teachers and pupils throughout Scotland in the Curriculum for Excellence.
Scotland's Rural Past is a project that supports local communities to investigate the remains of long abandoned settlements in their area that often date back hundreds of years. The project encourages members of the public to discover more about historic rural settlements, by learning valuable new techniques and skills in archaeological identification, surveying and recording, to rediscover a sense of place and gain a greater understanding of the changing historic landscape around them.
Scotland's Rural Past works closely with experienced staff from the Royal Commission on the Ancient and Historical Monuments Scotland (RCAHMS) to provide training for volunteers in archaeological field techniques and documentary research. It also offers support to develop educational projects to raise awareness of and improve access to Scotland's rural history.
Professor Tom Devine, OBE, FRSE, FBA, Sir William Fraser Chair of Scottish History and Palaeography, University of Edinburgh says of Scotland's Rural Past:
'I am delighted to support this highly imaginative initiative which I regard as one of the most significant heritage projects in Scotland of recent times. Not only does it encourage community involvement and interest but the work will also help to provide a new and deeper understanding of the nation's rural past than can be achieved by written records alone.''
The project has received tremendous support from enthusiastic members of the public and over two hundred volunteers are currently registered. Over the past year, highly successful field trips and workshops have been held in Killin, Bute, Lanarkshire, Braemar, Glen Clova, Mull, Islay, Edinburgh, Inverness, Wigtownshire, Moidart and East Lothian. Over 100 volunteers have now received professional training and 19 local projects are so far underway around Scotland with volunteers researching and recording their local rural heritage. The project has also recently launched an interactive website to enable volunteers to share their ideas and research.
Dr Tertia Barnett, project manager for Scotland's Rural Past said: 'We are delighted that this important project has been such a success over the past year – communities have worked together to learn new skills and to engage with their environments. We're now very proud to be launching a resource that has already been lauded by the education sector. A significant contribution has also already been made to Scotland's recorded heritage and we now feel that this resource will make a significant contribution to its greatest natural resource – its people.
The Scotland's Rural Past Teachers' Resource Pack will be launched on 13 March 2008 www.scotlandsruralpast.org.uk
Caithness - A Vision Through Time
We have linked to Caithness but you can see any part of the UK on this interesting site
Early Flying In The North Of Scotland
World War Two Defences In Caithness
Part Two - Air Defences
Ackergill Lifeboat (1877 - 1932)
1 October 06
Donald Sage's "Memorabilia Domestica"
Iain MacKillop has published this work online and is likely to be of interest to many folk in Caithness and elsewhere. Donald Sage describes a great many people and places in the north . Dirlot in Caithness gets a mention in Chapter 4

UKAEA - The First Fifty Years
June 04
SWEIN ASLEIFSSON – THE ULTIMATE VIKING
2 October 03
History Of Wick Carnegie Public Library by Robert Bain


From its formation in 1891 - Present
Robert Bain's History is available in the library and newsagents and he has kindly offered it for publication on the web site to allow as many people as possible to read it. With copies of letters from Andrew Carnegie, plans and other documents as well as photographs of past librarians and some present staff the history comes right up to date...................
Keiss Castle and The Sinclairs of Keiss 1980 Field Club Article
Historic Castles and Families of the North - The Sinclairs of Keiss
Dirlot Castle - The Cheynes, Gunns, Sutherlands and Mackays - D B Miller
Stone Rows in Caithness & Sutherland 1980 Field Club Article
The Sea - a project from Hillhead school with pictures gathered from the family albums and made into an exhibition. Caithness.org has a few of the pictures if you cannot make it to Wick to see the exhibition. It has won an award from the History Channel. After the exhibition we hope to be able to bring you more of the pictures which show in part the story of the sea in Caithness in the last few generations. The exhibition runs until 24 March 2001 in St Fergus Gallery, Wick.
Caithness Historical Notes 1750 - 1900 D Omand - Moravian Field Club
Introduction and The Croft House
Food and Drink
Clothing and Footwear
The Landholding and Crofting System
Farm Stock
Crops and Manure
Fences and Dykes
Communications
Radar in Fleet Air Arm
Margaret Carmichael - Caithness Remembers
Building the John O'Groats Mill 1901
Early Steamship Voyages in the North
Thomas Telford's Parliamentary Churches - J D Porter
Andrew Geddes Bain - Road Engineer, Explorer and Geologist - R E MacCallum
The Motor Bus In Caithness - P R Myers
Watten Mills - Highland Family History Society
Westside Croft (Mary's Cottage) - Dunnet
Archaeology on Caithness.org
Prehistoric Caithness - Monuments