30 March 2007
Local Dog Joins Assynt Mountain Rescue Team

The newest member of Assynt Mountain Rescue team does indeed have 4 legs. At just over 1year 3months Skye is a SARDA trained Search and Rescue Dog. Skye's handler, Deputy Team Leader Innes Beaton said 'The dog adds a significant search ability to the team and I'm sure she will a be great asset'. Innes and Skye are based in Keiss and for 10 months they have been attending training weekends all over Scotland with the Search and Rescue Dog Association.

Local Photographer John Baikie Pulls In More Awards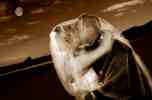 Local photographer John Baikie has added some more awards to his collection. On Sunday he attended the Master Photographers Association Scottish Annual Awards Night in Edinburgh for the first time. As a new member of the MPA John was only able to enter the 4 'Most Promising' sections on this occasion, but of the eleven prints he entered, no less than eight of them won awards. He received 2 Merits in the Most Promising Classic Portrait section, 2 Awards of excellence for Most Promising Avante Garde Wedding and 2 Awards of Excellence for Avante Garde wedding. He then got the trophies for Most Promising Classic Wedding and Most Promising Avante Garde Wedding as well as the overall Most Promising Photographer award.
29 March 2007
Two Teams From Sutherland Schools Reach Young Entrepreneur Finals
Farr High Dornoch Academy



Five teams of talented young entrepreneurs from schools in the Highlands have impressed judges from some of the country's leading businesses this week to make it through to the final stage of the ICT Youth Challenge. Sixteen teams of budding young entrepreneurs travelled to the Horizon Scotland, Forres on Tuesday this week where they pitched their ideas for the information communication and technology products of the future. The five teams now have the opportunity to pitch their ideas one last time at the Hothouse final in June. They teams are from Tain Royal Academy, Buckie High School, Charleston Academy, Dornoch Academy and Farr High School.
Public Has Spoken On Options For Dealing With Particles In Marine Environment
The second stage of consultation on the options for dealing with radioactive particles in the marine environment has come to a close. The consultation focussed on the relative importance of the criteria used to assess the 11 combined options identified by a scoring panel as most likely to succeed following the first round of consultation.
Over 400 Events Currently Listed In The What's On
The Caithness.org What's On is getting ever busier as more groups and organisations use it to let everyone know about their event whatever it might be. Groups can get long term advertising absolutely FREE of charge and the vent automatically appears on this page on the day of the vent as final reminder. Already this month over 112,000 visits have been made to the What's On to see what is happening in the area in coming days and months. In the past 12 months over 1,250,000 visits have been made with over 11,000,000 look-ups. Make sure you enter your event as soon as possible. It's Easy - Use The Form
Lybster School Staff About 1960


Photo sent by Adam MacDonald
SNP Run A Full Slate Of Candidates In Caithness - SNP Run In All Three Caithness Wards





A full slate of SNP candidates will contest the Council and Scottish elections for Caithness. Rob Gibson SNP Parliamentary Candidate for Caithness, Sutherland and Easter Ross is joined by candidates for all three Caithness wards - Niall Smith, Wick ward; David Bremner, Caithness Landward ward; and Donald Mackintosh for Thurso ward. The candidates say that they will be running a positive campaign which will look to the future prosperity and growth of the County to ensure post-Dounreay jobs in the thriving decommissioning and clean energy sectors.
HOW WOULD YOU INVEST £500K IN THE SCOTTISH MUSIC INDUSTRY?


The country's enterprise agencies are inviting anyone involved in the Scottish music community to submit ideas about how they think the new Scottish Music Futures Fund should be invested. Last month, the Scottish Executive allocated £500,000 to Highlands and Islands Enterprise (HIE) to set up a business development fund to help cultivate the music industry in Scotland - supporting the 'music stars of tomorrow'. The Scottish Music Futures Fund is being administered by HIE for the whole of Scotland, in partnership with Scottish Enterprise and the Scottish Arts Council.
28 March 2007
Young Highland Musicians Pull Off Impressive Performances

Three groups of young Highland musicians have recently performed at two venues in the Highlands attracting audiences in excess of 800 people and the commendation of a Scottish composer. In the performances, the Highland Schools Wind Band, Highland Youth String Orchestra and Highland Regional Youth Orchestra showcased the amount of extremely talented and motivated young musicians being trained in Highland schools.
Close Ups From Main Photo
Sutherland Raid - A New Mountain Bike Experience


Held over the May Bank Holiday weekend, the Sutherland Raid is a new mountain bike experience comprising of a combination of team and individual events, based around the new world class £0.5 million Highland Wildcat Trails facility at Golspie, in the Scottish Highlands. Highland Wildcat is tipped as one of the most exciting and dynamic trail facilities on the Scottish MTB circuit, with the longest single track climb & descent in UK. The weekend's core programme will feature a 50K cross-country circuit through Strath Brora and a relay over Ben Bhraggie to test both endurance and technical ability. Alongside the main event there will be an under-16 programme with opportunities for all-abilities: enthusiasts, novices and family - to participate with a range of activities over both days.
Volunteers from Malawi Global Xchange help Wick Boys Brigade

A group of 18 volunteers, 9 from Scotland and 9 from Malawi plus a co-ordinator from each area, helped Marc Macdonald the Boys Brigade leader to transform a piece of ground surrounding the BB hall in Wick on Saturday. Mr Macdonald was very grateful to all the local businesses that donated materials and loaned equipment to enable the work to begin.
Local Development Officer of Volunteering Highland, Catherine Patterson identified projects in Caithness that the volunteers from Global Xchange could assist with. Over the next 3 months the group will be integrated into the community and will volunteer with a variety of organisations in Caithness, periodically they will come together to undertake group activities, the next one taking place on Friday with the Countryside Ranger where tree planting will go ahead at Wick riverside. Global Xchange co-ordinator, Rohanna Law has been very pleased with the welcome and support from everyone in Caithness.
Earth Hour - OK Orgers Let's Join In And See If We Can Affect Things A little Or A Lot

EARTH HOUR - 7.30pm to 8.30pm - Saturday March 31, 2007
Started in Sydney but spreading fast around the globe. Copy and paste this article into an email if you want to spread the word. Earth Hour is a fabulous opportunity for you and your family to do something about climate change. On one night, in one hour, more will be done, more will be demonstrated, and more will be learned than through a hundred 'talk-fests'. And you can help make it happen.
What is Earth Hour?
It sounds simple, but it is very, very dramatic. At 7.30pm on March 31st 2007, we will be encouraging companies, government departments, individuals and families to turn off their lights for just one hour. If we meet our objectives during the first Earth Hour, the savings in green house gas emissions will be the equivalent of taking 75,000 medium sized cars off the road for one whole year! Now that's something worth doing.........................................more Switch Off As Much As Possible For One Hour
Readathon - Reading for life - Pupils from Watten Primary School have raised £540.30 for Readathon
Readathon is a national sponsored reading event that is held in schools annually. All the money raised is donated equally between CLIC Sargent and The Roald Dahl Foundation. The money is spent locally, caring for children and young people suffering from cancer, Hodgkin's disease, leukaemia epilepsy, blood disorders or acquired brain injury.
Have You Recently Been Told You Have Type 2 Diabetes (Past 6 Months)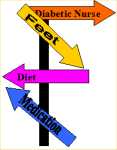 Do you need to know more about your diabetes?
Then you are invited to attend an information evening with local diabetes professionals including - Diabetes Specialist Nurse, Dietician, Diabetes Podiatrist and Pharmacist.
Castletown Medical Centre - Monday 30th April 6.30pm - 8.30pm
Lybster Medical Centre - Monday 11 June 6.30pm - 8.30pm
NORTH MSP ENCOURAGED BY COUNCIL RESPONSE ON BARRIER-LESS RAIL CROSSINGS
Highlands and Islands Labour MSP Maureen Macmillan has welcomed a response from Highland Council regarding safety at barrier-less rail crossing. Recently, two young men were killed in a tragic incident at such a crossing in Easter Ross and concerns have been expressed for some time over the safety of barrier-less crossings in Ross-shire and beyond.
Little Nippers Playgroup - WICK FAMILY CENTRE - ENROLL NOW!!


Funded places available for 3 year olds born on or between 1 March – 31 August 2004
Non funded places available for children aged 2 years 9 mths.
Contact Anne Beveridge
Tel. 01955 606065
To arrange a visit to see our modern facilities!

Redesign of Dermatology
Following a lot of planning and consideration Raigmore Hospital's Dermatology Service will be moving from an inpatient service to a day-case service as from April this year. After careful deliberation it has been agreed that, thanks to clinical advances, changes in clinical practice and fewer patients needing an inpatient service, this is the way forward for Dermatology Services at Raigmore.
Blue flower Photo From Local Photographer Featured On Breakfast TV


This photo was featured in a group of photos last month on Breakfast TV. It was taken by Michael Draper from Dunnet.
27 March 2007
LOCAL FIRMS TO TENDER FOR TOWN HALL WORK
Planned return of Viking treasures to Caithness
Three local firms are expected to tender for the building work required to refurbish Thurso Town Hall in preparation for the opening of the Caithness Horizons visitor and community centre in spring 2008. Caithness Horizons Board, meeting on 7th March, was told that Highland Council staff issued the invitation to tender for the work last month. Tenders are due to be returned shortly. Caithness Horizons Chairman Paul Cariss welcomed the progress made. "Getting the building work underway after a long period of preparation will mark an important step forward for the project," Paul commented. "I am particularly pleased to hear that local firms are in the running."
Thurso Scottish Country Dance Club : Annual Dance
Thurso Scottish Country Dance Club will be having our Annual Scottish Country Dance on Saturday, 14th April, and we're looking for support and encouragement from other Caithness Arts members and the Caithness community. If you're free that night, why not come along as so-called Non-Dancers? You'll be very welcome. You can enjoy the lively music, and of course the refreshments, and you'll be helping us to keep this traditional form of dancing alive and well in Caithness.
Go To Ireland for Five Days With the Melvich Gaelic Choir - Still A Few Seats Left
The Melvich Gaelic Choir are competing in the Pan Celtic Festival in Derry, Ireland this year and have booked a speical plane from Wick to Derry. The choir fly out on Tuesday 10th April and return on Sunday 15th April 2007 from Wick Airport. If you would like five days in Ireland attending the events or just to make it base for touring and see one or two events and get into that Irish hospitality then you might be interested in booking a place on this trip. The plane is chartered so leaves DIRECT from Wick to Derry and returns to Wick. Locals won't get a better chance for a break in Ireland than this. The cost is £380 all in - flights, bus to Letterkenny, luxury apartment stay, self catering for 5 nights, music, pubs, tours, and the whole spectacle of the Pan Celtic Nations Festival..............
New Council Office For Caithness
The process for the development of a new Highland Council office in Wick took a step further forward this week when members of the Council's Resources Committee agreed to ask four developers to submit outline solutions for the development to the Council. At the end of 2006 and early 2007 the Council advertised its requirements for a new office to provide accommodation for between 150 - 200 staff currently based in a number office buildings in Wick. Expressions of interest were received by the end of January and pre-qualification questionnaires were received in late February from four developers:
K G Estates Ltd (a consortium of William Gray Construction Ltd & Kilmartin Property Group Ltd);
Robertson property Ltd.;
Synergie Scotland Ltd.; and
Tulloch Ltd.
26 March 2007
Bill Fernie Says Thanks To Daffodil Day Helpers In Coop and Somerfield, Wick On Saturday
Thanks to all who helped on Daffodil Day for Marie Curie Cancer Care On Saturday or who donated to the tins. The funds raised from the two stores were as follows - Coop, Wick - £269.70 and Somerfield, Wick £158.60.
More Folk Added To Our Sponorship Page Raising Funds For Charity
Theresa Mackay and her daughter Rebekah are also heading for the Race For Life. Kate Mowat has set up a web site and we have link to it to help in her bid to raise funds for two charities - Breast Cancer Care Scotland and Macmillan Cancer Support, Wick Committee.
Wick Harbourfest Growing Daily As Business Interest Grows Flotilla & Harbourfest 22 - 24 June


Caithness businesses and organisations are eager to support the HarbourFest weekend after they were briefed about the arrangements and opportunities for participating in the event at a well-attended meeting in Mackay's Hotel at the end of February.
Biggest Fleet To Leave Wick For Many Years
30 Traditional Wooden Boats and over 100 Sailing Craft As Flotilla Grows In Size
Malcolm Bremner, Wick Harbourmaster revealed that entries were still being received from vessels wishing to join the flotilla of traditional wooden boats which gathers at Wick on Friday 22 June. He added that in addition to the flotilla of heritage boats, there will be many other sailing craft from sailing clubs throughout the UK accompanying the fleet as it sails from Wick to Lybster on Sunday 24 June this year. The size of the event was growing daily and the HarbourFest Committee is in the process of being strengthened to manage the ever-increasing organisational workload.
Pontoons To Be Installed In Wick Harbour During May
The meeting heard that Wick Harbour Authority are developing plans to install pontoons for visiting yachts in the harbour and the owners of the visiting traditional boats have been invited to allow the public on board to view the vessels at close hand as part of the HarbourFest celebrations.
Market Stalls And Pitches Available At The Harbour For The Weekend
Get in touch with the organisers to book a stall for your business.
Book Your Accommodation Soon For Caithness for the Flotilla and Wick Harbourfest Weekend
Hotels Bed and Breakfast Backpackers Holiday Cottages and Flats Caravans & Camping
The Wick Caravan And Camping Site will have the Riverside road upgraded to take larger vehicles in plenty of time as work has already commenced due to councillors pushing to have this work carried out by Highland council in time for this years season. Everyone is pulling out all the stops to make sure the Harbourfest is one of the big events for Wick in 2007.
Mey Selections Moves Bank Account To A Local Caithness Branch Of RBS In Lybster


North Highland Products, owners of the expanding Mey Selections brand, have appointed the Royal Bank of Scotland as their commercial bankers. Calum Dickson, office manager at North Highland Products, explained, "We have moved our banking to the Royal Bank of Scotland because it gives Mey Selections a local presence and the national support at corporate level that we need. It also puts a bit more business into the local economy as our account will be held in the Lybster branch of RBS. NHP's business is expanding fast and we need a bank that understands this and is committed to working with us to develop the agri-food chain in the North Highlands." Mey Selections had a turnover of £1.2 million in its first five months and has grown significantly since its launch in August 2005.
25 March 2007
Scottish Socialist Party selects Donnie Nicolson at top of Highlands and Islands List

The SSP has announced its list candidates for the Holyrood elections for the Highlands and Islands region. Top of the list and aiming to be elected as the party's first MSP from the region is Donnie Nicolson, a former pupil of Lochaber High School. Inverness born Donnie, 27, said, "I'm delighted to be leading the SSP's campaign for Holyrood 2007. We have a number of excellent policies for introducing a free integrated public transport system, improving rural public services, and investing in social housing. The Highlands and Islands will benefit from a young, radical voice at Holyrood. The way to achieve this is to give your Regional List vote to the SSP."
Would You Like To Help Out At Mary Ann's Cottage This Summer
If you enjoyed your last visit to Mary Ann's Cottage - it is on your doorstep - how about considering joining the small band of volunteers who keep this unique croft experience alive for the general public to enjoy. This is our local heritage - help us to maintain it by volunteering a few hours a week - for further details contact Chris Cariss on 01847 851765. Opening hours are as follows:
1st June through til Mid September : 2.00pm - 4.30pm Tuesday through Sunday - Closed Mondays
CONSERVATIVE PARLIAMENTARY HOPEFUL TOURS SCOTLAND'S BIGGEST NUCLEAR
DECOMMISSIONING PROJECT

Donald Macdonald, the Scottish Conservative Party's prospective parliamentary candidate in Caithness, Sutherland and Easter Ross, made a fact-finding visit to Scotland's largest nuclear decommissioning project at Dounreay on March 21. The former head teacher saw at first hand the progress being made to demolish the fast reactor experiment. He also met management and trade union officials. A key topic of discussion was the efforts being made to develop alternative jobs to replace those that will be lost as decommissioning progresses.

Rob Gibson Formally Adopted As Candidate For SNP

Rob Gibson SNP MSP for Highlands and Islands since 2003 has been formally adopted as the SNP candidate for Caithness, Sutherland and Easter to fight the election on 3rd May. At its meeting in Golspie on Friday night, Caithness, Sutherland and Easter Ross SNP Constituency Association unanimously adopted Rob Gibson MSP as their candidate. Mr Gibson contested the seat in 2003 coming third. He was then elected to Holyrood as an SNP list member for Highlands and Islands.

Laidhay Croft Museum Is Looking For Summer Volunteers
the Laidhay Croft Museum is run by volunteers. The museum is looking for people who might be interested in helping to open the museum between June and October. If you are interested get in touch with Elizabeth Cameron Tel 01593 731244
24 March 2007
Tracey MacLeod Trekking Again for Caithness MS - Latest In The Sponsorship Page
Tracey sent us this message -
My trek is in the Grand Canyon at the end of Sep 07 and involves walking about 70 miles in aid of a local charity. All the money raised is going to Caithness branch M.S. I took part in a trek over the Great Wall of China in 2005 raising over £3000 for children's charity and felt I need another challenge in aid of a well worth while local charity. My web page is www.justgiving.com/traceymacleod
23 March 2007
Scottish Parliament and The Highland Council Elections Called
The Scottish Parliament and The Highland Council elections called Thursday 22 March when public notices seeking nominations from candidates were published by the Regional Returning Officer. The deadline for nominations is 4.00 pm on Wednesday 11 April. The elections take place on Thursday 3 May, with voting taking place between 7 am ~ 10 pm. The Returning Officer for the Highland and Islands Region is Arthur McCourt, Chief Executive, The Highland Council.
He is responsible for returning results in:
1. The three Highland constituencies:
~ Caithness, Sutherland and Easter Ross (41,606 electors)
~ Ross, Skye and Inverness West (59,207)
~ Inverness East, Nairn and Lochaber (71,102).
2. The 7 Additional Members to represent the Highlands and Islands Region on the Scottish Parliament.
3. The 80 members to represent The Highland Council.
....................................................................................................more
Calling Thurso High Pupils From 1950s and 1960s
A request has been received from Julie Adams on behalf of Class 2pr8 regarding an archive project for Highland 2007 Year Of Culture. The request is for photos for the school web site. If you can help get in touch. See the whole letter for full details
20 March 2007
Dounreay Bulletin - Issue 21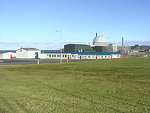 In this issue -
Dounreay sets new record for safety performance - Cyclops surveys the depths of Dounreay reactor - Final phase of groundwork for major new waste plant - Pump house capping complete - DFR's new safety innovation - You can bank on our safety - and so does our community - New tabloid newspaper launched at Dounreay - Clean-up interrupted by electrical fault - DFR spill has positive outcome - Dounreay Visitor Centre - out with the old and in with the new - New web pages about emergency arrangements - UKAEA participates in Highland 2007 - Project 365 - Schoolchildren brave the wind to visit weather station - Support for Thurso High School's yearbook - Support for next country music festival
19 March 2007
Highland 2007 searching for dynamic young people
Highland 2007, the year Scotland celebrates Highland culture, is encouraging young people in the Highlands to volunteer to become part of the Highland 2007 team. In partnership with ProjectScotland, Highland 2007 is looking to recruit up to four people, aged between 16 and 25 years old, to volunteer for a variety of roles within the Highland 2007 team. Highland 2007 has already had success with its partnership with ProjectScotland.
Sponsorship Pages For Caithness Groups Or Individuals Raising Funds For Charities
Here is another new section for the web site designed to keep in one place all the people looking for sponsorship online for fund raising they are doing for local or national charity events. We have seen a rise in the number of folk asking to have their sponsorship forms online advertised. To make life we easier for us and anyone looking for them we will keep them all in one place from now on. The link is in the right hand column on this page at present and will be linked in the Site Map shortly. So if you are based in Caithness and you are raising funds for local or national group using online forms let us know to add your link to the page. If you have notified us of a link and it has not appeared get back in touch.
Latest Newsletter From Watten Primary School
Wheel and Trek Past Altnabreac - A Challenge For Horse Riders and Cyclists



Saturday 5th May 2007 11am
Self guided challenge for horse riders and cyclists. Bring your own cycle or horse and enjoy a circular trail around forest/open hill tracks in a striking area of Caithness. Cycle this 26km (16miles) route or enjoy it on horse back. Using a map find the stations marked and answer questions about wildlife or the Scottish Outdoor Access Code. The event is part of the Scottish Outdoor Access Festival. Separate parking is available for cyclist's vehicles and horse boxes.
Join Bill Fernie And Other Caithness.org Forum Members To Find Cures
In February 2005 Bill Fernie joined the World Community Grid after a request from Colin Manson. Bill and his wife Maggie like Colin and a few others from the Caithness.org forum joined the World community Grid allowing that organisation to use spare time on their computers to run programmes assisting in the search for understanding and cures for several diseases. You do not need to know anything about the technicalities of the research but there are good explanations on the web site for anyone who wants to understand it. Bill would like to ask others to join the Scotland team of World Community Grid. All that happens is that when your computer is lying idle and switched on it works for World Community Grid and sends results back. you can see progress on each project portrayed on your computer when not in use by you. In the past two years our computers have worked on the following projects -
Help Cure Muscular Dystrophy Project Genome Comparison Project
Help Defeat Cancer Project Human Proteome Folding - Phase 2 Project
FightAIDS@Home Project
Over Half A Million devices are now joined up to the Grid worldwide. Put your computer to good use when idle an join us in helping to find cures. If you would like to help find cures then read on.........more
BBC SHOWCASES NORTH HIGHLAND PRODUCTS


The prestigious BBC Radio 4 Food Programme paid a visit recently to Caithness, resulting in a 30 minute broadcast last weekend (March11) applauding the success of the Mey Selections brand and its parent company, North Highland Products. Sheila Dillon, the presenter of the programme, spent some time in the area visiting, amongst others, Mey Selections beef and lamb producers. Caithness farmer, Danny Miller, the Chairman of North Highland Products, was asked to explain just what were the benefits of the Mey Selections brand, both to beef and lamb producers and the great discerning British public.
Latest Newsletter From Pulteneytown Academy School, Wick
Latest Newsletter From South School, Wick
North Airports on Target for Busiest Year
Passenger numbers at airports in the Highlands and Islands of Scotland have increased by 7% in the past 11 months. Figures released today by Highlands and Islands Airports show that an additional 71,000 passengers have used its 10 airports since April 2006 compared to the same period in the 2005/06 operating year. Aircraft movements at the airports have increased by almost 9% in the 11 months to a total of 93,225. Wick airport saw a 6.7% increase in passenger numbers. Flying Index
19 March 2007
No Schools Closed In Caithness Today - A Few Are Closed In Other Parts Of Highland
This link is to the highland council School Closures page and may be updated if there are any changes in the weather situation. Weather Links for Latest Forecasts Highland Weather Forecast
DEATHS FROM PROSTATE CANCER FALLEN IN PAST FIVE YEARS
Men Encouraged To Get checks Done Early As It Is Easily Cured If Caught Early
The good news in this week's Prostate Cancer Awareness Week is that the number of male deaths in Highland have fallen by 10% in the past five years. In more recent years, men have become much more aware of their health, possibly because of the Men's Health 5 Minute M.O.T project in Highland, national campaigns, publicity etc. and are now inclined to visit their GP practice when they have concerns. Prostate cancer is normally a slow growing cancer and early detection can mean it can be cured easily. Prostate cancer mostly occurs when men are over 50, although the risks get higher as they get older..........Eating a minimum of five portions of fruit and vegetables a day can help prevent any disease such as cancer occurring........more Prostate Cancer Help and Information
Labrador Puppies



These photos are of ten labrador puppies out at Forss. The labrador puppies were born 4 weeks ago. The mother and father are both black, but had 4 golden, 4 brown and 2 black. All puppies are doing well and all have homes to go to.
"The Pentland Firth is the Saudi Arabia of tidal power" - SNP Web Site
SNP Shadow Environment, Energy and Rural Affairs Minister Richard Lochhead MSP said in a speech yesterday to the SNP conference at the Glasgow Science Centre that "we have 25% of Europe's wave and wind resources and 10% of Europe's tidal resource. Onshore wind is a mature technology but it is time to bring on our other renewables. Our potential offshore wind resource is twice Scotland's existing electricity capacity. The Pentland Firth is the Saudi Arabia of tidal power and could easily supply twice Scotland's peak electricity demand."
Watten Church Auction Sale for Disabled Access Paths To Church
Saturday 24th March at 7.00 pm
Watten Church are holding an Auction Sale on 24th March at 7.00 pm It is in aid of providing disabled access paths to the church. The Sale will be in the Watten village Hall, with viewing from 2.00 - 4.00 pm and again from 6.00pm. Teas will be served during viewing and during the sale. As well as furniture and bric-a-brac items, there will be baking, and various vouchers: e.g. A day's fishing on Loch Watten, hairdressing at Linda's in Wick, music tuition, floral arrangements, paintings by local artists, food hamper, Greystones Pork, a local hotel meal.
Winter Comes Back To Caithness As Snow Arrives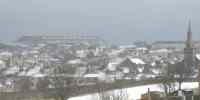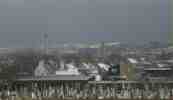 The long predicted snow finally arrived as temperatures dropped. Photos of Wick taken at 8.30am this morning show the light snow that has fallen in the previous couple of hours.

18 March 2007
Hamanvoe Makes It Through The Heavy Weather Into Scrabster Today


The high winds today made for a bumpy trip for the Hamnavoe from Stromness to Scrabstrer today as can be seen from these photos taken at Scrabster.
David Morrison Gallery







About David Morrison Caithness.org Arts Pages
40 Foot Trailer Blown Over At Scrabster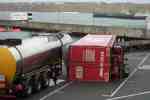 The high winds managed to blow over a 40 foot trailer at Scrabster in the early hours of Sunday morning.
The Changing Face Of Papigoe






Just as Wick is undergoing many changes at the moment so are places in the surrounding area. New houses being built at Papigoe show more of the changes underway.
Stormy Weather As Ships Take Shelter In Sinclair Bay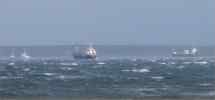 Five ships are sheltering from the stormy weather of the Pentland Firth today by lying up in Sinclair Bay. High winds are battering the north and snow is likely later on.
New Units At Wick Business Park Making Good Progress



The two new units at Wick Business Park are making good progress. O'Brien Construction have been making use of weekend working to push on with the new units at the Wick Business Park. The two new units will take the number of units on site to five. After three years when the the single unit at the Business Park appeared to be going to remain empty the lat 18 months has seen a flurry of activity in Wick. The increasing number of new business units have been joined by Tesco and even the former Caithness Glass factory is now occupied by A & D Furnishers and Halkirk Biscuits. Just up the road the former Grampian Records building is to be taken over by Ashley Anne to increase the size of its fitted furniture production when it moves from Thurso. The recent suggestion that major new building could be erected to house the nuclear archives creating a further 20 jobs is certain to keep the pot boiling.
17 March 2007
Weather Warning For North Highland And Islands Now Severe At Met Office
The Met Office now has severe weather warnings in force for North Highland and Islands For Sunday commencing in the early hours.
Over North Highland and the Northern Isles, southwesterly winds will increase, with gusts reaching 70 to 80mph. Isolated gusts to 90mph are possible over Orkney. Winds will become less strong for a time across Shetland in the early hours of Sunday morning. The wind will turn northwesterly and slowly moderate later on Sunday morning. The public are advised to take extra care and there is a risk of disruption to power supplies and transport.
Wick Harbourfest Gets Its Own Van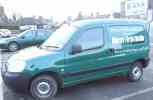 Things are getting seriously down to business for the Wick Harbourfest as can be seen by this new van carrying the message for the Flotilla that will start off on its journey to Portsoy from Wick after a weekend of festivities. The Harbourfest is seemingly growing at an amazing rate as word spreads in the sailing community around northern countries. Wick has one of the biggest harbours in the far north and rarely will it have seen so many boats for many years. The Harbour fest runs Friday 22 Saturday 23 & Sunday 24 June. The continental market will also hit town that weekend and entertainment events are also being organised around the town. Programme of Events It is going to be an unforgetable site as nearly 150 boats leave Wick harbour on the Sunday afternoon. More About Wick Harbourfest
Mey And District Gardening Club Bulb Show 2007

High Winds Forecast For Tonight and Next Few Days - Snow Possible
See Forecasts - Wick - Thurso Wick Gusting 52mph Thurso Gusting 59mph at 3.00am Sunday morning. Get everything tied down and packed away. Pick a few daffodils before they get flattened.
Store Wars
Two Caithness Councillors Failed To Stop Tain ASDA Application Vote - 20 For 8 Against
Two Caithness Councillors voted against the ASDA application for Tain as they had done for ASDA in Thurso. Caithness Councillors Graeme Smith (Wick) and Roger Saxon (Thurso West) voted with 6 other councillors against the application but were out voted with the result of 20 voting to allow the application which was against the local plan and 8 voting for the motion to allow the ASDA application. Councillor John Green (Caithness North East) voted for the ASDA application as he had done with the application for Thurso. Only three Caithness councillors are members of the main Planning, Development, Europe and Tourism committee. One of the reasons councillors were in favour of granting planning permission was "the development of a food retail store on the proposed site would assist resurgence of the commercial role of Tain" Councillors Graeme Smith and Roger Saxon also voted against granting planning permission for the Thurso store on the grounds that it was the wrong site although they were not against ASDA if they found another site in Thurso. The Thurso application at the Caithness Planning committee had councillors split 4 - 4 and Chairman Councillor Graeme Smith used his casting vote to reject the application. Councillors Tom Jackson (Thurso East) and Donnie Mackay (Thurso Central) were the other Thurso councillors to vote against the Thurso ASDA application also stating they were voting against the application as it was the wrong site. The four Caithness councillors who had voted for the application - Alaistair Macdonald (Caithness North West), Bill Fernie (Wick West), David Flear (Caithness Central) and John Green (Caithness North East) all signed a "Motion of Amendment" to have that decision reversed. In this they were successful when the full planning committee passed the motion. The Scottish Executive then called in the application and public enquiry is to be held in June to make the final decision. More details from the planning meeting in Inverness that debated the ASDA Tain application have been posted by a member of the Caithness.org Forum
MSPs RECEIVE SCARY INSIGHT INTO BNP's NORTH ELECTION STRATEGY



The BNP are set to spread hatred of new Eastern European migrants in the coming election and must be opposed, says north Labour MSPs Peter Peacock and Maureen Macmillan. Their warning and call to action by all right minded people, follows both MSPs receiving anonymous, unsigned mail from the BNP North Scotland. The letters each had articles pinned to them, which the MSPs had written for the first Polish language newspaper in Scotland. The letters contained sardonic thanks for making Polish immigration an election issue.
GIBSON RAISES ROAD CONCERNS
Highlands and Islands SNP MSP Rob Gibson has written to TRANSERV Scotland to raise concerns about the stretch of A9 from the Weigh Inn to Scrabster. Mr Gibson wrote to the transport agency to find out what work is being carried out to stop the land slips that have beset the road for many years and to ascertain if any more are expected. He also asked to questions regarding the state of the road which has suffered during the land slips and with heavy traffic. See the Road From Above On Local Live
New Tabloid Hits The Streets At Dounreay


A free newspaper has hit the streets of Caithness. But the proprietors of the local John O'Groat Journal and Caithness Courier don't need to worry. For the new tabloid newspaper is aimed exclusively at workers decommissioning the fast reactor experiment at Dounreay. The eight-page, full-colour Dounreay News is being issued free every month with a print run of 2000 copies. The tabloid style of the paper is designed to reflect the fundamental change in the nature of work at the site. The Newspaper is also available online in Pdf.
CYCLOPS Takes You Where No Man Has Gone - Inside The Reactor Core - Watch The Video
Another ground-breaking device is leading the way with decommissioning Dounreay's Prototype Fast Reactor (PFR). The innovative purpose built device, nicknamed Cyclops, was designed in-house by UKAEA's specialist design team. It has the combined purpose of measuring radiation and videoing capabilities in an extreme environment where temperatures are in excess of 230°C in addition to the high radiation levels. The specialist nitrogen cooled camera was lowered eight metres into the reactor on a heat resistant umbilical service line, which has allowed a clear view of the upper regions of the reactor and deep inside the core for the first time in over thirty years.........................
16 March 2007
Brian Smellie Shaved Of His Moustache To Raise £260 for Comic Relief

It's Tonight

If you are doing anything in Caithness for Red Nose Day send in your photos for us to post on the web site. Email them to bill@caithness.org
Class 2S of Wick High School raised over £100 by getting their teacher Mr Darmady to dress as a woman for the day. Well done Mr Darmady and Class 2S

Caithness Car Club - Club Sprint For Sunday Cancelled Due To Severe Weather Warning
The organisers of the Club Sprint at Little Ferry, Golspie have cancelled the meeting due to the weather warnings for snow.
1st Wick Boys' Brigade to be the first to benefit from the Malawi Exchange Project



Global Xchange is an exciting international exchange programme run in partnership by VSO, the British Council, CSV (Community Service Volunteers), and supported by the Scottish Executive. It aims to develop Scotland's already strong historical links with Malawi and bring young people together to make a valuable contribution to local communities both in Scotland and the developing world. At the end of March nine young people from Malawi will come together with nine Scottish youngsters to give 6000 hours of voluntary service to the local community over 10 weeks. The young people (aged 18-25) arrive in the community on Thursday 22nd March and will be diving straight into helping with the Wick Boys' Brigade's garden project on Saturday 24th March.
81 Climbers Missing in Glencoe - But It's Only an Exercise This Time
Local Dog "Skye" From Keiss Is Competing with Owner Innes Beaton, Deputy Team Leader of Assynt Mountain Rescue Team


SARDA Scotland handlers will be out in force between 22nd – 25th March to look for 81 missing climbers. It is not a major disaster unfolding, rather the annual SARDA Scotland assessment. This year, 9 dogs and handlers are being put through their paces and will be judged on each of 9 mountain searches. Only if they consistently find the practice casualties, will dogs be successful. Allison Todd, a community beat police constable from Inverurie and a member of Grampian Police Mountain Rescue Team is hoping her collie Midge will do well. "I have been training for this for nearly two years. Midge has a brilliant nose, a great temperament and loves people. You could not want a better dog for the job – I only hope the assessors agree!"
Mey Hall Pub Quiz
the Mey Hall committee are looking for teams of four for their Pub Quiz on Saturday 24th March 2007. It is being held in the Castle Arms Hotel, Mey and entry for a team of four is £5. The quiz will start at 8.00pm.
NOTICE TO ALL PARENTS for Norlin Playgroup, Wick
All children born between 1 March 2004 and 28 February 2005 are entitled to a funded pre-school place during the session 2007/2008. Enrolments will be accepted from Monday 19 March – Friday 23 March between 9.30am - 12. Please remember to bring the child's birth certificate.
Also enrolling for afternoon group for children aged 2-3 at the same time. Norlin Playgroup 609050
Latest Funding Possibilities for Local Groups
Another couple of funding ideas for local groups to think about -
COMIC RELIEF''S RED NOSE PROGRAMME
The next deadline for applications for funding through Comic Relief''s Red Nose Programme, is the 8th June 2007. This is Comic Relief''s largest grant making programme and focuses on supporting community based projects that work with young people, older people, people with mental health problems, refugee and asylum seekers as well as tackling domestic violence and deprivation. The deadline applies to applications made through its main grants programme which makes awards of above £5,000......
COMMUNITY FOOD AND HEALTH SMALL GRANTS SCHEME
Community Food and Health (Scotland) has announced that its small grants programme will open for applications on the 19th April 2007. Community Food and Health aims to ensure that everyone in Scotland has the opportunity, ability and confidence to access a healthy and acceptable diet for themselves, their families and their communities. Under the small grants programme, grants of between £500 and £3,000....
15 March 2007
Community Energy Training Day For Anyone Working In The Community and Voluntary Sector


Community Energy Day at the Wick Family Centre, Bank Row, Wick KW1 5EY on Thursday 29th March 2007. Energy training morning to include: - *Description of Ormlie Community Association's Energy SOS project, how it is set up and examples of what savings have been found - *Energy Awareness Training for household applications. Training will be useful to people that work in community and voluntary posts that meet people with energy problems and questions. The training gives enough information for people to understand how energy problems can be solved. Afternoon drop in: OCA staff are available to advise on specific household energy issues for interested householders. No appointment necessary. Please respond expressing interest in either or both providing name, organisation, contact number and contact e-mail to norma@ormlierenewables.co.uk or tel: 01847 893486 Please note that more that one person is welcome from each organisation. The timings for the day are as follows:
9.45 - 10.15 presentation about the OCA Energy SOS Project
10.15 - 10.30 Break/ registration for EEAC Energy Awareness Training
10.30 -12. 30 EEAC Training
12.30 - 1.30 Break
1.30 - 5.00 Drop in for householders wanting energy advice - Open to anyone who needs energy advice
Hi-Arts Audience Development Capacity Building
24 March 2007 11.00am - 2.30pm - Lyth Arts Centre - Participation is FREE
If you run arts events then this seminar may be of interested.
These participatory training events are aimed at cultural organisations, venues, promoters, festivals and heritage groups across the region, and offer practical advice and a toolkit for developing your group's marketing plan.
VACANCIES FOR CHAPLAINS FILLED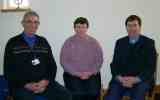 NHS Highland North Community Health Partnership are delighted to announce that the vacancies for Chaplains at Caithness General and Dunbar Hospital have finally been filled. John Craw, Presbytery Deacon working in the Parish of Latheron, Cath Armistead, Salvation Army and the Rev. Alastair Gray, Minister for the Parish of Bower and Watten have now taken up their posts to provide spiritual and religious care to the patients, staff and relatives in the Caithness area.
Almost 1300 Businesses Have A FREE Page In Our Business Index - Are You Listed?
Amazingly out of all those businesses and places of work 450 have web site or page linked in our growing listing. If you are just starting in business or have been going for some time it pays to have listing in our business index that now gets over 5000 visitors a day (the past two days have been over 6000) looking things up or browsing the business news. That's over 35,000 visitors a week and banner ad banner ad costs less than 50 pence a day. Add to that the huge traffic on our other sites including Caithness.org, the Sutherland Business index and several others where the banners flow to and it has to be the cheapest 24 hour day 7 days week advertising you can get. We are heading for100 million page views in 2007. That's a lot of banner ad shows.
Cancellation of Buffalo Mountain Easter Festival Puts Caithness Country Festival Ahead
With the apparent demise of a popular country festival held for the past eleven years at Ingleston outside Edinburgh many people are seeing Halkirk as good alternative for country music this coming Easter holiday 6, 7, 8 April and organised by Northern Nashville Country Music Club
NOTICE TO ALL PARENTS for Playbox Playgroup
All children born between 1 March 2004 and 28 February 2005 are entitled to a funded pre-school place during the session 2007/2008. Enrolments will be accepted from Monday 19 March – Friday 23 March between 10.00am - 11.00am at the Playgroup, Macleod Road, Wick Telephone number – 01955 606446
Please remember to bring the child's birth certificate.
14 March 2007
Train and Play the Celtic Way With Celtic In The Community


Celtic coaching for Girls and Boys is coming to Thurso
12th and 13th April
Top coaching at Naver football pitch, Thurso. Two sessions for £16 with a 10% discount if booked online at www.celticfc.net Booking is essential as this is likely to be fully booked. Get booking early. Also in Brora on 17 and 18 March. Check the list for many other parts of Scotland on other dates.

Access Improvement To Wick Caravan Site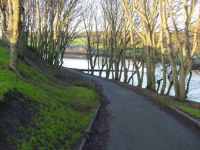 Local contractor A & W Sinclair of John O'Groats will be commencing work on Monday on improvements to the Wick Caravan Site access, along the riverside from Station Road. The access will be widened on the landward side so that vehicles will be able to pass pedestrians in safety and will not be so close to the steep drop into the river. This will enable large motor caravans, which are too tall to pass beneath the railway bridge on the main access from Thurso Road, to reach the site in safety. The works have been designed by the Council's TEC Services Wick office and are being jointly funded by the Council and HIE Caithness and Sutherland. Area Convenor David Flear and the three Wick councillors Bill Fernie, Katrina MacNab and Graeme Smith are all pleased that the push to have this work carried out in time for the new season has been successful. Wick is expecting several influxes of visitors this year for the Scottish Aero Club "Fly In" of 100 planes in May, the Flotilla weekend in June, the County Show in July, Wick Gala at the end of July/early August and the Massed Pipe Bands organised by Wick Pipe Band in September. With planning permission given on Monday by councillors for the Alexander Bain to place tables in the Market Square a festive atmosphere looks likely in Wick this summer.
Store Wars Continue.............
Approval for Asda superstore plan BBC
Not for Thurso - This one is for Tain
Lindsay Banks - Another Contestant In The Race For Life
Lindsay banks is doing the race for life and has sponsorship page
www.raceforlifesponsorme.org/linzibanks
Looking For Something To Pass A Few Cold Nights In Coming Weeks - Try Evening Classes
New session starting in Thurso and Wick next week starting 19th March. Call North Highland College for more details of what classes are still available. Evening Classes are good way to try something new, add to your skills, increase qualifications or just for fun and meeting new people. Everyone does not go to the pub to spend their free time. Try one class and you might find you like it and move on to others in later years.
The Death of Ivan the Terrible


Thurso Players are in the final stages of rehearsal for their forthcoming Historical Production, 'The Death of Ivan the Terrible'. The play tells the story of the declining years of one of the greatest sadists in history - Ivan the Terrible - or Ivan Grozni as he was known to the Russians. It has been said that Ivan was held in high regard by Joseph Stalin, so much so that he modelled himself on the great dictator. Given some of the atrocities committed in Stalin's name, this would seem to be quite probable. The play runs from 21st to 23rd March starting at 8.00pm each evening. Tickets will be priced at £7.00 and £5.00 and bookings can be made by calling Thurso 896956.
Caithness International Science Festival 2007 19th - 23rd March



Science O3 is presenting another fun-packed programme for Caithness schools. All primary schools have signed up for all or part of the festival. The activities will be taking place in Wick from Monday to Wednesday and in Thurso on Thursday and Friday. There will also be public events on Tuesday and Thursday evenings in Wick and Thurso respectively. Starting at 6.45pm on these days Noiseworks will present a show followed by a talk from Duane "Digger" Carey from NASA who piloted the Columbia Space Shuttle mission STS-109 which upgraded the Hubble Space Telescope in 2002. From small beginnings a few years ago the Caithness 03 Science Festival is certainly spreading its wings and this year should be more interesting than ever for budding scientists or anyone who is just plain curious.
Wick - Tue 20th March - Pulteneytown Academy Main Hall 6:45pm
Thurso - Thu 22nd March - Mount Pleasant Primary School Main Hall 6:45 pm
13 March 2007
YOU CAN BANK ON OUR SAFETY - AND SO DOES OUR COMMUNITY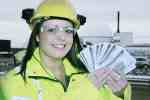 Community groups in Caithness and north Sutherland are set to cash in on a new communities fund from 1st April 2007. This year the Nuclear Decommissioning Authority will invest £20,000 in the new initiative, called the Dounreay Communities Fund. In addition, UKAEA is to invest up to £30,000 a year in the new fund based on the site's lost-time accident record, giving a total potential pay-out to local groups of £50,000 a year.
More Funding Opportunities For Local Groups
NORTH MSP HAILS AFFORDABLE HOUSING INITIATIVES AND FUNDING FOR THE HIGHLANDS
Highlands and Islands Labour MSP Maureen Macmillan has welcomed the announcement by Communities Minister Rhona Brankin of the extension of the open market Homestake shared-equity scheme to the Highland Council area. The Minister also announced £36.3 million of spending for affordable housing in the Highlands over the next year.................The Communities Minister also announced £36.3 million for affordable housing in the Highlands over the next year. This significant investment will mean that around 500 new homes can be built for rent or low-cost ownership across the Highlands."...............Mrs Macmillan added, "Affordable housing initiatives are planned for Skye & Lochalsh, Badenoch and Strathspey, Lochaber, Caithness, Sutherland, Ross-shire and Inverness.
Highland Council Welcomes Cash Boost For Gaelic Education
The Highland Council welcomes the announcement from the Scottish Executive that Gaelic Medium education in the Highlands is to receive an additional £45,000 in the current financial year 2006/07 and £880,000 for 2007/08.
Election 2007 Helpline to go live on 22 March
An Elections Helpline will be available to the public from Thursday 22 March when nominations are invited for the Scottish Parliament and The Highland Council elections. The number is 0845 603 5528. The helpline is being introduced to assist prospective candidates and voters with any queries they may have in the run up to the elections on Thursday 3 May. Those interested in seeking election to the Scottish Parliament or The Highland Council have until 4.00 pm on Wednesday 11 April to submit their nominations.
HMIe report on Canisbay Primary School, Caithness
A recently published HMIe report on Canisbay Primary School, Caithness has praised pupils~ attainment in English language and mathematic. The inspectors were impressed with the positive climate for learning and the effective use of ICT across the curriculum. They noted the friendly and welcoming atmosphere in the three-teacher school, together with the high standard of behaviour and the positive approach to learning. Also highlighted in the report are the high quality of pastoral care of the pupils and the very good arrangements to include pupils with additional support needs in all aspects of the life of the school. The report commends the committed teachers and the good strategic leadership of the head teacher.
Inverness Councillors Reject Another Tesco Store For Their Town
Members of The Highland Council's City of Inverness Planning Applications Committee today (13 March) unanimously refused an application for a district shopping centre, including a Tesco superstore, unit shops, petrol filling station and sites for hotel and doctors~ surgery on land at Ness-side, Dores Road, Inverness.
The application was for the development of a district centre comprising a 4,447sqm superstore, additional commercial units, land for hotel and medical centre, car parking and landscaping on land to the west of Dores Road at the western most end of the Inverness Trunk Road Link formerly known as the Inverness Southern Distributor Road.
Dumpers To Get On The Spot Fines
The Highland Council are to issue £50 Fixed Penalty Notices to people in the Inverness Area who break the law by illegally dumping their rubbish. This new approach has come about as a result of an update to the Environmental Protection Act 1990 and Anti Social Behaviour legislation which saw the introduction of new powers for Local Authority Officers and Police Officers alike who are now given similar powers by offering culprits the opportunity of discharging any liability for the offence by accepting a fixed penalty notice for small scale fly tipping whether domestic or commercial. This new approach will be implemented with immediate effect and Local Authority officers will be actively investigating reports of fly tipping and where evidence is found that connects the waste to an address the offender will be visited and issued with a fixed penalty notice.
Work Starts on Final Phase of North Coast Road - Melvich - Strathy


Work began this week on the £3.4 million final phase of upgrading the A 836 North Coast road, between Melvich ~ Strathy, Sutherland. The Highland Council has awarded a 40-week contract to Highland Quality Construction to build 3.4 kilometres of modern two-lane carriageway at Melvich, which will include two new bridges and environmentally friendly features, such as otter culverts. Disruption to traffic movement should be minimal as most of the new road is being built "off line". Funding of £500,000 has been attracted from the European Regional Development Fund.
Operation Snowdrop At Spittal 1955

William Mackay has sent us this photo from "Operation Snowdrop" in 1955 when Caithness was hit with one of the biggest snowfalls in living memory. William said "Even although I was there myself but not in the picture as far as I can make out, but I think the first, third and fourth from the right are brothers, David, Bertie and James Bruce. I think the man in the suit is probably from the Allan family who ran the Shop and Post Office.". If you know others in the photos please let us know and we will add their names. Send details or other Big snow photos from 1955 to bill@caithness.org
Other 1955 Snow Photos
Lynne McWilliam Form UKAEA Joins Race For Life
Another participant in the Race for Life fundraiser in Inverness on 13 May.
Her sponsor page is www.raceforlifesponsorme.org/lynnemcw
12 March 2007
Replica of Helmsdale Memorial 'The Emigrants' Heading For Canada


A replica of the 30 foot bronze statue commemorating the Highland Clearances is being cast and shipped to the Canadian City of Winnipeg. 'The Emigrants' memorial in the Sutherland town of Helmsdale was originally cast by Highland foundry Black Isle Bronze in 2003. Founder of Black Isle Bronze, Farquhar Laing (37), received the request for the replica of the three-figure statue from the St Andrew's Society in Winnipeg several months ago. Laing said: "We're delighted with the commission - it's a big piece involving four tonnes of bronze. We're especially pleased to be picking up work from across the Atlantic; there's also a possibility of another replica memorial being commissioned by an organisation in Nova Scotia."
11 March 2007
2001 Caithness Field Club Bulletin - The Final Articles
Monuments and Water: A re-interpretation of the Grey cairns of Camster, Caithness
Heart Problem
Caithness Tales Field Club Bulletin Articles Index Caithness Field Club Main Index
Old Photo - A Sundial Made From Caithness Stone At Spittal Quarry For Queen's Wedding

George Sinclair said - my cousin James Sinclair on left in photo, and my father James John Sinclair standing on the base of a sundial they were making from Spittal stone for the Queen's wedding
Unknown Scout Identified


A few weeks ago we published this photo in an attempt to find out who he was for an exhibition of Scout photos for the centenary year that will take place in a few weeks time. David More has now been in touch with the information that the photo is of Jimmy McLeod of Argyle Square, Wick. Unfortunately he died about the age of 13 or 14. He is also thought to be related to the Malcolms in Wick.
Wick Ladies Taking Part In "Moonwalk to Raise Funds For Breast Cancer Research
Lynne Bremner from Wick and a few of her friends are walking 26 miles for breast cancer research in their Bras!! The event known as the "moonwalk" takes place in Jun down in Edinburgh and they are hoping to raise over a £1000 for the charity. Also walking the 26 miles with Lynne Bremner are Diane Mackay, Jenna Coghill, Lynsey Miller, Lynsey Reid, Gillian, Susan and Julie Brown, Claire Oswald. They are looking for help with sponsors so if you would like to contribute head over to their web page
2001 Caithness Field Club Bulletin Now Going In
Here are the first articles from the 2001 Bulletiin of Caithness Field Club. Others will follow shortly...
An Account of Field Club Activities 2000
The Story of St John's Loch, Told and Re-Told
A New Fossil Discovery At Achanarras Quarry
The Stratifigraphic Position of the Old Red Sandstone of Sandside Bay
Bits about Building
A Wedding at Skibo
Huna Lifeboat (1877-1930) Field Club Bulletin Articles Index Caithness Field Club Main Index
Romeo and Juliet - A Promenade Performance At Thurso High


This is just to remind you all that Out of Eden's Romeo and Juliet will be performed by the THS Drama Group at 7.30pm on Friday 16th March at Thurso High School. Tickets, priced at £3.00 & £1.00, will be available at the door. Please note that this is to be a promenade performance although seating will be made available on request. Get along and see how with professional support the pupils at Thurso High have advanced their dramatic performance techniques. Romeo and Juliet (The Text)
Shakespeare Online Absolute Shakespeare Shakespeare At Wikipedia
If a few orgers go perhaps there could be discussion in our Forum about the play and why it continues to be so popular after all these centuries. See you all there............
Three Irons and a Glass Rod - An Open Day At North Lands Creative Glass, Lybster


North Lands Creative Glass runs a range of glass courses throughout the year and in rencent times has extended to have residencies with some of the top up and coming glass artists in the world. Tucked away in the north of Scotland in the small fishing village of Lybster this glass centre is fast building world-wide reputation. North Lands Creative Glass opens its doors from time to time and invites the world in and you can take the chance to have look at the latest creation from the artists who have taken the opportunity to be in residence for the past few weeks. The artists Rebecca Chernow, Carrie Fertig, Louise Olsson and Tim Shaw will have their recent work on display at an open day on Thursday 16th March from 12 Noon to 4.00pm in the Alistair Pilkington studio, Lybster (within the former Lybster school).
Sunday Papers & Blogs
Narrow defeat for Reds - Rugby - Caithness 17 - Linlithgow 15 - Linlithgow Today
Lawyers and gods are no substitute for a loving family - Scotsman
The Gospel For The Third Sunday In Lent - Episcoblog (Before you ask. Caithness is in there)
10 March 2007
Caithness Soldiers In Basra - Big Photo Gallery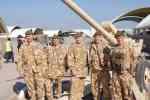 The Caithness men of SF Platoon, Wick are back home on leave for two weeks. They will soon be off again for another tour of duty until the end of May. TA Main Index Latest TA Basra Messages
Captain Kevin Mackay once again passes on thanks to everyone who sent parcels, cards and other items over the past few months.
Help Lybster Kids Get Football Kit If You Get the Daily Record Or Sunday Mail
On Our Message Board Today is a request for the tokens in the papers from today and all next week.
"They are running a token system to get free kits for primary school football teams. In total we need to collect at least 3000 tokens to be able to get a set of kit for the young footballers. Can anyone who reads or knows someone who reads the daily record please save these tokens and help us reach our target so we can provide the youngsters with some much needed new kit. These tokens will only be published in today's daily record, tomorrows Sunday Mail and the Daily Record all next week so we are needing as much help as we can to get to our total."
Other Caithness Teams Collecting tokens
Castletown Junior FC and East End Under 15 are also registered according to the Daily Record today and are collecting the tokens so keep your eyes peeled for collecting boxes for these tokens or send them to the clubs concerned.
More Folk In the Race For Life - "Reay Runners"
http://www.raceforlifesponsorme.org/reayrunners
It seems there are many more folk in the Race For Life here in the north than we thought. This link is for Mother and Daughter, lesley and Eilidh Gallagher and who are running in memory of Dad/Grampa Jim Marshall. If you are in Caithness or Sutherland and would like a link here then email details to bill@caithness.org
The Pennyland Posse In Race For Life
A group of 12 members of staff from Pennyland Primary School (and two of their children) will be taking part in the Race For Life in Inverness in May. They are holding fundraising events from now (starting with a coffee morning on the today in the Pentland Hotel) until the race day and hope to raise as much as they can for this worthwhile cause. They have a sponsorship page :
http://www.raceforlifesponsorme.org/pennylandposse
9 March 2007
Latest Funding Possibility For Local Groups, Schools, Health Authorities and Local Authorities
BIG LOTTERY FUND: A BIGGER PEOPLE'S MILLIONS: OPENING SOON
It is not too soon to be thinking about People's Millions, which will be even bigger and better this year. The People's Millions is an exciting partnership between the Big Lottery Fund and ITV in which viewers vote for the project they want to receive funding.
GRANT SIZE: Organisations will be able to apply for grants of up to £80,000 plus VAT. The programme will be open to voluntary and community groups, local authorities, schools and health organisations.
Another Wick Team Joins "Race For Life" - "The Keep Fit Wifies"
Moira MacDonald has been in touch to say she is part of another team taking part in the "Race For Life" cancer fund raiser. A group of Wick ladies entered for the Race for Life are called "Keep Fit Wifies" from the Wick R.B.L.S. Pipe Band. Any more Caithness teams entering ? Let us know to give you a mention.
Caithness Ladies Run In "Race For Life"
Two Fund Raisers are entered in the Race For Life and have been in touch to get your help in raising cash for this Cancer fund raiser once again. If you would like to donate to their efforts check out -
Gail Macdonald and Suz at http://www.raceforlifesponsorme.org/gailandsuz and
Sheena MacLeod at http://www.raceforlifesponsorme.org/sheenamacleods
Walk, jog or run 5km in the UK's largest women-only event and raise money for Cancer Research UK.
Good Luck ladies.
8 March 2007
Caithness Wood Turners Liz and Michael O'Donnell Feature On Craft Scotland


Local Wood Turners Liz and Michael O'Donnell are featured on Craft Scotland at the moment with bowls made from sycamore. These bowls were made from local sycamore during a retreat at Freswick Castle in Caithness and inspired by the legends and environment of the ancient Norse Castle. This year they will be guests at the Irish Woodturners Guild Annual Seminar and will publish a fourth book on woodturning in early 2008. Read more and watch a film showing the stages from tree-felling to finished bowl on the Craft Scotland web site.
SUCCESSFUL CROFT HORTICULTURE DAY AT DUNBEATH
Thirty two crofters attended a 'Horticulture for Crofters' day at Dunbeath Community Centre on Saturday 17th February 07. Organised by Initiative at the Edge, the purpose of the event was to promote horticulture as a viable form of diversification for crofters.
Bower Young Farmers AGM Report
Bower Young Farmers held their Annual General Meeting on Tuesday 6th March in Bower Community Centre. Bower YF are holding their next meeting on Tuesday 1st May 2007, 7.30pm, in Bower Community Centre. New members are always welcome and anyone wishing to join should either come along to the meeting.
Plant And Machinery For Wood Chip Heating System Being Installed At Wick





The plant needed to burn gasified wood chip was being swung into place at Wick yesterday. The new heating system gradually making its way into homes in the Pulteneytown area brings unlimited heating and hot water for fixed weekly price. Caithness Heat And Power Index
McGrigor Slams £17m Bill For West Coast Ferry Tendering
Commenting on news that the cost to the Scottish taxpayer for tendering West Coast ferry services is more than £17m, Conservative Highlands and Islands MSP Jamie McGrigor said: "This whole process has been a farce from start to finish. Unfortunately we're not even sure that this is the finish.
NORTH LABOUR MSPs RESPOND TO POST OFFICE CONSULTATION
Highlands and Islands Labour MSPs Maureen Macmillan and Peter Peacock have responded to the Department of Trade and Industry's consultation on the future of postal service.
Gibson Questions Minister Over Wick Harbour
Highlands and Islands SNP MSP Has questioned Transport Minister Tavish Scott over funding for protection of Wick Harbour following flooding towards the end of last February. Mr Gibson welcomed the response from the Minister (during question time today) which stated that money would be made available for repairs and the upgrade for the south pier. However he warned that the money is needed as soon as possible..
LYBSTER WATER BURST UPDATE - SUPPLY BEING RESTORED - 4.34pm
Over a dozen Scottish Water staff working flat out in difficult conditions since last night have helped restore drinking water supplies to hundreds of homes in the Lybster area of Caithness. Up to 600 properties were potentially affected between late last night and this afternoon. A series of bursts on a 12 inch diameter pipe drained a storage tank which normally holds 400,000 gallons on drinking water. Boggy terrain, rocks and a burn made locating and repairing the bursts extremely difficult. Refilling many miles of pipes to all customers' taps was always going to take time but Scottish Water speeded up the recovery by using additional methods. A 6 feet section of pipe was replaced, water was put into the system elsewhere using tankers and supplies from Wick were rezoned towards Lybster using alternative pipes. Almost 7000 litres of bottled water was distributed to the communities of Lybster, Berriedale, Latheronwheel and Dunbeath, with particular attention paid to vulnerable customers such as those in sheltered housing. Not all customers in the area lost supply but those who were affected have been coming back on since 2pm this afternoon. The water mains system in the Lybster area is generally robust and today's incident was an extremely rare occurrence. During today a total of around 200 customers phoned in to Scottish Water's customer contact
centre for information. Details were also available on www.scottishwater.co.uk
Lindsey Duncan - Temporary Ranger In Caithness

Lindsey Duncan has recently moved to Wick to take up the post as East Caithness Countryside Ranger for the Highland Council. She is covering Marina Swanson's maternity leave for the next few months and hopes to get to know all there is to know about this fantastic region of the Highlands. Lindsey's main passion in life is the outdoors. From childhood she gained a love of all things natural and loved to be in the wilds. She was born and has grown up in the Highlands. Her family home is still in the small village of Balloch on the outskirts of Inverness. She spent much of her youth horse-riding and boating around the north-west coast of Scotland with her family. Lindsey is running Caithness Critters - See below.....
Caithness Critters Club Membership Now Open For 2007


The Critters Club membership is currently open as some of the older members have moved on and is looking for new mebers between the ages of 8 and 14 to take part in some of the coming events. For more details contact the Ranger Service at Wick. The Caithness Critters is a local children's nature group run by the Highland Council Ranger Service. The club is open to children aged 8 to 14 with an interest in wildlife & the environment. The club meets on a regular basis & aims to encourage greater appreciation for the environment and wildlife by raising awareness at an early age. The next event is on Saturday 10th March at Latheron Woodland.
National Campaign To Get Scottish Children On Their Bikes


Today (8 March 2007) Cycling Scotland launches a national campaign urging parents to swap the school run for the school cycle and encourage their children to cycle to school. The campaign aims to raise awareness of the benefits of cycle training offered in the majority of primary schools across Scotland and ultimately to increase the number of children cycling to school every day.
Cycling Scotland is offering one winner the chance to win a set of four brand new bikes for all the family, worth over £800......more
'Wanted: Volunteers To Monitor The 2007 Elections'
Unlock Democracy is a voluntary organisation dedicated to democratic renewal and connecting people in politics: www.unlockdemocracy.org.uk The group are looking for volunteers to monitor the 2007 elections in every constituency in Scotland. The group are still looking for volunteers in Caithness, Sutherland and Easter Ross. The research project is designed to study and improve the quality of democracy in Scotland. It is based on a successful project we completed in the 2005 General Election. This is not a large commitment - it should take no more than two or three hours, over the course of a month......more
International Residency Opportunity
Cromarty Arts Trust would like to announce an international residency opportunity for Highlands and Islands Musicians following on from our successful 2006 residency with visual artist Jon Macleod. Applications are invited from Musicians to take up the opportunity of a residency in the Balkan state of Macedonia. The residency opportunity is hosted by Irena and Sergej Andreevski who have invited artists to their colony in Sloestica, the south-west part of Macedonia for the past five years. The couple visited Scotland in 2005 at the invitation of the Trust, as our first International Artist in Residence. Interest must be registered by 26 March 2007........more
WATER WORKERS LOCATE LYBSTER WATER PROBLEM
Teams from Scottish Water working right through the night in difficult terrain are fixing a burst pipe which has interrupted drinking water supplies to approximately 600 homes in the Lybster area of Caithness. A series of bursts on a 12 inch diameter water main has drained a service reservoir (storage tank of treated drinking water) which normally contains 400,000 gallons. Customers in the Lybster, Latheronwheel, Dunbeath and Berriedale areas are being assured that every effort is being made to restore supplies. Lorry tankers are feeding water into the system at strategic locations and efforts are being made to rezone water from the Wick area through alternative pipes towards Lybster. Alan Miller, Scottish Water's team manager for Caithness and Sutherland, said: "We've been dealing with a series of bursts on a 12 inch water
main which runs under the moorland north of Latheron. It's difficult terrain but the latest burst has been located and is being fixed. There are many miles of pipes between the service reservoir and customers' taps so it will take time to refill the pipes. We are looking at late afternoon for most customers' supplies being restored although it could be sooner as we are working extremely hard on a number of fronts. I'd like to thank anyone affected for their patience and understanding."
HELPING CUSTOMERS
Vulnerable customers are being supplied bottled water when requested. Scottish Water has also ensured that Forss Nursing Home has a supply of bottled water. Customers can keep up to date by visiting www.scottishwater.co.uk
DISTANCE NO OBJECT TO NEW PHOTOGRAPHY COMPETITION


A PRESTIGIOUS digital photography competition launches this week to celebrate images of the Highlands and Islands during Highland 2007 Scotland's year of Highland culture. Anyone with a camera and a creative eye is being invited to send entries to 'Highland Exposure' organised by Highlands and Islands Enterprise (HIE) and Distance Lab - the digital media and communication technologies research institute. The judges will be looking for the most stunning and inventive expressions of distance in a contemporary Highlands and Islands context, with some sort of connection to Highland 2007's main themes: arts, environment, heritage, language, science and sport.
New Environmental Grants
The Environmental Justice Fund (EJF) - £2m available
The Community Environmental Renewal Scheme (CERS) £1.75m available
The Scottish Executive launched two new one year grant schemes. Both schemes are being administered by Forward Scotland. The timescales for applications are very tight indeed. The first deadline date for applications is 25th April 2007. And, the final deadline date is 13th June 2007. It is an anticipated that most of funding will be allocated in the first round. As all approved funding must be spent by March 2008. For projects that help communities enjoy their local environment and become more involved with local amenities and activities. Capital and revenue grants available.......more
Caithness Firms Wanted For All Energy Exhibition In Aberdeen
Louise Smith of Ormlie Renewables has booked a stand (18 metres square) at the All energy Exhibition in Aberdeen and invites Caithness companies and organisations to participate in the Caithness stand. She has created an excellent opportunity and if you want to know more, get involved please contact Louise. The All-Energy exhibition and conference is the UK's largest event devoted to renewable energy. Check out http://www.all-energy.co.uk/About_All-Energy.html for more details. The seventh in the annual series will be held in Aberdeen on 23 and 24 May 2007. Admission to the exhibition and conference is free of charge although exhibitors pay for their stands. All Energy attendance has grown from less than 400 in 2001 to 2850 in 2006.
6 March 2007
Careers Convention At Thurso High School - Wednesday 7 March
Careers Scotland, HIE Caithness and Sutherland host the Annual Careers Convention on Wednesday 7th March 2007, from 5.30-8.30pm at Thurso High School. If you're thinking about a new job, updating your skills, facing redundancy or change, then come along to the Careers Convention.
Over 40 exhibitors will be in attendance, representing Scottish Universities, Colleges, a variety of training providers and local employers - all available to give advice and information on courses, qualifications and occupations.5 March 2007
Funding for Kayaking in Thurso
The Thurso based Pentland Canoe Club has been awarded £5680 grant from the Awards For All Scotland programme which is supported by the Scottish Arts Council, the Heritage Lottery Fund, sportscotland and the Big Lottery Fund.
Caithness Classic Motorcycle Club - Information
Stuart Tod has put up a page with information about the club that is now linked in our own pages if you are looking for it later. The annual rally this year is on Sunday 20th May.
FREE Introduction To Meditation Class
Remove the stress and strain of life, feel the tranquillity that meditation can offer. Living Flow is offering a free 4 week course on the basic principles of meditation, how it can assist with stress relief, hyper tension and much more. The 4 week program will be held at Dunbeath Surgery and run by Andrew Usher.
Summer Is Coming - Lose the Flab with Keep Fit Or Dancing
Just some of the classes we have been told about. If you know of more let us know so we can spread the word and lose the flab in Caithness.
Eclipse From Saturday 3 March As Seen From Caithness





A few photos along with a video sequence put together by Gordon Mackie. This has been uploaded to You Tube but may not yet have been processed. Other photos will be added shortly. Thanks to everyone who has sent them in.
Dounreay Bulletin - Issue 21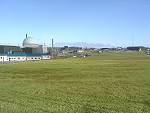 In this issue - Simon Middlemas is New Site Director - Dounreay Welcomes £150M Budget Deal - Dounreay to Recruit More Apprentices - Sampling Reactor Coolant Ready for Emptying the Dome - Breeder Cell Installation Begins - Tank Farm is Demolished - Cementation Plant Recovery Programme Continues - Pit Recapped - Cyclops Looks Inside Fast Reactor - Go Ahead for Revised Ventilation Project - Safety Countdown to Breakfast - UKAEA to Publish Particles Plan - Business Chiefs See Clean-Up in Action - Out With The Old and In With The New for Visitors - MSP Sees Demolition of Site - Dounreay Clean-Up on Conference Agenda - Group Considers Future Condition of Dounreay Site - Viewfirth Demolition Approved - New IT Equipment for Playgroup.
VIEWFIRTH REDEVELOPMENT STEERING GROUP - PUBLIC MEETING
7th MARCH 2007, 7.30pm - PENTLAND HOTEL, THURSO
The meeting will focus on the findings of the questionnaires collected during February from the Caithness community.
Local Company Computafix Will Pick Up Used Printer Cartridges
Did you know that under the Environmental Protection Act 1990 it is now illegal for commercial enterprises to dump used inkjet cartridges and toner cassettes with the domestic rubbish. These are considered 'special items' and you have to pay a premium for their uplift - or of course you can call COMPUTAFIX www.computafix.eu on 01847 821440, who will uplift and dispose of these items FREE OF CHARGE to you. Even if you did not buy them from Computafix in the first place! Ordinary householders, should not dump them either, but should take them to the council depot to be disposed of - or call Computafix.
Archives From Front Page
Front Page Headlines Archive Index From 2000 Onwards