8 March 07
Lindsey Duncan - Temporary Ranger In Caithness
Lindsey Duncan has recently moved to Wick to take up the post as East Caithness Countryside Ranger for the Highland Council. She is covering Marina Swanson's maternity leave for the next few months and hopes to get to know all there is to know about this fantastic region of the Highlands.
Lindsey's main passion in life is the outdoors. From childhood she gained a love of all things natural and loved to be in the wilds. She was born and has grown up in the Highlands. Her family home is still in the small village of Balloch on the outskirts of Inverness. She spent much of her youth horse-riding and boating around the north-west coast of Scotland with her family.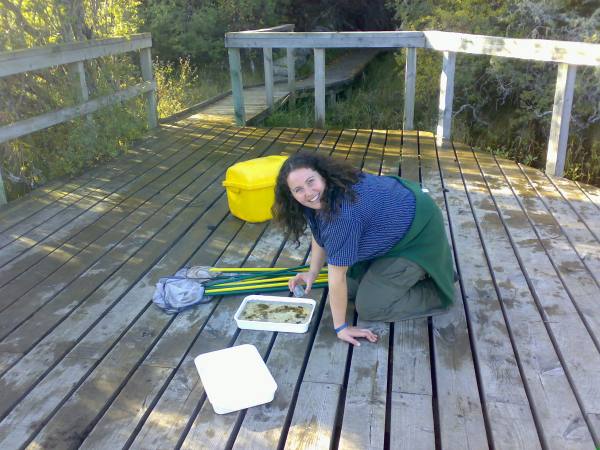 Lindsey Duncan On A Pond Dipping Expedition
Having completed a degree in Zoology at Glasgow University, Lindsey's love of natural history has grown. During University she was an active member of the exploration society which took her to Trinidad & Tobago in the West Indies on three long scientific and conservation-based expeditions. Studies ranged from behaviour in fiddler crabs to tree frog adhesion and nesting success of the giant leatherback turtles.
After Graduation, Lindsey set off on a trip to the Southern Hemisphere where she spent one year back-packing around Australia and then six months in New Zealand. During her travels she had all sorts of jobs (chef, waitress, conservation volunteer, fruit-picker, horse-riding instructor, receptionist and more!).
For the last few years, Lindsey has worked on and off at Glenmore Lodge at the foot of the Cairngorm Mountains. Being a chef gave her enough spare time to go hill-walking, canoeing, climbing and other adventurous outdoor activities. She has worked for Scottish Natural Heritage on the Uist Wader Project in the Outer Hebrides which then led on to working for a time with the Highland Council Countryside Rangers in Inverness. She then secured a post as a ranger at Aigas Field Centre in 2005. During the winter of that year Lindsey travelled all the way to the South Atlantic to work as a Conservation Warden on Sea Lion Island in the Falkland Islands. This was an experience never to be forgotten. Living alongside massive colonies of 3 species of Penguin, Southern Sea Lions and Southern Elephant Seals was mind blowing. She then returned to Aigas Field Centre to continue with her position of Head Ranger.
Lindsey decided to move on to new pastures at the end last year and got the job up here in Wick. She is delighted to be working in this beautiful area and is getting to know the Flora and Fauna (humans included). Lindsey said: "The Caithness coastline really is stunning and I can't wait till all the seabirds start breeding on the cliffs. I'll be keeping a look out for those orcas too!
I am now running the local children's nature group, The Caithness Critters which is run through the Highland Council Planning & Development Service and meets every month where the members learn about nature and wildlife around the county. We are currently looking for new members so please do get in touch to find out more about the exciting activities we do!"