[March 2007] [May 2007]
30 April 2007
Mey Selections Barrogill North Highland Blended Malt Launched


Inver House Distillers and North Highland Products launched the first ever North Highland Blended Malt Scotch Whisky, Barrogill, as part of the prestigious Mey Selections range of food and drink products, at the Castle of Mey in Caithness today. Mey Selections Barrogill Blended Malt Scotch Whisky takes its name from the history and heritage of the Castle of Mey, the most northerly castle on the Scottish mainland just a few miles from John O'Groats. Originally built and named the Castle of Mey between 1566 and 1572 by George, 4th Earl of Caithness, it was renamed Barrogill Castle in the early seventeenth century.
Replacement Postal Votes
Postal voters, who have not yet received their ballot papers or have lost their papers, are being advised they can apply for a replacement postal vote up until 5 pm on Thursday - the day of the election. Voters seeking a replacement postal vote require to provide proof of identification when visiting one of the following Council offices: -
Council HQ, Glenurquhart Road, Inverness
Market Square, Wick;
The Meadows, Dornoch;
Council Offices, Dingwall
Tigh na Sgire, Portree
Lochaber House, Fort William
The most secure examples of identification are full, valid current passport and photocard driving licence. If the voter does not have photographic identification, then a utility bill and one other item of identification, such as a cheque book/card or council tax payment book, can be used as proof of identification. Voters have until 5 pm on Thursday to apply for a replacement postal vote and must return the vote by the close of voting at 10 pm on Thursday.
An election helpline has been set up to help those people who require a replacement postal vote. The number is 0845 603 5528.
29 April 2007
Caithness Motocross Club - April


The 2007 season kicked of on Sunday the 22nd April at the Borgie Motocross track to the west of Bettyhill. A very good turnout of new & old members turned up to race at the well-prepared venue and they all produced some very exciting racing throughout all the classes. The sun shone as the starting elastic triggered to allow the first race of the season to get underway and it was the "less than 100cc" Junior Quad class that took to the track, Scot Gray from Bettyhill won 3 of the 4 races but Jack Duffy from Wick won Race 2 to prevent Scot from making it 4 from 4.
Researcher To Gauge "quality of life" In Rural Scotland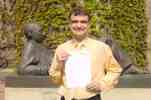 People living in rural areas of Scotland have been urged to take part in a quality of life survey being carried out on Election Day. Dr Holger Bergmann, a researcher at the University of Aberdeen's Business School, is asking residents in Caithness, Sutherland, Aberdeenshire and Aberdeen to take a few minutes to give their views on rural life after leaving their polling station on May 3. Questions will touch on a number of topics such as the impact of local farming on the environment, community spirit in countryside areas, and the role of farming and forestry in the region. "The survey is aimed at getting a broad and thorough understanding of the general quality of life perceptions among residents in Scottish communities," said Dr Bergmann. "Anyone who takes the time to answer the questions can be assured that their responses will remain confidential, and will in no circumstances be made available to anyone else other than the research team without explicit consent." Elections 2007
Cutting Edge Barbers Snooker League - Report - April 2007


As The Cutting Edge Barbers Snooker League comes to a close. Mark Mackay regained his title managing to fend off Derek Johnston more than by a single point this season. The standard this season has vastly improved. Alan Mackenzie went one better this season to finish third. There will be an additional Division this year due to demand.

Snooker County Singles - Saturday 5th May - Enter By 4th May
In the Royal British Legion Thurso - £3 Entry - Names to Derek Johnston (07907 755777) By Friday 4th May
Draw 10.00am - Start 10.30am
Snooker County Doubles - Saturday 19th May 2007 - Enter By 18th May
In the Royal British Legion Thurso - £5 Entry/Pair - Names to Derek Johnston (07907 755777) By Friday 18th May - Draw 10.00am , Start 10.30am
Sponsored Dog Walk - Scottish SPCA Thurso & District Branch
Sponsored Dog walk to take place on Sunday the 6th May 2007. The walk will start from Thurso to Reay Road (A836) Janetstown Turn Off. Starting at 1.pm registration at 12.30. For more information & sponsor forms, contact Dawn Milnes 01847 811505 email isauld.dawn@tiscali.co.uk
Australian Wins O'Neill Highland Surfing Open Competition At Thurso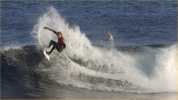 The final day of the 6 Star Prime World Qualifying Series (WQS) O'Neill Highland Open by Swatch 2007 culminated in the glow of glorious evening sunshine on Saturday, with Australia's Nathan Hedge claiming the $15,000 winner's check and 3000 WQS ratings points following a thrilling final heat against fellow countryman and O'Neill team rider Jarrad Howse. The fourth consecutive day of competition began early once again, with contest organizers aiming to take advantage of the remaining swell and complete all quarter final, semi-final and final heats before the close of play. See the videos
Heather Miller - Independent - Standing In The Wick Ward

I have lived in Caithness all my life, was born in Lybster where I lived until I moved to Wick in 1983. I am the granddaughter of the late Danny and Nellie MacGregor who used to have the shop in Bank Row which many people will remember. I work as the Money Adviser with the Caithness Citizens Advice Bureau. I have been on the committee of the Wick Town Improvements Association since 1990; been involved with Wick Youth Club since 2001, and have also been involved since the beginning with the group who have been working to get a memorial garden in place where the bairns were killed on 1st July 1940 at the bottom of the Black Stairs. I am not associated with any political party so do not follow any political agenda.
The line up of candidates for Wick is -
Jack Brooker - Conservative, - No information held
Bill Fernie - Independent (currently councillor for Wick West),
Laurel Bush - Independent, Mr Bush has said he does not intend to supply any information to us.
Katrina MacNab - Independent (currently the councillor for Pultneytown),
Heather Miller - Independent,
Jim Oag - Labour - Awaiting information - Jim Oag formerly was formerly councillor Pultneytown and was defeated in 2003 by Katrina MacNab. 2003 Result - K MacNab 599 J Oag 301
Graeme Smith - LibDem, (currently the councillor for Wick)
Niall Smith - SNP - Awaiting information - Niall Smith has run in several previous elections without success.
Candidates For All Council Seats In Caithness - Thurso, Wick and Caithness Landward
Single Transferable Vote (STV) - how it works for the council elections for the first time. This animation is from Australia but it is the same system being used for the council elections now.
Candidates In Scottish Parliament Election Caithness Sutherland and Easter Ross Election Index and Links
2003 Elections In Caithness
Try The May Mini Triathlon With Wick Triathlon Club
May Mini Traithlon which is being run by the Wick Triathlon Club. The event is being held on Sunday 6th May, and forms are available from Wick and Thurso Swimming Pools. The race is a 400M swim (16 lengths) followed by a 10K cycle and finishing with a 3K run. Entries can be made by individuals or teams. Registration is from 10.30 - 11.30, with a briefing at 11.45am and the event starts at 12noon. This event is ideal for someone who wants to try the event for the first time.
Wick Banger Derby - 1 July 2007
Wick Banger Derby is going to be held on the 1st of July 2007 at No 2 Sibser Road. Forms are now available for interested drivers, there are a limited number left so if you are interested please contact:
David Craigie on 07810824521 or Graeme Bremner on 07810546978. So if you think u can drive better than the best get in contact to be a part of this fun packed day!
27 April 2007
"Fun Dog Day" at Dunnet Forest on Saturday 28th April at 1.30pm.
It's been organised by The Highland Council Countryside Rangers as part of the Scottish Outdoor Access Festival, to encourage responsible dog ownership. There's a few things that will be taking place: Novelty Dog Show Event (Registration 1.30pm for 2pm start. £1 entry fee), Obedience displays held by trained dog teams, various stalls, responsible dog access scenarios by untrained ranger dog team and a treasure hunt for you and your dog(s). Parking will be at Dunnet Beach (North) main car park only
Video Projection on Tollemache House In Thurso On Saturday Night
There will be a video projection onto the wall of Tollemache House, High Street, Thurso tomorrow night (old music shop) around 9.15 pm. The projection is a compilation of work undertaken by a group of 'older' people from Ormlie over a 10 week period, using new media equipment. We hope that the public will see something wacky and fun - something a bit unusual for 'older' people to get involved in. The initiative has been run by Ormlie Community Association in conjunction with Skerray artist Gavin Lockhart. (Remember the goldfish on he dome at Dounreay - same person!)
Viewfirth Steering Group Big Brother 'diary room'
In Thurso precinct tomorrow afternoon (Saturday 28th April) from 2.00 - 4.00 pm to get the views of the community, in particular young people, on the needs of Thurso in respect of community facilities and the possibility of a new facility at the Viewfirth site. The 'diary tent' has been designed by Shelagh Swanson and participants will go inside the 'tent' and video themselves about what they think Thurso needs re community facilities. All the video recordings will be compiled into a DVD at the end, by local Skerray artist Gavin Lockhart and be used as part of the Viewfirth consultation. Ormlie Community Association is one of the partners in the Viewfirth Steering Group Initiative.
Rosebank Park In Wick Upgrade Almost Completed



Independent Councillors Katrina MacNab and Bill Fernie (Bill was behind the camera taking the photos) went along to check out the final touches being put to the Rosebank Park in Wick. The tennis courts are completely renewed with a surface that should please the tennis players and are being relined. One of the courts has also been lined up for netball and other games as well as tennis and surrounded by a high quality fence. the Bowling green was re-sized last year and lot of work has gone on to bring it up to an improved standard. the crazy putting is being renewed with a local firm manufacturing the new equipment. The Bowling club opens on Saturday and the tennis courts on Monday. In all over £100,000 will have been spent on the upgrading of the facilities at the park. The crazy putting will be ready in two or three weeks time. The only blight on the park was the recent fire which damaged the kiosk. A temporary kiosk has been brought in to be used until the pavilion is repaired once Highland council officials ahve sourced estimates for the work.
Duncan Winfield - Independent - Standing For Caithness Landward

Duncan Winfield is the sub-postmaster in Lybster. "I am standing as as an Independent candidate in order to represent the interests of all the electors in the Landward Caithness ward. As an Independent. I have no political axe to grind, and will therefore be in a position to "tell the emperor that he has no clothes on" without fear of intimidation or recrimination. I am aware that the effectiveness of a politician's tenure is usually in inverse proportion to the magnitude of his pre-election promises. I will make no promises. However, if elected, I will endeavour to represent and pursue the best interests of the people of Caithness."
Drop food-on-the-go litter; Pick Up A £50 Fine On The Spot
The Highland Council and Keep Scotland Beautiful jointly launched a new 'Keep Scotland Tidy' campaign to tackle food-on-the-go litter this week. The latest Keep Scotland Tidy campaign aims to emphasise the problem of food-on-the-go litter - takeaway packaging, drinks cartons and confectionary wrappers - and to highlight that dropping such litter is a crime which can result in the perpetrator being issued with a Fixed Penalty Notice for £50. With half of all city and town-centre sites surveyed in Scotland in 2005-06 being blighted by fast food and confectionary litter, it seems that although food-on-the-go may be the quickest way to satisfy those hunger and thirst pangs, the effects of tossing away your leftovers and wrappers are often slow to disappear. And when the average plastic film container takes 20-30 years to break down it is no wonder that so many open spaces provide a stark reminder of people's throw away attitude.
"Hanse Explorer" In Wick Harbour

The "Hanse Explorer" was in Wick for a couple of days. She is a training ship for engineers and navigating officers. She also carries six passengers of which there will be a change over in Wick. She leaves Wick today about 9.00am.


Single Transferable Vote (STV)
OK folks here is how your new voting system for Highland Council works. Fairer but not easy to understand at first go. The link takes you to an animation to explain what will happen once you have voted.
26 April 2007
424 Events Are Currently Listed In Our What's On Pages - Is Yours?
Our what's On pages are now one of the biggest listings of events taking place in Caithness. But we know there are many more not listed. Get your event on now. It's FREE and the sooner you get it on the more folk can see it before it happens. 3,977 visitors checked it out yesterday alone and so far in April 95,121 visitors had a look at our What's On section.
Latest News From The O'Neill Highland Surfing Championships In Caithness


Well underway now that the surf is up. heck out the latest videos of the competitors making the most of Caithness surfing and daily live webcast. Caithness is rapidly becoming destination for the world's surfers as they discover the unique challenges of the waves at 59 degrees north. Report From Wed 25th At Brims
The Battle For Caithness Landward Is Hotting Up To Be One Of The Four Chosen By Voters
With four candidates to be chosen from the line-up eight candidates Caithness Landward voters have some real choices to make. Will they go for the experienced current councillors represented by the LibDem contenders of David Flear and Alastair MacDonald or for well known and very experienced community based first-timers Willie Mackay and Robert Coghill as Independents. Added to that mix is another very experienced Labour candidate Bill Mowat and the SNP candidate David Bremner who despite his youth is a shop steward at Dounreay and may well attract younger voters. Yet another man with a wealth of experience is the conservative candidate is Colin Sutherland a former hotelier and well embedded in his local community. Duncan Winfield from the Lybster area is standing but has no party designation and as yet we have had no contact from him and he is not in the telephone book. Caithness Landward is the most difficult area for canvassing of the three Caithness wards due to the geography. All wards are now much larger and for Independents with no party to back them up with workers to deliver leaflets it is an amazingly difficult challenge to cover the ground in the days before the election. The former smaller wards made it possible to get round everyone even if only to deliver a leaflet but the much bigger wards mean it will take a huge amount of time to get anywhere near doing that. Watch out for candidates walking faster and faster as 3rd May approaches. All The Caithness Wards Candidates The MSP Contenders
Main Election 2007 Page With Links
Two Strong Independent Candidates Have Huge Experience Of Issues Facing Caithness
Willie Mackay MBE - Independent For CaithnessLandward

Willie Mackay known in Caithness as Willie Mackay "the AI Man" has served the Caithness farming communities for the past 37 years as a cattle breeding inseminator. He is currently the chairman of the voluntary run branch of ENABLE for learning disabled. Hobbies include after dinner speaking, concert and celidh speaking compere and taking part in Burns suppers.
Robert Coghill - Independent for Caithness Landward

Robert Coghill a working farmer in Caithness who knows the problems facing rural communities says "As an INDEPENDENT I will not have to "toe any party line" and I will have a strong voice to represent the people of Caithness"
Sitting LibDem Councillors Go In Caithness Landward
Alastair MacDonald – LibDem – currently Councillor Caithness North West

Present Vice-Convener of the Caithness Area of the Highland Council and Chairman of the Dounreay Stakeholder Group, representing the community on all matters relating to the Dounreay site. His priorities include using his extensive experience of local government to make the new system work effectively and provide a local service delivery and ensuring that the Highland Council continues to play a full part in helping to balance the job reductions at Dounreay.

David Flear LibDem for Caithness Landward

David Flear has lived in Caithness for over 20 years. He is an experienced full-time councillor who has held senior positions both locally and as a core committee chairman in Inverness. Previously the social work manager for Caithness he knows the workings of local government well. With eight years already on the Highland council behind him he believes he still has a lot to offer by continuing to use his experience for the benefit of Caithness.


Colin Sutherland for Conservative in Caithness Landward

Colin Sutherland is a retired hotelier and is at present Chairman of the Lybster Latheron and Clyth Community council. If elected his main objectives would be to try achieve some basic actions for rural communities -
Retention of rural Post Offices
Simplification of funding mechanisms of local community improvements
Fight to secure assistance for small businesses in rural areas
Simplification of rules and regulations concerning small crofters and farmers
Upgrading of roads in the area
David Bremner the SNP Candidate in Caithness Landward


We do not have any information as yet on David Bremner.
Bill Mowat the Labour Candidate For Caithness Landward


We do not have any information as yet on Bill Mowat.
25 April 2007
Suggestions For the Moth Photo Below
So far Emperor Moth seems the most likely but Greater Peacock has also been suggested. Thanks to those who contacted us.
Over 1300 Listings In Our Caithness Business Index
All businesses in Caithness can be listed free of charge. If a business wants a higher profile then advertising can be bought by means of a low cost banner ad circulating round all of our pages - constantly changing as users move from page to page but fixed on your own business page. We can supply statistics showing how many visitors are looking at the web site each month. Help keep Caithness.org going by advertising your business with us. We will also do special features fixed on the main business index page for as many weeks as you would like by arrangement. The big difference about our features is they may stay on the site for many many moths after the period paid for and linked to your FREE page. See HERE for an example.
You Can Find More Properties On Caithness.org Than Ever As Ads Pass 300
More properties for sale or rent can be found in our property pages than ever before. A direct link on the page now also takes you to Georgeson's Solicitors web site for many more. Remember if you want to be in the best place to sell or rent property in Caithness it takes minutes and is still FREE to all advertisers. Caithness.org and the Business section property pages get high response rates so wherever else you advertise make sure it's here by completing the online Submission Form and attach a photo if you want to. Last month there was 176,471 visits to the business section and many were checking the property pages. Yesterday 5,623 visitors went to our Business section.
24 April 2007
Join In The MacMillan Cancer Support Annual Walk
The Wick Committee of Macmillan Cancer Support invite you to join them on their annual fundraising walk on Tuesday 22 May 2007. The walk begins at 7pm from the car park at the rear of Caithness General Hospital and proceeds up over Newton Hill, down to Milton and along Thurso Road returning to the Hospital car park. Sponsor forms are available from Kay Oswald (01955-880246), June Pollard (01955-880403) or Isobel Nicolson (01955-880406) or you can make a donation on the night instead. Adults, children, dogs, prams and bicycles all welcome. Please come along and support us.
First Moth Spotted On A New Wall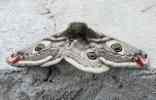 The weather is certainly warming up and this fine specimen of a moth was photographed on a new wall by the builder Brian Shelligoe. Can anyone tell us the name of the moth to add to the photo heading. Last year we ran a section of photos entitled Bees Butterflies and Bugs In Caithness so if you keen digital photographers want to send in any more this year we will set up another section for 2007 to see what is around. As we are starting this earlier than last year it will perhaps show a few different species. Send any photos of Bugs, Bees and Butterflies in Caithness to bill@caithness.org
Nature Index
Surf's Up For The O'Neill Highland Open At Thurso Starts Today





The weather is looking great in Caithness today for the start of the O'Neill Highland open Surfing competition with $125,000 in prize money up for grabs. The water is cold at 59 degrees north but then the contestants head for Hawaii for the next round in June so it's not too bad. The competition runs until Tuesday 1st May so plenty of chances to see some of the world's top surfers in action at Thurso East or Brims Ness depending on what way the waves are coming in.
23 April 2007
Pennyland School, Thurso Gets A New Web Site


Well done to Pennyland school, Thurso for lovely web site just launched. Linked in our school page.
Graeme Smith - The Liberal Democrat Councillor Goes Again For All Of Wick On 3 May

Local Issues Come First - Pot holes are often more important than policy
Graeme Smith said "Policy making might seem important to the "talking heads" in Council headquarters but the first responsibility of the new ward councillors must be to the ward. Over the past eight years I have fought for series of issues affecting Wick.
Two Independent Wick Councillors Go For The Whole Of Wick In The 2007 Election On 3rd May



Two of the Wick councillors Katrina MacNab and Bill Fernie are standing again as Independents for the new enlarged ward of Wick. The two are asking voters to place them both on their ballot paper. They are both energetic and active in doing all they can to improve their town and make things happen. They certainly don't agree on everything but can and do discuss and debate what can work for Wick and Caithness. They both see themselves as "Can Do" people and they get on with it. Wick is moving and they want to keep it going and have not run out of ideas yet.
Caithness Field Club Outing To Brora and Golspie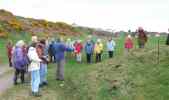 On Sunday 22nd April 2007 Caithness Field Club members went on day trip to Brora and Golspie. At Brora a local historian showed them round the Salt Pans area of Back Beach, Brora and described how the coal was used in the making of salt. Various features at the beach were noted and long the way spots of interest were pointed out. Buildings at the beach have in recent years become visible once again due to coastal erosion - they had been covered in sand dunes long ago. Lunch was taken at the Royal Marine Hotel in Brora before the group boarded the bus to the next stop and walked along the picturesque Big Burn to the waterfall at the end. Caithness Field Club
Pre-election Hustings Meeting Thurso High School - Friday 27 April 7.00pm


The five constituency candidates have all agreed to speak at the meeting so get along and see your prospective MSP in action. The line up includes Gordon Campbell (Independent), Jamie Stone (LibDem), John McKendrick (Labour), Rob Gibson (Scottish National Party) and Donald MacDonald (Conservative)
More about the Candidates For the Scottish Parliament
22 April 2007
Ceòl aig Tuath/ Music in the North
A project of Còisir Ghàidhlig Mhealabhaich /Melvich Gaelic Choir


Gaelic song events are happening in the next month round our area. Lyth and Bighouse are small venues so get your tickets fast. The workshops will introduce folk to Gaelic song or give pointers from professionals to those who are already accomplished. 9th June is the day the MOD is Thurso for Caithness and Sutherland. See the poster for more details. Before that other events include weekend at Lyth for workshops and a concert.
Caithness and Sutherland Walking Festival
The Caithness & Sutherland Walking Festival starts on 5th May, with an opening ceremony in Helmsdale at 10:00am. Writer and journalist Bruce Sandison will open the event, and the Wick Pipe Band will pipe the first walkers off. You can download a programme from http://www.activities.iberacal.com , and there is also a special newsletter Join us for a wildlife cruise on 11th May. Don't miss the activities weekend at Brough on 12/13 May - have a go archery and clay pigeon shooting, whisky tasting courtesy of MacKays, donkey and pony rides.. and much more. Contact the festival office on 0871 873 2774 for further information.
21 April 2007
Two Conservatives Taking On The Caithness Challenge

Colin Sutherland goes for the conservatives in the Caithness Landward ward for Highland Council. Visiting him on Friday was Donald MacDonald the conservative candidate for the Scottish Parliament.
Council Candidates In Caithness
Scottish Parliament Candidates
Old Brewery In Thurso Is Demolished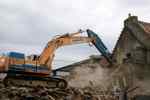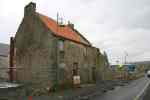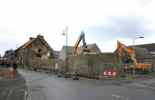 The old brewery in Mansons Lane, Thurso is now gone after standing for over two hundred years.
HEADSTOCK Playing Live At The Blackstairs Lounge, Wick Tonight From 9.30pm
20 April 2007
Newtonhill Woodland Group's Call For Volunteers
A popular community woodland on the outskirts of Wick, managed by a committed community group, are now looking for new volunteers to help continue their good work. The Friends of Newtonhill group has existed for over 5 years and has made significant contributions to works at the site such as path improvements, the creations of an all-abilities trail and putting up wildlife interpretation panels. The group are now looking for new volunteers to help continue their good work.
19 April 2007
That's Entertainment - April 2007

John Dalton from Carlisle made a welcome return visit to Thurso for the April meeting of the Caithness Floral Art Club. John used a lovely selection of flowers including orchids, anthuriums, molucella, viburnum and gerberas along with a wide variety of foliage textures. An appreciative audience listened to his stories and jokes while enjoying his floral arrangements.
Caithness Foral Art Club Index

18 April 2007
Will They Strike Oil Near Lybster? - Site Cleared Ready For Drilling Rig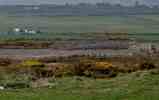 They have done their home work and obtained planning permission and the site near Lybster has been cleared ready to bring in the equipment to begin drilling. Will they hit oil? Probably. If they bring in oil then this will be the first land based oil to coming into Caithness although it is thought the oil will be under the sea and brought ashore at this site. So Caithness now has wind power, solar power, a wood chip scheme and maybe oil. We will bring you more photos in coming months of the work at the site as it progresses.
Naver Fun Day In Thurso - Sunday 29th April
To celebrate the fifth anniversary at Naver a FUN DAY in aid of Maggies Centre at Raigmore Hospital is being held. It commences at 11am on Sunday 29th April with a Fun Run/walk from Naver House towards Scrabster and back via Victoria Walk to Naver (3 miles) Fancy dress is optional and you can either enter at £5 per person, or pick up a sponsor form from Naver House or by email - hilda@naver.co.uk , to raise even more money. On return there will be a barbeque and fun and games (the highlight of the games being the stocks with your chance to throw sponges at amongst others Peter Body, Willie McGillivray and George Dunnett - any other volunteers would be most welcome). There will be a raffle, bottle stall and baking stall and donations will be welcome for these. There is also the opportunity for anyone interested to have there own stall for £5.
Deadline To Apply For A Postal Vote - 5.00pm Today
If you want to know about how the election or the voting system works got to Vote Scotland
Caithness.org Elections 2007 Section
Candidates can get information about themselves free of charge in the section by sending to bill@caithness.org
17 April 2007
Police Notices Today Include
NORTHERN CONSTABULARY APPEAL – TRAILER THEFT WICK
NORTHERN Constabulary are appealing for information following the theft of an Ifor Trailer in Lybster between 1400 Sunday 15 April and 0830 Monday 16 April. The 12ft x 6ft item in question was taken from a car park on Main Street, Lybster.....................more
NORTHERN CONSTABULARY APPEAL VANDALISM - WICK
NORTHERN Constabulary are appealing for information regarding two incidents of vandalism that took place between last Wednesday 11 April and Sunday 15 April in the Wick area.......more
Assault Wick - Police Appeal
NORTHERN Constabulary are appealing for information following the assault of a woman in Wick at 0230 on 15 April 2007.The incident took place in the Scalesburn area of Wick where a woman was allegedly punched and kicked by a man and a woman..................more
Water Incident Orkney
Northern Constabulary are responding to an incident along with the Royal Navy Dive Team, Coastguard and Doctor following reports of a vehicle entering the water from the pier at Graemsay............more
Caithness Has A Strong Force Of Independents
Standing To Represent Caithness On Highland Council
The new multi-member ward system has not frightened off Independent candidates from coming forward. It might have been expected that more people might join parties to gain the support to fight their campaigns. It shows the in-depth strength of feeling that people in the Highlands have for independent candidates that more people than ever have chosen to stand against the party system prevalent at national level. However the main political parties hope to use the new system to their advantage and have mainly decided to run only one candidate in each ward to avoid splitting their vote and in the hope that independent candidates will split their votes across different candidates relegating them to lower places and therefor not get elected. Only in Caithness Landward has a party decided to risk two candidates where because there are four council seat the Libdems are fielding two. Independent candidates are countering all this manoeuvring by the main parties in this by playing to the strengths of the independent Highland and Islands Councils where the electorate have consistently rejected the party political system in local politics. Despite the moves by the parties to try to increase their numbers after the next election more Independents have come out on their own reflecting perhaps not just unhappiness with a party set up in local government but a grim determination to represent their communities without having to toe a party line.
At present the political make-up of the Highland council is -
Independent 53 - Liberal Democrats 13 - Labour 7 - SNP 6
Caithness political split is currently -
Independent 6 - LibDems 3 - Labour 1
The split of Caithness candidates for the election on 3 May is -
Wick - 4 Independents - 1 Conservative - 1 Labour - 1 SNP - 1 LibDem
Thurso - 3 Independents - 1 Conservative 1 Labour -- 1 SNP - 1 LibDem
Caithness Landward - 3 Independents - 1 Conservative - 1 Labour - 1 SNP - 2 LibDems
More Candidates Information
Ian Grant - Independent - First Time Candidate Goes On A Range Of Themes In Thurso


With strong local connections and working at Dounreay Ian Grant hopes he can gain support for what he aims to try to improve for Thurso and Caithness. his main aims are - Improve public transport for the local community supporting the Dornoch Rail Link as well as better bus service facilities throughout the Highlands - Affordable housing in both social rented housing and low cost ownership - Will strive to increase funding and support for local public Care Homes. He also supports ASDA coming to Thurso.

Local Farmer Robert Coghill - Independent - Ready To Take On Caithness Landward

With a strong background in farming representing local issues at on various bodies local farmer Robert Coghill is standing as an independent to represent Caithness Landward
Former Councillor John Rosie Returns To Fight As An Independent

Former councillor and Caithness area convenor John Rosie has returned to try to be re-elected as an Independent after resigning from the Labour Party. John has set out a raft of policies he aims to try and take forward if he is elected once again.
Lybster Prepares To Feed 400 Crew and Passengers A Flotilla Grows


The Flotilla will be in Wick for the weekend 22 - 24th June with all sorts of events happening. The flotilla or what is rapidly becoming small armada will arrive in Lybster where the local community will be laying on food and entertainment for the now over 400 people making up the crews and passengers. Lybster is expecting big crowds to see the boats pack the small harbour. Wick is expected to see its harbour full for the first time in generations and Lybster likewise will be over-flowing with boats. Preparations are underway to entertain the crews of the visiting boats. On the way from Wick to Portsoy the flotilla will be calling at Lybster, Helmsdale, Cromarty, Lossiemouth, Findochty and Cullen. the number of traditional boats starting in Wick is now thought to be over 40 and the number of yachts heading to accompany them now over 100 and rising by the week as word is spreading about this unique event. Estimates for visitors to Wick on the opening weekend vary from 8000 to 15,000. The continental market will be in Wick for the opening weekend and with music and celidhs etc being held and much more wick and Lybster are set to see a very busy few days. Anyone looking to stay for few days should be getting booked soon unless you have relatives able to put you up. Sailing for week from Wick to Portsoy seems to be rapidly becoming one of the things to do for the sailors from all over this year. This is certainly going to be one of the sights to see in Caithness this year. Already it looks certain that over 150 boats will arrive in Wick harbour and as they all leave together make a magnificent sight in Wick Bay.
15 April 2007
Caithness Model Club Show In Wick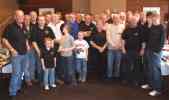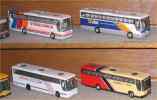 Crowds turned out in force yesterday and today for the biggest model club show yet in Caithness since the club was formed. The club are donating all of the money taken at the door to the HAPPY group of Wick community Council who run the New Year Party in Market Square in Wick each year. Thousands of models were on show in collections that came from as far away as Prestwick and from over the water in Orkney as well as Caithness. Some rare models worth hundreds of pounds were amongst the collections. Even if you were not a collector or enthusiast this was a very interesting show. One collection showed the history of a transport firm from its beginnings to present day with old vehicles right up to the largest vehicles now being used. Caithness Model Club Index
Caithness Rabbit Fanciers Association First Show Held At Staxigoe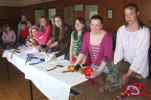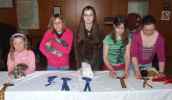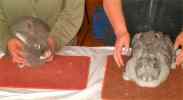 The overall winner and best in show was a "Continental Giant" an impressively huge rabbit looking in tip top conditions. A big softy this rabbit allowed all of the children and adults to stroke his fur. The show was a big success with organisers very pleased at the big turnout for the first show despite another rabbit show being on the same day in Keith. The next show will be at the Canisbay Show on 30th June.
Rabbit Show Results More photos added at 5.40pm today.
13 April 2007
More Photos Of the Great Britain Train Tour At Thurso



The Forget Me Not Trot - Saturday 9 June 2007 - Starts 12 Noon
Help raise funds for the Longberry Services in Wick run by Alzheimers Scotland by walking approx 10k round the boundary of Wick. For sponsor forms call 01955 609193. So why not get fit and to help dementia sufferers and their carers.
The Great Britain Train Tour Arrived In Thurso Yesterday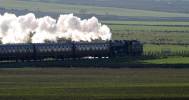 Thanks to Grumpyhippo (one of our forum members) for posting these great photos of the excursion train that arrived in Thurso yesterday. The trip was one of many organised by the Railway Touring Company and the itinerary for passengers can be seen HERE. A great way to see the countryside - especially if you like trains.
Latest Addition To Pets Corner - Buttons The Bichon Frise


Colour Lights Up The World - March 2007

Amanda Coghill from Wick demonstrated for the March meeting of the Caithness Floral Art Club. Her arrangements showed us some of the latest trends in floristry. Using foliage types with different form, texture and colour to highlight her choice of flowers she achieved her goal of creating something totally different. Amanda rounded off the evening by placing tiny coloured lights in the finished arrangements.
12 April 2007
If You Want To See The International Space Station - Click This Link For Directions
You have until 22nd April to catch sight of the International Space Station passing in and out of view each evening. for other highlights in the Night sky check out the Jodrell Bank web site Amongst others it is a good month to view Saturn.
The Makeover Of Wick Continues As More Buildings Get Upgraded
Williamson Street, Wick

Five new houses are being created by M M Miller of Wick for the Highland Housing Alliance. Five new homes are being created for Highland Housing Alliance in the building that formerly housed Robertson's of Tain who have now moved to premises nearby. The work should be completed by the end of the year. The properties will all be put on the market for sale.
Building At The End Of Miller Street, Wick

This property is to be partly reduced and renovated to create three new homes and a commercial premises to be either a shop or an office. One part of the building used to house a bicycle repair shop and has lain empty for many years. the work is to be carried out by M M Miller Construction for Pentland Housing.
Private House in Bank Row, Wick - Upgrade Underway


This property in Bank Row was suffering from the walls bowing out. It has now been pinned and major renovation work is now underway to bring the property back into use. Just along the road in Bank Row is the famous site that was bombed during World War two. that project also at the bottom of the Blackstairs is also slowly moving forward and the Beech Grove Garden programmes is now also involved. Behind that site private owners are also engaged in transforming yet more properties into holiday flats. With wick harbour marina developments now looking as if they will become a reality starting with the first phase in May when pontoons for yachts go in in advance of the Wick Harbourfest when wick is to see a huge number of boats arrive for the weekend.
North Action Group Watching As Clinical Governance Committee To Discuss Maternity Issues
The Clinical Governance committee of NHS highland is to discuss issues regarding maternity at a meeting on 17th April in Inverness. North Action Group (NAG) who have remained in existence despite winning the campaign to keep obstetricians at Caithness General are maintaining a watching brief on the maternity situation. It is understood that the public are not allowed in to the Clinical Governance meeting but the minutes will be put to he NHS Highland Board when they meet next on 1st May and they will become public then.
HEAART Is Up and Running At the Wellington Boot
SUCCESS!!!!!!! The Wellington Boot (formerly the Wellington Centre) became ours on 2nd April.
Congratulations to all involved we did it. Now instead of closing it's doors at the end of March ,which would have been a crying shame and a complete loss to the county and to everyone who has worked so hard in the Wellington Centre over the last couple of decades, it will now reopen it's doors but as a Community and Arts Centre run by and for Adults with Learning Disabilities and anyone else who wants to come along and join in. On Monday 26 March 2007 the council finally gave their approval for HEAART to take on The Boot. Meeting of the group on Friday 13th April at 2.00pm
Easter Eggstravaganza at Canisbay Hall
Easter Eggstravaganza at Canisbay Hall on Saturday 14th April at 2.0 pm. A great way to spend at the last free Saturday of the Easter holidays. Something for everyone. Mums, Dads, Grannies, Grandads etc. can sit and have a delicious tea with home baking or browse the stalls whilst the children have free entry to decorate an egg on the spot, (egg, pens, bits & bobs supplied by us), enter the Easter Hat competition, (girls and boys), (bring those with you!), or pin the tail on the bunny. Also lucky dip, face painting, bunny square competition etc. Hee Haw donkeys will be giving rides behind the hall. Draw to be made for bottle of whisky signed by Caley Thistle football team. Organised by Canisbay & Dunnet Day Care & Friends.
11 April 2007
Pavilion At Rosebank Park, Wick Damaged By Fire After Break-in


Council officials were today still adding up the potential costs of repair to the pavilion at Rosebank Park following a fire at the weekend. Graham Nicholls of the Education, Culture, and Sport department said "It is very disappointing to see this after all the work that has been done in the park in recent months with the huge assistance from Pulteneytown People's Project." The pavilion was about to be repainted in readiness for an official opening in June. Tennis courts have been re-surfaced and the bowling greens upgraded. A new hard surface multi-games area with fencing has also been made. anyone with information about the break-in and fire is urged to contact Wick Police station.
Photos From The Northern Nashville Country Music Club Country Music Festival At Halkirk






A few photos from John Baikie of the Country Music Festival held over the weekend at Halkirk. click through from any of these photos to John's image bank for over 1000 more photos from the event.
Residential Look At Life Course From the Highlanders 4th Battalion Recruiting Team
The Highlanders 4th Battalion Recruiting Team will be holding a Residential Look at Life Course for Kids aged 15 and upwards on Saturday 14th April 07. The course will be held at the Wick TA Hall. Course starts at 10.30am. Anyone interested please contact Lance Corporal Phil Johnstone on 01463 714439
List Candidates For Scottish Parliament
Caithness candidates in the list for the Scottish Parliament are -
Local sisters Jessie and Barrie Cormack from Wick stand in the list as Scottish Christian Party candidates.
Simon Harrison from Bilbster for Labour
Jim Fry from Thurso for Scottish Senior Citizens Unity Party. Jim Fry is top of his party list and may just be in with a chance if their is a surge of the pensioner vote towards a party setting out to get more representation for pensioners views.
Surge Of Candidates For May Council Elections In Caithness
Seven Candidates in Thurso - Alexander Bain (Conservative), Ian Grant (Independent), Donald Mackay, Donald Mackintosh (SNP), John Rosie (Independent), Roger Saxon (Labour), Marion Thurso (LibDem)
Eight Candidates In Wick - Jack Brooker (Conservative) Fuinary, High Street, Cromarty, Ross-shire, IV11 8YR, Laurel Bush (Independent), Bill Fernie (Independent), Katrina MacNab (Independent), Heather Miller, Jim Oag (Labour), Graeme Smith (LibDem), Niall Smith (SNP)
Eight Candidates In Caithness Landward
David Bremner (SNP), Robert Coghill (Independent), David Flear (LibDem), Alastair MacDonald (LibDem), Willie "AI" Mackay (Independent) Bill Mowat (Labour), Colin Sutherland (Conservative), Duncan Winfield
All Highland Council Wards Candidates
Scottish Parliament Nominations for Highland
Election 2007 Section
10 April 2007
Caithness Rabbit Fanciers Association - Rabbit Show
This is a table show for rabbits and guinea pigs. All entries must be received by 9.30am on Saturday, and the judging begins at 10am sharp. All animals should arrive in a strong suitable pet carrier with a water bottle. We are having pet classes at our show for all the rabbit owners in the area. Entry is £1.00 per animal, and membership for our club is only £2.00 for an adult and £1.00 for a child. Membership must be paid to enter the show. Rosettes and prize cards for the winners. Refreshments will be available, as well as a raffle and a lucky pen competition.
9 April 2007
PPP NEWS - April 2007 - The News Letter Of Pulteneytown People's Project In Wick


The latest issue of PPP news is now here on the web site. Pultneytown People's Project has seen lots of growth and the newsletter reflects some of this. It contains lots of information about what the group get up to. PPP has been expanding over the past couple of years and now runs groups for many section of the community offering service not just to people in Pultneytown but across Wick and beyond into the rest of Caithness in some cases. The newsletter contains items on classes and groups, summer school for youngsters and an update on the £100,000 they have spent on the Rosebank park in Wick upgrading the facilities for the first time in many years. PPP Main Index
Unsightly Old Paved Area In High Street, Wick To Be Cleared Away



Councillors and community councillors have been pressing to get something done about the unsightly old paving stones where the former army recruitment centre was based tidied up. The proposal is to excavate and remove the wall at the back and the infill material, slope it down and grass it over. Work will be carried out by Gunns who are about to begin work to relay Bridge Street.
Major Road Works About To Commence As Bridge Street, Wick To Be Rebuilt


Take a look at Bridge Street in Wick before 16 April to see it as quiet as this. Major construction work will see the whole road rebuilt. The work is expected to last for 10 weeks and traffic lights will be in operation. As stated above Gunns will also remove the the unsightly paving area in High Street as small separate contract whilst the main works are going on. Further road works are expected later in the year when the South Road comes in for major works following talks between Scottish Water, Transerv and the Highland Council.
Meeting To Discuss The Yarrows Wind Farm Application - Thursday 12 April Clyth Hall

The application for a wind farm at Burn of Whilk, East Clyth or more well known locally as Yarrows is to be discussed by a group opposed to the wind farm at a public meeting open to all Clyth Hall on Thursday 12th April at 7.30pm. The application to build wind farm has had the deadline to object extended to 20th April due to an error in the original advertisement. The application is for 13 wind turbines with capacity of 3MW with heights of 70 metres to the hubs and maximum height to blade tips of 350ft. There are several other wind farms at various stages in the process as can been in the listing -
Highland Wind Farms As At January 2007 (Word doc)
Wind Farm Index Local group against wind farms - Caithness Windfarm Information Forum
Labour Group Campaigning In Wick On Saturday



Peter Peacock MSP until recently the education minister was joined by list candidates for Labour in Highland - Simon Harrison and Rhoda Grant. Simon Harriosn has been a labour agent for the past few years and Rhoda Grant lost her seat in Edinburgh at the last election in 2003. Also out with the Scottish Parliament hopefuls was Jim Oag, the local Labour candidate for the new enlarged Wick ward. To date the council election for the Wick ward has potentially six candidates - Bill Fernie (Independent), Katrina MacNab (Independent), Graeme Smith (LibDem), the current councillors and Jim Oag (Labour) formerly a councillor for Pulteneytown ward, Niall Smith (SNP), Laurel Bush (Independent). Nominations must be in by 4.00pm on Wednesday 11 April so there could be other candidates yet to be announced.
May 2007 Election Index
Fundraising Volunteers Wanted For Red Cross Appeal Week
Police News From Northern Constabulary - New Section
This new section will contain the brief news releases from Northern Constabulary for the whole of the Highlands and Islands area. The URL for the new section is simply www.caithness.org/police The section can be found in the site map or in the news section in the left column on this page.
7 April 2007
Bridge Street Church, Wick Easter Fayre Featured Old and New Photographs


Crowds were out in force to see the Old and New Photo displays at Bridge Street church, Wick today. the topic for this years Easter Fayre was certainly popular and very up to date as it included many old photos from family albums. Also included were very recent photos of the volunteers from Malawi and Scotland currently in Caithness under global Xchange. The ladies were as usual on hand to serve tea, coffee and cakes.
Wick Pipe Band And Highland Dancers Out In Market Square Wick Today



The Wick Pipe Band held its Easter parade in the Market Square, Wick today. The weather stayed dry although slightly chilly and windy. Here is short bit of video of one tune from the Wick Pipe Band today. The wind features very strongly in the sound.

Caravan Rally Gets Wick Caravan And Camping Site Off To An Early Start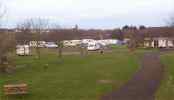 A caravan rally has made Wick one of its destinations and the folk have settled in for the weekend. The access road along the Wick river is currently being upgraded by the council to allow larger motor homes to access the caravan site safely. This had been an issue last year when larger vehicles were not allowed to use the track along the river. Councillors argued the case for upgrading to allow access to the caravan site that had closed when the former lease holders withdrew. The caravan site is now once again in tip top condition with the business being run by Mr and Mrs Miller who did a huge amount of work last year to bring the site back into condition and installed new equipment for electricity hook-ups. the site is expected to be well used this year as there are many events taking place in Wick throughout the coming months. Wick Caravan Site Contact Details
Caithness Country Music Festival Heads For Sell Out Tonight
there are a very few tickets left for tonight's session at the Caithness Country Music Festival but you will need to be quick to snap up the last few. The festival continues this afternoon and on Sunday afternoon where you can turn up and pay at the door. Overall it looks like being as busy as ever with this years line up of singers drawing a big audience from all over the country as well as locally.
Ex Councillor Jim Fry From Thurso Aims For Scottish Parliament


Jim Fry who stood as a councillor for 28 years in Thurso is now aiming to be list MSP and is standing under the banner of the Scottish Senior Citizens Unity Party. Jim has been on many committees over the years and has experience of representing people at all levels. A determined campaigner on w die range of issues and he is determined to make a mark for Highland at the Scottish Parliament if elected. His main aims are set out in a letter to the voters.
Elections 2007 Main Index
Caithness.org Offering All Election Candidates FREE Space To Get Their Message Out
Once again Caithness.org is offering FREE space on the web site o get their message out to voters. All candidates face a daunting task in getting around their areas and potential councillors are faced with wards three times larger than previously as the new ward forum system comes into being. To make sure everyone has a chance to let voters know what they stand for and who they are all candidates in the council and Scottish parliament elections are offered free space on Caithness.org. Just email items - text and photos (jpegs) to bill@caithness.org
David Flear - Leaflet On The Web

David Flear is going for the LibDems to represent Caithness Landward at the Highland council. David has been the Caithness area convenor for the past four years and chaired the Joint Committee on Community Care at Highland level. He is going for the LibDems along with Alastair Macdonald. Caithness Landward has four councillor places to be filled. Caithness Landward covers all of the county outwith the Thurso and Wick areas which have now been slightly extended for electoral purposes under the new ward forum system coming into place for the first time. Elections 2007 Main Index
6 April 2007
Support For Wick Trees From Inverness To Malawi

A scheme to breathe new life into a small stand of trees at Wick Riverside Park in the heart of Wick has drawn wide support from Inverness to Malawi. The trees in question, a rather straggly although strangely architectural, collection of predominantly sycamores have featured in many photographs and pictures of the town taken from Wick Riverside for many years. Recently however, time has started to take its toll with several casualties of old age and disease having to be removed for safety reasons. This has left the postage-stamp woodland increasingly open and bare. Local Countryside Ranger, Lindsey Duncan and Inverness based Forestry Officer, Nick Richards, saw this scheme as a good opportunity to get the Global Xchange programme involved. The group of 9 Scots and 9 Malawian volunteers were very happy to leave behind a growing memento of their visit. Trisha Sangaya, from Malawi said: "Malawi has many forests and it
is an honour to help the people of Wick by planting a tree that will hopefully flourish over the coming years."
Did You Know this Is Tick Prevention Week?
this annual campaign has been gaining in recent years as tick borne infections have spread. Numbers are not huge but they are increasing and more so in the last few years. Prevention is the best cure and if any symptoms of Lyme disease are a possibility then attending your GP is a must as soon as possible as the long term affects can be very serious. Any countryside area can have ticks but some conditions suit them more than others. Check the Tick Prevention Week web site for lots of good information.
Alan Mackay Runs New York Marathon For MS


Alan's Father has been in touch to say his son is running in the New York Marathon 4th November 2007. I have contacted you before regarding Herring Queens. My mother, Retta Shearer was the first. I was born and brought up in Wick (Barbara Place). I now stay in Polmont near Falkirk. If you would like to sponsor Alan click through to find his Just Giving online page.
Thurso Council Election Hots Up As Challengers Come Out Fighting
The fight for the new Thurso ward is hotting up as more challengers to the two existing councillors begin to announce they are standing.
Ian Grant - Independent


Currently Community Councillor for Caithness West. Ian leads on planning issues for Caithness West Community Council. He supports affordable housing, improvements in public transport for the local community and the fight for ASDA to come to Caithness. Ian is 47 years old, works as a Fire-fighter at Dounreay, is a Safety Representative and is actively involved in the Union
Marion Thurso - Lib Dem - Challenges in Thurso


The wife of local Westminster MP John Thurso. Marion Thurso has picked up the challenge to represent the Lib Dems and try to take a council seat in Thurso.
Other candidates in Thurso already announced are -
Donnie Mackay (Independent), Roger Saxon (Labour), Donald Mackintosh (SNP)
We understand that other people are considering a challenge in Thurso but have not yet contacted Caithness.org

Council Election Contest Building Up In Caithness Landward Ward
First time candidate Willie Mackay well known for his public speaking and work for voluntary groups all over Caithness is making a bid to represent the Caithness Landward ward.
Willie Mackay MBE - Independent


Willie Mackay known in Caithness as Willie Mackay "the AI Man" has served the Caithness farming communities for the past 37 years as a cattle breeding inseminator. He is currently the chairman of the voluntary run branch of ENABLE for learning disabled. Hobbies include after dinner speaking, concert and celidh speaking compere and taking part in Burns suppers. Willie has been involved in many fund-raising campaigns using his public speaking skills to boost funds for local groups all over the county and will no doubt use his oratory to good affect if elected.
Other candidates in Caithness Landward already announced are -
Alastair Macdonald (LibDem), David Flear (LibDem), Bill Mowat (Labour), David Bremner (SNP)
We understand there are other people are considering standing but they have not as yet contacted Caithness.org
Three Caithness Councillors Retire
Not Standing in 2007 Election are three existing councillors who have all decided to retire as follows
John Green – Independent – Councillor Caithness North East - Standing Down
William Mowat – Independent Liberal – currently councillor Caithness South East – Standing Down
Tom Jackson - Independent - currently councillor Thurso East - Standing Down
5 April 2007
Do You Or Does Some You Know Qualify For The UK Armed Forces Veterans Lapel Badge


One of our Forum members has asked us to post a reminder to all ex service personnel, that they can qualify and send away for this nice little badge and a memento of their service to the Country, and best of all its FREE.
Convener Welcomes Executive's Flooding Grant Aid

The Convener of The Highland Council Councillor Alison Magee has warmly welcomed confirmation from the Scottish Executive that it is to award the Council a grant of £4 million towards the cost of repairs caused by the storms in October 2006. The Executive has also said it will further consider what funding might be available in the current financial year for the balance of the damage costs, estimated by the Council to be £6.31 million. The news was revealed by the Convener at the last full council meeting before the 3 May elections. She read from a letter written by Transport Minister Tavish Scott.
The Highland Council Appoints New Chief Executive


The Highland Council has appointed a new Chief Executive. He is Alistair Dodds, the Council's Depute Chief Executive. Mr Dodds will take over his new post when Arthur McCourt, Chief Executive, retires in July after 12 years at the helm. From Kelso, Mr Dodds moved to the Highlands in 1991 as Depute Director of Manpower Services with Highland Regional Council. In 1995, he was appointed Director of Personnel with the Regional Council.

4 April 2007
Great Hand Sculptures On Show In The Gardening Forum



In case you missed the hand sculptures thread here is a link. After a short debate the sculptor went for raw linseed oil found locally in Souters in Thurso to preserve the work.
Scallywags Nursery Invites Kids To The Easter Egg Hunt In Dunnet Forest - Monday 9th April


Scallywags Nursery's recent bingo night raised a total of £272,50 and they send a Thank you to everyone at the Castlearms Hotel, Mey and Mrs Sheila Gillan for their support and enthusiasm which made for a fun evening. They also held a car boot sale in the Britannia Hall, Dunnet, making a total of £309.97. Again a huge thank you to everyone who donated items, as well as everyone who came along to support both of these events. Finally, the group held a pirate theme pub crawl on Saturday evening. They were totally overwhelmed by the generosity of the general public, and they raised a total of £914. Thanks to everyone who contributed along with all the establishments who allowed us to collect on their premises. Special thanks goes to the following organisations who donated items to our Treasure Hunt raffle - Castlearms Hotel, Mey, Mey, Liquid, Thurso, Pentland Hotel, Thurso and the Commercial Hotel, Thurso.
Take the kids along to our Easter Egg Hunt in Dunnet Forest on Easter Monday, the 9th of April @ 12 midday, your support will be much appreciated.
3 April 2007
ASDA - the Argument Continues............................
EMERGENCY MEDICAL RETRIEVAL SERVICE
A service to help victims of life-threatening medical emergencies in remote and rural communities is on track to be trialled in the West Highlands. NHS Highland has agreed to co-fund an eighteen month pilot of the Emergency Medical Retrieval Service which will see experienced consultants fly to the patient to stabilise them ahead of transfer to a hospital which can best meet their needs. They will also be able to advise GPs and local hospital clinicians by phone.
Short List for Highland Children's Book Awards


The short list for the 2007 Highland Children's Book Awards has been announced so over the next couple of months, primary and secondary school pupils will be busy reading the entries and voting for their favourites. The winning books will be announced during a special event before schools break up for the summer holidays. The Highland Council's Principal Schools Librarian, Stephanie Hoyle said: "The standard of writing for young people is currently very high and there is a wide and varied selection of books to choose from. The books on the short list are already winners, chosen by ballot. Children and teenagers in the 46 participating schools have had a hard task to choose just one book to vote for from the long list titles distributed to them in January.
Spittal Wind Farm Opposition Group New Web Site
A new web site for the Spittal Wind Farm Opposition Group has been launched. The web site lists the objections of the group to the wind farm proposal especially the high visibility of the site and its potential impact for locals and visitors to Caithness.
Launch of the Neil Gunn Writing Competition
Cash prizes for aspiring writers are being offered as The Highland Council launches the 2007 Neil Gunn Writing Competition. Organised by The Highland Council and the Neil M Gunn Memorial Trust this premier writing competition is open to both adult and school age writers from all over the UK. When it was last held in 2004 it attracted a record number of entries in all age categories. The theme for this year's competition is "Highland spaces" and there are four different entry categories - • adult poetry • adult prose • secondary school poetry or prose • primary school poetry or prose.
Easter Eggcase Hunts
Torrisdale Bay - Saturday 7th April 2007 – 2pm.
Meet at Torrisdale cemetery (for ease of parking) grid ref: NC 677621 at 2pm.
Melvich Bay - Sunday 8th April 2007 – 2pm.
Meet at Melvich Beach car park grid ref: NC 887648 at 2pm.
Join Paul the countryside ranger and have fun helping to hunt for Skate/Ray egg cases (mermaid's purses) along the shore at Torrisdale Bay and also Melvich Bay. Let's see who can find the most and win an Easter egg. We will try and identify any egg cases we find and the results will be sent to the Shark Trust to help protect these fascinating fish species. Events are free and weather/numbers dependent, please wear warm waterproof clothing and boots. An adult must accompany all children under 12 years of age. Sorry but dogs are not welcome on ranger events. Further Details Tel: Paul Castle, North Sutherland Countryside Ranger 01641 521884
2 April 2007
Making Things From Natural Materials - Make A Note Of This And Get Booking


Sunday April 22nd
11.00am to 1.00pm
Meet Dunnet Forest car park
As part of Highland 2007
Working with artist Tim Johnston
For children aged 8 to 12 years
Booking essential tel 01847 821531
Scottish Natural Heritage Highlights Funding Opportunities For Land Managers


Scottish Natural Heritage (SNH) is calling on land managers throughout Scotland to ensure that they are not missing out on potential income opportunities from land designated as a nature conservation sites. Under SNH's Natural Care programme land managers can earn extra financial support by signing up to agreements to ensure these important sites will be maintained in the best condition possible. SNH is one of the lead bodies in promoting funded agreements with land managers to help achieve the Scottish Executive target of achieving 80% of the special features on Scotland's nationally important nature sites in favourable condition by March 2008.
NORTHERN NASHVILLE CAITHNESS COUNTRY MUSIC FESTIVAL 6th - 8th APRIL


Northern Nashville's Caithness Country Music Clubs annual festival looks like being bigger and better than ever. The festival is once again being held at the Indoor Riding Centre at Halkirk. A full weekend of entertainment has seen the numbers of local people and visitors from all over the UK and abroad increasing. 2007 certainly has a great line-up of singers.
Tickets can be purchased from the club - See Ticket Information

Morrison Construction Partner Highland Promise Schools Cultural Programme


The Highland Council today (Monday 2 April 2007) announced Morrison Construction as an Event Partner to the Highland Promise - An Gealladh Mòr - the year long programme of activity being run in schools throughout the Highlands as part of Highland 2007. The Highland Promise is a unique programme that provides each of the 29 Community School Groups (secondary plus feeder primaries) in the Highlands with a budget of approximately £20,000 and a menu of more than 100 activity options. Following input from pupils, each school group selects from the menu and allocates its budget against their chosen activities.
Watten Church Auction Sale Raised £1589 Towards Disabled Access Paths
Watten Church Grand Auction Sale on Saturday 24th March raised £1,589 which is enough to lay the disabled paths to the church. Thanks to all who contributed.
Halkirk Teachers 1958 Photo Continues To Bring More Contacts

The Halkirk Teachers Photo from 1958 continues to tweak interest with this latest contribution of a couple of earlier photos of one of the teachers Nett Munro.
Another Name has been added to the Lybster Teachers 1960
Archives From Front Page
Front Page Headlines Archive Index From 2000 Onwards