[June 2005] [August 2005]
31 July 2005
March Of The Highlander - Photos Of Jim Findlay At Inverness Visiting The Hospice




Latest Towhead Comes Through Wick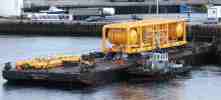 Another towhead heading for the Wester Yard to be joined with a new pipeline. This latest towhead came in by barge and was nudged into the upgraded pier at Wick harbour by a tug. Next morning the towhead was taken off by a crane from Simpsons and moved slowly up Scalesburn and into Willowbank before heading out of town.
Halkirk Highland Games Final Photos 253 - 264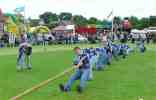 Halkirk Games 217 - 228 229 - 240 241 - 252
Halkirk Games 181 - 192 193 - 204 205 - 216

Games 145 - 156 157 - 168 169 - 180 Baby Show Starts
Halkirk Games 109 - 120 121 - 132 133 - 144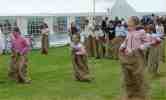 Halkirk Games 73 - 84 85 - 96 97 - 108
Halkirk Games 37 - 48 49 - 60 61 - 72

Halkirk Games 1 - 12 13 - 24 25 - 36
Wick High 1965 Reunion At Mackays Hotel Last Night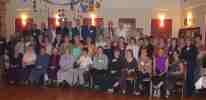 From the organisers - Organisers wish to thank everyone who attended for a wonderful night. For those who decided not to come you missed yourselves. For Rhona who missed through ill health.....hope you are feeling better ? (we missed you) For those who bought tickets and chose not to come.......well what can we ALL say? Class of '65 had a great night out and I think a repeat is a certainty. Cheers to you all.
30 July 2005
CRACKING DOWN ON ILLEGAL DUMPING
Scotland's environment watchdog is joining forces with a host of agencies in a bid to target illegal dumpers during a week long enforcement campaign. From 1-8 August, the Scottish Environment Protection Agency (SEPA) is taking part in the Scottish Flytipping Forum Enforcement Week, aimed at cracking down on businesses and individuals who flaunt the law by disposing of their rubbish irresponsibly. In addition to carrying out surveillance operations at well known fly tipping hotspots, SEPA, local authorities and the police will also stop and search vehicles thought to be carrying waste without a licence.
The Gartymore Story - Timespan Centre, Helmsdale


If you have not been to Timespan for a while you will not have seen an interesting addition to the centre. A room dedicated to The Gartymore Story has a well laid out section of items from houses and crofts combined with information about the place, the church and its people. The centre has a nice cafeteria for anyone wanting a snack on the way back and forth to Caithness. They are open 7 days a week and have an art gallery with changing exhibitions throughout the year. The centre also runs workshops and has one of our locally based paper making artists Joanne Kaar featuring on 18 August - Taiwan Experience Workshop
29 July 2005
Halkirk Highland Games Saturday 30 July 12.15pm - Ready For Another Great Year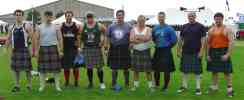 The Halkirk Highland Games goes from strength to strength in recent years. Competitors are being encouraged by the rising prize money on offer. Last year it rose to the highest ever at a total of £15000. But the committee have set their sites on encouraging athletes to make the trip north and this year total prize money will be £20,000. This years will see two SGA Scottish Championship events; throwing the 28lb weight for distance and the 2,000m cycle race. As the prize money has risen to new levels it has attracted some of the top heavies to a new event Champion of Champions International Heavy Event. Eight of the World's best heavy athletes will battle it out for this new title and a first prize of £500, the largest purse ever offered at Halkirk. Fierce competition is expected between 4 Americans, three Scots and one Icelander who will be pitting their skills and strengths against each other in what will undoubtedly be a major spectacle for the expected 5,000 crowd. The clan Sinclair from round the world have been in Caithness this week and they will all be at the games on Saturday. Clans Sinclair and Gunn will have their usual tents amongst the growing number of marquees and tents hosting hospitality. Beer tents and food will no doubt be busier than ever as will the fair ground. It all looks set for another great day. We hope to bring you photos later on Saturday evening before we are off to the Wick Gala Fireworks display at riverside. Goodness knows what we will do in August after one of the busiest July's ever. Are their only 28,000 people in the whole county - seems like they are heck of busy - if they are not getting dressed up for fun or into kilts and out with the bagpipes then they are jumping off huge structures for charity whether its chimneys in Wick or cranes in Thurso - must be all the Caithness fresh air. See you at the games tomorrow or if you cannot make that there is always "Fair in Square" in Wick - Games Events
2004 Halkirk Highland Games Photos 2003 Halkirk Highland Games Photos 2002 Photos
Wick Gala Open Golf Tournament




Another successful Wick Gala Open Golf Tournament was played yesterday at Wick Golf Course. Some Americans touring northern golf courses were surprised and delighted to be able to take part in the competition. They had played at a number of courses including Dornoch and Nairn and one of them B Field won the open handicap competition. Results
Orcas Still Being Spotted Off Caithness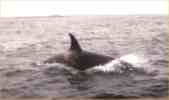 The guys over at North Coast Marine Adventures are having some great times this year with seemingly an endless run of whales and other sea creatures this year. These shots of an orca were take north of the Swilkie near Stroma. You might not see an orca but a high speed boat trip round Stroma is great fun.
Bunjee Jump At Thurso Raises Cash For MacMillan Cancer Relief










Bungee jump organised by Fiona Mackay and Claire Calder, held on Sunday in Thurso. 55 people did the 50 metre jump for charity raising over £12,000 for MacMillan Cancer Relief. A football tournament between Rangers, Celtic and Aberdeen supporters was also held and was won by the Aberdeen supporters. The girls plan to do it all again next year, but they are looking at making it almost double the height!
28 July 2005
A FIRST AT THE EIGHTH IN LYBSTER


Golfers taking part in the Lybster Open this Saturday (30 July 2005) will be making history, as the new 8th green is used in an open competition for the first time. The old 8th green at Lybster Golf Club, which all previous visitors to the club will undoubtedly recall, has been the basis for many a golfing lament and the justification for the non-return of many a scorecard over the years. As it lay on an interesting slope, if the wind was blowing from the top to the bottom of the green, as it often does, getting a ball to stop was often only possible if it found the hole!
Tickets For Castle of Mey Cocktail Party In aid Of Canisbay and Dunnet Day Care Centre
There are still some tickets available for this event which is on September 2nd from 7.0 PM to 9.0 PM. The Caithness Junior Pipe Band will play at the front of the Castle and the Caithness Ladies' Gaelic choir will welcome you in. John Thurso will say a few words, drinks and nibbles will be served, plus a look around the Castle if you wish. An auction with a wide range of exciting items will be held and finally the currently running Grand Draw will be held. Complete details of all items to be auctioned will be listed two weeks before the party and commission bids from those not able to attend will be accepted. For tickets telephone 01847851364 or contact any committee member of the Canisbay and Dunnet Day Care Centre.
27 July 2005
Caithness Arts Week Comes Into View - 30 July - 7 August
Unlike other arts festivals that have come and gone in Caithness this new Arts Week has taken a much more low key approach. But it might be a shame to miss what may turn out to be some gems in the Arts year in the north. Local group Scotia Review Presents - BARLEY BREE STRATH & SEA and is a locally based production with some well known names. Some events are pay at the door or by advance booking. Phone ahead to make sure you get in.
Battlemoss Excavations Web diary 24th July 2005 - The Final Week
The final week of the excavation began with a distinct change in the weather unfortunately. Nevertheless, we ploughed on with the digging and recording. We spent several days investigating the section between the kerbing and the central section, removing all of the small cairn material to reveal a layer of boulders and large slabs butting up against the outer edge of the central setting.
Summer Camp For The Caithness Army Cadets

Another successful summer camp was attended by members of the Caithness Army Cadet Force at Altcar near Liverpool. The young folk were accompanied by adult leaders from Caithness. As well as the competitions on the firing range and drill teams they still managed time for a day out to Alton Towers making for two weeks of fitness and fun.
Fancy Dress At Braehead Keeps Wick Gala Swinging Along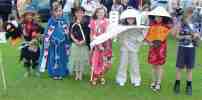 Last night saw a big crowd out to see the children in fancy dress at Braehead above the harbour at Wick. The costume ideas were as adventurous as ever with a few comments on local affairs like the closure of the caravan site etc. Humour and fun were well to the fore and despite cool evening it was another fun event for the kids and adults alike.
Wick Main Gala Photos Start Here
26 July 2005
Holy Trinity Amenity Group - Some Good Advice for Potential Students And Their Parents
The HTAG web site is run by Isabelle Thurley (nee Bruce) living in Guildford and originally from Wick and is aimed at her local community. Today she has posted a very interesting piece on student loans and well worth any parent thinking about if their children are likely to go to university and get involved in student loans which can be very expensive if not handled carefully. Basically the earlier you start saving the less student loan you might need youngsters to take on with all that debts can involve.
Everyone A Winner At Wick Gala Baby Show



Boss Hogg Won Pulse Heat Bands Competition But Cannot Make Final
Boss Hogg one of the most popular bands in the north won the local heat of the Pulse Heat Bands competition on Saturday at Viewfirth in Thurso. Unfortunately due to other commitments they cannot head for the final at Mad Hatters in Inverness on Saturday. They have asked runners up Curium to go in
25 July 2005
More Records Broken - Second Day In A Row
Monday 25 July
Hits 1,389,378 Visitors 17,881 Page Views 712,079
Visitor numbers to the web site reached the highest ever on Monday 25 July 2005 with 17,881 visits being recorded. Page views and hits were only slightly down on the day before but were still the second highest only slightly down on Sundays record breaking totals. The Daily average for July continues to make July heading for an even bigger record breaking month than we have ever seen on Caithness.org
July Totals to 25 July - Hits 14,152,439 Visitors 355,829 Page Views 6,685,936
Caithness.org looks likely to reach over 3 million visitors in 2005 and pages viewed possibly breaking 120 million. Burrowing down in to the stats shows that the What's On has had almost one million page views this year already and the Caithness Business Index 2.7million lookups. 2005 looks set to breach 3 million visitors with a possible page view total in excess of 20 million. Thanks To everyone for the continuing and growing support for looking in and o all our many contributors.
LYBSTER GOLF CHAMPIONS LEAGUE FOR DAVIE AND ALEX


Two of Lybster Golf Club's finest, Eric Larnach and Davie Nicolson, provided a wonderful display of golf during the 36-hole club championship final last Saturday. Starting like the train in the club's logo, Davie had built a 5-hole lead by the 10th, which Eric had reduced to 4 by the end of the first round. A determined competitor, Eric fought back with an excellent response, which saw him totally turn the tables and take a one-hole lead midway through the second round. Davie, however, produced another surge to secure the match at the 34th, 3 up with 2 to play, to win the Cormack Cup.
North Action Group Maternity Campaign Raffle


North Action Group fighting to retain a 24 hour seven day consultant led maternity service at Caithness General Hospital are running a small raffle to increase funds to be ready to run a much larger media campaign with a more professional production of materials to highlight the campaign. This is only a small raffle as groups and individuals all over have continued to send donations in to the committee. Things have gone quiet over recent months as the newly formed Maternity Action Team has been brought into being by NHS highland to try to find a solution. However the north Action Group committee feel that it will be necessary to bring matters before the public once again in coming months and are getting ready to be in a position to get a high level of information out to the public. So watch out for the raffle tickets at local shops or the Fair in the Square at Wick on Saturday.
Wick Gala Queen and Attendants At Cycle Races and Gymkhana


Wick Gala Queen Ashlie Cormack and attendants Carla Simpson and Kimberley Smith were out at two events last night to hand out the prizes. Monday nights have for along time seen the children's cycle races at the riverside whilst on higher ground the Gala Gymkhana is underway. As horses and ponies tried out the jumps the kids lower down took part in the fun cycle races.
Wick Gala Gymkhana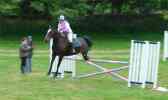 Wick Gala Gymkhana Full Results
Wick Gala Children's Cycle Races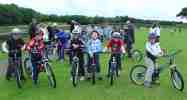 More Wick Gala Photos Over At Wick Pipe Band Web Site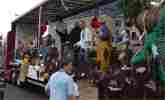 Wick Pipe Band web site now has two slide shows set up - one of 50 photos and the other with 61 photos from gala night. So for another angle - and you just need to set the shows going and then sit back and enjoy the show - head over to the Wick Pipe Band Gala Slide Shows
NEW CHAIRMAN FOR CAITHNESS HORIZONS
A full complement of directors were in attendance at the latest Caithness Horizons board meeting to work together and review progress on the current phase of work. Company Chairman Roger Saxon asked the Board to consider how to take the Chairmanship forward, and suggested an independent Chair may have more time to devote to the project and lead as a visible project champion. Paul Cariss, an existing board director, was unanimously elected as the new Chair and in accepting his new role said 'I am honoured to become the Chairman of such a forward thinking and ambitious Company and I look forward to working with the project team and the local community to create an outstanding facility we can all be very proud of'.
Caithness Socio - Economic Forum Established
At a meeting called by Mrs Pat Buchanan, Chair of Caithness and Sutherland Enterprise, a new Forum was established to plan for the regeneration of the local economy in the face of the decommissioning of the Dounreay site. The meeting elected John Thurso MP as its Chairman and others represented included CASE, the North Highland College, UKAEA, the Dounreay Stakeholders' Group, the Nuclear Decommissioning Authority, Highland Council and the Association of Community Councils. Mr Jamie Stone MSP was unable to attend this meeting but will play an active role in the future.
Wick Gala Tops The Lot - Biggest Day Ever On Caithness.org -
Sunday 24 July - Hits 1,424,263 Visitors 15,941 Page Views - 728,724
Hits and Page views reached new heights following Wick Gala and although visitor numbers did not exceed the last record for that figure made on 18 July. We are holding our breath for Mondays stats as Monday is usually one of the busiest on the web site. July 2005 is already guaranteed to be the biggest month ever as the numbers stacked up already take us to the June figures for visitors with a week to go. Page views have already passed the Record breaking June figure - standing as of yesterday at 5,973,857.
24 July 2005
Wick Gala 349 - 360 361 - 372 373 - 384 385 - 392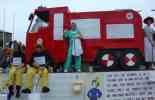 Wick Gala 313 - 324 325 - 336 337 - 348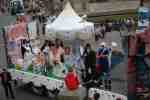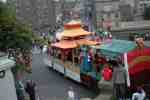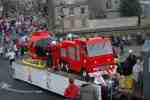 Wick Gala 265 - 276 277 - 288 289 - 300 301 - 312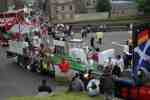 Wick Gala 217 - 228 229 - 240 241 - 252 253 - 264





News Flash From Liam Henderson Memorial Football Match Weekend
The charity auction at Sinclair's Bar in Wick raised the the phenomenal total of £6,674 this afternoon. Willie Mackay as auctioneer started the bidding for some lots at £1000 to hoots of laughter but as the auction moved on it became clear that the people at this auction were serious about putting money into this new sports charity founded in the name of Janice and John Henderson's son. As bidding for a variety of Football shirts , signed snooker cue, rounds of golf, holiday in Florida and so on went ever higher the final few items brought the house down to roars of approval and applause from the packed bar. No one had seen anything like it in Wick as the as Rangers and Celtic shirts came up as the final items. A signed Celtic shirt reached £850 in the bidding followed by a Rangers unsigned new season shirt for £450. but they had saved the best for last with a final signed Celtic shirt went higher and higher to be knocked down by auctioneer Willie Mackey at the amazing total of £1000. This final bid brought huge cheers and applause by the audience who had witnessed ever higher totals going into the Liam Memorial fund. With the raffle tickets selling like hotcakes today it is anyone's guess to the final total for the whole effort this weekend.
Wick Gala 145 - 156 157 - 168 169 - 180 181 - 192





Wick Gala 97 - 108 109 - 120 121 - 132 133 - 144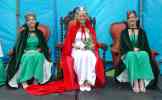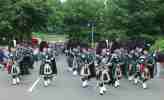 Wick Gala 49 - 60 61 - 72 73 - 84 85 - 96





23 July 2005
Wick Gala 1 - 12 13 - 24 25 - 36 37 - 48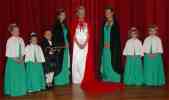 Liam Henderson Memorial Football Match A Great Success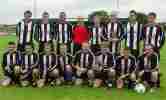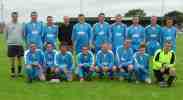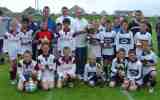 The afternoon football match at the Harmsworth Park ended with a win for the Wick select team and had plenty of entertainment for the crowd. Pipe band, dancers martial arts demonstration and the final of the Wick schools football won by south school. the morning football for the juniors was won by Colts from Newwmacher. Plenty of support for both teams was present as Newmacher had come with a large contingent for the weekend.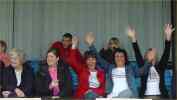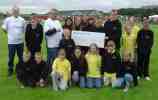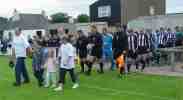 22 July 2005
Liam Henderson Memorial Football Match & Raffle - Latest Update To Prize List
Match Kick off 1.00pm on Saturday 23 July At Harmsworth Park, Wick
Prizes for the raffle sand silent auction have been pouring in along with various donations. The Football match between A Wick select side and Newmacher takes place on Saturday at Harmsworth Park. Check out the silent auction where the prizes are pretty good including a week in a villa in Florida and a Box for 8 people including drinks, lunch in a suite at the Ross county ground on 2 January 2006.
March Of The Highlander - DAY 6


After a short stroll from Tore into Inverness, (along the hard shoulder of the A( because they couldn't find any other route!) Jimmy met with volunteers from the Highland Hospice shop before walking over to the Hospice itself where a small reception had been laid on for him - complete with a cake! He also got to meet some of the patients and staff from the Hospice and was delighted with the support from them all. While he's glad that the walk is all but over, Jimmy has enjoyed the experience especially meeting so many people along the way. The support he has received has been tremendous, Hospice volunteers even provided accommodation along the route - each volunteer having their own story to tell as to why they work to support the Hospice
Blackstairs Fish Shop, Wick Gets A New Web Site
If you want fish from wick delivered anywhere in the UK you can now order it online. Vacuum packed and surrounded in frozen gel to arrive in prime condition.
Adding Dancing Teachers and Groups To the Arts Section - Can You Help?
We are reviewing the groups listed in the Arts Index. If you are a teachers or run dance classes for children or adults can you check the index to see if you are listed and if the entry is still correct. If you are not listed get in touch to get a FREE entry. Any Arts group or individual can get an entry in the Arts Index free of charge just by completing the online form The Arts Index includes a wide range of categories in Arts and music from bands to painters in Caithness - check it out and get free publicity 24 hours a day.
March Of The Highlander - Day 5


Almost there. Started off this morning from mid-way between Kildarry and Alness. Beautiful day, no problems with the weather or the traffic. Drivers being most considerate. Jimmy's aim was to walk to the Inverness side of the Black Isle bridge, however he was doing so well that he kept going and finished for the day at the Tore roundabout leaving him just 7 miles to finish his walk to Inverness tomorrow. Jimmy's spirits are high and he's really looking forward to reaching Inverness where he will visit the hospice shop and gather some supporters for a walk around the city centre collecting...
Auckengill - - A Closer Look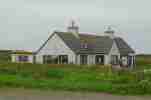 It is also five years since we last took a dozen photos of Auckengill Whilst out at the Nybster Broch it seemed a good opportunity to look a bit closer at the area. Auckengill is often rushed through by visitors on their way to John O'Groats but it may well be worth a closer look if you are journeying north. It is still farming country with some great coastal views and even a picnic table to relax before you head over to see the Nybster Broch. You can check out the Viking Centre set in the old schoolhouse. Abandoned cottages mix in the landscape with modern bungalows still being erected popular with anyone who wants wide open views down to the coast. The bird life was fantastic but difficult to photograph without a large lens. And we cannot bring you the sounds of the wind or freshly cut hay and the sound of many feeding birds in fields, paths, cliffs, beach or the breath of fresh sea air. You will need to see it yourself - meantime here are the photos.....................
Another Look At Newtonhill Community Woodland - Five Years On







Amazing as it may seem it is five years since we took some photos of the woodland outside Wick at Newton Hill. The first few photos were taken on 30 July 2000. Interestingly many of the same flowers were blooming in huge numbers as they were yesterday for this batch of photos. but much work has been carried out in the last few years and the place abounds in wildlife. The paths are established and take you round woods and wetland. A mown grassy area with picnic tables is at the entrance so it makes a nice place to take your lunch on a sunny day.
21 July 2005
Archaeology Team Making Lots Of Finds At Nybster Broch Dig



A team of student archaeologists from Nottingham university under the supervision of Dr Andy Heald have been working on the broch at Nybster. They have dug down past the depth in some parts that Sir Francis Tress Barry originally dug about 1900. they have uncovered a large number of pottery fragments, bone needles and a bronze ring. Just over one week to go so take a look before it is all filled in again if you have the chance.
Bower Young Farmers 60th Anniversary
If you were a member of Bower Young Farmers or know people who were then you might be interested in this anniversary. A dance will be held at the Weigh Inn on 28 October 2005. the organisers are looking for any old photos and contact details for former members.
March Of The Highlander - Day 4 - So Confident He Is Adding Extra Walking


A good day today with the weather improving rapidly. Jimmy had a slight detour today and walked into Tain to visit the Highland Hospice Shop where he was made most welcome. He's actually getting ahead of his planned times now, finishing tonight mid way between Kildary and Alness leaving only 26 miles to Inverness to be covered in 2 days. The pressure is now off and he is confident that , barring any unforeseen accidents, he will complete this march. He has admitted that he has found the experience a lot harder than he anticipated but continues to be cheered by the response he is receiving from passers by. He will not, however, be volunteering to walk home! Walking Thurso To Inverness with new detour via Tain. Ach Aye!!
North Coast Jazz Band Monthly Gig for Everyone At Redwood, Thurso


The North Coast Jazz Band are doing a great job trying to establish a monthly gig in Thurso with potential for a jam, but they need more support. They play at the Redwood, last Saturday in the month for fun, not cash and they will encourage any kind of participation. Next one is Saturday 30th July starting at 2pm. If you play and want to get experience or sing or just want to listen then why not go along. The sessions are open and free for everyone. Why not pop in for a snack or a pint and listen to some jazz on Saturday afternoon in Thurso.
Northlink Not One of The Preferred Bidders To Tender For Ferry Contract From 2006
The ferry routes to the northern isles will have a new operator from 2006. Three companies have been asked to bid for the new contract Caledonian MacBrayne, V Ships UK Ltd, Irish Continental Ferries plc and Ltd. The three ferries operating including the Hamanvoe from Scrabster to Stromness will transfer to the new company that wins the contract. Northlink have had to have much higher subsidies than previously anticipated when they won the contract from P & O. NorthLink Orkney and Shetland Ferries Ltd is a joint venture between Caledonian MacBrayne and the Royal Bank of Scotland. NorthLink was awarded the five year contract in December 2000, to start in October 2002. Background at The Shetland News
20 July 2005
A9 Upgrade North Of Helmsdale Making good Progress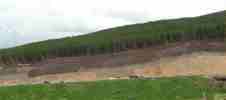 Wick High 1965 Reunion
Reunion tickets are available and the committee requests that everyone who indicated they would attend collect tickets as soon as possible in order to finalise the catering arrangements and before next Monday. Don't leave it to the last minute is the final plea.
Wick Pipe Band Week Video Available Now
For folk who missed the Wick Pipe Band Festival recently a video is now available of all of the parades. M & M Video have produced a compilation of all of the events from the week where several pipe bands took part individually and as a massed band at the Market Square, Wick and at the riverside.
Day 3 - March Of The Highlander


Jimmy Findlay continues his march to Inverness in aid of Highland Hospice. He hopes to arrive on Saturday to lead the march to the Inverness Highland games.
You can tune in to our local Radio Station Caithness FM to hear Jimmy give his latest update live. Sorry for all of you further away but it is not available on the web as yet. Caithness FM broadcasts between 7.00pm and midnight each day on the same wave length used by Moray Firth during the day and early evening 102.5. Caithness FM is run by volunteers. You can get your events included in broadcasts by phoning or email.
Orkney Has First Asset Confiscation Under Drug Laws
On Wednesday 13th July 2005 at Kirkwall Sheriff Court an asset confiscation order under the Proceeds of Crime Act 1995 was made against George Fraser, Hallbreack, Widewall, South Ronaldsay for £17,483-78 in relation to being concerned in the supply and production of controlled drugs, namely cannabis. This is the first asset confiscation for Orkney. Local man George Fraser had previously served a 12 month sentence for the Concern and Supply of Drugs and Cultivation of Cannabis. Chief Inspector Mike Cowdry, Orkney Area Commander said: "People who deal in drugs in our area can expect to be dealt the full force of the law which may include a custodial sentence and asset seizure".
Books of Condolences For London Bombings
The Highland Council has organised for books of condolences for those killed and injured in the London bombings to be available across the Highlands for anyone to sign. The books are available at all main Council offices and at the 37 Service Points including Thurso and Wick until Friday 22 July.
Liam Henderson Memorial Football Match & Raffle - Latest Update To Prize List
Following last years phenomenally successful Football match and raffle that raised over £27,000 another football match will take place but this time in Wick. the Newmacher team will this year travel with supporters to Wick and already hotels and Bed and Breakfasts are filling up for the weekend of the match. A trust has been set up and all money raised will go into the sports related trust. the main beneficiaries last year were Newmacher and East end Boys Club Football Clubs as Liam was a great football fan. Raffle prizes are still being donated and the list on the web site will be updated as the prizes come in. A silent auction will be held on Sunday 24 July and bids can be sent by email.
19 July 2005
Trinkathon - Sunday 24 July
2005 The Year of the VolunteerTRINKATHON Open Day Sunday 24th July.
The TRINKATHON at the Trinkie outdoor swimming pool this Sunday is looking for 'fit pairs' to compete in the Trinkathon. The Junior event involves 1 swimmer [2 lengths] and 1 runner [approx1/2 mile], while the Adult event involves 1 swimmer [4 lengths] and 1 runner [approx 1 mile]. Cups and medals are kindly donated by the Royal Mail. Registration between 1.15 and 1.45PM
Wick Amateur Swimming Club will compete for the North bath cup at 2.15. It is hoped to be a fun day for all the family, please come along and join in, any queries contact P Coghill 01955 602456 after 6PM for more information.
Archaeology Project At Battlemoss Near Yarrows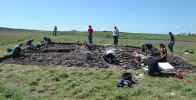 Work is well under way on the cairn the Battlemoss site near Yarrows by a team of archaeologist from Cardiff university under the management of Ameliia Pannet who has spent the last few years looking at the archaeology in the area. Caithness Archaeology Trust has helped facilitate the work and volunteers are welcome to go along and help. Visitors are welcome to see the site - Check the What's On for details. The cairn was discovered during another excavation project in 2003 when the stone rows were uncovered for the first time.
MEETING WITH NEW SHIPPING MINISTER SOUGHT
Councillors are to seek a meeting with new Shipping Minister Dr Stephen Ladyman MP to renew their call for tough new measures to safeguard the environment from a shipping accident around the shores of the Western Isles and Highland. The Tanker Traffic in the Minch Working Group, comprising members of The Highland Council and Comhairle nan Eilean Siar, want to advise the Minister of the action they believe needs to be taken by the UK Government to prevent a disaster from a major oil spillage from tankers in such a vulnerable and sensitive environment.
March Of The Highlander For Highland Hospice


Local man Jimmy Findlay left Thurso on Sunday to walk to Inverness via Culloden. He hopes to walk around 20 miles a day in full Highland dress, arriving in Culloden on Friday to lead the annual March of the Highlanders into the Inverness Highland Games on Saturday 23 July. Over the last few years Jimmy and his family have raised several thousand pounds for the Highland Hospice by taking part in the annual March, this year he though he'd go a bit further and start off in Thurso. Jimmy lost a sister to cancer some years ago and was impressed by the care she received through the Highland Hospice and felt that he'd like to do something in return.
Archaeology Projects Around Caithness Making More Discoveries - And You Can Be Part Of It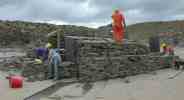 The Chambered Cairn Project At Spittal is a practical exercise in archaeology involving experts and the local community. It is open to the public to visit or to join in and has open days. If you have a few hours and want to see what it is like doing something practical you can join in this reconstruction project. the chambered cairn project is building a new chambered cairn. In addition the team are building a part of broch based partly on the Mousa and Gurness brochs. Another reconstruction is also underway and more will be done depending on numbers of people attending to help move the stones. Don't worry about moving huge stones as you will be assessed , given instruction and supervised and children move only smaller stones. Children must have an adult with them. You need no previous experience and many local people have already had a go. So here is your chance to step back into the shoes of your ancestors and find out what building something in stone was really like. Even if you do not fancy doing any work the team are happy to see people and explain what is going on so take the chance while it is on until early August. On every day except Sundays Open Day Sat 23 July. Today
CLAN SINCLAIR GATHERING 2005
On the morning of Friday 22nd July about 150 Sinclairs from Australia, Canada, New Zealand, Norway, the United Kingdom and the United States of America will gather in Inverness for the start of the 2005 international Clan Gathering. They will go straight to Orkney for the weekend and visits to a number of sites have been arranged. They will also attend Sunday Service at St Magnus Cathedral. On Monday 25th they will return to Caithness for a busy week and meet up with members of the Clan Sinclair Association of Caithness, who have organised the event, and others.
County Show Photos Help Take Caithness.org To New Heights
Monday 18 July Stats - 17,549 Visitors - Hits 769,423 - Pages Viewed 357,274
Monday 18 July 2005 took the increasing visitor numbers for July to the highest ever. A staggering combined total of 17,549 visitors for one day makes this easily the biggest yet. Page views hit 357,274 with the total hits an amazing 769,423. The daily average visitor numbers stand at 13,134 well above the daily average last month which was itself a record.
Inverness Airport on Target for Record Month
The success of new scheduled air services and holiday charters are propelling Inverness Airport towards a record number of passengers in July. The airport handled a record 16,088 passengers last week, including 5,170 passengers at the weekend. During its busiest week ever 2,510 passengers travelled on Saturday with a further 2,660 flying on Sunday on both scheduled services and charters to and from Majorca, Zurich and Verona. This was the third weekend in a row that Inverness had handled record levels of passengers. A total of 4,900 passengers travelled on 9 and 10 July and 4,400 passengers on 2 and 3 July.
18 July 2005
PULSE HIGHLAND TALENT TRAWL
Belladrum Tartan Heart Festival has announced 'Pulse' - a talent trawl for emerging bands and soloists throughout the Highlands, in association with Mad Hatters at Hootannany's and HUBL, the web site for Highland musicians. The Thurso heat is to take place on Saturday July the 23rd at 8pm
Caithness First Arts Week Events
A programme of events is now available. Watch out for the leaflets around the county.
Beinn Stumanadh - Another Caithness Waybaggers Walk

A small hill just off the A836, 8 kms south of Tongue. The day was bright and dry with a strong wind blowing. I heard later that the Kessock Bridge was closed because of it. We parked the cars at the side of the road and made for the bothy at Achnanclach 2 kms away. We walked along the north shore of Loch Loyal where the water was being whipped up to a frenzy by the gale. Judging by the visitor book at the bothy it was a popular place. The last person to visit it had been only the day before. Interested in a Walk? - check the Events Calendar
Assynt Mountain Rescue get helped by UKAEA


The Assynt Mountain Rescue Team have just received a donation of £200 from the Appeals and Donations Committee of UKAEA Dounreay. The Assynt MRT are very grateful to the UKAEA for their continued support. UKAEA has donated some funds towards the running of the team on numerous occasions over the past few years. UKAEA Dounreay also supports the Assynt MRT by allowing team members that work there time off to attend all outs and save lives. The team is a registered charity (SC000505) and relies on donations and fund raising activities to keep the team going. The team has been fairly quiet during 2005 with only 3 callouts (so far) but has continued with regular team training to ensure that the team members can respond to an emergency situation should the need arise.
Young Folk Get A Head For Heights


Seven young members and two adults from the congregation of "The Church of Jesus Christ of Latterday Saints" successfully managed to conquer their fear of heights by abseiling off of the cliffs above Strath Halladale last Wednesday evening (13th July 2005).

North School 1962


Another schooldays photo for North school. This one has been sent in connected to the Wick High 1965 Reunion that is fast building for the big night on 30 July at Mackays Hotel. If you have not booked your ticket act fast to let the organisers have final numbers for catering etc.
Caithness County Show Photos Can be found later in the July Archive or Caithness Agricultural Society
or the Farming Pages or the Galas/Shows/Games Pages
17 July 2005
County Show 313 - 317 Klaksvik Youth Band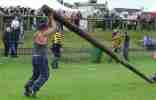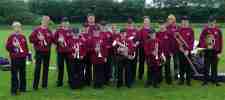 County Show 277 - 288 288 - 300 301 - 312
County Show 241 - 252 253 - 264 265 - 276
County Show 205 - 216 217 - 228 229 - 240
Show 157 - 168 169 - 180 181 - 192 193 - 204
County Show 109 - 120 121 - 132 133 - 144 145 - 156
County Show 73 - 84 85 - 96 97 - 108
County Show 37 - 48 49 - 60 61 - 72
County Show 1 - 12 13 - 24 25 - 36
16 July 2005
Klaksvik Band At Caithness County Show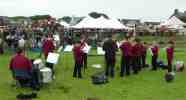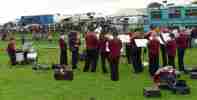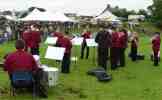 15 July 2005
Klaksvik Youth Band Playing At Blackstairs, Wick Tonight






Wick welcomed the Klaksvik Youth Band from the Faroe Islands today playing at the dedication of the newly refurbished Blackstairs. The young band are staying at wick Youth Club and on Saturday will be playing at Market Square, Wick and then will visit the county show where they have been invited to give another performance. On Sunday they will play at the Dunbeath Castle open day. Their great sound reflected across the harbour. Watch out for them over the next couple of days. Well done kids.
Klaksvik Links
Caithness And Sutherland Enterprise - Grants Awarded Last Month
Getting Ready For The 2005 Caithness County Show At Wick - Saturday 16 July


The county show returns once again to Wick. Always a popular site for the show due to its proximity to shops, restaurants and the town centre. What's On - it would be easier to say what is not on at the show but here goes - Show Jumping, Stock judging, Wick Pipe Band, Horseshoeing demonstration, Caithness Strongest Person, Vintage Tractors, childrens Animal Corner, School children's poster display, SWRI exhibitions, Dog show, sheep Shearing, Children's Pet Parade, Children's Races, Tug o war, Pony Racing, Young Farmers Tent, Musical Post on horseback, Lunches, Teas, Refreshments, Long line Netting Display, Hackney Driving, sheaf Tossing, Pony Puissance, Parade Horses, Parade Cattle, Stalls, Trade Stands - Lunches, Teas, Snacks, Beer Tent and much much more......Gates Open 8.30am - Stock Judging starts 9.30am
Show dance in the marquee at 9.30pm - Other show related dances and discos see What's On
2004 Show At Scrabster 2003 Show At Wick
Liam Henderson Memorial Football Match & Raffle
Following last years phenomenally successful Football match and raffle that raised over £27,000 another football match will take place but this time in Wick. the Newmacher team will this year travel with supporters to Wick and already hotels and Bed and Breakfasts are filling up for the weekend of the match. A trust has been set up and all money raised will go into the sports related trust. the main beneficiaries last year were Newmacher and East end Boys Club Football Clubs as Liam was a great football fan. Raffle prizes are still being donated and the list on the web site will be updated as the prizes come in. A silent auction will be held on Sunday 24 July and bids can be sent by email.
We're Not Afraid - London Bombing Support Web Site Growing Fast
We have been asked to link to the London Bombing web site showing defiance against terrorism that is growing fast with photo contributions flowing in from all over the world. anyone can send a suitably altered photo. Take a look and you will get the idea.
14 July 2005
Harry Potter Book Prize At County Show From Caithness MS Group
Caithness MS group have received a signed copy of the latest Harry Potter book and it will be raffled at the county show on Saturday at riverside Wick, J K is patron of MS Scotland A signed copy should be worth a serious sum if auctioned on E Bay. They will also have other another competition for cash prizes and lots of freebies for kids so they hope everyone will visit the stand on Saturday. We understand Caithness FM will also have copy of the new HP book in a free giveaway. So head for the show all you Potter fans. Caithness FM will be at the show from 10.00am - 5.00pm playing music and will be live on air from 2.00pm - 4.00pm on 102.5FM
Killer Whales Spotted Near Stroma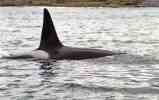 Alistair Jack took these pictures last night off the coast off Stroma. the seals who rest near the site of the Bettina Danica ship wreck were obviously under threat with the whales right in at their favourite ledge
Caithness & Sutherland Vintage Vehicles Rally 2005







Each year the vintage vehicles rally at John O'Groats is going from strength to strength and 2005 was no exception. As usual vehicles from all over came to the county and stopped off at Wick on the way.
Check the winners in the Caithness And Sutherland Vintage Vehicle Club page.
For more vehicles got to the Transport Pages
Halkirk Tug O' War Team Are Scottish Champions 2005


A team from Halkirk Tug of War came home triumphant from the Scottish Tug Of War Championships on Sunday 10th July. The Amateur competition is held annually at the Stirling Games. The Halkirk boys took top honours in the 680kg weight category. Amateur pulling is different from the more traditional Highland Games pulling which is seen in the North of Scotland. The main differences are the footwear which is permitted and the technique used. It could be likened to the differences between Rugby Union and Rugby League.
13 July 2005
earth.google.com
If you have not found this site and you like maps or want to get some information or street layouts for anywhere on earth fast then try this from Google. There are gaps but you can see that this one is going to be big. The fact that you can scroll to anywhere on earth and zoom right into the streets and for big cities even see the building shapes. Just download the free software and away you go zooming to any place on earth. You can add streets, banks, restaurants and lots more. Obviously going to grow and very fascinating already watching it build the map in front of you. Move the planet to move around. Great...
The Pugwash Lane Campaign - A Tiny Community Fighting To Retain Access To A Small Lane



For almost 4 years now, there has been an ongoing dispute over a 200ft lane, now known as Pugwash Lane, in the village of Reay. The lane runs along the northwest boundary of Beinn Ratha Court and can be accessed from both ends and from the rear of several houses. The action group are raising money to pay legal fees and anyone can buy tickets to win this buggy.
Fund Raising Before New Start For Wick BB
We are currently trying to raise money so the Company is ready to start the Boys' Brigade in August 2005.
The 1st Wick Company of the Boys' Brigade are trying to raise money just now. The Officers and helpers are currently selling Lucky Numbers tickets which costs 50p each. You can pick 2 numbers from 15 and if they get picked, they win £30 but if there is no winner the jackpot has a £10 rollover.
Work Goes On At Shore Road Building Up Sea Defences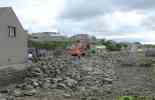 Remember the crashing waves taking the wall apart at Shore Road over the past two or three years. Well that might be at an end with the hundreds of tons of rock being built up to protect it. With substantial work having been done on the pier and rock armour to break up the main waves this should see the place safe for at least another hundred years.
Turtle Road Show Adds Another Date At Farr Wick Tonight at Nethercliffe Hotel 7.30pm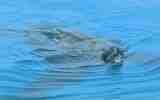 'The Scottish Turtle Roadshow' have added a further date to the events listed in the press. They will be at Farr High School on Thursday 14th July at 2pm. They did not have any events planned for this area of North Sutherland so the local Ranger contacted them and they agreed to do this presentation in the afternoon.
Circus Big Top Brightens Up Riverside Wick


Riverside Wick is a busy place for the next couple of weeks. The circus ends tonight with its final show after three days. Friday sees the start of the County show with the big day on Saturday and the following week is Wick Gala. The Cottle & Austen circus heads for Thurso from Thursday 14 July - Saturday 16 July and then on to Stromness.
£800 For Highland Hospice After Dounreay Man's charity Walk


The Dounreay Charity Fund and the Trade Unions at Dounreay are pictured handing over a cheque in support of Jim Findlay for his annual Charity Walk from Thurso to Inverness in aid of the Highland Hospice. The following organisations supported this worthwhile cause: Dounreay Charity Fund donated £200, Amicus, Transport and General Workers Union, General and Municipal Boilermakers Union and Prospect Trade Unions donated £50 each.

Dounreay Site Alert To Be Sounded To Mark A Two Minute Silence for London Bombings
The Dounreay Site Alert will be sounded at 1200 and 1202 hours on Thursday 14th of July 2005 to denote the beginning and end of 2 minutes silence in respect of those who were affected by the London bombings. The public should take no action upon hearing these alarms. For further information please contact: Eann Plowman, Emergency Arrangements Co-ordinator, UKAEA, Dounreay 01847 806862.
BBC Coming To John O'Groats - Looking For Information On Early Colour Film
Some of you may have seen the trailer son BBC for this Lands End To John O'Groats roadshow following in the footsteps of a film-maker in 1925. Claude Friese-Greene's original journey from Land's End to John O'Groats was made because he had found anyone to take an interest in his revolutionary new colour film technique. He decided to highlight it by making this remarkable film of trip the length of Britain. Do you know someone from Caithness who was in the film or can you help tell them about some of the buildings in the film. Check the dates and times of places and if in Caithness head to John O'Groats on Friday 4.14pm - 6..15pm
Wick High 1950 - 51 Commercial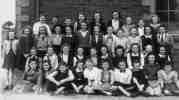 NHS Highland comes under fire again - Grampian TV
NHS Highland has come under fire over the rapid turnover of specialist staff at the maternity unit in Wick. Campaigners fighting for a permanent presence of consultants at the Caithness General hospital unit say there is a lack of staff continuity. The news clip from yesterday is available to view in various formats. North Action Group continues to campaign to retain a consultant led unit. The group is co-operating with NHS Highland in the Maternity Action Team set up by them. The process has taken some time and the co-ordinator appointed by NHS Highland resigned adding to the time taken.
12 July 2005
Highland Society For The Blind Open Day - Thurso 19 July 2005
An Open Day In Thurso To Raise Awareness Of Issues And Support For Visually Impaired People The Highland Society for Blind People and the Karten Technology Centre are holding an Open Day in The Band Room Thurso Town Hall on Tuesday 19th July from 10am to 4pm This event is open to all to find out what support and aids are available to help improve the day to day activities of visually impaired adults and children. There will be a range of staff available to discuss any issues and demonstrate ways in which you can help support a visually impaired person. Are you a computer user? The Highland Society for Blind People and the Karten Technology Centre urgently need your help to support a number of sensory impaired adults in using computers.
Taste Of Tartan Setting Out For another Successful Celidh This Week
A very successful Ceilidh was held last Friday in the Royal British Legion Hall, Thurso. This was the first of a summer series of Ceilidhs being presented by A Taste of Tartan. The next Ceilidh will be held this coming Friday, 15th July. starting at 8.00pm. Again the music will be provided by the Addie Harper Scottish dance band, with a completely different programme of entertainment by local artistes. Admission will be £3.00 (pay at the door), with reductions for children. Dates for the rest of the series can be seen on the What's On calendar.
Minke Whales at Melvich - Rangers Message
At 6.00pm last night Minke whales were crashing about, lunging feeding at the surface. I saw at least 7 animals just around the Melvich Bay area along with 3 whales and 1 common dolphin just earlier near Strathy Point. There are lots of feeding birds with them, just look for the birds and you should see the whales. At Melvich the best viewing point is from the Rubha Bhra point just west of the bay on the O.S. map Grid ref: NC 876668 and from Strathy Point anywhere convenient which is looking east towards Melvich.
Travel Paranoia Over Luggage Beaten By New Service
For people who worry about the safety of their luggage while travelling a new service may take all the hassle out of it. flymycase.com aims to make transportation of luggage as easy as the trip itself if not easier
Local Family Plan To Raise Funds For Specialised Bed
Audrey who works at the SSPCA has sister Elaine, who has been diagnosed with cancer and has been paralysed as a result of tumours on her spine. She now requires a specialised bed which can convert into a chair. It is her wish to try to fund raise to buy another specialised bed for the Caithness General Hospital in Wick, which costs over £3500. They plan to have a charity auction during August, as part of fund raising efforts.
Children's Group With the Rangers Today - Sea Shells and Sea Birds
Duncansby Head lighthouse car park - 11am - Lasts approx 2-3 hours - 8-11years, children under 8 have to be accompanied by an adult - Booking advisable - Stout footwear and warm clothes - Free
For More Activities for children in Caithness coming days and weeks check Kids On Holiday page
Pulteneytown Peoples Project - Fun Day




Pulteneytown People's Project held a fun day on Sunday. This year football competitions were run for both senior and junior teams
Numbers Going Up Fast For Wick High 1965 Reunion
With a couple of weeks to go there has been a surge in numbers for the Wick High Reunion but please get in touch very soon to ensure the catering arrangements can be finalised. List updated.
11 July 2005
Battle Moss Excavations – web diary 10th July
The first week of excavation has gone very well, with everyone working extremely hard to ensure the heavy work of deturfing and removing the backfill from 2003 was finished as quickly as possible. We now have a 10m by 10m trench open over the cairn, which appears to have exposed the edge of the monument on three sides. The trenches from 2003 have been cleared out – despite the presence of rabbit holes on the surface, the central setting of the monument survived remarkably well under the layer of protective material laid down at the end of the previous season.........The site is open to visitors from 10am to 4pm every day, and there will be an open day next Saturday (16th July). We would also welcome anyone who would like to come and work on the site with us, full training will be given!
Wick High 1965 Reunion - Tickets Now Available At Shops
Reunion Folk can now obtain tickets from D R Simpson as well as Mackenzies Furnishers. Get your tickets now as catering orders must go in soon.
New Appointments To NHS Highland Health Board
Health Minister Andy Kerr announced the appointment of Mr Ian Gibson and Mrs Ann Bethune as new members to Highland NHS Board. Mr Ian Gibson has just stepped down from the post of Director of Macmillan Cancer Relief for Scotland and Northern Ireland after nine years with the organisation. He is now a self-employed management consultant living in Newtonmore. Mrs Ann Bethune is a freelance researcher and is a Research Associate of Leirsinn Research Centre for Gaelic, Sabhal Mor Ostaig. She is currently joint Vice-Chair of NHS Highland Research Ethics Committee and was Vice-Chair of Highland Health Council. She is also a lay reviewer with NHS Quality Assurance Scotland.
Tesco In Caithness Opinion Poll On the Message Board
Wick Pipe Band Fancy Dress Fun Night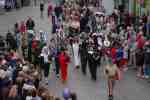 Another successful Wick Pipe Band Week drew to close on Saturday evening with the Fancy Dress Fun night. If you are visiting Wick watch out for the parades or visit the Wick Pipe Ban Hall on a Wednesday evening each week over the summer months for their Scottish Shows starting at 8.00pm.
Wick Pipe Band Web Site
All Time Record Weekend at Inverness Airport
Inverness Airport handled 4,900 passengers at the weekend, breaking the previous record 4,400 passenger total set over the weekend of 2 and 3 July. A combination of scheduled and charter flights saw the Highlands' hub airport handle 2,300 passengers on Saturday 9 and 2,600 on Sunday 10 July. The soaring passenger numbers were due to the introduction of new daily services to Belfast and Bristol at the beginning of July and holiday charter flights over the weekend to and from Majorca, Verona and Zurich.
Dare Devil Stunt Show At Wick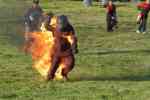 Scott May's Dare Devil Stunt Show had good crowd out at Wick to see the monster trucks crushing the odd car, motor cycle jumps , folk on fire and the human cannon ball. Thanks to Julia Budge and Brian Finch for the photos.
Whales Spotted Off The Coast At Melvich From The Air


Whilst out flying around the county on Friday evening Alan Moar and his brother John ventured out west and caught these photos of some whales about half a mile to a mile out from the coastline near Melvich. They saw more whales in the area between Melvich and Dounreay and were quick enough with the camera to catch them as they went past
10 July 2005
Lybster Gala Round Up Of Latest Events
Fancy Dress Treasure Hunt Wheelie Bin Race Pop Idol





Thurso Gala Queen & Court - Photos 61 - 76






Thurso Gala - Photos Start With Fancy Dress





8 July 2005
Results are being posted to the Caithness Scottish Open Rifle Meeting web site
National Small-Bore Rifle Championships 2005 Hailed Great Success In Caithness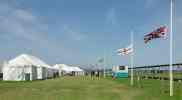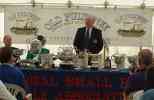 All week the competitors have been taking part in one of the most prestigious shooting competitions in the UK at Thurdistoft near Castletown. The lovely weather conditions added to the shooting range that had been worked on for months by local club members.
Results are being posted to the Caithness Scottish Open Rifle Meeting web site
Susan Jackson Triumphs in NRSA Earl Haig Memorial Final



Susan Jackson of the Watsonians Club took several titles and trophies. she beat off the competition with total score of 586. Second was J R Brown with 582. Susan Jackson hopes to represent Scotland at the next Commonwealth Games.
Lord Lieutenant Ann Dunnet Presented the Prizes At NSRA Competitions At Thurdistoft






It was announced at the end of the competition today that the NSRA Committee were so impressed with the facilities and organisation laid on by the Caithness clubs for the national competition this year that they are seriously considering recommending that it comes again in 2006. Local Caithness shooters came away with several pieces of silverware from the competitions. Main sponsors were Old Pulteney distillery in wick and they must have been especially pleased with the whole set up from such a superb weeks competion.
South School Football Team Hat Trick Of Trophies

This years South School football team seem to reflect the growing confidence of the whole area and took a third trophy this year - The Danny Cormack Memorial Trophy. The score was 1 - 0 against Pulteneytown Academy. The team swept all before them this year winning three cups and becoming the primary schools county champions. This is a remarkable achievement not seen for over 10 years. The school is located in the Pulteneytown area of Wick and if their football success is a marker then it seems Pulteneytown is on its way up again. Well done to the South School team.
Thurso In Bloom Latest


Thurso in Bloom page is now updated with reports of there fund raising activities and coming events. If anyone would like to help with any of the activities just get in touch with the group. Apart from their work in Thurso itself the group members take part in various clean ups in the area. A display of photographs, scrapbooks and other information by Thurso In Bloom is on at Thurso Library right now.


7 July 2005
Wick Pipe Band Week In Full Swing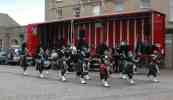 Music for young and old in Wick Pipe Band Week as the parades, ceilidhs and Scottish music keeps on coming.
Still more events on Friday and Saturday with the Scottish show on Friday night at the Pipe Band Hall and the Fancy Dress parade on Saturday night.
Wick Pipe Band Web site

Wick Gala Programme Out Now
A very full programme this year with lots of events and shows including Zenwig Puppets, Mr Boom, competitions and much more for children. Wick Players are putting on three one act plays and tickets at newsagents locally soon so remember to get them early.
Still Plenty Of Competitions Left At Lybster Golf Club For 2005
If you need some extra golf why not join Lybster Golf Club and take part in the competitions.
4 July 2005
Flying In To Inverness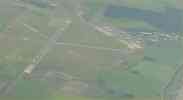 A little of what you might see if you decide to fly north via Inverness on your way to Caithness. Inverness airport has recently been modernised and Wick has only just been upgraded (photos soon).
New Air Traffic Control Tower For Edinburgh


Bill was down in Edinburgh at the start of the week and although he did not have time to take many photos there he could not resist this one of the new air traffic control tower at the airport. Thought not to many of you will have seen it yet. It is not yet operational but perhaps shows the way things are changing in the capital.
Minke Whales Spotted In Thurso Bay Today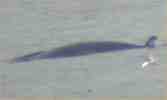 Karen Munro sptted some Minkie whales in Thurso Bay, near Murkle point again today at 1615hrs. Also saw some off Dounreay at lunch time, and they have been in Thurso bay every calm night for the last week and a half.
Lybster Gala Sports - Any Future Olympic Stars In The Making?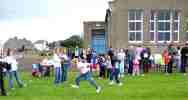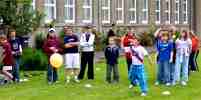 Congratulations to London On Olympics 2012 Award
Silver Darlings Day At Lybster Looks Set To Grow In Future Years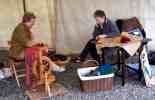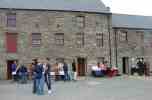 A low key start to a new annual day at Lybster looks set to grow. A combination of local skills and Waterlines centre, music, story telling and stalls made for a relaxing afternoon at the harbour. Locally caught crabs were on sale in front of the smokehouse while relaxing music could be heard as folk looked at the stalls or ate a snack from the cafe.
Pulteneytown Fun Day and Football Tournament - Sunday 10 July 1.00pm South School
Pulteneytown Peoples Project is to hold its annual Fun Day and Football Tournament on Sunday 10th July at 1.00pm. Activities will include – a barbecue, entertainment, trampoline, raffle, bottle stall and team games. David Dunnett chairperson explained that we want to make it a real family day out for people in the community. The project works with so many different age groups and we have tried our best to make sure there is something there that will suit everyone. The team games have been a great success over the last few years with all the family joining in. There will also be a barbecue which will include local burgers, steak rolls and hot dogs. Football teams are to register at 12.30pm for the tournament. Teams of 7 can either come along ready made or individual people can come along and make up a team.
From Mary Legg - Highland Ranger - Whales Being spotted On The North Coast
I've just had a phone call from Paul Castle, North Sutherland Ranger, telling us about the excellent views of cetaceans along the north coast at the moment. The waters in Melvich Bay right along to Strathy point have been busy with whales and dolphins for the last couple of weeks and the calm conditions today are making viewing really easy. Paul spotted several Minke whales and dolphins on his way across to work today. We wouldn't want folk to drive by and miss such a good opportunity to spot.
3 July 2005
Art Competition For Local Artists
LS Lowry painted scenes of Wick in the 1930's, now the Highland Council would like local artists to do the same in 2005, using the famous artist's paintings as inspiration.
easyJet Launches New Route from Inverness to Belfast
easyJet, the UK's largest low cost airline launches flights from Inverness to Belfast. Single fares start from £12.99 with return fares available from £30.98. The service operates with one return flight a day seven days a week.
Young Thurso air team fly through Youth Challenge


Four young air cadets from Thurso have beaten over 60 teams from around the Highlands to come second in this year's ICT Youth Challenge. Keith Whitelaw, Ross Ventres, Jamie Munro and Brian Robertson from the 1769 Squadron Air Cadets, also known as Team Typhoon, stunned the judges with their presentation at the end of the gruelling five day 'HotHouse' final.
Taste Of Tartan Ceildh Season In Caithness
A Taste of Tartan are putting on a series of Ceilidhs during July and August in the Royal British Legion Hall, Thurso. Music will be provided by the Addie Harper Scottish Dance Band, with entertainment by local artistes. The Ceilidhs will start at 8.00pm. Admission will be £3.00 (pay at the door), with reductions for children. The first of these Ceilidhs will be held on this coming Friday, 8th July. The dates for the other Ceilidhs can be seen on the What's On calendar. Do go along and support your local talent.
NEW MEMBERS APPOINTED TO WICK HARBOUR AUTHORITY
Six new members have been appointed to serve on the board of Wick Harbour Authority. All have a special knowledge and business background to take forward the future running of the harbour. The New wick Harbour Authority took over from the Wick Harbour Trust on 1 July.
All Go for Greenland
Three sea kayakers from the Thurso based Pentland Canoe Club will depart next week on the most ambitious trip in the Club's 21 year history. Shona Comrie of Portskerra; Simon Copsey and Ken Nicol, both of Halkirk, are to undertake a three week sea kayaking expedition to Greenland. Initially they will spend three days travelling to Narsarsuaq in Southern Greenland and from here transfer by helicopter to Nanortalik where they will collect their sea kayaks and food, which are being shipped out in advance.
Drystone Walling Course - Correction course is 9 - 10 July
Castletown Heritage Society are running a drystone walling course on Saturday / Sunday 9- 10th July 2005. The course is being taken by a Master Craftsman Dyker who will give instruction on the basics of drystone walling and then over see as the trainees build their own bits of wall. The trainees can come for 1 day or 2 and tea and lunch is provided. The cost will be £10 a day to help cover the costs. If anyone is interested please get in contact with Muriel Murray 01847 821 204 to book a place and get further information. Basic safety equipment will be required like leather gloves and stout (preferably steel toed footwear). Basic tools like a stone hammer or a small lump hammer will also be required.
Lybster Gala Pics 49 - 60 Last Lybster Gala Pics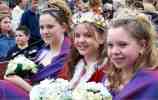 Lybster Gala Pics 25 - 36 Lybster Gala Pics 37 - 48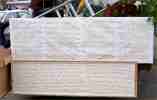 Earlier Galas - Shows - Highland Games Photos in the Galas Section
If you are looking for earlier years photos of the galas, county show or Highland games just look in here. the latest ones are also all linked from this page.
Can Anyone Help With Stroma Harbour Information For Yachtsman
Intending To Sail From The Mediterranean to the north of Scotland. He would like to know - "What is the depth in the Stroma harbour, and what is the best time to get there for the tides? If you know the answer send to bill@caithness.org for onward transmission to the yacht. thanks
2 July 2005
Next Batch Of Castletown Gala Photos





Castletown Gala First Pictures In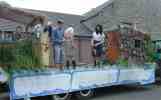 New Owner Opens Harbour Lights In Wick For Good Food Once Again
What's On Entries Now Currently Over 420 - Is Your Event In Yet - It's FREE
A couple of days ago we asked all of you out there to get your Caithness events on the web site and the response has been fantastic. They have poured in taking the total entries from today to over 420. Each day the out of date entries automatically drop off the calendar so that means over 120 items have been added in the past couple of days. If you are holding an event - coffee morning, dance, entertainment, sale, car boot sale, charity event, club night, diisco, band or arts event - in fact anything you want the public to attend then get it in the biggest FREE What's On Calendar of events in Caithness.
July Front Page Archive June Front Page Archive
1 July 2005
Records Broken Almost Daily As Numbers Reach New Levels In June
Hits 12,883,245 Visitors 374,796
Daily Average Hits 429,439 Visitors 12,491
Caithness.org seems to continue to ripple out across the globe as more visitors from more countries clicking on regularly. Page views once again increased massively to reach 5,835,644. At this rate the web site may pass 4 million visitors for 2005. This is extraordinary growth as we only passed the one million per annum in 2004. Once again thanks to all our visitors and contributors for your information and growing numbers of photos
Bookstart from Wick Library - Part Of A Huge Reading Programme In Highland


Since the launch of Bookstart at Wick Library in February of this year it has been a hive of activity. We have been under attack from pirates of Wick Norlin Playgroup, children from Thrumster Nursery joined us to make finger puppets, Light Beams from Lybster danced in costumes around the library, wormy caterpillars and butterflies were coloured in by Watten Nursery, while Blackstairs Playgroup had a taster session of crocodiles. Wick Library staff have been doing animated story telling, action rhymes, arts and crafts and have captured some of the happy memories of the nurseries and playgroups having a wonderful time for all to see.
Castletown Nursery At The Dounreay Visitor Centre


The children were given the opportunity to meet the Civil Nuclear Constabulary's police dog, Ellie and sit in the police vehicle. The children are pictured here with their parents and staff from the nursery school
Pultneytown Academy, Wick - End Of Term Newsletters
MSP Jamie McGrigor warns of "dangerous precedent"
A Conservative MSP has said the future of crofting in Scotland is at risk following a decision by the Crofters Commission. MSP Jamie McGrigor said he is deeply concerned over the decision to allow a Taynuilt croft to be de-crofted for luxury homes and warned it could be just the first of many across the Highlands and Islands.
Light Factory - Thurso - 8 - 12 August
Light Factory Holiday Club presents "Landlubbers" - what happens when pirates don't want to be pirates any more? Fun for any children who were at primary school this year.
Have You Got Some Free Time? - Can You Help Out A local Group With Administration?
Catherine Patterson over at the Caithness branch of Volunteering Highland is trying to get assistance for various projects and currently is looking for admin assistance for the new Women's Aid Centre at Green Road, Wick. If you can help this or other voluntary groups in Caithness get in touch with Catherine. Catherine is also looking for some volunteers to assist Marina Swanson the Highland Ranger with some weed control at Newton Woodland on 7 July. More details contacts etc
Caithness Archaeological Trust - Summer Day Conference



A chance to find out what is happening with Archaeology in Caithness. Over the coming weeks there is a huge amount of activity that members of the public can go and see or for the enthusiastic join in with a dig. Check the July What's On for archaeological activities in Caithness throughout July at Battlemoss, Spittal Chambered Cairn Project and the Broch Project. Caithness Archaeological Trust is gearing up this summer to bring in more experts than ever to finally get at some of the treasures lingering all around in Caithness. Following two or three years of activity they are stepping up the pace with three major projects in July. Books and leaflets are to follow in future years. Caithness Archaeological Trust (CAT) aims to put more and more of archaeology in to the public domain. check out all the projects this year and see what more is to come.
TURTLE ROADSHOW URGES SCOTTISH SEA-USERS TO LOOK OUT FOR LEATHERBACKS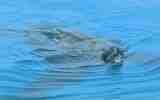 On Tuesday 12th July the Marine Conservation Society (MCS) will launch the Caithness leg of the Scottish Turtle Roadshow, currently touring key fishing harbours around the entire coast of Scotland and the islands to urge fishermen and other sea-users to report their encounters with critically endangered leatherback turtles2 in Scottish waters.Tuesday, 12th July - Lybster, Portland Arms Hotel, 7.30pm Wednesday, 13th July - Wick, Nethercliffe Hotel, 7.30pm, Thursday, 14th July - Scrabster, Weigh Inn, 7.30pm