18 July 2005
Get Your Tickets Now Please
The Class of 65 Reunion is now only two weeks away. A lot of hard work has gone into planning this event over the past year. Members of the organising committee have spent endless hours online and by telephone contacting the majority of the 250 or so former pupils or their known relatives from the list supplied by the High School. The response at first was slow but numbers have picked up and we now hope to have between 80 and 85 people attending..........That's if half of them bother to remember to buy their tickets before the event.
Out of these 85 people who have all been contacted personally, only 41 have bought tickets. The remainder have given definite verbal assurances (some of them weeks ago) that they will attend but still they haven't paid their money and bought their ticket.
We have been told that at the last reunion in the town, over 40 extra people turned up on the night who hadn't bought tickets. We hope that this does not happen again with our reunion. The Hotel will only cater for the final number of tickets sold which we will give them a note of on Monday 25th July. The thought of having to share food for 40 people amongst 80 will be nothing short of a nightmare for us and very unfair on the peole who have bothered to buy their tickets beforehand. So please please if you have said you are coming BUY your ticket now. They are at D R Simpsons and Mackenzies Furnishers.
If you have a genuine reason for not being able to get a ticket then please contact us by email at julie.mackinnon1@btinternet.com or Mary Thain on Wick 605920 and we can arrange to have your ticket sent to you. We will even deliver them to your door if need be.
So final call. If you don't have your ticket by Monday 25th July then you will be missing out on a great night.
The Reunion
Wick High School Class of 65 - 40th Anniversary Reunion. - Did you start WHS in 1965? We would like you to know that we are holding a 40th Anniversary Reunion in Mackay's Hotel, Wick, on Saturday 30th July, at 8 p.m This will consist of a Buffet and Disco. Tickets are £10 each. For details on how to obtain your ticket please contact Julie (nee Rosie) at julie.mackinnon1@btinternet.com
31 July 05
Wick High 1965 Reunion At Mackays Hotel Last Night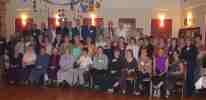 From the organisers - Organisers wish to thank everyone who attended for a wonderful night. For those who decided not to come you missed yourselves. For Rhona who missed through ill health.....hope you are feeling better ? (we missed you) For those who bought tickets and chose not to come.......well what can we ALL say? Class of '65 had a great night out and I think a repeat is a certainty. Cheers to you all.

Photos From Way Back Going In HERE


North School 1962

Pulteneytown Academy 1961
List Of Names From 1965 Year
List updated 12 July 2005