Caithness Girls At Gymfest Inverness Last September

Apologies to all concerned as this photo was left in the email pile from last September. Members of the Caithness Gymnastics Club took part in GymfestINverness held recently at the Bught Leisure Centre in Inverness. This Gymfest, which is unusual as it is the second to be held in one year, was hosted as part of Highland 2007 the year Scotland celebrates Highland culture. 48 gymnasts plus their coaches and parents from the club made the journey to Inverness, where they performed their MADONNA routine, the mix of artistic and rhythmic gymnastics made stunning and fast moving viewing to a packed and appreciative audience. A national competition to design a logo for the souvenir Polo Shirt was won by Caithness Gymnast Rosie Fidler who can be seen in the photo, second row from front, third from right.
Charity Motorcycle Run Today - Photos in the Forum
The charity motorcycle run that started in Market Square, wick today had great day for the outing. A good number of bikes turned out for the run round the county calling at Thurso and John O'Groats along the way.
Wish You Were Here Today - Ackergill To Girnigoe Castle Walk In Glorious Sunshine


As part of the Archaeology Festival in Caithness today Caithness Field Club ran a walk from Ackergill to Girnigoe Castle. Along the way the group saw seals, gannets diving for fish, the St Tears chapel site, a second wolrd war lookout post as well as Ackergill tower at the start and Girnigoe Castle at the end. Girnigoe is the site where history is being rewritten as more discoveries are being made each year by the archaeologists from York university excavating the site. Among this years discoveries is a cobbled road only part of which has been uncovered as yet. A new footpath is being constructed leading to a new footbridge that will allow easier access to the castle. the bridge will be put in place later in October. access is still limited to the public unless you go on one of these organised outings. It is hoped that some access will be available to the public next year. Meanwhile everyone enjoyed walk along the coast on one of the sunniest days Caithness has seen this year. Caithness Field Club Main Page Earlier Field Club Outings
Caithness Archaeology Festival Programme More about Ackergill Castle More about Girnigoe Castle
House Fire - Brora, Sutherland - Message Timed At 4.36pm
Northern Constabulary and Highlands & Islands Fire and Rescue Service are currently attending a serious house fire outside Brora in Sutherland. There are currently a total of 7 fire appliances attending with local units being assisted by specialist units from Inverness to tackle the blaze in the unoccupied house. The fire is still being fought and it is to soon to establish the cause. Once safe a full investigation will be carried out.
Thanks To All Who Came Aliong To Coffee Morning For Diabetes UK In Castletown
From Vickie Younger - "I held a fundraising Coffee Morning on Saturday 20th September in Castletown in aid of Diabetes UK and raised a fantastic amount of £526.55. I would like to thanks everyone who helped and came along to raise this sum."
New High Speed Boat Trips From Wick Starting Spring 2008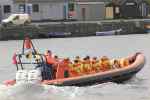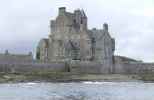 A new high speed boat will offer trips along the north and east coast from Spring 2008. Caithness Seacoast is a new business set up by William Munro taking advantage of the ability to get people easily on and off the boat at the recently installed pontoons at Wick harbour. Over the weekend a few local people were invited out to test the boat and check out the coast. The possibility to have a combination of exhilarating high speed trips and a chance to see close up the cliffs, caves, birdlife, seals and much more from a different angle and often close-up. There are some amazing views that can only be seen from the sea. This is yet another sign that Wick is coming back to life using the sea and the harbour that made it famous in another era. The boat will have an office shortly at the harbour for bookings and will be berthed next year at the new marina to be constructed in the main harbour.
Watten Coffee Morning

Anne, Dianne and friends would like to thank everyone who helped raise £1890.10 during their Macmillan coffee morning held at Watten Hall, this their thirteenth for the cancer charity which over the years have raised £12,893.60.
29 September 2007
Seaweed Safari - October 6th Saturday 10.30am
Meet Keiss harbour. Join us to take a look at the fascinating life of the various seaweeds on our shores and the role it has played in the past and in our lives today. A joint event with Environmental Research Institute and HC countryside Rangers. This event is weather permitting. Donations welcome
History From The Waves - Sunday October 7th
Discover the history of this fascinating part of the north coast and see it from the eye of an invader by travelling in the North Coast Explorer. Meet John O Groat`s harbour. Exact Time will be revealed on booking. Booking essential tel 01847821531 Cost £17.00 per person - waterproofs and dry suits will be provided. This event is part of Highland archaeology fortnight and is weather dependent.
First Ward Forum for Landward Caithness


The first Ward Forum for The Highland Council electoral ward of Landward Caithness will take place in the Ross Institute, Halkirk on Tuesday (2 October) from 7.30 pm ~ 9.30 pm. The meeting will be held in public and there will be a 20 minute session at the close of the meeting for the public to ask questions. The aim of the forum is to provide an effective scrutiny of the way the Council provides services in Landward Caithness. The meeting will be attended by councillors who serve Landward Caithness as well as representatives from community councils, the police and other partner agencies. The meeting will be chaired by Councillor David Bremner, who said: "It is an honour to have been chosen by my fellow Councillors to chair the first Ward Forum for the Landward Caithness area. "I am a strong believer in scrutiny of local public services and would encourage members of the public to raise questions and come along on the night." Providing support to the forum will be David Sutherland, Ward Manager for Thurso, Wick and Landward Caithness Public questions can be sent to the Ward Manager in advance ~ please contact David Sutherland, Ward Manager, The Highland Council, Council Offices, Market Square Wick, KW1 4AB, e-mail: david.sutherland@highland.gov.uk
Library Competitions for Children's Bookweek
Children's Bookweek is an annual celebration of reading for pleasure and runs this year from 1st to 7th October. As part of these celebrations Wick and Thurso Libraries are running a set of competitions for children. There are 3 competitions, for pre-school children, Primary 1-3 and Primary 4-7. Pre-school children have to colour in a picture of a library cat, children in Primary 1-3 draw their favourite storybook character and children in Primary 4-7 have to design a bookmark which must include the word library within the design. Entry forms can be collected from either Wick or Thurso Library and the closing date for entries is the 12th October. There will be a winners prize-giving in each library on Saturday 27th October.
Or print your entry here
Pre School Primary 1 - 3 Primary 4 - 7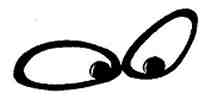 Caithness Archaeology Festival - 29th September - Monday 8th October


A series of interesting walks and talks that will show a variety of aspects of Early Caithness. Check out the countryside and get out and about round castles, brochs, woods, old village and a Caithness Archaeological Variety Show.

Dingwall & Highland Marts Ltd - Sale Dates Starting 4th October
Sales At Dingwall & Highland Marts Get Going After Restrictions Lifted For The Mainland. 300 Cattle will be amongst the first 1000 to be sold on 4th October at Dingwall. A series of other sales have now been set up.
26 September 2007
John Lennon Northern Lights Festival
Friday 28th Saturday 29th Sunday 30th September at Durness, Sutherland. Day tickets £25.
This new event is packed with events and includes music of different kinds, poetry, art. The whole thing kicks off with a small event on Thursday. See the full programme HERE. The programme is packed with events so take look and pick a day if you cannot make the whole weekend.
25 September 2007
Three Men Arrested for Craig Dunain Fire
NORTHERN Constabulary can report that three males have been arrested and are due to appear in court tomorrow (26 September 2007) in relation to the fire at former Craig Dunain Hospital overnight on the 15 September 2007.
SCMA Caithness & Sutherland Autumn 2007 Newsletter
NEW AREA COMMANDER APPOINTED TO CAITHNESS AND SUTHERLAND
NORTHERN Constabulary are happy to report that Superintendent Arnott has been appointed as the new Area Commander for the Caithness and Sutherland Area Command. Superintendent Arnott took up post in Wick on Monday 17 September 2007. Supt Arnott, who has 29 years' Police service, has served in Ross & Cromarty, Western Isles, Shetland and Inverness and has for the last four years been Chief Inspector in the Operational Support Service Unit, Headquarters.
First Aid Course (8 hour)
The Caithness Sports Council is organising an 8 hour Emergency First Aid Course. The course is being run by Highland Leisure Training from Inverness. The course is aimed at people involved in sport.
Date: Sunday 4 November 2007 Time: All day (9am to 5pm) Venue: Wick
Places are limited to 12 individuals
24 September 2007
Dark Sky Stargazing At Dunnet Forest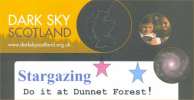 Friday 28th and Saturday 29th September.
Starting from Britannia Hall
Friday 28th 7.00pm - Family Stargazing
Saturday 29th 1.00pm - Celestial Fun Day
The Royal Observatory and Glasgow Science Centre bring Astronomy down to earth. Click on the poster for more details and get along and have fun. Its all FREE. Hosted by Dunnet Forestry Trust as part of the Highland Year of Culture 2007
23 September 2007
Blog and Essays By Morris Pottinger
Local farmer Morris Pottinger is a well known writer in Caithness and he has been publishing some items on his blog headed "Rain On My Window" and you might be interested to take a look. Once you have read the first page click "Older Posts" at the very bottom right to head back to an earlier group of essays and so on until you have read them all.
Caithness Arts Festival 2007 Closes With A Street Parade And Fireworks In Wick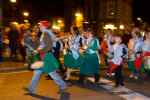 The Caithness Arts Festival went out with a flurry of colour and noise with a street parade with many local children involved. A lively event that took the participants and the audience on a walk around Pulteneytown and back along Bridge Street and then to the riverside for the fireworks and firepoy finale. Along the way a pipe band played alternately with a very exuberant drumming band. Wick certainly loves as parade. If anyone would like to add photos of groups etc not already in please email them to bill@caithness.org for inclusion
22 September 2007
Ancestry Research Open Days In Caithness
Find out how to trace your family tree by coming along. Research demonstrations throughout the day using the Statutory records for Scotland, Old Parish records and Census returns.
Wick Registration Office (Town Hall, Wick), Friday 28th September from 11am to 4pm. Tel:01955 605713
Thurso Registration Office (Library Building, Thurso) Friday 5th October from 11am to 4pm.Tel 01847 892786
If you cannot wait or want to see how to do it online for Scottish ancestors click on
Scotland's People - Find Your Family History A Few Genealogy Links Caithness.org Genealogy Forum
Canisbay School Journey Books Project


Earlier this year, the 8 Highland based cultural co-ordinators received funding from the Scottish Arts Council to provide arts projects for children on a theme of 'Heritage'. The Highland Print Studio in Inverness has been working in partnership with the co-ordinators to provide a range of activities for each area that makes use of the facilities they offer which ranged from traditional printmaking to digital imaging techniques. Christine Russell, the cultural co-ordinator for Caithness schools enlisted a team of local talent to help P6 and P7 of Canisbay Primary School to produce a series of illustrated books on events which unfolded in the landscape to be seen from their school. See all the Journey Books HERE. To see each book in full you will need to scroll sideways.
Sellafield Jumpy As Contract Fears Unsettle The Unions and The Workforce?
Nuclear jobs fears - News & Star
UNION chiefs say they fear for the long-term job security of workers if BNFL's decommissioning division is sold to a private equity firm. The nuclear union Prospect aired its concern as speculation mounted that the final line up of bidders for the company's Project Services Division includes two private equity venture capital firms. The Project Services Division employs around 250 people at the Sellafield site. Union sources say they believe one of the four chosen bidders will be Barclays Private Capital, alongside another private equity bidder and two trade bidders.
Grand Parade In Wick To Close Caithness Arts Festival
This year's Caithness Arts Festival will be brought to a close by a colourful parade through the streets of Wick. Led by Theatre Modo, groups from across the County and those who took part in the Festival workshops will come together to celebrate the talent and culture of Caithness. The parade, led by the Wick RBLS Pipe Band, will leave the Market Square at 7.30pm. Some of you will remember the Assipattle event in 2003 that was also presented in Wick by Theatre Modo. Louise Allan and Martin Danziger have been working with young folk in preparation for tonight's event that is on smaller scale but should be a great ending event for the festival.
21 September 2007
Another Great Calendar For 2008 From Martina Cross Showing Caithness & Sutherland


Last years 2007 limited edition of the Martina Cross calendar was a first attempt and it was sold out very quickly. Many folk tried to buy it but were too late. A larger print run this year but you will still need to move soon if you want to get one of these calendars with the unique panoramic views of Caithness and Sutherland that Martina Cross has become so well known for. Order the calendar at her web site or just browse around her ever increasing range of photos of the far north. You will certainly wish you were here.
Photography Workshop Aimed At Improving Portraits
Local award winning professional photographer John Baikie will be running a workshop aimed at improving the standard of portrait photography by amateurs.
20 September 2007
Caithness Archaeology And Heritage Festival - Saturday 29th September - Monday 8th October
There is something for all ages in the Caithness Archaeology and Heritage Festival. Go exploring or find out about some of the recent finds and check out the work that has been going on in various parts of the county.
18 September 2007
Energy Minister Launches Career Transition Plan For Dounreay Workforce


Energy Minister Malcolm Wicks met some of the first group to be involved in "Plan It" when he visited Dounreay today (Friday, Sep 14) before attending a conference in Thurso about economic regeneration. Trade unions have backed the scheme and its learning reps are playing a key role in the delivery. Through a series of thought-provoking sessions, Plan-It aims to get workers thinking about where they want to be in 3-5 years' time and to begin planning for that now. The new programme launched this week aims to help workers decide what they want to do when their existing skills are no longer required and give them the resources they need to do it. Plan-It is a voluntary initiative based on a pioneering self-help scheme developed by Liverpool University and funded by local development agency HIE Caithness and Sutherland.
Liquid Blue Just Beaten At Final Of The Ultimate Chill Best Band Competition 2007


Caithness Band "Liquid Blue" made it all the ay to the finals in Dundee at the weekend after earlier knockout rounds in past weeks. Report in the Forum from Douglas Cowie. Great effort to get to the final folks. However the band will be making an EP with Ultimate Chill. Let us know when it comes out.
Hear Them Right HERE
See All The Latest Discoveries At Girnigoe Castle With Caithness Field Club
Wednesday 19 September 2.30pm
A visit to Sinclair and Girnigoe Castles 2.30pm. At the invitation of The Earl of Caithness. Cars leave Thurso Station 1.50pm and Wick Station at 2.15pm. Meet at the Castle car park at 2.30pm
"E Telford Wauk"
Saturday 22 September - meet at 10.30am at Wick Railway Station
Explore Telford's work from Hempriggs Loch and along the lade that leads into Wick. Following the walk there will be a visit to an exhibition and "Telford Tea" in Mackays Hotel. Hempriggs Loch was one of Telford's engineering works to bring water into Pulteneytown as the town expanded. From the Loch where the level was raised, to the sluice gates, to the lade running into Wick it is all still there to see so get along and take look.
Nature's Larder - Guided Walk With Highland Rangers
Sunday 23rd September - Meet Dunnet forest entrance at 10.30am. Lasts 3 hours approximately. Wander through the woodland to see what uses the plants and fungi can be put to. Then eat lunch at the pavilion and see what could be on the menu. Bring lunch.
17 September 2007
Well Known Band Estrella Raising funds For Cancer Charity
ESTRELLA will be taking part in the "UCAN PANTS WALK" to help raise funds for a much need research centre for urological cancer. We will walk at least 10 to 15 laps of Duthie Park in Aberdeen as well as providing some music during the afternoon.
Man Charged With Vandalism Incidents In Thurso
People in Thurso may have noticed a large plate-glass window at "We Frame It", Olrig Street, Thurso as having been broken as a result of a recent incident of vandalism on 6th September 2007. The same night, flower boxes on Traill Street, Thurso were also vandalised resulting in a large number of bedding plants being destroyed and damage was done to the doorway at the Royal Hotel, Thurso.
A 30 year-old Thurso man was detained at the time of these incidents and is to be the subject of a report to the Procurator Fiscal in Wick.
Can You Help the Police With Any of These Incidents
Police Looking For A Man Involved in Assault in Kinnaird Street, Wick
Two Dogs Injured By Unknown Assaillant
Vandalism - John Street, Wick
Vandalism PPP Wick
Vandalism Old Wick Road, Wick
Window Smashed At Thurso Caravan Site Office
Craig Dunain, Inverness Fire Early Saturday morning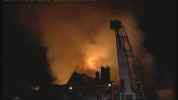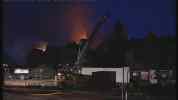 NORTHERN Constabulary can now report that the fire at former Craig Dunain Hospital has now been fully extinguished by Highlands and Islands Fire and Rescue Service. Police are fire personnel are still in attendance at the scene. Structural engineers are undertaking an assessment of the former hospital building and police put a cordon in place in order to maintain its integrity. Inquiries have started into ascertaining the cause of the fire.
Achow School 1946 - Achow School Reunion 20th October


Latest addition to the schooldays photo collection is by way of advertising a school Reunion for anyone who attended Achow School that closed April 1st 1960 with 7 pupils on the roll. The photo courtesy of the Book of Lybster shows just how many attended this small rural but now somewhat isolated school all of 60 years ago. It lies on the hill to the north west of Lybster and can be reached from the Rumster Forest Road or off the A99 about a mile or so west of Lybster. Achow School Reunion, Portland Arms Hotel, Sat 20th October at 6pm Tickets £20 for the meal and entertainment. Please contact Mina on 01593 721426 Main Schooldays Index
16 September 2007
Caithness Conference In Optimistic Mood For The North
Over 130 people attended the Caithness Conference held on Friday 14th September 2007 to identify the actions needed to plan for a successful regeneration of Caithness and North Sutherland. Minister of Energy, Malcolm Wicks and Minister of State at the Scotland Office attended the conference and left with the message that Caithness and North Sutherland would unite to help generate the area beyond the decommissioning of the Dounreay site.
Get Your FREE Web Site At Google Page Creator
Come on Caithness businesses there is no excuse now for not having a web site. You can get one completely free by using the Google web page creator. It's easy to use and in an hour or so your web site can be up and running at no cost as it is completely FREE.
Here is one from Blackstairs House set up by Martin Gill


Any business can benefit from having details instantly available. Tourist and accommodation businesses stand out but almost anyone that runs a business wants to advertise it. Cost is usually a major facro but on the web advertising costs have changed the way it all works. No more expensive newspaper and magazine ads unless you really have a big budget. Here at Caithness.org we have offered FREE business pages for the past few years and now you can add a FREE web site that we will ad a link to on your page. See Martin Gills page in our business index to see how it links directly to his new FREE Google web site Soon Martin will also have low cost banner ad circulating on the Caithness.org web sites for even more coverage of the new business venture. Total costs of all this advertising per annum - Caithness.org Business page NIL Google Web site NIL Banner ad on Caithness web sites £165 and future years £130. Compare this to your past advertising costs. Perhaps you do not advertise as it is too expensive. Reduce your advertising costs or just increase your coverage. Now any business can advertise with minimal costs. We are already heading towards 500 local business or official web sites and with community web site, sports web sites etc Caithness now has in excess of 1000 web sites. If your business does not have a web page you can get it up and running easily and have no excuses for not doing it as it is FREE at Google. Get it up right now and promote your own business and Caithness all in one go. Tell us as soon as it is up and running and we will add a link to your FREE business page. Caithness Business Index with 1372 local businesses and organisations listed. And anyone can do it. Community and voluntary groups, personal web pages and so on.
15 September 2007
Musikschule Hochsauerlandkreis Youth Symphony Orchestra - Thurso 26 September


Almost 60 young musicians playing in this orchestra from Germany. the concert takes place in St Peters & St Andrews church. 7.30 - 9.30pm Wednesday 26th September. Tickets £5 from George McBeath Jewellers, Thurso.
14 September 2007
Another Red Hot Chilli Pipers Film From Last Saturday

Ex Norfrost Employees Made Redundant
Should Contact Thurso Citizen's Advice Bureau Immediately
As there is a possibility that there may be the possibility of a claim ex employees made redundant in May 2005 should seek help from CAB in making a claim. Tel 01847 894243
Foot And Mouth Links
Foot & Mouth Reports and Updates At Farmers Weekly Interactive
Check Foot and Mouth Updates d At Scottish Executive Web site
DEFRA For Latest English news
Farming Index and News
Foot and Mouth News At the Scotsman
13 September 2007
Message From Dingwall & Highland Marts
At the moment in this time of movement restrictions on livestock Dingwall & Highland Marts Ltd., can still organise animals direct to slaughter from the Caithness area and if anyone should wish to do so please contact the mart on 01349 863252
Salvation Army aims for £2.7m in Annual Appeal to help fund UK social and community work


Volunteers will be out in force in Caithness next week The Salvation Army begins its annual national fundraising appeal to raise vital funds for social and community work in the UK. From 17 September to 22 September 2007, authorised collectors will be collecting door-to-door, on the street, and at railway and tube stations to raise £2.7m for the Annual Appeal. International church and charity The Salvation Army is one of the largest and most diverse providers of social welfare in the UK. It needs to raise a minimum of £2.7m nationally to support its social services that are offered without discrimination to many thousands of people whose lives are affected by homelessness, drug and alcohol addiction, loneliness and despair.
Stall holders required for Festival Parade In Wick
Theatre Modo is bringing this year's Caithness Arts Festival to a close with a colourful parade through the streets of Wick on Saturday the 22nd of September. The parade, led by the Wick RBLS Pipe Band, will leave the Market Square at 7.30pm and finish at Wick Riverside. We are looking for stall holders to be in the Market Square from 6pm until 7.30pm. We have 5 stalls up for grabs! Stalls are being provided by Wick RNLI and will be ready and waiting for you in the Market Square. We would like fun, family friendly stalls and activities so if you would like to be part of this community event please contact Louise Allan on 07816 834 508 or email louise@theatremodo.com
12 September 2007
Caithness Field Club Winter Programme
The winter programme begins on Wednesday 19th September with an afternoon visit to Girnigoe Castle to see the latest excavations and find out about how the history of the castle is being rewritten with all the recent discoveries. Membership is open to all but the Caithness Field Club are happy to see non-members on their walks and talks. A great way to find out more about your county. Membership is only a few pounds a year and for that you get a Bulletin full of articles written by members and others. The walks are not usually too arduous. Get out in the fresh air and see where you get to over the years with Caithness Field Club. You might even pop up in some of Bill's photos from time to time.
Mike Russell MSP Answering Questions From His Recent Round Of Visits
Thanks to Stuart Young for reminding us about the visit of Mike Russell MSP to Caithness recently and pointing out that he is now answering many questions posed to him on his visit. The answers are being posted as they are prepared and the list is growing with several about Caithness already in place. This was part of his Listening Tour that took place in July
History Of Caithness By J T Calder - Notes To The Second Edition
This latest addition to the History of Caithness By J T Calder is now in place. Thanks to Dave Taylor once again for preparing the text for the web site. Apologies that there has not yet had time to link the pages listed to he original text to make life easier for everyone. That will take more time to add the many links required and we hope to get back to it at a later date. It was thought worthwhile publishing as it was to allow any Caithness historians the chance to read it. There also requires to be additional links in the earlier pages to make navigation easier and as time allows these will be added. Index
11 September 2007
Labrador Rescue Talk - dogs and fireworks - CANCELLED for TONIGHT
Labrador Rescue Talk on Dogs and Fireworks on Tuesday 11th Sept in the Assembly Rooms is postponed due to unforeseen circumstances - a new date will be arranged.
10 September 2007
Eat Better - Move More - For Healthy Highland 2007
It doesn't matter how healthy any of us think we are we can all Eat Better and Move More! NHS Highland and partners have chosen the week beginning Monday 10th September to be Why Weight Week as part of Healthy Highland 2007. Throughout this week we are raising the importance of eating a healthy diet and taking regular exercise on our health and well being. It's also an opportunity for communities throughout the Highlands to celebrate what they do to keep themselves fit and well.
9 September 2007
Playbox AGM
The Playbox Playgroup and Parent & Toddler Group AGM takes place in the Playbox Playrooms, Macleod Road, Wick on Friday 14 September 2007 at 7.30 pm. All welcome.
Massed Pipe Bands Playing At Market Square, Wick Joined By Red Hot Chilli Pipers

Red Hot Chilli Pipers Film Massed Bands Playing Film Flower Of Scotland Film


Interest Still Growing Old Photos and Postcards Of Caithness In The Forum
For the past few months two section have grown fast and the number of people taking a look continues to grow. Old Wick Photos has several pages of photos and comments and is well worth a look. But way out ahead is Old Thurso Piccys. These sections are attracting ever more views and more pictures are being added by a growing number of contributors. On the main web site we have an Old Postcard section.
8 September 2007
Wick Pipe Band Ceilidh Tonight - SOLD OUT
The ceilidh at Assembly Rooms, Wick is sell out and no one will be allowed in tonight without a ticket. the ceilidh is to follow after the massed pipe bands play in Market Square tonight. Tickets sold very quickly for this ceilidh where the Red Hot Chilli Pipers are featuring. If you don't have ticket for the ceilidh you can still see them as they will be appearing in the market square this evening.
5 September 2007
'They call me the fisherman's lassie' - Currently Featuring On The "Am Baile" Web Site
The section has 19 audio files HERE
Bumped Back To The Top - Keep Rehearsing Folks
The Ultimate Chill - Caithness Group 'Liquid Blue' Are Finalists! Hear Them Right HERE


After a fantastic and eclectic semi final in Dundee's best live venue Fat Sams on August 24th - with performances from Black Velveteens, Liquid Blue, Callel, Peski Kings, Whale Engineering, a special set from The Electrolites and Barry Greig's recitals of his self-penned poetry - this year's Best Band Competition finalists were announced. Local Caithness band Liquid Blue has made it into the final of The Ultimate Chill Best Band Competition 2007. They will now compete head-to-head with Edinburgh band Callel at the Best Band Finale on Saturday September 15th at The Ultimate Chill in Dundee's Caird Hall and on the night they'll share the stage with the incredible Hazey Janes and Scottish Indie band The Hedrons. Great and go for it In Dundee!
New Piano Teacher At Brough In Caithness Arts Listings
Robert Fields Ba Music. LRAM
Experienced piano teacher. Beginners and advanced pupils taken. All ages welcome.
Practical and theory tuition available
Prize Bingo for Marie Curie


Prize Bingo in aid of Marie Curie Cancer Care. The bingo is being held on Friday 7 September in the Francis Street Club, Wick. Starts 8.00pm
Can Anyone Identify This Bug?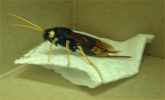 Dave Mackenzie has sent us this photo in the hope someone can tell him what it is. Dave said, "We found this in Wick High Street. It is about 2.5 inches long with yellow eyes and a gold and black back. It also has yellowy / gold antenna and legs. I don't think it is local and although its colour makes it look dangerous I don't think it is. We have it in a cardboard box at the moment. It has two sets of wings, but doesn't appear to want to fly although it does move around and likes to stand attached to the side of the box. I would like to find out what it is and let it go if possible, but I don't think it has originated from here." Send any ideas to bill@caithness.org to send on to Dave and publish here. Bill's guess starter - Cockroach? for no other reason than there are thousands of different ones.
Last suggestion - the most definitive yet from David McAllister
Your beast is a female wood wasp Urocerus gigas. It does have a grub which lives on wood but is not a wasp. It is the biggest of the sawflies. Sawflies get their name from the 'sting' which is in fact a saw-edged egg-laying tube and is harmless. Harmless at least to humans and other animals; foresters might not agree as the ovipositor (egg-laying tube) is used to drill the wood wasp's eggs deep into the wood of a tree, usually a conifer and often a damaged tree. There the larva lives for up to three years making burrows in the timber. These often deep in the wood and may not be detected when the wood is cut into planks. It can cause some consternation when the adult wood-wasp or horntail, to give it its other name, emerges from floor boards some time later.
The last 5 lines come from my column in the Ross-shre Journal last week. You obviously read the wrong newspaper!
Have a look at
http://www.uksafari.com/woodwasp.htm or a little more technically
http://www.bioimages.org.uk/HTML/T59414.HTM
More suggestions
could be a giant horntail ( Urocerus gigi) of the family siricidae
_Horntail - Wikipedia, the free encyclopedia_
http://en.wikipedia.org/wiki/Horntail
I found a wood wasp years ago in a wood yard in Thurso and it seems to look
about the same sort of insect. Regards Craig Fulton
Paul Carney said "Giant wood Wasp or Large sawfly, sometimes called a 'Horntail'. Look it up on Google. I found it in the Collins Complete British Wildlife. It looks unusual but apparently is pretty common, lives around Pine forest and lays its eggs in timber"
Another
yes it is definitely a wood wasp and it more than likely came off one of the wagons carrying all the logs at the moment. They burrow holes into wood and lay their eggs via the large stinger into the holes, the eggs then develop and hatch and eat at the wood so they can escape. These critters do no harm to people even though the look scary but can decimate wood prolifically. We have had several off the wood we get and these were identified by forest rangers at Dunnet station.
Kate Barnett and Alan Simpson out on the Noble TVL Oil rig suggest a Wood Wasp
Next in from Caithness surfer -
Wood wasp otherwise known as a horntail Uroceras gigus. Its a native British species and not actually a real wasp. The big stinger is an ovipositor used to lay eggs.
Reading Althing From Scotia Review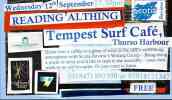 Next Wednesday 12 September why not head over to the Tempest Surf Cafe in Thurso for Reading session with Scotia Review. Poems or stories read aloud are very different from reading on your own. Go along and listen or read your favourite piece. It's live and its FREE
Caithness Arts Festival
CREATE A PAPIER MACHE LIFE SIZE FIGURE!!


If you are aged between 8 – 14 years come to our workshops at the Ormlie Community Centre, Henderson Street, Thurso and help to create a well known Scottish character. Sessions on Tuesday 11th & 18th September, Wednesday 12th & 19th September, Thursday 13th & 20th September
Times (depending on age) 4pm – 5.30pm and 6pm – 7.30pm
Booking essential – Please tel . Ormlie Community Association on 01847 891789 or e-mail Sue at ormliecpp@tiscali.co.uk
MP's vow to fight for Winfrith future - Dorset Echo
This story will rings bells in Caithness
4 September 2007
Embo Post Office Break In
Overnight Monday 3rd / Tuesday 4th September 2007, the Post Office, Back Street, Embo, Sutherland was broken into. The safe containing approximately £8,000 cash, postal orders, stamps and utilities cards, was stolen. This appears to be a further incident in a series of break-ins that have been committed since July 2007 at rural Post Offices and Industrial Premises throughout the Caithness and Sutherland area.
NHS Highland Board backs Smoke Free Sites Policy
Patients coming into NHS Highland hospitals are to be given advice and support to help them stop smoking as part of the Health Board's new policy on tobacco. From the 1st of January 2008 almost all our buildings and grounds will be smoke free sites. More than 500 people die every year in Highland from disease caused by smoking. Although the region has one of the lowest rates of smoking in Scotland it still accounts for a fifth of all deaths.
Work Starts on £4 Redevelopment of Thurso Town Hall



Works gets underway today (Tuesday 4 September 2007) on the £4 million redevelopment of Thurso Town Hall to create a first class visitor centre, museum and community resource. A 52-week contract has been awarded to O'Brien Construction Ltd by Caithness Horizons, a company limited by guarantee with charitable status, which was formed to take forward the exciting project. The buildings will remain in the ownership of The Highland Council, who are one of the main funders of the project. Chairman of Caithness Horizons, Paul Cariss, said: "A lot of hard work has gone into getting this project to this advanced stage and we are indebted to all the funders for their support. The centre promises to deliver an outstanding facility, which will benefit the local community and visitors to the area." Caithness councillors are delighted at the support given by the Council to the project, which amounts to £1.8m.
Caithness Horizons Web Site
BUILD A STONE SEAT - Caithness Arts Festival - Free Event
Build an artistic stone seat as part of a community project at the East Esplanade Green. (Between Thurso beach & Thurso harbour)
10am – 4pm Sat 8 Sept, Sun 9, Mon 10
10 am – 4pm Wed 19 Sept, Thurs 20, Fri 21
Instruction provided by Master Craftsman George Gunn Booking essential
Contact E-mail stoneprojects@hotmail.co.uk or 07788470272
3 September 2007
NORTHERN IS LATEST FORCE TO INTRODUCE
FIXED PENALTY NOTICES TO TACKLE ANTI- SOCIAL BEHAVIOUR
POLICE officers across the Highlands and Islands will have the power to issue Fixed Penalty Notices to perpetrators of a range of relatively minor anti-social behaviour related offences from Friday 7 September 2007. This is part of a nationwide initiative to make areas of the Criminal Justice System more effective. All Scottish forces will implement this new power. In fact a number of force have already gone live with the initiative and are starting to see the benefits of effectively dealing with low level crime and the freeing up of officer time as well as court time.
2 September 2007
Caithness Field Club Outing To Strathnaver


On Sunday 2 September 2007 Caithness Field Club Members headed over to Bettyhill and on to Strathnaver to look at some of the places that make up part of the Strathnaver Trail. The main places looked at were Achanlochy Clearance Village and the chambered cairns at Coille na Borgie.
Earlier Field Club Outings Caithness Field Club Index Field Club Bulletin Articles
1 September 2007
Flower Festival At Bower Church


The highlight of the flower festival at Bower church was the scale model of the church built by Robbie Macdonald to celebrate the 160th anniversary of the church. The model was scaled to one centimetre to every foot and had all the seats inside as well as all the furniture and windows and even a small trowel that sits on the cone of the church windows.
North Gaelic Groups Bid for 2010 National MOD for Thurso
Earlier this week representatives of the group that organised the local MOD in Thurso a few weeks back met with representatives of the committee that decides on where MOds are to be held. In addition to local committee members led by Raymond Bremner politicians at all levels attended to show their support for the bid - Councillors Bill Fernie and David Bremner were joined by John Thurso MP and Jamie Stone MSP to show that they were in support. HIE CASE and other bodies were putting their weight behind the local group. It was explained that the National MOD was a huge event taking years of planning and would last nine days. The event usually brings in up to 12,000 visitors over the days of the event with a total spend of around £1.5 Million. Coming as it does in the autumn school holidays the boost to the Caithness economy is obvious. The announcement about which area will host the event will be made in Fort William in October this year at the Lochaber 2007 MOD.
What Is the MOD All About?
Myrtle Gillies presents a few facts about how the National MOD came to be and what happens over the days of the event. Gaelic News & Links
Caithness Spoilt For Choice In September
Today Is Busy with Events in Caithness but Next Saturday 8th Sept Is Overflowing
September is looking to be one of the busiest of the year with a huge range of events from Doors open Day on Saturday 8th September. But the big one is the Caithness Arts Festival (8th - 22nd September) with something for everyone. If you are not in the habit of going to events then why not take a look in on one or two. If you live outwith the county you can come almost any day in the next three weeks and find something to see or do in addition to all that wonderful scenery. Get that caravan up the road to Caithness and head for one of the caravan sites at Wick or Thurso. Dances, Ceilidhs, Scottish Variety Shows, exhibitions, Museums, Classical Music, Talks, Lectures, Film & Debates, Local Bands Night, Walks and Talks, Opera, Scottish Country Dancing, Castles, Drama, Workshops - the list goes on. Take a look and pick something new and let us know on the message board what you thought about it.