31 August 2006
Rents would be over 20% more a week if housing stays with Council
Research carried out by independent advisers has indicated that average council house rents in the Highlands will rise to £83.14 a week in 8 years if the proposed transfer of housing does not take place. By contrast, if transfer goes ahead, Highland Housing Association is committed to an average rent of £68.61 a week. This would mean that average rents would be £14.53 (21.18%) a week more with the Council than with Highland Housing Association after 8 years. By 2014/15 this would mean tenants paying almost £700 a year more if housing stays with the Council. Independent advisers, Arneil Johnston, were commissioned by the Council to look into the effects of a no vote by tenants in this October's housing transfer ballot. The research considers what the Council would need to charge in rent if it is to have enough money to bring housing up to the Scottish Housing Quality Standard. It forms part of a report being presented to Thursday's (September 7th) Council meeting which asks the Council to approve the transfer proposals.
Tesco Building 'Green' Scottish Store At Wick Tesco in ship to store transfer - BBC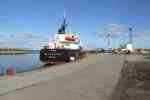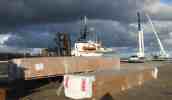 A major part of the new Tesco store at Wick began to arrive today - By Sea at Wick Harbour. Tesco are determined to make the new Wick store the most ecologically friendly store in the country. Instead of using 75 lorries to transport the first batch of steel from Grangemouth it has all arrived in one ship today and presently being unloaded and will be moved on Friday to the site. Supermarket giant Tesco says it has cut pollution by using a ship to transport building materials to its new 'green' store in the north of Scotland. Tesco used the ship to transport 1,500 tonnes of materials from Grangemouth to the site of its latest venture in Wick. The 50,000 sq ft store uses a range of green technologies such as solar and wind power. Barr Construction, Tesco's builder, said the vessel would reduce vehicle emissions and ease road congestion. The construction firm will design and build Tesco's first eco store, which will have a timber rather than steel structure and will be opened later this year. Rather than use 75 trucks to shift the floor tiles, roofing and timber the firm opted to use one ship which is due to arrive in Wick this week. Barclay Chalmers, Barr Construction's managing director, said: "This is the first time that we've used a ship to transport goods between two Scottish mainland sites and apart from being a slightly unorthodox way of doing so there are a number of obvious benefits associated with it.
High Voltage Looking For Lead Singer
AUDITIONS for LEAD SINGER to be held in Wick Dounreay Club on Saturday 2nd September 2006 at noon.
Aged between 12 and 18 years Male or Female All Welcome. If you think you can sing and would like to be part of an UP and COMING Rock Band just come along SONG CHOICES Dammit (Blink 182), Minority (Greenday), Supersonic (Oasis), I Believe in a thing called love (Darkness) Any questions call Aaron Wilson : 0786 776 0331
Varied Programme At The Mill Theatre In September 2006


The Mill theatre in Thurso has a packed programme in September for anyone who enjoys live events. Macbeth is presently underway and there are only a few tickets left for tonight 31 August. Demand has been high for seats and the show is already sold out for Friday 1st and Saturday 2 September
Sex and Lies and DIY - Friday 8 September
Music at the Mill On Saturday 23rd September 'Sutherland & Son'. Johnny and Isaac
National Theatre Of Scotland 27 September Vanishing Point's 'Mancub' by Douglas Maxwell. National Theatre Scotland - 28 September "Julie" by Zinnie Harris
Do You Want To Be In Panto?


This years panto from Thurso Players is 'Sleeping Beauty' and will be directed by Andrew Crawford. Auditions will be held in the Mill Theatre at 2.30pm on Sunday 3rd September. Thurso Players are always on the lookout for new members who may have hidden talents such as singing, dancing and most importantly, acting. The auditions are open to all members of the public but participants in the final production must be members of the Thurso Players club

Wick Players AGM Changed To 20 September 7.30pm
Highland Council Launches Home Composting Scheme


This week The Highland Council launches its Home Composting scheme in Caithness and Sutherland offering residents a lifetime's supply of free compost if they buy a discounted compost bin for their garden for only £10. This special offer is available until 30th September and as the demand is expected to be high, the Council is advising anyone interested in buying a compost bin to order theirs early. Postcards detailing how to take up the discount deal will be delivered to householders soon.

Two Caithness Men Cycled for Sick Kids


Two Caithness men Craig Ross and his friend Bob cycled 422 miles starting from Edinburgh to raise funds for the Sick Kids Foundation. Craig and his friend Rob started out from Edinburgh early on the 16th July and after a tricky start completed their journey on the 21st of July in John O'Groats, having covered 422 miles. To date £675 has been pledged, Craig and his family would like to thank all who gave support in any way to help make his trip so successful.

30 August 2006
BAT WALKS WITH THE RANGERS
Thursday 31st August 8.45pm Meet Latheronwheel harbour
Friday 1st September 7.45pm Meet St. Fergus gallery (above library), Wick for short illustrated talk followed by walk up river. Learn about how the midge munchers catch prey & navigate through the
dark PLACES MUST BE BOOKED IN ADVANCE BY PHONING 01955 607758 OR E-MAIL marina.swanson@highland.gov.uk CHILDREN MUST BE ACCOMPANIED BY AN ADULT Please wear warm/waterproof outdoor clothes, stout footwear & bring a torch. Please note that these events are weather dependent & sightings are not guaranteed!!
YARROWS ARCHAEOLOGICAL TRAIL-Burials, Bogs & Brochs! Family Event
BOOKING ESSENTIAL - Saturday 2nd September 2pm
Travel back through time & meet the people from the past. Discover where & how they lived. Meet at South Yarrow Farm car park. Wear appropriate outdoor clothing including stout footwear. Rough walking in parts, reasonable level of fitness required. Donations welcome. FOR FURTHER INFORMATION OR TO BOOK, CONTACT MARINA SWANSON ON 01955 607758 OR E-MAIL marina.swanson@highland.gov.uk
Wick Society Suffers Setback!


On Sunday night mindless vandals broke into the recently restored Old Herring Market at Wick Harbour. The building was erected in 1896 when herring fishing dominated the life of Wick and it is thought to be the oldest example of its kind left standing in the country. Over recent months, assisted by a grant of £1,000 from the Moray Firth Partnership, Society volunteers gave many hours of dedicated work to restore to life the building which had deteriorated almost to the point of collapse.
Public Inquiry For Beauly to Denny Power Line
The Scottish Executive have announced that the proposed upgrade of the overhead electricity transmission line between Beauly and Denny will be referred to public inquiry. Following this announcement, The Highland Council's Director of Planning and Development, John Rennilson said: "We welcome the fact that the matter is going to be resolved one way or another as a result of a public inquiry. Highland Council supports the ability to transmit renewable energy south. There are only short lengths of line that there are objections to, nevertheless we will be continuing our discussions with Scottish Southern Energy to narrow the areas of disagreement if possible. We have a further meeting with them scheduled to take place in September. We will also be meeting with the other Councils, the National Park and SNH to see if, wherever possible, we can present a common case to save both time and money. "We understand that there will be pre-inquiry meeting in October to assist all parties to be able to organise their contributions. Council officials will be attending all meetings affecting the Highland Council area."
29 August 2006
Massed Pipe Bands In Wick Again For Caithness Arts Week


The Caithness Arts Week programme includes a stirring massed pipe bands parade on Saturday 16th September at 7.30pm in the Market Square, Wick. The line up of bands includes Wick Pipe Band, Sutherland Caledonian Pipe Band, Tain Pipe Band, Thurso Pipe Band and the Caithness Junior Pipe Band. This should give us yet another magnificent display in the square.
Bands Reunited At Weigh Inn Thurso


Remember the local bands of Yesteryear and all the good times you had when they appeared? Well now you can rediscover your lost youth and do it all over again. Bands Reunited takes place on Saturday 9th September 2006 at 9 pm in the Weigh Inn, Thurso and features a selection of Bands and Musicians that have played in the County over the last Five Decades. Musicians from as far afield as North America, Canada, the South of England plus Aberdeen and other parts of the Highlands are scheduled to make an appearance. Host for the evening is Bob Johnson of Caithness FM and he shall be re-introducing you to: After Hours (and Guests), The Usual Suspects, Maurice & the Travellers (Sixties), Five-a-Side and Innuendo.
Third knock-back for wind scheme - BBC
A judge has backed a decision to refuse planning permission for a wind farm near the Dounreay nuclear plant. Highland Council had rejected the scheme for 10 turbines at Borrowston Mains, in Caithness.
September 2003 - the Highland Council Refuses Planning Permission


Planning permission to build 10 wind turbines at Borrowston (between Forss and Dounreay) was refused at a meeting in Thurso town hall. The councillors who were members of the Planning, Development, Europe and Tourism Committee came from various parts of the highlands by bus from Inverness and went on a site visit.
Another wind farm that has been refused planning permission at Lieurary Hill is also under appeal by the developers Scotrenewables plc
Wind Index Wind Farm Applications In Highland as at August 2006
The Blas Festival Gets Going On Friday 1 September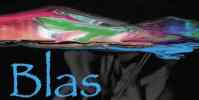 The Blas Festival starts this Friday (1 September) with nine days of great music in Caithness, Sutherland, Ross and Cromarty, Badenoch and Strathspey, Lochaber, Nairn and Skye & Lochalsh.
Following the huge success of the inaugural Blas Festival last year, this years event has developed to be bigger and better. A total of 43 different venues will be taking part at which internationally acclaimed artists will share the stage with home grown young musical talent.
See www.blas-festival.com for more details
Caithness Blas Festival Events
Friday 1 September 7.30pm
Wick High School
Phil Cunningham & Aly Bain, Catriona Mckay & Chris Stout and the Feis Chataibh Ceilidh Trail
Wednesday 6 September 7.30pm
Lyth Arts Centre
CLAN - Mary Ann Kennedy, Kenna Campbell, Maggie Macdonald and Wilma Kennedy with Angus Mackenzie, Kenneth Mackenzie and Calum Mackenzie
Weddings From Earlier Days - Now Open For Early Caithness Weddings


This is a photo of a lady named Jean taken on her wedding day. She was a cousin of the sender's father and this is all that is known about her. She was from Caithness and would have been born about 1910-1915. If anyone can recognise her please contact Georgina in Australia. See email address on the page. If you would like to send in early wedding photos from Caithness or of Caithness people getting married in other places in days gone by send them to bill@caithness.org If you need to identify who is in a photo and the names are now unknown maybe this section can help. Other Early Caithness Photos Early Caithness Postcards
Latest Newsletter From South School, Wick


South School's latest newsletter shows just how busy kids are at primary school these days. The school is requesting that parents note that the school is taking part in in International Walk To School Week and to try and make children walk further and drop them off at the end of the road if they come to school by car to make them walk a little further. This and much more in the August newsletter.
South School Index

From The Papers
Colour-coded for cleanliness - The Herald
Bottom of the cleaning heap as reported in the Herald today - Edinburgh Royal Infirmary - Royal Alexandra, Paisley and Raigmore, Inverness.
Hospitals named and shamed after failing cleanliness test - Scotsman
Fresh set back for massive pylons - Scotsman
Halkirk Young Farmers Club Continue 60th Anniversary Celebrations



Halkirk YFC continued their 60th Anniversary celebrations on Saturday 26th August with an Open Stock Judging, Barbeque and Dance. The Stock judging was held at Gerston Farm by kind permission of the Gunn Family. The official judge for the evening was Tommy Sinclair, Reaster. Taking the Open title was Colin Mackay of Westburn, Murkle with Tom Munro, Braal Terrace, Halkirk a close second. In third place was George Cormack, Wester, Dunnet. An added category was for best exchangee as the Halkirk club were hosting 15 members from Carluke (seen here at Marymas Fayre) over the weekend. The Barbeque and dance followed the Stock judging in the Ross Institute where around 150 people danced the night away to Radioactive. The final part of the celebrations will be a Dinner Dance to be held in the Weigh Inn, Thurso on Friday 27th October. Tickets can now be reserved with Kenneth Sutherland on 01847 821209
Guided Walk On Tuesday 29 August At Strathy By Ranger Service
Tuesday 29th August. Strathy Point to Aultivullin. Dramatic sea cliffs, caves and arches and lovely coastal plants are seen along this high cliff top walk. Maybe see a whale or dolphin as we make our way along the coastal cliff route. Meet at Strathy Point (Totegan) car park NC 827687 at 2pm. Allow 3hrs. Details Tel: Paul Castle, North Sutherland Ranger 01641 521884.
28 August 2006
Highest European Summit Conquered By Local Mountaineers





Three local northern Scottish mountaineers have just returned home following a successful ascent of Mount Elbrus on 23rd August 2006. The Scottish contingent of the climbing team consisted of Bob Kerr (28) from Melvich, Graham McFadyen (47) from Kinlochbervie and John Cuthbert (58) from Castletown. Mount Elbrus is the highest mountain on the European continental plate and is the fifth highest of the "seven summits". Mount Elbrus, the highest mountain in the Russian Federation, is 18510' high (5642m) and more than four times the height of Ben Nevis in Lochaber. The mountaineering team's successful ascent of Elbrus is the result of seven months of careful planning and preparation. Elbrus Ascent Photo Gallery See Elbrus on Local Live
Martin Gunn Testimonial Match At Bignold Park Wick - 12.30pm Kick Off 2 September
Wick Academy will play visiting team Inverness Caley Thistle. Tickets £8 concessions £4
Caithness Cubs Celebrate 90 Years (1916 - 2006) At Castletown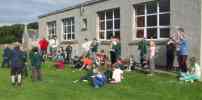 Cubs from around Caithness gathered on Saturday at Castletown school to celebrate 90 years of cub scouts in the UK. Over the day cubs were given plenty to do including games that involved both physical and mental agility. In the evening a large 90th birthday cake was brought out. A mini assault course tested the agility whilst others were firing Dutch arrows they had constructed from canes and old plastic milk cartons. Scouting in Caithness is still alive and kicking and as the web masters here at Caithness.org were all involved in scouts a few years back we wish them well for the next 90 years. If you want to know more about the cubs Click Here For Caithness Scouts and Cubs Click Here We wouldn't have missed those days for anything - camping, skiiing, climbing, abseiling, wide games, canoeing, trips to lots of places, night hikes, summer camps, competition camps, cooking, making knots, learning about plants, first aid, swimming, life-saving, building lots of things from wood and ropes etc, how to electrocute a whole patrol and live and much more. Maybe that's why we now run the web site - it taught us to keep on learning and it was a huge amount of fun.
Hebridean Princess At Helmsdale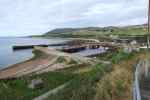 The Hebridean Princess was anchored off Helmsdale last week putting passengers ashore for look round and a trip to Dunrobin Castle. this is the first cruise ship to stop at Helmsdale and they hope it will be the start of more trips next year. the Hebridean Princess was used by the royal family a few weeks ago to cruise around the Western Isles for the Queen's 80th birthday. Passengers were brought ashore by small lighters coming into the pontoons at the harbour. The Hebridean Princess has also been at Invergordon recently More photos of Helmsdale
The Peatlands – A Brighter Future - The Pentland Hotel, Thurso, Caithness, Scotland
4th – 5th October, 2006 - Two Day Conference Including One Day Of Visits
The LIFE Peatlands Project has been operating in Caithness and Sutherland for over 10 years through two phases (1994-98 and 2001-06) of EU LIFE grant focussing on the restoration and conservation of the world important 'Flow Country' peatlands. Led by RSPB Scotland in partnership with SNH, Forestry Commission Scotland, CASE and Plantlife International, significant achievements have been made not only in the restoration of areas of damaged peatland, but also in raising awareness and developing an agreed strategic plan for the future of the peatland area. Much work has also been done in trying to promote the area as a valuable visitor resource demonstrating, of course, that this unique landscape has an economic value if managed sustainably. The conference will be over 2 days with Day 1 (Wednesday 4th October) dedicated to talks, and Day 2 to optional field visits. There will be a conference dinner on the Wednesday evening and there will also be session dedicated to viewing delegates poster / displays.
Click Here for more details about the conference.
27 August 2006
Knotty Ladies At Lybster - Photos Now In




Latest Photos In Weddings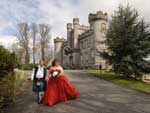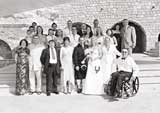 If you would like wedding photos added to the section send them to bill@caithness.org Shortly a new historic weddings section will be added to the wedding pages. In that section weddings from times long past can be added. It might be very old family photos or of relatives that you have lost the details of who they were and you want to find out if anyone recognises the people in the photo. That section will be added shortly but you can send photos for the history wedding section in now.
Marymas Fayre At Dunnet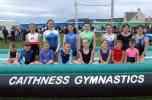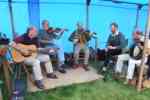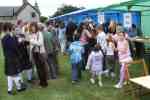 Another Marymas Fayre was held on Saturday. Visitors to the Fayre this year included a party of young farmers from Carluke on an exchange visit with Halkirk young farmers who are this weekend in Carluke. The rain held off yesterday for all the vents held in the morning and afternoon. Plenty of music and action from the Caithness Gymnastics group and the Caithness Kickers line dancing club. All in all a relaxing afternoon with fun for the kids and plenty of food and drink on offer. A whole salmon was on offer if you could guess the weight and was just one of many competitions held. Read about Marymas Fayres in Caithness
World Knotty Championships And Lifeboat Day At Lybster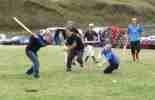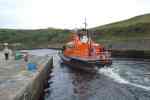 Yesterday saw the 2006 World Knotty championships with the usual mixture of fun and determination. A sit back and relax day for everyone with beer and hot dogs whilst the teams battled it out on the pitch. We caught the men's teams but the ladies played in the afternoon after we had move on to other events. If anyone has photos of the ladies games send a few in for the gallery to bill@caithness.org
Lybster
Sunday Papers
The winds of change - Sunday Herald
More Views Of The Beatrice Wind Demonstrator Project - Is This A New Klondyke?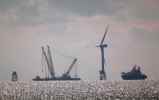 The article in today's Sunday Herald (linked above) talks about the views around the mountains in Highland disappearing as we used to know them - vast and empty with mountains just as they had been for hundreds of years and becoming something akin to an industrial scene. As we watch the first massive turbines being built off the Caithness and Sutherland coast are we watching the beginning of the end of another aspect of our scenery - the coastal views? Will they also become an industrial scene and yet another hazard for fishing boats and vessels to avoid? The two being constructed off the coast in full view now of anyone on the east of Caithness are we are told the first of possibly up to two hundred others as we face up to rising oil prices and the governments quest to meet carbon reduction targets. We already see oil rigs with in view. Will wind turbines make any difference? Are they better out at sea than on our hills and mountains? Undoubtedly the Highlands has the resource of wind in abundance but what benefit is there to the local communities if the power is tapped and piped away like north sea oil. The Highlands has perhaps some of the richest energy sources from oil to wind and potentially the raging torrents from places like the Pentland Firth as yet untapped. With so much potential from oil, and other energy sources why does Highland have one of the lowest per head incomes in Scotland? Shetland managed to push the oil companies into making great contributions to the local economy there in the seventies and are still reaping the benefits from their dogged determination in dealing with the multi-nationals. Should Highland be doing the same and is it even possible? Is Highland being ripped off or merely playing it part in the best interests of the whole of the UK? Should some of this new Klondyke be spent on making up the difference for older places such as Dounreay now being decommissioned with the loss of jobs and income with all the affects that will have? Have your say in our forum. For more details about the project see Beatrice Wind
26 August 2006
UKAEA For NDA Hands Over £300 To Sponsor Massed Bands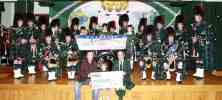 UKAEA Dounreay, on behalf of the NDA have sponsored the forthcoming Massed Bands parade. The parade which takes place on Saturday 16th September in Market Square, Wick will include the Sutherland Caledonian, Thurso, Caithness Junior, Tain and Wick RBLS Pipe Bands. The Massed Pipe Band display will take place on Saturday 16th September 2006 commencing at 7.30pm in the Market Square, Wick.
New Tourist Information Centre At McAllan's In Wick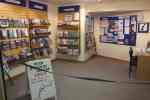 Earlier this week a new tourist information centre was officially opened by MSP Jamie Stone. The new centre is based upstairs in McAllan's shop in High Street, Wick. Representatives from Visit Scotland, area convenor councillor David Flear and councillor Bill Fernie and others from the local tourist industry and attractions such as Wick Heritage Centre were also present. Jamie Stone emphasised the positive aspects of having the centre located so centrally in the town and the fact that the staff were all local and combined with the training they had received would be able to deliver an excellent service. In fact Donald Sinclair chairman of Wick Heritage Centre said it was already having an impact as more visitors were arriving at the centre following their visit to the new tourist centre.
25 August 2006
Halkirk Toddler Group - Reminder That They are Back after The Summer Holidays
In case anyone has forgotten or is new to the area around Halkirk there is Toddler Group operating from the back of Halkirk Primary School - see page for details of times etc.
Board Members Wanted For NHS Boards Including Highland
The Scottish Executive is currently advertising for new board members for various NHS Boards including Fife, Forth Valley, Greater Glasgow and Clyde, Grampian and Highland. The closing date for applications is 22 September 2006. Caithness currently has no representation on NHS Highland's board so perhaps a few of you might wish to consider applying. Thanks to George Bruce the chairman of North Action Group and several other local bodies for drawing this ad to our attention.
24 August 2006
Caithness.org Weddings Pages - Share Your Photos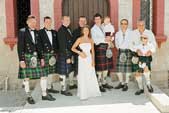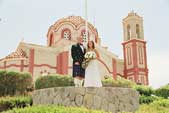 The Weddings pages have undergone a complete makeover and more photos have been added. The section now has more links and adverts for anything connected to weddings that might be useful to anyone organising a wedding. If you would like to add your wedding photos whether recent or many years ago email them to bill@caithness.org Details regarding the photos transferred will shortly have the information re places, photographers etc added to the sections etc.
Marymas Fair - At Dunnet On Saturday 26th August 1.00pm


This years Marymas Fair at Dunnet has programme of events that should provide an afternoon of entertainment and fun for the whole family. So why not forget the shopping or get it over early and relax with lunch at the Northern Sands hotel and then head over to the Marymas Fair. Check the poster for the full programme of events organised by the Britannia Hall Committee.
Caithness Arts Week 16th - 24th September - As Caithness Explodes With Activity
Just to whet your appetite some of the events taking place in Caithness Arts Week next month are now in the Arts pages and on the Caithness Arts Web site You will also find the events appearing in the September What's On There is something for everyone from drama and music to circus and drama workshops. Combine this with Lyth Arts September Programme, Scottish Archaeology Month also in September and where Caithness has a high proportion of the Highland events and throw in Doors Open Day on 9 September where again Caithness features heavily and you will certainly be busy trying to cram it all in. There has never been a better month than this September to find out about Caithness from Art to Archaeology and more......
23 August 2006
Beatrice Wind Farm Demonstrator Project Seen From Lybster Tonight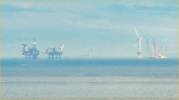 As seen from Lybster - the Beatrice Wind Farm Demonstrator Project is under construction. You can get clear views of what is happening from the Caithness coast near Lybster and other places. The project led by Talisman will have two wind turbines to prove how they operate off the coast and may be just the beginning of whole new energy production industry round Scotland. See Beatrice Wind for more information.

SCRAPPY SURVIVES 100FT FALL OFF CLIFF - Daily Record
A BORDER collie has amazed rescuers by surviving a 100ft plunge down cliffs in Caithness.
Albert Einstein legendary physicist is back! - Thurso High - 7.30pm 31st August Free Entry


Thanks to the wonders of modern science, the man who put the mad in Professor and the E in MC2 is appearing on stage in a one-man show for physics fans of all ages. If you want to experience the Big Bang, discover the mystery of Albert's disappearing brain or learn from the legend himself how he solved the riddle of the Universe on the back of an envelope, then book now! An electrifying, illuminating, mesmerising evening with the greatest genius of all time (relatively speaking, of course!).

Council Warning On Speeding As More 20mph Limits Now Apply At More Schools
Motorists are reminded that if they speed in the vicinity of Highland schools then the penalties will be tough. The Highland Council, Northern Constabulary and the Crown Office and Procurator Fiscal Service (Highlands and Islands Area) are clear that if motorists are caught speeding near Highland schools where a 20mph limit is in place, then robust enforcement action will be taken by both the Police and the Crown Office and Procurator Fiscal Service.
13% Passenger Increase at North Airports over Past Four Months
The importance of air travel to the economy and communities of the Highlands and Islands was underlined by a 13% increase in airport passengers in the region over the past four months. The introduction of new air services, enhancements to existing services and the Scottish Executive's Air Discount Scheme have all contributed to growth in the current operating year which started in April. A total of 435,722 passengers travelled via HIAL's 10 airports to the end of July while aircraft movements for the same four months increased by 11% to 37,018.
22 August 2006
Land court rules on croft sales - BBC
A Caithness estate which opposed the purchase of two crofts on its land has met with mixed results.
Sitting tenant Eva Waugh has been given the go-ahead to buy the holding at Brickigoe on Thrumster Estate, south of Wick, for £2,550. But a judgement from the Scottish Land Court has blocked her bid to buy a nearby croft. The court ruled that the sale of South Yarrows would cause substantial hardship to the estate company......more
Dunbeath Tennis Court Refurbishment


South East Caithness Development Group continues to improve amenities for people in south-east Caithness. The public tennis court at Dunbeath, which had been closed for over a year has been brought back into use. The £10,000 project is part of the development plan to breathe new life into the area. The Development Group is supported by the Scottish Executive's Initiative at the Edge (IatE) programme to benefit deprived, outlying rural parts of the country. The project to reinstate the tennis courts was identified at one of the early public meetings held to establish the priorities for local people. The funding package was secured, and the court has now been resurfaced and relined, and a new perimeter fence and gate erected.
Managing And Protecting Scotland's Water - Abstraction Charges Now Apply
From now, all of Scotland's rivers, lochs and wetland habitats will be managed to allow sustainable use, while protecting and enhancing the water environment. This is of paramount importance to the Scottish Environment Protection Agency (SEPA). Today (22 August 2006) SEPA is issuing annual subsistence charges for abstraction for the first time and, SEPA is taking this opportunity to provide an explanatory note with these invoices. The inclusion of the explanatory note is in response to feedback from various sectors regarding how and why charges are issued.
Next Meeting SOUTH EAST CAITHNESS DEVELOPMENT GROUP - Tonight
SECDG meeting is 22nd August at 7.30pm in Dunbeath Community Centre.
Latest Miller Matters - The Newsletter Of Miller Academy
Miller Academy Index Schools & Education
Lyth Arts and Friends Offer A Huge Variety Of Events In September


BLAS-festival presents CLAN
Scottish Opera - Die Fledermaus
Kate and Mike Westbrook - British Jazz
National Theatre Company in The Comedy of Errors
Carole Sutherland Saxophone Workshop
Mancub - National Theatre Scotland
In addition Caithness Arts Week runs from 16th - 24th September - programme out soon. Looks like you will be spoilt for choice of nights out in Caithness during September.
Children & Teen Fashion Show For Charity - Wick Assembly Rooms - 7:30 pm Friday 25th August



Featuring UJU from London www.ujulondon.com with clothes for children up to the age of 10 and NewLook from Wick with their new teenage range. There will also be a display of outfits by an honours graduate of fashion design from Heriot-Watt university. Tickets are £3.50 for adults and £2.00 for children. Tickets can be obtained from DR Simpson's, Poltney News, Keiss Corner Shop or on the night of the show at the Assembly rooms. All donations on the night will be gratefully received. Keiss Baptist Church Youth Club are organising the charity fashion show and will be modelling the clothes. They are raising money for an orphanage in India run by Pastor Suresh Vemulapalli and his wife Roja.
21 August 2006
LAURANDY SUMMER FAYRE - SUNDAY 27TH AUGUST 2006 AT 1.00PM
The Laurandy Day Care Centre, Unit 33 Airport Industrial Estate, Wick is celebrating its 10th anniversary by holding a Summer Fayre in order to raise much needed funds. We hope everyone will come to help us make the occasion a success. There will be lots of things going on including the Pipe Band, Majorettes, Police Dogs from Dounreay, Donkey Rides, a Bouncy Castle and various side stalls as well as refreshments. Laurandy is voluntary group that provides essential day care services for Wick and the surrounding area. With ever tightening budgets the pressure is on groups to raise as much of their own funding as possible to ensure they can continue to provide services..
RSPB TEAMS UP WITH NORTHERN CONSTABULARY AND GRAMPIAN POLICE IN JOINT APPEAL FOR INFORMATION ON GOLDEN EAGLE DEATHS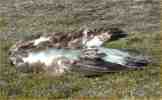 FOR the first time in its history RSPB Scotland is offering a reward for information which leads to the arrest and conviction of the person(s) responsible for the poisoning of two protected golden eagles. These crimes have caused great concern for RSPB Scotland officials and as a result the organisation has decided to put up a reward of £1000 per crime for information which leads to the arrest and conviction of those responsible.

20 August 2006
Archery Gets Going Again In Caithness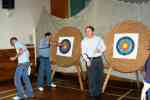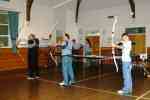 Archery has come back to Caithness after 6 years. Already 20 people have signed up for lessons on a 6 week course. The archery field for shooting up to 100 yards will be opening in early September at Shelligoe. Joy Finch has set up teaching archery and has equipment on loan from the former John O'Groat Archery Club. If you are interested in getting started in archery get in touch with Joy - Joy@shelligoe.com or archery@shelligoe.com Tel 01593 721496
The Skating Fun Continued Today In Market Square, Wick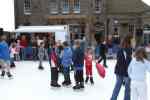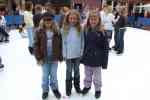 More Photos From The Big Gig, Thurso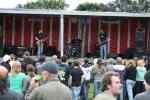 Online For Community Ownership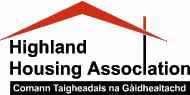 Highland tenants can now go online to obtain information on the Highland Housing Association and housing transfer, with the launch of the Highland Housing Association's new website www.highlandhousingassociation.org.uk The website, which went live on the 14 August 2006 was developed by the Highland Housing Association, the new not for profit organisation set up to take over the ownership and management of Highland Council's housing. The new website forms part of the Association's commitment to being open and accountable. Tenants will be able to use the website to find all the information they need to make an informed choice on housing transfer in the run up to the ballot, later this year. The website also has an online contact form, which will let users give feedback to the Association.
Bower Gala 2006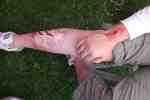 A wet day did not dampen the spirits of the folk who went to the Bower Gala on Saturday. For something different the Caithness branch of the Scottish Casualties Network who use volunteers that specialise in training support for wide range of groups. At the gala they were demonstrating their ability to reproduce a wide range of wounds to make first aid and other emergencies extremely realistic. The kids loved getting wounds added to various parts of their body to surprise their parents.
19 August 2006
Skating In Wick Turns Summer Into Winter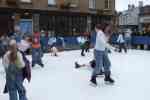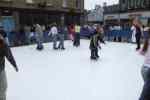 Wick went back to scenes of winter in the Market Square as folk took to the ice to skate with a background sound of pop tunes. Loss of folk tried it out and it continues until 11.00pm tonight and all day Sunday. The surface is not real ice but its pretty slippy and the special skates make it almost like the real thing. Great fun....
The Message board/Forums Keep On Growing - New Literary Section Added
The latest addition to the Message Board/Forums is a Literature section where anyone can post stories, poems, discuss books or ask questions about anything of a literary nature. If you have not yet been into the Message Board you may be surprised at how fast it is growing - we are. There are sections on many topics and the photography section continues to receive photos from the members - mainly of Caithness but many others are also included. Other sections are - General - over 6000 topics and 92,000 posts Birdwatching - Gardening - Genealogy - Lost or Missing Persons - Music - Recipes - Recommendations - Reunions - Technical Support - where the Org community help out with computer and other techy problems. The Message Board is being used for more and more purposes from getting answers to almost any question about Caithness to finding that lost cat. The Message Board also contains the fast growing classified ads section where you can advertise almost anything for FREE - Births, Deaths & Marriages - Free Stuff (Don't dump it give it away) - Items For Sale - an ever growing section with more and more items under several categories. Items Wanted - Job Vacancies - FREE ads service for employers in Caithness & Sutherland - Property To Rent - Property For Sale - Advertise your property in Caithness or Sutherland for the lowest price FREE - and it works - why pay more? Vehicles For Sale - plenty of vehicles and related items from individuals and Caithness dealers. Volunteering Opportunities an underused section but still FREE to any voluntary groups or charities looking to recruit new members. At the rate the Forums growing one day they will be bigger than the rest of the web site - well maybe not if we can keep up.....
Enter A Team In The 7-a-side Football Competition Ormlie Football Pitch, Thurso -
Saturday 26th August at 12 o' clock.
The match is being organised by Thurso Beyond 2000 to raise funds towards Santa's Grotto. Places will be given to the first 16 teams to register their interest at Atlanta Sports.
Entry fee is £10 per team
Fun With Flowers - August 2006

Joan Slobom, a member of the Sutherland Floral Art Club, demonstrated this month for the Caithness Floral Art Club. Her title Fun with Flowers allowed her to show what could be done with easily available flowers. Her arrangements were ably executed in sizes suitable to fit any home.
News From Elsewhere
MPs voice concern about soaring costs of UK's nuclear clean-up - Islamic Republic News Agency
18 August 2006
Ice Skating In Market Square , Wick
Saturday 19th and Sunday 20th August
11.00am - 11.00pm - Skate disco at 8.00pm Saturday night
It's synthetic ice and is just slotted together into a big rectangle. It's pretty similar feeling to real ice but it's a bit slower which is good for beginners. Figure skaters often use it to practice on as it allows them to do their moves slower first time with more precision. Normal skates are used, and there will be a choice of hockey skates and figure skates in kids size 9 to adult size 12.
Phil Cunningham & Aly Bain - Could be A Sell out - Get Your Tickets Early
Wick High School - Friday Sept 1st. 7:30 PM - Part of the Blas Festival
Catriona Mackay & Chris Stout - Feis Chataibh Ceilidh Trail
Full ticket £13. Senior Citz £10 Family ticket (2Adults + 2Children) £30, School Pupils £5
Local Box Office 01847 871211
Wick Music Festival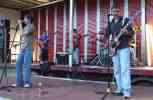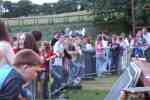 With so many events recently we are lagging behind with photos. So here finally are the very few we managed to grab in the very short wile we managed to attend. If anyone would like to add more send them to bill@caithness.org The vent took place at Riverside, Wick and this charity fundraiser raised almost £7000.
Bower Gala - Saturday 19 August
As the Caithness Gala season nears the end Bower Gala swings in to action on Saturday from 12 Noon. All the usual events and stalls, beer tent etc A car treasure hunt on Sunday at 2.00pm for those who want to put their mind to work on the clues driving around the county.
World Knotty Championships and Lifeboat Day - Saturday 26th August - Lybster
There is still time to get team together for this ancient game and whack a cork float around the pitch. Sutherland Caledonian Pipe Band will be in attendance with Wick Lifeboat on the day. Ban at 3.30pm at the pitch and 7.00pm in Main Street.
Nuclear clean-up costs escalate further - Edie
Trade and Industry - Sixth Report Select Committee On Trade And Industry - House Of Commons
Looking at UKAEA and the NDA
Beatrice Wind Farm Demonstrator Project On Schedule


the demonstrator project off the Caithness coast is taking shape fast now as the timeline on the Beatrice Demonstrator web site shows. The first blade has been attached and cable installation is underway. First electricity is expected to be generated at the end of September.
Beatrice Wind Farm Demonstrator Main Page
Wind Farm Pages

Thirty-four jobs lost as Selkirk Glass hopes are smashed - Borders Today
Community seeks to save company - BBC
This time its Selkirk Glass that have gone into administration - another company that became part of the Edinburgh Crystal group that has now collapsed taking Caithness Glass and others with it. This mirrors what happened at the factory at Wick as Selkirk Glass was a local tourist attraction in the borders with coffee shop and gifts etc.
Tesco 'breaching planning laws' - BBC
With a new Tesco store under construction on the outskirts of Wick this item might be of interest although the planning breach was in Portwood, near Stockport in Greater Manchester? Will the Highland Council planning officers be out with their measuring tapes as this store near Stockport was built much larger than the original planning application stated? This news item from the BBC is trailing a programme on Radio today - You can hear the full investigation in "Face the Facts" at 12.30BST on Friday 18 August 2006 on BBC Radio 4 (Listen Live or Listen Again later).
Dounreay particle found on beach - BBC
17 August 2006
Wick And Thurso 15 Years Ago From The Air - Can You Spot The Changes?
Wick Thurso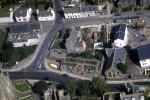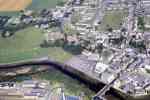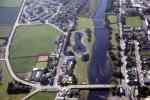 All the photos in these latest aerial galleries of Wick and Thurso were taken on 1 September 1991 for the Technical Services Department of the former Caithness District Council. If you look closely you will find many changes in both towns in the last 15 years. For example in Wick - no swimming pool, Milk Marketing board Building still in place or in Thurso - the former Scapa House where Lidl's now stands. Take a look and see how many changes you can find - there are plenty. More Caithness Places From The Air
Fun and Games in the Green, Argyle Square, Wick - Saturday 19 August 2006 - 2.00 - 4.00pm
The Argyle Square Area Association, Wick is hosting its annual Summer Fun Day in the centre of Argyle Square on Saturday 19 August from 2.00 – 4.00 pm. There will be the usual variety of stalls including baking, bottle, bric-a-brac, new and nearly new clothing, raffles, hot dogs and refreshments. No fun day would be complete without the bouncy castle, fire engine and face painting for the younger children whilst Dane Miller and Karen Spruce will be supervising their annual assault course. An adult's event using the assault course is planned, with prizes for the fastest competitor in the various sections i.e. children, adult female and male. For the more daring a special 'Tilt the Bucket' event will be held and again there will be a prize for the most successful.
MacBeth At The Mill, Thurso


Macbeth runs from Wednesday 30th August to Saturday 2nd September starting at 8.00pm each evening. Tickets are £7.00 & £5.00 (Concessions) and bookings can be made by calling 01847-896956. Following on from Macbeth, Thurso Players go on to their next production which will be the Pantomime 'Sleeping Beauty' directed by Andrew Crawford which runs from 13th to 16th December. Auditions will be held in the Mill Theatre at 2.30pm on Sunday 3rd September. Meantime get your tickets for MacBeth before its too late.....

Lungwort Lichen Survey


A long term survey into a species of lichen that indicates levels of air pollution has been started in Caithness. The survey has been organised through Highland Council's Planning and Development Service Countryside Rangers as part of the Caithness Countryside Volunteer programme of events. Caithness Countryside Volunteers commenced the survey last Tuesday 8th August under the direction of experts in the field, Sandy and Brian Coppins. "Lobaria pulmonaria" is a special type of lichen species found in Britain. It is a leafy shaped lichen with the undersides resembling the insides of lungs and therefore better known and remembered as lungwort. Although common in the West, the species is rare in Caithness.
Planning Committee In Inverness Agrees To Defer Thurso Asda Decison
Councillors who are members of the main planning committee agreed yesterday to defer the decision on the Notice of Review to change the refusal made at a previous Caithness planning committee meeting. Head of Planning told members that more time was needed to consider the fact that the Co-op were challenging the Highland council's interpretation of the Retail Impact survey in the Court of Session on the Wick Tesco application previously approved and that this might have a bearing on the Asda application where a similar Retail Impact Assessment had been put forward as par of the application.
The Asda Debate Asda Petition
The Rosslyn Matrix by Ashley Cowie


Caithness writer Ashley Cowie launches his latest book that is sure to create even more controversy surrounding Rosslyn. Just when you think there can't be anything left to dig up when it comes to secret codes and Rosslyn Chapel, another layer is unearthed. The latest mystery - involving a carving scratched on the wall of the crypt - doesn't involve the Knights Templar, the bloodline of Christ, or any ancient secret societies. But for Ashley Cowie - who has spent the best part of a decade trying to work out its meaning - the carving has huge global significance for Scotland when it comes to the history of ancient navigation. 'What is down there is an example of a lost system for measuring time and distance, involving both latitude and longitude. It's a priceless mapping treasure.'
Scribbles in the stonework of Rosslyn - The Scotsman Buy "The Rosslyn Matrix"
16 August 2006
University Of The Philipines Choir - Another Successful Visit To Thurso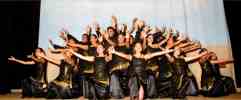 Sandside Mediation Process Ended - UKAEA Statement
UKAEA regrets to announce that the mediation process, which we began with Geoffrey Minter in May 2005, has ended. We wanted to ensure that we could find a fair, reasonable and documentable resolution to this issue. Unfortunately, despite every effort, it has not been possible to achieve this. UKAEA will continue to seek the best environmental option for the long-term management of the particles found in the marine environment around Dounreay, with full public consultation. We will also continue to monitor
beaches including Sandside to detect and retrieve any particles, so long as we are allowed to do so. We believe this is in the best interests of public safety and the local community.
Geoffrey Minter's Response on Sandside Estate Web Site
Beach particles talks break down - BBC
15 August 2006
More Photos From the Big Gig At Thurso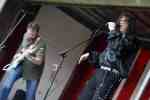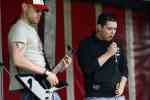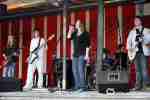 These latest photos are from John Baikie of Caithness Photographic and many more have been posted by John in his Image File The password for the file is biggig
From The Papers
MP WELCOMES MOVES TO DELIVER BROADBAND - Press & Journal
Salmon Leaping At Forss



The annual salmon run is well underway at River Forss as this batch of photos from Colin Gregory shows
14 August 2006
North Highlands - A World Of Opportunity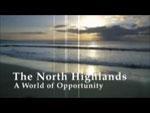 Another addition to the web and available either via TV.Caithness.org or Google. This film has been showing at Wick airport for some time but we thought it would be nice to show it to much larger audience. The film was made for the Wick Airport Consultative committee and several businesses and local groups contributed towards it. We hope you enjoy these glimpses of Caithness and the north. Several other clips recently added have now been indexed in the section. If anyone has interesting digital clips of events in Caithness and you would like to share them get in touch with us to see if the film can be converted for the web. We hope that by doing this we will help promote the north of Scotland as place to visit by letting people all over the world have a better look at what is on offer.
RWE Nukem Changes Hands In Takeover By Advent International
In Germany on 8 August the sale of RWE Solutions to the global private equity group Advent International was completed. The deal is effective from 1 April 2006 and includes all the NUKEM Group's international activities. The Group is well established in the global nuclear services industry and enjoys an international reputation. It holds leading positions in the UK, USA, Germany and Eastern European nuclear decommissioning and waste management markets, and is the world's largest independent uranium trader.
Here in the UK, RWE NUKEM Limited has been formally re-registered as NUKEM Limited and will trade under this name with immediate effect. NUKEM is one of the largest private employers in Caithness with a workforce of over 230 staff based at Dounreay.
University Of the Philipines Concert Chorus In Two Contrasting Concerts
Tuesday 15 and Wednesday 16 August 7.30pm - Thurso High School
Renowned as one of the best choirs in the world arrives in Caithness for two performances at Thurso High School on Tuesday and Wednesday nights. Organised by The Rotary Club Of Thurso this unusual event will see two contrasting concerts one a Grand Variety concert and on the second night a concert of Sacred Music. Tickets are £5 per concert or £8 for both. Tickets from Cards n Things and Sinclairs Shoe shop
13 August 2006
This Cat Found In Brabster Street, Thurso - Do You Know Where It Belongs?


Murray McGlasson has contacted Caithness.org with this message regarding the cat in the photo - "This cat has been hanging around Brabster Street in Thurso for the last few days. Very affectionate. We have taken it in for the moment, but would love to give it back to its real owner." Contact Murray on 01847 891306 if you have any information about where the cat belongs.
Thurso Youngsters End Gala Week with A Fun Run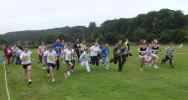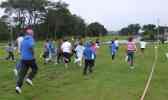 An enthusiastic bunch of young folk too part in the Thurso Fun Run today as Thurso Gala week draws to a close.
The Big Gig In Thurso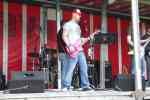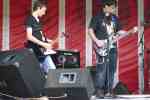 A few photos of the first two bands who got the Big Gig in Thurso going today. The Big gig carries on until 10.00pm tonight. The first bands on were Empty Fortune and White Noize. We are happy to add any photos from folk who were there later in the day. Just email to bill@caithness.org
Ducks In Thurso Enjoyed The Damp Day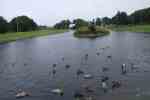 The Asda Application Notice May Be Deferred Until September
The following is taken from the Agenda for the Planning Committee of Highland Council for 16 August 2006
Development Control
8. Erection of Class 1 Retail Foodstore, Petrol Filling Station, Associated Car Parking, Landscaping, Access Road and Roundabout; Servicing; Playing Field Provision and Associated Community Facilities and Car Parking in Outline at Pennyland Farm, Thurso, Caithness (06/00038/OUTCA)
At its special meeting on 26 June 2006 the Caithness Planning, Europe, Development and Tourism Committee refused Planning Permission for the above development, against the recommendation of the Director of Planning and Development.
The following Notice of Review was received:
"We wish to rescind the decision of the Caithness Area Planning Committee of 26th June to refuse Outline Planning Permission for the erection of a Class 1 foodstore, petrol filling station, associated car parking, landscaping, access road and roundabout, servicing, playing field provision and associated community facilities at Pennyland Farm, Thurso, Caithness and substitute the recommendation for approval with conditions proposed by the Area Planning Officer.
Signed:
Mr A I MacDonald, Mr W N Fernie, Mr D Flear, Mr R Durham, Mr J H Green, Mr W Fulton, Mr R W Barclay, Mr D Allan."
Councillors who are members of the main planning committee will have to decide if they agree to defer.
The Asda Debate Asda Petition Now At 2880
Orkney Show 2006 - 142 Photos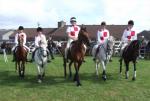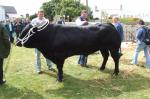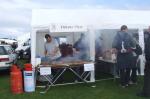 Here are photos from the Orkney Show 2006 that took place on Saturday 12 August at Kirkwall. As ever there were a great many Caithness folk over to Orkney for the show with ferries very busy and extra sailings from John O'Groats.
The Sunday Papers
NHS scan delays 'put lives at risk' - Scotland On Sunday
Meanwhile the saga of the scanner for Caithness General ploughs on after the refusal to accept the offer of cash from a private trust to buy one a couple of years ago. Running costs are the reason given for not taking up the offer of £300,000 what was withdrawn after it lay on the table for a very long time. The Hospital management are still looking at other means of bringing a scanner into Caithness General which would of course perhaps mean less travelling to Inverness.
Revealed: nuclear security rules broken 39 times in past year - Sunday Herald
The Big Gig - Sir Georges Park, Thurso - Today Noon - 10.00pm
Entry to the Big gig is FREE and there will be an auction, amusements, bar, barbecue, stalls and a raffle to raise funds for the Thurso Town Improvements Association and Caithness General Hospital. the line-up includes - Estrella - Time Fish, Cyanide - Blues X Man - Graham Maharg - Duress - White Noize - Plastic Food - Empty Fortune - The 68 Comeback.
Caithness Highland Gathering and Games - John O'Groats - 1.00 - 5.00pm
A traditional Highland Games held each year at John O'Groats and its on Today.
11 August 2006
Food, Fluid and Nutritional Care in Hospitals
Just published are reports on Nutrition in our hospitals. Couched in the usual official jargon it also does not name names of the best and the worst. However it is an important topic for anyone recovering from illness and if you can get your little grey cells into gear you will see that things are far from well when it comes to nutrition in our hospitals although health boards are moving to make improvements (we are not told which ones). A short overview report can be found in today's Herald that comments that Highland has the lowest spend per patient per week according to an Audit Scotland report. So does anyone any thoughts on the topic of nutrition and health and how it has affected folk you know who have been in hospital - to the Message Board
INFORMATION DAYS FOR NORTH HIGHLAND COLLEGE - THURSO
Monday 14th & Wednesday 16th August NHC IN THE PRECINCT
We will have an "Information Tent" in Thurso town precinct on Monday and Wednesday from 10 am to 4.30 pm - ideal for anyone who would like information on courses available, or advice on childcare, funding and similar issues. Demonstrations and student exhibits in subjects areas such as Computing, Construction, Care, Beauty, Hospitality, Equestrian and Science. Come along and meet the staff and find out what we have to offer.
Tuesday 15th August - COMMUNITY GROUPS IN PARTNERSHIP - COLLEGE OPEN DAY
Ever wondered what's available in your community………..??? A range of local groups will be in The North Highland College, Main Hall, Thurso from 2 pm to 7 pm on Tuesday 15th August to raise awareness and answer queries. Refreshments available. For further information contact Audrey, Karen or Diane on 01847 889000.
Jobs fear at Caithness Glass At Kings Lynn - EDP Business
Another segment of the business is still under threat - this time at King's Lynn following Edinburgh Crystal the parent company calling in the Administrators. The Caithness Glass business lived on following the closure of the factory at Wick then owned by Royal Worcester and Spode. It is now hanging on by its fingertips to see if the administrators can find a solution to save it.
This Year's Latheron Show Great Balloon Race Winner Is Donald Eyers From Lybster


Louise Richards says - "The race was held at the Latheron Show on July 8th, and this year we were lucky enough to have a useful wind, which sent the balloons away to the Orkneys and beyond. We have had many tags sent back this year. One of the more interesting places they landed was just below the lighthouse on Sanday (most northeasterly Orkney Isle) and, in Donald Eyers's case, Fair Isle, where the balloon and tag were picked up by Will Miles from Fibo on July 13th whilst he was out on a cliff, working on seabirds. Donald Eyers will be receiving a £25 prize and Will Miles will be sent a bottle of champagne. I would like to say Thank You to both everyone who bought a balloon and everyone who sent one back!"
Blas Festival Programme In Caithness And Sutherland 1 - 9 September
The second Blas Festival programme shows how it is growing and it will be even bigger in 2007 for the Highland Year Of Culture. Tickets are now on sale for all of the shows around Highland for this years festival. For the full programme head over to the Blas Festival web site
10 August 2006
Have You Ever Been To an Event In Strathy Hall? - Now's Your Chance

Monday 14th August - Family Ceilidh Dance with The Vatersay Boys at 8pm. Adults £4 Children £2. BYOB All welcome.
Saturday 2nd September - BLAS FESTIVAL - Julie Fowlis Band, Kathleen, Deirdree and Magnus Graham, Feis Chataibh Ceilidh Trail and Feis air and Oir at 7.30pm.
Tickets: Full Ticket: £10 Senior Citizens: £9 School Pupils: £5
Please contact Janette Mackay for further information on 01641 541 275
Beauty - Most Northerly Dog On Mainland Britain


Here is "Beauty" an English Bull Terrier the northernmost dog of the British Mainland! She is 4 years old and loves her life on Dunnet Head!
The Bomb Plot In the Forum - Have Your Say
Change of Venue for Halkirk YF's 60th Celebrations
The second event to take place during Halkirk Young Farmers' 60th Anniversary year will now take place at the Ross Institute in Halkirk. A Barbeque and Open Stock judging followed by a dance was planned for Stainland Farm, Thurso but plans had to be shelved for that venue after an application for an Entertainment licence was turned down. The organiser's Plan B now sees the event take place from 6.30pm at the Ross Institute, Halkirk on the event's original date of Saturday 26th August. The Barbeque and Dance will take place at the Ross Institute with the Stock judging held at Gerston Farm. Tickets priced at £10 are currently being sold and with numbers restricted it is advisable to book tickets as soon as possible.
UK's First Purpose Built Nuclear Decommissioning Test Centre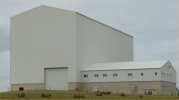 UKAEA today welcomed the arrival of Britain's first purpose-built nuclear decommissioning test centre. The T3UK complex, incorporating a research institute of the UHI Millennium Institute, aims to become the country's leading site for trialling the techniques and equipment needed to safely dismantle Britain's nuclear legacy, as well as undertaking test work for the offshore and environmental sectors. It is a spin-off from work originally commissioned by UKAEA to prove a safe method of cleaning out liquid metal from the cooling circuits of the Prototype Fast Reactor at Dounreay. An alliance of companies developed a test rig on a disused industrial estate at Janetstown near Thurso, Caithness, and their success in the sodium destruction trials led to proposals for a full-scale commercial test centre.
Old Pulteney raises spirits at Inver House - The Herald
Bloggers On The Bomb Plot
Blogger.com Blog Watch At Chrom.com
£2m penalty for Dounreay spillage BBC
Short Haul Flights Resume At Heathrow - BBC
Short haul flights are now resuming at the world's busiest airport at Heathrow after today's disruption caused by the plot to blow up several aircraft
Woman took cash from royal church - BBC
Mother-of-three Lynn Shields of Skirza, Freswick was today jailed for 12 months at Wick Sheriff Court having admitted embezzling £41,581.73 from Canisbay Church near John o' Groats over a six-and-a-half year period from 1998 when she became treasurer. Canisbay church was the place of worship of the late Queen Mother when she stayed at Castle of Mey and now attended by Prince Charles on his annual visit.
Is Fish Farming Sustainable? - Free Lecture At Environmental Research Institute - Thurso
5:00PM WEDNESDAY 16 AUGUST 2006
Dr. Kenny Black - Scottish Association for Marine Science, Dunstaffnage Marine Laboratory will talk about the sustainability of fish farming. Over the past 40 years, global aquaculture production has increased rapidly compared with that from capture fisheries and it is likely that parity of production will be reached before 2030. In Scotland, farmed salmon represents approximately 40% of all Scottish food exports. However, the dramatic expansion of aquaculture has raised several concerns relating to sustainable marine resource usage.
Creel Boat Shining Through Rescued Off Coast At Dunbeath




The creel boat "Shining Through" worked by retired head master Terry Merrills was rescued when he got into difficulties after his propeller became fouled and his anchor would not hold. Pictures taken by Abigail Park & David Pomphrey show how the vent unfolded in full view from the cliffs at Dunbeath. Mr Merrills had been unable to raise anyone locally by radio and contacted the coastguard. As the helicopter was arriving another local boat "Chusan" owned by John Irvine got a line on board. At the same time Mr Merrrils had begun to stop the drifting to the cliffs by putting creels over with the lines still attached to the boat.
Highland Windfarms Applications as At July 2006
this latest list shows the current position regarding wind farm applications notified to Highland Council. Two are currently under appeal after refusals at Borrowston and Stroupster. Three wind farms are now operational in Caithness - Forss, by Thurso, Causeymire and Buolfruich, Houstry, Dunbeath with 12 others at different stages. Sutherland also has a large number in the process.
POLICE SEIZE DRUGS WITH STREET VALUE OF £50,000
NORTHERN Constabulary officers in Inverness Area Command have seized drugs with an estimated street value of £50,000. The seizure of suspected cocaine and amphetamine was made during an operation yesterday evening (Wednesday 9 August 2006) in the Ardersier area. Five men (36, 37, 38, 39 and 43) and a 38-year-old woman are expected to appear at Inverness Sheriff Court tomorrow in connection with offences relating to the supply of illegal drugs.
St John's Church, Wick Page Update



St John's Church, Wick page has been updated with some new photos added. It would be helpful if other churches could check the pages we have for them to see if the information is still accurate and if not send us revised information and any photos for the section. We update these sections without any cost to the churches or other voluntary groups.
All Short Haul Flights in and Out Of Heathrow Now Cancelled For Today
Long Haul flights still arriving although many diversions to other airports in the UK and Europe. Delays and disruption likely to affect the next few days as aircraft out of position.
BAA Web Sites Collapse Under Heavy Usage
The levels of traffic have caused several web sites at British Airports Authority are making it difficult to get through to them. Here are the web sites affected and the problem may clear over today.
Heathrow Airport - Gatwick Airport - Stansted Airport - Glasgow Airport - Edinburgh Airport - Aberdeen Airport - Southampton Airport
Advice for Passengers At Wick and All UK Airports Issued Today
ADVICE TO PASSENGERS ON REVISED SECURITY SCREENING REQUIREMENTS
These measures apply at Wick and all other UK Airports. This follows the announcements today regarding the terrorist threats against aircraft and arrests made in the UK.
Highlands And Islands Airports Web Site - Wick Airport - Kirkwall Airport - Inverness Airport
New On This Story
Police foiled plot to bring down aircraft, says Reid - Independent
'Aircraft terror plot' uncovered - Guardian
Heathrow Shut To Incoming Flights - BBC - Flights in the air will be allowed to land
British Airways bans hand baggage on govt advice - Reuters
At-A Glance - UK Airports - BBC
Significant delays and cancellations likely at many airports and passengers are being advised to check with their carriers, tour companies or aviation companies they have tickets with.
UK Home Office - For latest UK government advice on the bomb plot and travel advice etc
Department Of Homeland Security USA - USA authorities have raised the security level to Severe or Red as a precaution although there is no known threat at present in that country.
Local airlines can give information on their own flights, and can be contacted as follows;
Loganair (Edinburgh/Kirkwall/Glasgow) 01955 602294, Eastern Airways (Aberdeen and connections onward), 01955 603914. Passengers should allow plenty time to check in and re-arrange items which would normally be carried as cabin baggage.
National Express Travel Statement
National Express is operating services as normal to UK airports; however delays when gaining access are inevitable. Where possible coaches are using coach and bus priority lanes. We strongly advise customers to allow additional travel time and National Express will amend tickets booked to the airport at no extra cost. Normal cancellation and refund policies apply. For more information customers can contact National Express on 08705 80 80 80, www.nationalexpress.com Coach services on the rest of the UK network are operating as normal.
Other Countries News On The Terrorist Plot
Aircraft Bomb Plot Thwarted in Britain - New York Times - USA
British police thwart aircraft bomb plot - Chron.com - USA
British police arrest 21, say 'significant' bomb plot disrupted - USA Today
Terrorist plot to blow up aircraft foiled in UK - The Hindu - India
High alert as terror plot 'foiled' News.co.au - Australia
8 August 2006
Scottish Land & Society: the Threipland Papers

This summer sees the fruition of a two year project by Perth & Kinross Council Archive to catalogue the extensive Threipland papers. With support from the Heritage Lottery Fund and Perth and Kinross Council, Project cataloguer Richard Costello has looked through over 31,000 documents, arranged and listed them. For the first time ever, the Threipland collection is now accessible to the public. The papers will be on display in Caithness at Halkirk, Thurso and Wick 4 - 23 September 2006
Mey Highland Games - 142 Photos

Store Wars - On BBC Radio Highland News This Morning - "Pennyland Or No Store"
The Story on the Asda Store application at Pennyland in Thurso shows no sign of settling down as more twists and turns keep coming every few days. The item is later in the News Broadcast this morning and can be hear anytime using the above link. Meanwhile the debate goes on in our Forum
Online Petition Now 2869 Earlier chapters of the saga can be found in The Asda Debate If you click on Note - You can move back and forward in the broadcast on the BBC web site by clicking on the Non Embedded Real Player button.
News From Others
NHS Highland set for health check - BBC
7 August 2006
Thurso Gala Photos - 151 Photos In this Latest Gallery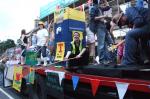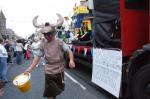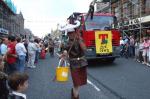 Store Wars - Miller Developments Fires Another Salvo On The Caithness.org Message Board
Colin Graham for Miller Developments has entered the lions den of the Caithness.org Forum/Message Board to set out his firms case in the ongoing ASDA story in Thurso. the debate is ongoing and several people have already added their views and comments with many more expected as folk arrive home from work and this evening. This looks likely to be the top thread for today as the topic is once again out for an airing with decisions still in the offing from Highland councillors. No one expected things to be taking so many twists following the refusal decision in Thurso following the split vote decided by the chairman's casting vote leading not only to more controversy on Asda but adding more to the Tesco scenario as the Coop is now taking Highland Council to court. Never has there been so much controversy over where Caithness folk buy their groceries and petrol.
North Highland College Information Stall In Thurso
The college will be manning an "information stall" in Thurso Precinct (Grove Lane) on Monday 14th and Tuesday 15th August - 10.00am - 5.00pm. Ideal for anyone who would like some information on the courses available, or advice on funding, childcare, etc.
From The Papers
Prince Charles unveils new memorial to Queen Mother - Yorkshire Post
Charles pays tribute to his 'dear mama' with carved slate plaque - Scotsman
Yellow Finch or Canary Seen in Lindsay Drive, Wick
Mary Richard has contacted us wondering if anyone had lost a yellow Finch or Canary.
6 August 2006
Thurso Gala - 84 Photos Thurso Gala Queen and Court - 39 Photos - More tomorrow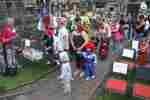 Wick Triathlon Winners And Participants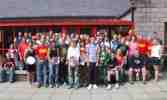 A great day for the Wick Triathlon as the group enters its tenth year.
5 August 2006
Store Wars - Asda Strikes Back
Following the story in the John O'Groat Journal on Friday 4 August Asda have issued a statement refuting suggestions from the developer Miller Developments that they are planning to advance proposals for their new store at the former Thurso Auction Mart site. Asda said "Statements by Miller Developments about ASDA's intentions have been made without the prior knowledge or consent of ASDA store Limited and do not represent ASDA's position" "We have no intention of advancing our store proposals for Caithness on the former Thurso Auction Mart site. Subject to support from the Council, ASDA's flagship entrance to the Highlands will be at Pennyland Farm, Thurso or outwith Caithness" ASDA have instructed their lawyers to take the matter up on their behalf expressing disappointment that a commercial interest would make allegations about their intentions without their consent. The Asda Debate
Asda support petition now at 2860
Thurso Gala Live Here Tonight
Not In Thurso For Gala Night - Then Tune In To Web Cam Here From 5.00pm Today


Over the past couple of days Caithness.org has been working with Robin Clarke of Rom Art Computer Services and Thurso Gala Committee to set up a web cam feed to bring the gala live from Thurso to your computer. As long as there are no technical hitches the web cam should go live from about 5.00pm today to let you see it all as it happens. Robin also hope to make video at the same time and in a week or so we will have that up on the web for anyone who missed it.

Big Events In Caithness Today - So Many choices
There is plenty happening n Caithness today and the three big events are the Wick Music Festival running from 2.00pm - 1.00am. The Mey Highland Games starts at 1.30pm and Thurso Gala parade is on this evening where the Shetlanders are back to burn their galley once again. It is possible to be at them all if you are keen to whiz round the county over the day. See the What's On for more details
4 August 2006
Caithness Ladies To Raise Money For MacMillan Cancer Support in Glasgow Half Marathon
Linda Ross from Thurso and Franky Farquhar from Wick are running in the Glasgow Half Marathon on 3rd September 2006 raising money for Macmillan Cancer Support - Highland Region. The ladies are members of Caithness Amateur Athletic Club and just wanted to do their bit for charity, at the same time as running.
Anyone wishing to donate money, can contact us on the following numbers;
Linda Ross; 01847 895005 (work) or 07745 648481 - Claire McIntosh; 01847 896396 - Franky Faquhar; 01955 605864.
3 August 2006
Over 200 Properties For Sale Or Rent In The Caithness Business Index
More and more property owners in Caithness are taking advantage of FREE advertising in our business section. Our property pages are always busy and people are looking in from all over the world to see what is available in our area. Some folk tell us they have not advertised anywhere else and have sold their property or rented out their house or flat. You have nothing to lose. Its basically FREE as you do the work yourself by adding all the information to our form. All we do is approve the ad. If you want us to do the work for some reason we make a small charge of £20 but most folk are now doing what we hope and adding the items themselves including a photo. Its easy so go for it and add your property whenever you are moving or are letting property. If using an agent ask them to add it for you.
Want To Give Blood? - A Full List of Dates Across The Highlands Is Now In
Samaritans Page Updated


The local Samaritans branch in Thurso recently got the message on to one of the largest structures in the north - the Dome at Dounreay. A long established group the Samaritans help thousands of people in crisis each year. They have help lines open 24 hours a day and volunteers are always needed in local branches. if you can spare some time to help others why not give them a call.
2 August 2006
Thurso & District Round Table - Summer Fayre Thurso High School
Saturday 26th August 2006 at 2.00 p.m


In addition to the normal stalls you would come to expect at the Round Table Summer Fayre, this year's event will have the added attraction of a Human Table Top Football Competition which is being held to raise funds towards Round Table Children's Wish - www.rtcw.org
Round Table Children's Wish is a registered charity that grants Wishes to children under the age of 18, all of whom have one thing in common, they are suffering from life-threatening illnesses. The wishes granted can range from swimming with dolphins through to a trip to meet the characters of Balamory. Round Table Chairman Ryan Farmer is looking for 16 Team's to participate in this event.
Caithness Glass Avoids Insolvency as Edinburgh Crystal Goes Under - Mid Lothian Today
Thurso High 1978 Reunion Night Photos Now In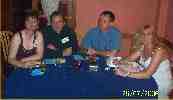 Thurso High 1978 Reunion took place at the Park Hotel on Saturday 29 July 2006 and photos from the night are now in.
UKAEA Short-Lists Four Beach Monitoring Sytems


A worldwide search for technology capable of improving UKAEA's detection of radioactive particles on beaches near Dounreay has resulted in four companies being short-listed for the award of a contract to undertake the work. Four different systems, including an enhanced version of the system currently in use, were selected by a panel of experts after a series of trials to test their performance against the current system. The companies will now be invited to tender for the contract to monitor local beaches when it comes up for renewal next year.
Switch On For Heat And Power Scheme In Wick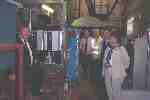 The Heat and Power Scheme was switched on by councillor Graeme Smith on Monday 1 August 2006 at the Pultenytown Distillery and at the demonstration house in 39 Murchison Street. The distillery will supply heat to the first 170 houses in the scheme until the new wood chip boiler house is ready early in 2007. The new boiler house will then pipe hot water for central heating and other household uses to a further 330 houses. The scheme which will sell electricity to the national grid as well as producing heat and hot water for residents is coming in at just the right time as other forms of heating have had several price rises in the last coupe of years. Pipe Laying is currently being carried out in Barrogil Street.
Latest Jobs On Caithness.org
Thurso Postgraduate Programmes in Renewable Energy (5 positions, 7 months)
Thurso MSc by Research in Environmental Science (3 positions, 12 months)
Wick Tesco for various positions
Wick - Mystery Shopper Vacancies
Links in the section to various large employers with staff in Caithness and to HiJobs the new recruitment company in the Highlands that will be expanding their services rapidly in coming weeks. See their banner now circulating on our pages. Employers can advertise vacancies FREE of charge and many employers have found the ads extremely effective already. Its easy just get registered in the Forum and you can then post as many job ads as you want. Enter a closing date and we will remove at the end of your campaign or you can amend yourself anytime..
Society Of Caithness Artists Annual Exhibition 1 - 10th August - Thurso High School


The Society of Caithness Artists are holding their 71st annual exhibition this summer. But with the closure of the Thurso Town Hall for renovation work, they were faced with the task of finding another venue in the town to display their paintings. Thurso High School came to their rescue by offering the use of their assembly hall. However, the lack of wall space meant that new screens and hooks were required. Rolls Royce at Vulcan supplied the additional screens and UKAEA Dounreay donated £200 to fund the purchase of specialist hooks and rods to allow the paintings to be displayed.
HiJobs - The Place For Highland Jobs - Launched Today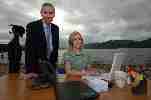 A new website promoting opportunities in the Highlands is launched today. In response to the buoyant Highlands and Islands economy, a new recruitment website - www.hijobs.co.uk - is launched today. The company is expected to turnover £500,000 in its first year. Prior to launch, interest had been such that vacancies with an estimated earning power of more than £5 million will goes live today - 2 August. Created by entrepreneurial businesswoman Angela Paterson, the website offers companies the most cost and time effective answer to promoting and fulfilling opportunities and aims to attract new talent in line with the increased level of inward investment.
Prince Charles Launches North Highland Tourism Campaign
The Prince of Wales has launched a new tourism strategy for the North Highland area covering Caithness, Sutherland and Ross-shire. The Prince has already launched Mey Selections which with his backing has already established itself well in the market. At Mey Castle he announced the next phase of his project - the Pleasure in the Extreme a branding to take forward the tourism element. The group established under the North Highland Tourist Initiative were gathered to hear the Prince say how pleased he was that another phase was well underway. Yet to come in his three part strategy is developments for the built environment - a project that will aim to renew derelict buildings in the north.
Anti-fur demo doesn't disturb Charles' Thurso visit - STV
1 August 2006
Is It The Weather Or Is All Musical Talent Just Pouring Into Caithness?
Eric Bogle and John Munro - head for Caithness on 10 August and for only £8 you can hear them at the Weigh Inn, Thurso on 10 August at 8.00pm. These guys are really good and if you head for e Lemon Tree later in the month it will cost you £13.50 for ticket. Eric Bogle is a Scottish exile living in Australia for 35 years, and an Australian citizen since 1982, he is an internationally known and respected singer/songwriter and has been taking his music around the world for the last 25 years or so, Eric is a warm and engaging stage performer, and his songs have the knack of getting straight to the heart of the matter with intelligent and well-crafted lyrics. John Munro was born in Glasgow, Scotland in 1947 and escaped to Australia at the age of 18. Having had a flirtation with Folk Music in his home country John soon headed for the local folk haunts. He admits to being a founder member of Country Express (born 1969) and Colcannon (born 1988) and, more through luck than talent, has worked since 1980 as accompanist to Eric Bogle. What can we say - all this and two music festivals all in the next couple of weeks. It never rains but it pours and Wildcat TMA are to be congratulated yet again for pulling the talent north.
Labrador Rescue - Another New Caithness Web Site


Rehoming service mainly for labradors but the volunteers will assist wherever possible with other dogs. The group is run by volunteers who help co-ordinate and match make the re-homing of dogs in the Caithness area. the idea is to rehome dogs where the owners can no longer look after them for whatever reason. The main reasons for dogs needing to be re-homed are domestic crisis such as hospitalisation or divorce. Financial difficulties, bereavement and allergies can also create this situation.

Wick First Big Open Air Music Festival Rivals T In the Park With 15 Bands And All Local

An impressive line up of bands and music talent will be heading for Wick on Saturday 5th August at the Riverside as the first big open air music festival gets going. Beer tent and food available all day and non-stop music will make for lively day at the riverside in Wick. The music styles have something for everyone from Rock, Country and Pop. The event is organised by the Memorial Garden folk as fundraiser and all profits will go towards the work to be carried out to put in place a garden at the bomb site in Bank Row.
Wick High School Modern Synthetic Pitch To Be Ready Soon
Work is progressing well on a £584,000 floodlit synthetic sport pitch for Wick High School. Contractors, Malcolm Construction Services Ltd. working for The Highland Council took delivery of the synthetic turf which arrived from Germany and work to lay the turf and perimeter fencing has finished. Environmental re-instatement works for the pitch surrounds are soon to be completed followed by a site tidy up. Weather-dependent, it is hoped that all the site works will be finished for the new school term. Funding for the development has been provided by The Highland Council's Education Culture and Sports Service. The pitch will be developed as a multi-sports use playing surface for use by the school and the community by arrangement through the school. The types of sports which can be played on the pitch include football, hockey, shinty and netball.
UPDATE ON THE APPOINTMENT OF CONSULTANT OBSTETRICIANS AT CAITHNESS GENERAL
The previously announced appointment of Dr Vincent Argent as a Consultant Obstetrician at Caithness General Hospital has fallen through. The co-chairs of the Caithness and Sutherland Maternity Action Team,
David Alston and George Bruce, today commented: "Regretfully, Dr Argent has not accepted the offer of appointment to the post of Consultant Obstetrician at Caithness General Hospital. The other two consultants, who have accepted their offers of appointment, will both be starting work on 18th September 2006. Arrangements will be put in place to ensure that full cover is maintained and the vacant post will be re-advertised."
Galas, Shows and Games Take Caithness.org To New Heights In July
Events throughout July made the web site busier than ever. In fact traffic has been so high for the past few months that we have broken our bandwidth limits with the company that hosts our web sites. Architec has now generously offered to double our monthly bandwidth limit to 100 Gigabytes per month.
Hits 19,814,053 Visitors 711,723 Page Views 5,276,654
Daily Average Hits 639,159 Visitors 22,951 Page Views 208,921
A few other stats from the month were 814,469 pages viewed in the Arts section - 2,011,150 on the main part of the site due mainly to the events photos - 652,574 pages in the Business Index. July was the biggest month ever on the web site and we wonder how many more times we can say that.
Thanks to all out visitors once again.
Cars For Sale Now Bigger Than Ever On Caithness.org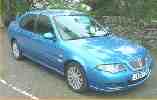 J G Sutherland of Halkirk has now joined the Caithness.org Cars for Sale section bringing you an even bigger selection of cars available in Caithness. More and more vehicles and related items are being added to the section every week so keep checking back if you are looking for used car.

ATTENTION ALL RESIDENTS OF REAY!!
REAY HALL UPGRADE PLANS PUBLIC CONSULTATION
Latest plans for the Reay Village Hall upgrade are now on display in the Reay Hall and the Reay Shop. Notebooks are attached for your comments. Please come and comment on these plans if you are, have been or will be a Hall user. This is your Hall, and everyone in the village of Reay and surrounding areas has a part to play in its upgrade.
Archives From Front Page
Front Page Headlines Archive Index From 2000 Onwards