Scottish Roads Weather Problems Bulletin Board
Click for Winter Emergency Numbers, Road Information etc
North Schools Win £15,000 Prize Money In Dounreay's 50th Anniversary Competition


Far north pupils have been using their crystal ball-gazing skills to project what life will be like in their communities in 2055. They looked into the future as part of a competition run by UK Atomic Energy Authority to mark its 50 year tenure at Dounreay. Over £15,000 was put up in prize money for the event which involved schools from Wick to Durness. The idea came from Colin Gregory who has been co-ordinating the programme to celebrate UKAEA's 50 year stint at the Caithness site. Mr Gregory, head of the director's support office, said: "Rather than looking back, we thought it would be better to look forward and ask the young people to imagine what life will be like in 50 years time." Secondary pupils produced a Panorama-style programme on events in 2055 and designed a front page of a newspaper of that year.
MEY SELECTIONS INCLUDES MORE FARMERS IN CAITHNESS
AND SPREADS BENEFITS TO STORE PRODUCERS


Many more cattle breeders in Caithness will benefit from the improved returns currently being enjoyed by cattle finishers north of Inverness who currently enter their stock into the Mey Selections branding scheme. In a move to increase the quantity of cattle available for supply to the growing list of outlets signing up to market the brand the project management team have established new finishing criteria in order to open up supply from across the region.
WICK PUPILS COMMENDED ON DUKE OF EDINBURGH'S AWARD TRAINING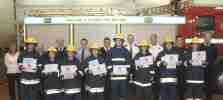 Eight pupils at Wick High School have received certificates from Highland and Islands Fire and Rescue Service that will count towards attaining their Service Section of the Duke of Edinburgh's Award. At a presentation ceremony held on 7th November, 2005 in Wick Fire Station the S3-pupils' three months of activities and learning were acknowledged by Wick Station Officer, Gordon Cook, together with Sub Officer Kenny Swan, Leading Fire-fighter Richard Mackay, Fire-fighter Graham Doull, representatives of the Highlands & Islands Airport Ltd., Station Officer W Sutherland and Sub Officer D Cook. Pupils, Christopher Ewing, Luke Graham, Andy Robertson, Kyle Mackay, Ryan Malcolm, Brian Munro, Nathan Lightley and Ross Stewart received their Fire Certificates and were commended on completing their sessions at Wick Fire Station and at Wick Airport.
Thurso Recycling Centre NOW OPEN At Janetstown

The new Recycling Centre at Janetstown near Thurso was officially opened today (Monday 7 November) by Area Chairman of TEC Services, Councillor John Green and Councillor Bill Fulton, The Highland Council's Depute Chairman of TEC Services with responsibility for waste management. Householders will now be able to take their cans, car batteries, cardboard, electrical appliances, engine oil, garden waste, glass bottles & jars, paper, rubble and soil, scrap metal, textiles, tyres, white goods and wood to the Recycling Centre. A special container will also be available for people to donate unwanted furniture and household goods to Homeaid Caithness for reuse.
DOUNREAY VISITOR CENTRE


The Dounreay Visitor Centre, rated as a four-star attraction, has closed its doors for the 2005 season after enjoying yet another successful season with almost 9,000 people through its doors. The Visitor Centre opened in March this year to encompass the early Easter break and has received a steady flow of tourists from all over the world, as well as members of the local community throughout the season.
Pick Up A Radio Station While On Caithness.org
Local BBC Scottish AREAS News Broadcasts -
Moray Firth Radio - North Scotland
Nevis Radio - Fort William Lochaber Area
Radio 1 - 1Xtra - Radio 2 - Radio 3 - Radio 4 - Radio 5 Live
5 Live Sports Extra - 6 Music - BBC 7 - Asian Network
World Service - Radio Scotland - Radio Ulster - Radio Wales
Radio Cymru - Radio Foyle - Radio Nan Gaidheal
Radio Orkney - More Radio On Your PC
Football News - Updating Daily

Caithness Football And Other Scottish Football Sites
Highlands & Islands News At Scottish Executive
More News By Topic
Arts
Flying News And Information
Business
Scottish Coastguard News Coastguard
Farming
Football
Music
Politics
Property
Transport
Scottish Tourism News
Aberdeen News
Edinburgh News
Glasgow News
Read The Scottish Newspapers
Read The Rest Of The World Newspapers