North Schools Win £15,000 Prize Money In Dounreay's 50th Anniversary Competition
Far north pupils have been using their crystal ball-gazing skills to project what life will be like in their communities in 2055. They looked into the future as part of a competition run by UK Atomic Energy Authority to mark its 50 year tenure at Dounreay.
Over £15,000 was put up in prize money for the event which involved schools from Wick to Durness.
The idea came from Colin Gregory who has been co-ordinating the programme to celebrate UKAEA's 50 year stint at the Caithness site.
Mr Gregory, head of the director's support office, said: "Rather than looking back, we thought it would be better to look forward and ask the young people to imagine what life will be like in 50 years time."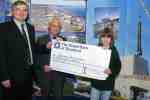 Winners Of Dounreay's 50th Anniversary Competition
Secondary pupils produced a Panorama-style programme on events in 2055 and designed a front page of a newspaper of that year.
Primary pupils meanwhile designed a calendar with a different theme for each month.
The prize-winning entries will be used to produce a calendar, with proceeds going towards the costs of next year's Caithness Science Festival.
Organisers did not specify any particular subject, giving the youngsters a free hand on the content and theme of their entry.
Simon Middlemas, Dounreay's deputy director, said the standard of entry had been very high.
Speaking at the prize-giving ceremony in Thurso Town Hall, he thanked all the schools who had taken part.
He also thanked Marie Mackay and the rest of the UKAEA team involved in making all the arrangements.
Each of the schools who took part received £250.
The £1500 prize for the best senior secondary entry went to Wick High.
The second prize of £1000 went to Thurso High, with Farr High picking up £500 for third.
The same prizes were awarded in the junior secondary competition where the first two positions were reversed, with Farr again third.
Overall winner of the primary competition was Ailsa Cameron, a Primary 7 pupil of Pennyland School in Thurso. Her school gets £1000, with the other 11 prize-winners earning £750 each for their respective schools.
They were: Erin McDonald, Chloe Sinclair and Sarah Graham, all Hillhead; Jack Sutherland, Ashley McKenna and Craig Wilson, all Wick South; Daniel Sutherland, Mount Pleasant; Luke Sinclair, Reay; Susie Butler, Farr Primary; and Murray Mackay and Elizabeth Marsham, both Durness.
The prizes were presented by Anne Dunnett, Lord Lieutenant of Caithness, and David Flear, Caithness area convener of Highland Council.
Miss Dunnett and Mr Flear served as judges along with Sheila Butler. from Thurso; Bunty Gunn, from Lybster; and Ally McGilvrary, reporter with the Caithness Courier and John O'Groat Journal.