Note - 20 May 2006
Email addresses removed or altered to try to prevent spam. If anyone wants their email address put back in a slightly altered form to stop spam please contact Bill at the web site

November 2002
Mairi Nicolson Returns To Antarctic

12 September 2002
Allan Marr
A born and bred Wicker and now residing in Dundee.
Left Wick 35 years ago along with wife Margaret (nee Harper) and daughter Linda who is now married and lives in Berkshire. 2 grandsons and 4 great grandsons all residing South of the border.

31 May 2002
Sandra Marshall (nee Caldwell)
Hi! I was born in Wick - a long time ago. Attended Wick High School from 1966 - 1972, in the same year as George Brims. I left to work in Glasgow in 1974, met my husband there, married in 1977 had our son in 1978, and moved to my present location in Fleet, Hampshire in 1981. Couldn't find any decent website of the area, its a small sort of nothing place, not far from Aldershot, though there are plenty of Scottish accents around to home in on. I haven't managed a trip to Wick for some time but do enjoy reading about what's going on.

28 May 2002
Sarah Sutherland
My name is Sarah Sutherland and I am currently living in Brisbane Queensland, Australia. I am the oldest daughter of John and Cathie Sutherland. I left Wick when I was 19 and flew straight into Melbourne where I lived for a year and a half before my boyfriend David (who I met in Melbourne and is a full blown Aussie) and I decided to take the long drive north to Brisbane, this took us 10dys, if we did it straight about 24hrs, but I wanted to see the country. We have now been living in Brisbane for a year and have just bought a house a month ago. I work for an international express courier company at Brisbane airport. I have been back home for a 2 week holiday for xmas a year ago and vowed I would never do it again as far too cold, but of course I will be there this year with bells on, plus the thermal underwear. Have a look at www.brisbane.com.au or www.greatsoutheast.com.au to see some of the wonderful things here in Brisbane.

12 March 2002
Maurice Boardman
I lived in Thurso from 1960 to 1967, at 71 Pennyland Drive. I spent one (or was it two?) years at Miller Academy, then on to the brand new Pennyland Primary. We left Thurso after Primary 7, and went to Guildford, Surrey. After school and a short college career, I got into the computer business, in Guildford, then Bristol, and eventually to the San Francisco Bay Area. I'm now in Portland, Oregon, and plan to stay here forever. It's almost as beautiful as Caithness. Married for 20 years, my wife (Sue) and I have three children. They have yet to experience the beauty of the Highlands. Drop me a line if you think you remember me, or my brothers, Trevor and Keith.

10 January 2002
Rita Moon (nee McPhee)
I used to live at 35 Murchison St. all my live until I got married. I attended Pulteneytown Academy and Wick High school 1969 1973 now my name is Rita Moon and I live in Florida USA. I would like to hear from some Wickers.

10 January 2002
Jimmy Nicol
I was born and bred in Wick.My grandmother lived in Tolbooth Lane.My fathers name was David Nicol we lived in Brown Place then moved to Westbanks Terrace.I now married and live in a small village in the outskirts of Bishop Auckland in County Durham. Cockfield is a village with a long history in the mining industry but now all the mines have closed. County Durham is one of the most beautiful counties in England the people are very friendly. Here we have mild summers and harsh winters

17 December 2001
Robert William Sinclair (Robin)
I was born in Thurso,1937 in the 'Glebe' (mother Duckie father Angie) went to school till I was 15yrs old, then went to work at the Henderson Farm near Scrabster. When I turned 18yrs old I went into the Royal Air Force for 8yrs,serving in Aden (where I met a few boys from Thurso serving with the army) London, Glasgow and Edinburgh, where I met and married my wife, nearing demob I applied too emigrate to Australia. Two weeks after my discharge my wife and I were on a plane to Queensland. I started work at the XXXX brewery. My brother and two sisters with there families soon followed. I worked at the XXXX brewery (7yrs)and the Blackwater coal mines (26yrs) I've retired now and live in Boyne Island, still in Quensland. We have been back a few times to Scotland and never miss a visit to Thurso. I still have cousins there. It's grown since I was young, Scrabster always surprizes me it keeps getting bigger. My wife and I have two sons (Australians) we took them back when they were young for a Scottish Xmas, it was the first and last time they saw snow. I've now got myself a computer to pass the time and visit caithness org every chance I get, Its so vast I can spend hours at a time browsing. Great place to visit.
Regards to all the Thurso people on the web
Greetins from down under from Robin And Family

23 September 2001
We will shortly begin to reorganise this page into alphabetical order to make it easier to find enties as the section grows.

You can all see Caithness now and lots more of it to come. But where are all of you Caithness people now? Send us an email with your name, where you live now, previous connection to Caithness and the nearest local web site that shows the place you live in or near. Caithness.org will then put your details in the Caithness People Round The World Page joining you all together in a unique way. If you appear on your local web site let us know the page address also.

You do not have to have been in Caithness long to qualify for this not too serious section that is already showing the wide spread of Caithness contacts whether native born, visitors, employed for a while, passing through or on holiday.

Jenny Statham (nee Sargent) 27 October 2001
My brother Peter and I attended Pennyland School and Thurso High during the period 1958 -1970 and would like to hear from anyone who remembers us. I have been living in Hong Kong for the past 12 years.

Barbara Tannock (nee Newman) 30 September
I moved to Thurso in 1957 aged 4. Attended West Public, Miller Acadeny, Pennyland and Thurso High. Moved to Oregon......more

Dennis Sutherland 23 September 2001
I am Dennis Sutherland and am in the 1962 photo of Wick North school in Mr. Nicolson's class, two along from Joe Fitzpatrick who I have just e-mailed having found his message on the Caithness Exiles page. I left Wick in 1968 for Edinburgh Uni and graduated in 1972 with an Hons. Chemistry. Went to Moray House College of Education and have been teaching since 1973. Now P.T. in Livingston. Married with two grown up children, Karen and Iain. Living in Linlithgow in West Lothian. Check out www.westlothian.org.uk Miss 'Peachies' red pudding suppers on a Friday night and Yellops fresh baking after the dances in the Assembly Rooms.

Kay Bragdon (nee Wilson) and her husband Greg 15 August 2001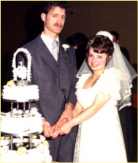 Kay and Greg have moved around a bit since they were married in Thurso in 1976. Here we see them on their wedding day with a cake that Kay tells us was made by Johnson's of Thurso who are still supplying the same services today as back then. Kay has sent us details of where she went to school and where she has been in the last 25 years. Were you at school with her or knew her later? By the way eight years later the top layer was still in good condition for the birth of their first son.
George Brims -Originally from Caithness now at UCLA USA 25 July 2001
Went to primary school in Watten, High School in Wick 1966-72.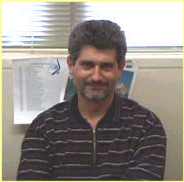 I grew up around Watten, went through Wick High (66-72), then off to Edinburgh and later Newcastle to get letters after my name. In the process met my wife Sandra, who is from the Inverness area. We got married in 1978 and have three kids, Victoria, Juliette, and Jonathan. After working in Edinburgh for a few years I was posted to Hawaii by the Royal Observatory (yes, that's where some of your taxes go!). Moved to California in 1989 to work with another Scot starting a new research group. Probably not going anywhere for a while as all three offspring are in college. Send any spare used pounds to brimsATATATastro.ucla.edu
Mairi Nicolson, Wick - Now In Antarctica For Two And A Half Years 24 July 2001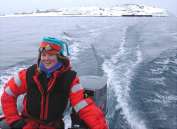 Joe Fitzpatrick - Went To North School and is in the 1962 Picture - 24 July 2001
I am Joe Fitzpatrick, moved to Wick in 1955, my Father Bill worked at the High School..married Elizabeth Hendry in 1957.....remember Dash and Dot, anyone??....I am in the 1962 North School picture..along with Valerie Sinclair, whom EVERYONE was in love with!!,...LOL...Moved to the USA in 1981, my home website is www.GoErie.com , and shows our wonderful Great Lakes to good effect, I now live in Erie, Pennsylvania, and am very happy...although would KILL for some fish and chips, and a pint at the Pentland!!!!..Good Luck, all..
Ian Thompson Ex Thurso 3 June 2001
I lived in Thurso from the age of 12 in 1963 until 1969 and attended Thurso High School. Last summer, I attended a reunion and was able to meet up again with many friends from those days. Thurso was then, and still is, a very special place indeed. I have been living and working in Germany since 1976. For the last ten years I have been teaching music at the International School of Düsseldorf. The school has a new website, partly still under construction, but worth a visit.
www.isdedu.de
With best wishes to all in Thurso and those exiles with a Thurso connection,
John Steele 23 April 2001
G'day, we all moved to Thurso in 1968, as my father (Bernard) was supposed to be at Dounreay for 3 years. We left in 1982, although my eldest sister Karen Jones is still there. I was at Pennyland Primary from 1969 to 1976 and then Thurso High from 76 to 82 before going to Aberdeen University. I moved to Australia in 1989 after finishing my PhD and came to Sydney in 1991. My personal web page is at
http://members.optusnet.com.au/~chalybs with pictures of my family, various places around the Wide Brown Land and links to my work Web page at the University of New South Wales.
Note - -Karen Jones is organising the Thurso High Reunion
Muriel Kelly (nee Steel) 16 April 2001
My name is Muriel Kelly (nee Steel) and I lived in Wick from 1970 until I finished High School in 1985. Since then I have travelled around a bit:
Aberdeen, London and Edinburgh before leaving for the USA with my husband, Jim (from Motherwell), in 1997. We lived in Bartlesville, Oklahoma for 2 years www.bartlesville.com and have been living in Quebec City, Canada
since 1999 www.quebecregion.com . Quebec is beautiful but you have to like snow!!
Marion Stults & Family 14 April 2001
They may not have been here long but who's counting.
Attached photo of the Stults family that traveled Scotland in 1989.
Marion - Sarah - Susan - Molly)
We stayed Bed & Breakfast at Frank & Sheila Sinclair's "Langwell" on Sibmister Road, Murkle. I stayed B&B when I was there for the Satcom terminal installation in 1980. I sent you a photo attachment of me under the antenna in my previous transmission. I enjoyed my three month stay there October-December 1980 and the family enjoyed
their tour in 1989. The Sinclair's were wonderful hosts. The following is a scenic site for Arizona. http://www.azluxury.com/AZ_Scenery/az_scenery.html An additional site great from Marion on 19 April 2001 with lots of pictures and information - http://webcreationsetc.com/Azguide/Tucson/
Janis Paterson (nee McGee) 8 April 2001
Janis went to live in Cumbria and is organising a Wick High School Reunion to be held in August 2001. Here is a web site near her showing Seascale http://www.instinct-training.co.uk/ti/wc/seascale.htm See the rest of Cumbria at
http://www.instinct-training.co.uk/ti/index.htm

James R. Bews 7 April 2001
I'm not sure if I qualify, having been an "incomer" at about 2-3 years old in 1950. Attended the North School, then the High School and finally left in 1965 to attend (rather intermittently) University in St. Andrews. I'm still there, as are (for the last 20 years) my parents. My father was the minister of the Central and West Churches. Probably the main Web site for St. Andrews is at: http://www.saint-andrews.co.uk/ which is actually sited in the USA, but is maintained by a former St. Andrews student. I have a vested interest, having assisted (with my stepson and some colleagues) in some of the photography. Well worth a visit to see some of the techniques used. My own personal page is at: http://ch-www.st-and.ac.uk/staff/jrb/ but I must admit that it never gets touched. The last thing I want to see at the end of the day is a computer!
Don Sinclair and Family 7 April 2001
It's been interesting seeing where all the 'Dirty Wickers' and other Caithnessians have gotten to; quite amazing really!. My wife, Dawn, and two children, Natalie & Ryan, left Wick and landed in Brisbane exactly 10 yrs ago now., but we're on our way back 'home', as I write!
We spent four years living east of Brisbane at Victoria Point (http://www.redland.net.au/redlandstourism/seeVictoriaPt.htm) before moving south to live in the spectacular Blue Mountains West of Sydney (http://www.bluemts.com.au/). further promotion (and the gypsy in us, I feel) saw us relocating to the far tropical north of Queensland to Townsville, where we stayed for four years (http://sunzine.net/townsville/). We recently moved south again to live on the Gold Coast in south east Queensland (http://sunzine.net/goldcoast/welcome.html), but have succumbed to the pull of coming home permanently. We have great memories af all our travels in this new home country, but have enjoyed keeping up with local affairs, and have met new friends through your site. Keep up the great work for all those other world scattered folks.
Best Regards, Don Sinclair.
David N Jones 5 April 2001
Was in Caithness from 4 years to 17 years old and attended Miller Academy
"Your site goes from strength to strength A site covering my area (Widnes) is www.halton.gov.uk . I work in
Flintshire, North Wales www.flintshire.gov.uk
I am in Picture B of the Miller Academy 1962 pictures: That's me on the back row, third from the left. Then living in Dunbar Terrace, Thurso. I lived in the town from age 4 to 17 and after much moving about I now live in Widnes, Cheshire. My heart though will I suspect always belong in Caithness!
My sister Fiona E Jones was born in Thurso and lived there until we moved away in 1969 when she was 8. She now lives in Redding California! A site for her area is www.redding.com "

David S Banks 1 April 2001
"I am from Scarfskerry, where I lived for 18 years."
"Left Caithness in 1965 and spent 10 years in Edinburgh, from which I emigrated to Canada. My first 'port-of-call' was Calgary, Alberta. Then, I moved to Sydney on Cape Breton Island in Nova Scotia. Surprise surprise ! There was more Gaelic spoken and taught there than in Caithness. Then, I moved to Stratford, Ontario -- and, yes, they do have a (rather good) Shakespearean festival there. now live in Oakville, Ontario, which is just a little west along the shore of lake Ontario from Toronto. Anyone interested in Oakville can find some information on http://www.oakville.ca/ I can see Oakville harbour, and lake Ontario from my window, but even from my 9th floor location, I cannot see across lake Ontario to the far shore."
For more about Oakville here are a few more Links
We're Moving to Oakville: A Guide for Newcomers http://www.kanetix.ca/best-mortgage-rates-oakville-ON#tab-more-options
Oakville Transit http://www.oakvilletransit.com/
Halton District School Board http://www.hdsb.ca/Pages/Home.aspx
The Oakville Centre for the Performing Arts http://www.oakvillecentre.ca/
Mary Clark 25 March 2001
My name is Mary Sinclair Clark (nee Alexander) I was born in Wick 1941 and lived with my parents at 23 MacArthur Street for approx. 8 years before we moved to Edinburgh. Well I live in a place called Dorsten it is about 40km north off Düsseldorf. Dorsten's web site is www.dorsten.de quite a few nice photos of the town and surrounding district.
Mary sent in some school pictures for 1946, 1947,1948
Graeme Sutherland 28 February 2001
Caithness.org is a brillant web site, especially now it has a Staxigoe section.
My name is Graeme Sutherland and I lived in Staxigoe until 1990 (25 years) when I moved away due to work commitments. I still visit my good friend John Plowman who lives in Papigoe.
I moved from one fishing village to another and now live in Newbiggin by the Sea, Northumberland.
Check out our village on www.newbigginbythesea.co.uk
You could also visit my in-laws village shop on www.newbigginbythesea.co.uk/directory/margaretscards.htm
Hugh Ross 23 February 2001
My name is Hugh Ross ex pat Upper Gills. Now resident glorious Gateshead ? To see the UP side visit http://www.gateshead-quays.com , My "workplace" http://online.unn.ac.uk .
Mandy Scudder (nee Miller) 22 February 2001
Mandy left Wick for Australia about 14 years ago and has notified a web site for her area - Western Australia - the local Tourist Board Site so there should be a few pictures. Wonder if Mandy has tried the camel riding - it looks tricky.
See Mandy and others at the Pulteneytown Academy Reunion in March 2001
Cathy Hugnafel (Nee Miller) 22 February 2001
My British Columbia in Canada web page is... http://www.mybc.com
I live in Courtenay British Columbia and am related to Captain Alexander Miller, from Caithness, he was my great grandfather, same as Maureen Materi...I just adore tuning into your web page every few days, to get the Caithness news...keep up the good work. Check out My BC Community
Next in Chattanooga.com from Rebecca (Becky) Wilson (nee Brooks)
I am Rebecca Wilson (nee Brooks) and lived in Caithness until 1992. I went to Mount Pleasant Primary School followed by Thurso High School - I left high school in 1985. Since leaving Thurso I married a US Marine and we travelled around, being stationed in Wales and Okinawa, Japan. My husband is now "retired" from the Service and with our 5 year old son we are living in Chattanooga, Tennessee. My sister still lives in Thurso and my parents (who I miss so much) still live at Scotscalder. The local web page for my area is Chattanooga.com. I really enjoy reading through the Caithness.org pages - I feel like I am home.
Latest Site 19 February 2001 from Australia - John Page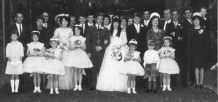 Picture 8 September 1966
My local town has a web site that would probably suit. http://www.whyalla.com South Australia and our University site at http://www.unisa.edu.au I was born in Castletown in Feb 1946, by school age we were living in Thurso, I went to the Miller Academy followed by the new high school, we were the first students, we returned to Castletown were I finished school at the Junior Secondary in Castletown, at 15 1/2 I joined the Boy Entrants of the Royal Air Force, during my time in the RAF I was stationed at Wick Airport, one of four RAF staff and one civilian. spent most of my time on shifts at Noss head transmitters. Married Rosalyn Steven from Stirkoke in 1966 in Argyle square (I have seen your photographs of the square, you can almost see the church), In 1969 we were posted to Cyprus, we spent three years there, from there we emigrated to Australia, my parents already living there (My mother and her sister both living in Australia originated from Castletown, Jessie Sutherland CAMPBELL (Isa) and Barbara Campbell (Babette) John has A Family Tree and more information on Caithness.org in Family History. Jessie Page 77th Birthday 6 June 2003
Number One Slot
18 February 2003
Sadly, Hamish died suddenly in January this year at 100 Mile House, British Columbia. Hamish was responsible for helping get the reunion for his school started and it takes place in Wick at Mackays Hotel August 2nd, 2003.
100 Mile House & The South Caribou Area British Columbia
This is the home area of Jim (Hamish) Clark originally from Wick who left to work for Hudson's Bay company. His mother still lives in Wick.