29 June 2010
Council Consults On Rented Housing Pressured Area Status
People in the Highlands are being asked to make their views known on 'Pressured Area Status' concerning socially rented housing provided by The Highland Council and housing associations. Many communities in Highland are already covered by Pressured Area Status designation which over the last 5 years has helped to prevent social rented housing being sold through the Right to Buy. The Highland Council applied to the Scottish Government for Pressured Area Status to try to address the severe and persistent lack of affordable housing in the area. Pressured Area Status designation means that tenants in designated communities who have been given a new tenancy on or after 30 September 2002 have their 'Right to Buy' suspended for 5 years. The Highland Council is proposing to apply to the Scottish Government to have Pressured Area Status renewed and extended to all Highland communities with the exception of Caithness where Pressured Area Status designation will be sought for Thurso and small neighbouring communities of Forss, Geise, Glengolly, Janetstown, Scrabster, and Weydale..........
Council Tenants Invited To Have Their Say On Rents Review
Around 13,600 Highland Council housing tenants will receive a letter and questionnaire this week inviting them to make their opinions known on a review of council house rents and service charges throughout the Highlands. In May 2010, members of the Council's Housing and Social Work Committee approved a major review of the Council's housing rents and service charges and the council is currently consulting tenants individually and local tenants groups. Details of the review are available on the Council's website at www.highland.gov.uk/livinghere/housing/ In a letter being sent to Highland tenants the Council's Director of Housing and Property, Steve Barron, invites tenants to let the Council know what they think about how their rents are calculated and also calls for views on what tenants think the Council should take into account when deciding what rent is charged.........
25 June 2010
Thurso Town Improvements Association's Pre-Registered Float Fund
One of the most popular events of Thurso Gala continues to be the Gala Night Parade of Floats. The amazing efforts made by groups of friends , families and local community groups are very much appreciated and contribute to making the evening such a success. This year we would like to bring to entrants attention the Pre-Registered Float Fund - on the evening of Gala Night, it will be at the discretion of the TTIA to award up to £50 per float to floats taking part in the Gala Parade. This discretionary figure could be awarded to any float with the exception of cash prize winning floats. Float entrants are invited to register their float for the Parade by 31st July 2010. You may register by emailing info@thurso.org
22 June 2010
National Youth Pipe Band Show Coming To Caithness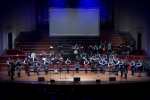 THE NATIONAL YOUTH PIPE BAND OF SCOTLAND INVITE CAITHNESS TO ENTER THE DRAGON'S LAIR
"The tunes spanned an absorbingly diverse range of styles, moods and tempos, with solo and duo interludes adding to the variety, while the playing's calibre and commitment was just as uplifting as the music itself." Sue Wilson - The Scotsman. The National Youth Pipe Band of Scotland (NYPB) will bring its exciting sell out performance of The Dragon's Lair to the Wick Assembly Rooms for the very first time on Friday 23rd July. Tickets will be available on the door for this fantastic show and are £8 adults/ £6 concessions.
Road Traffic Collision - A99 Occumster, Lybster
Tue, 22 Jun 2010 16:51:44 GMT
Following earlier reports, a total of seven people were involved in the road traffic collision on the A99 at Occumster, Lybster this afternoon. Five people from within the three vehicles were taken by road ambulance to Caithness General Hospital, and two were then taken on to Raigmore Hospital for further treatment by air ambulance. None of the injuries are believed to be life threatening.
Summer Activities Programme For Children 2010


Help is at hand for parents and families staying at home this summer in a wide range of events available through The Highland Council's Summer Activities Programme. Running throughout July and August the programme is organised by the Council's Education, Culture and Sport Service and offers a diverse range of summer holiday leisure opportunities across the Highlands. From Farr to Kingussie and Portree to Nairn there is something for everyone, from leisure or art to sports on the playing field or in the great outdoors there is an activity to suit every interest. Pupils attending Gaelic medium education can also attend events that will be delivered by Gaelic-speaking group leaders. Councillor Bill Fernie, Chairman of The Highland Council's Education, Culture and Sport Service said: "Holidays should be full of fun, enjoyment and relaxation, not just for children but for parents too. Our summer activities programme is a great way to get the kids active and away from the telly and the range of options also give parents a chance to have some free time as well while their children attend activities."
To get an information pack and book places on a summer activity customers can visit their local leisure facility or visit www.highlandactivities.org.uk and complete the Activity Booking Form. Information is also going out through Highland schools. Once a choice has been made the booking forms can be returned by hand or by post to one of the booking venues, these are detailed in the handouts and on the website.
Advance bookings are recommended as some activities are expected to fill up fast.
Noel Donaldson's Court Reports Not To Continue On Caithness.org
Unfortunately due to time constraints the court reports from Noel Donaldson will not continue on the web site. Some police reports will still continue to be placed and a new police section will shortly be added to the Forum for Police Notices directly from local police in Northern Constabulary.
Camps Factor - Karaoke Competition In Wick Gala Week - Enter Now Or By 10th July


£100 1st Prize £50 2nd Prize £30 3rd Prize
Competition Day 29th July - £5 Per Entry - all in aid of Wick Gala Funds
Starts 7.00pm - Come to Camps Karaoke Bar.
Entry Cards From Camps Bar
21 June 2010
Options For New Wick High School - Drop In Session And Public Meeting
The public is being invited to a "drop in " session and a public meeting later this month to consider the options open to the Council for the upgrade/replacement of Wick High School. The "drop in" session is being held on Monday 28 June at the Assembly Rooms, Wick, between 10 am and 5 pm. This will be followed by a public meeting at the same venue, commencing at 7 pm.
Worlds Best Motor Bike Triallers 25th - 27th June At Fort William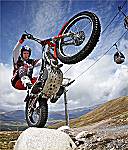 THE FORT AWAITS ITS BIGGEST BATTLE YET
The SPEA FIM Trial World Championship, Nevis Range Fort William
Next weekend Sixty of the World's best motorbike trials riders from fifteen countries around the globe will descend upon the Nevis Range for the UK leg of the SPEA FIM Trial World Championship - the biggest, the most important and the best motorcycle trial competition series on the international calendar. Not since 1992 has Scotland hosted an FIM World Trial and everything is now in place for two days of awesome and hotly contested competition for valuable points towards the 2010 World Pro (male only at Fort William), World Junior (male and female) and World Youth (male and female) titles.
For more information and to buy tickets go to: http://ukworldtrial.com
Sandside House Gardens Open Days






Sandside House Gardens will be open to the public on 1st and 8th august 2.00 - 5.00pm
100% goes to Crossroads and SSPCA (Balmore). Have a nice afternoon looking around the gardens and have cup of tea and a cake.
More Sandside House When you are out at the gardens take a look at the Dovecot
20 June 2010
Halkirk Gala 2010
Remember to click on View Full Size Here underneath each photo for the larger version
Halkirk Gala Children's Fancy Dress
97 - 108 109 - 120 121 - 124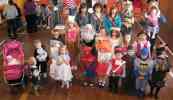 Halkirk Gala 2010 - Start HERE For all Photos
61 - 72 73 - 84 85 - 96




Halkirk Gala Earlier Years
2009 2008 2007 2006 2005 2004 2003 2002
Halkirk Gala Children's Fancy Dress Earlier Years
2009 2008 2007 2001
For All other Towns Galas earlier years go HERE and scroll down the left column.
18 June 2010
Aung San Suu Kyi's supporters mark her 65th birthday - Imprisoned By Generals Since 1991
The Friday Documentary About Aung San Suu Kyi on BBC IPlayer Radio 4
We don't feature too many world news items but this is worth listening to if you do not already know about the Burma situation. For much more see Burma Campaign
Paul Cannop Gets Ready For Clic Sargent Zip Slide Over Wick River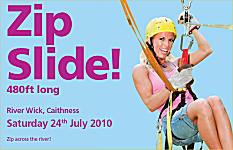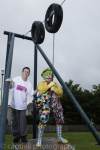 Thurso man Paul Cannop is preparing for the big Zip Slide Challenge to raise funds for the cancer charity Clic Sargent. Anyone can join in and all you need to do is raise some sponsorship - check the poster for details. Paul was getting shown the ropes from Dennis Miller who went over last year dressed as a clown but you can go over any way you like. Paul has done well so far as you can see from his Just Giving Fund Raising page where you can add a little more to increase his total for the charity.
To sponsor Paul and aid Clic Sargent Cancer Charity head over to the Just Giving page
Are you doing the Zip Slide and want to add your fund raising page to the Sponsorship section. Just email the details to bill@caithness.org
So Much To Do In Caithness - Spoilt For Choice On Saturday 19th June
Canisbay Show - Stalls, Pet Lamb Racing, BBQ, Hog Roast, Karate, Competitions, Crafts, Flowers, Horses
Wick Lifeboat Day - Model Boats, Sea Cadets, Coastguards, Search Dogs, Pipe Band, Police, Stalls
Halkirk Gala - 10.00am Coffee Morning, 11.00am Children's Fancy Dress, 6.30pm Crowning and Pipe Band
Banger Derby At Clyth On Sunday 20th June
The Third annual Sannie O'Brien Memorial Car Banger Derby gets underway this Sunday 20th June at the specially prepared 400metre track at "Hill O Many Stanes " Clyth, just north of Lybster village. This years event has attracted a record 52 Bangers from all over the north. Defending Champion is Alan O'Brien, Ulbster who has won the Race for the past two years. The afternoon will consist of three races with three heats in each, three Ladies races, an over 40's race ,an all in Heat winners race for ladies and Gents and the Grand Finale winner takes all ten lap epic. Racing commentator is Willie Mackay Watten who along with his wife Glynis has amassed pages of information on all the drivers and the cars to keep the expected large gathering of spectators informed throughout the afternoon. The competition gets under starters orders at 12noon.
Earlier Banger Derby in Caithness 2001 2002 2005 2006 2007
Films Of The Banger Derby in Caithness 2006 2007
15 June 2010
Extravagansey At Helmsdale - Saturday 19th and Sunday 20th June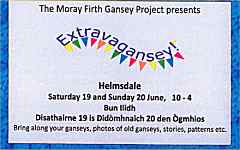 Helmsdale - Saturday 19 & Sunday 20 June, 10am — 4pm
The Moray Firth Partnership Gansey Project invites you to a week-end Extravangansey of free activities for all the family. Featuring Norman Kennedy, internationally-known Scots and Gaelic singer, master craftsman and textile historian.
Local woman on another challenge!
Local woman Isobel Mackay from Halkirk is facing another climbing challenge! Having completed the Inca Trail in 2007 and successfully raising money for Diabetes UK, she is now climbing Mount Snowdon on Saturday 19th June. Majestic Mount Snowdon dominates the glorious ancient landscape of North Wales. At 3,560ft (1,085m) it is a true mountain. Her route to the Summit will be by The Llanberis Path up and down – 10 miles (14.5km) return.
Click to sponsor Isobel at http://www.justgiving.com/Isobel-Mackay
13 June 2010
Bill's Email Problems - If Important Send Again
Here at the web site Bill receive between 200 and 300 emails a day. Inevitably there is a queue but unfortunately today over 2000 were deleted by a malfunction. If you have recently or indeed in the past 12 months sent something you want to see on the web site then please resend it. Although it sometimes takes a while photos etc were still being used from way back so try again. Apologies to all whose email has been lost.
Two MSP's See Penyland Scottish Parliament Project


Politics isn't fashionable. Or so the media told us during the last election. If that's the case, then Pennyland Primary School is already working to do something about it. Until the end of June, Caithness Horizons café is showing an exhibition of work by pupils from P6 and P7 at Pennyland, which has used the Scottish Parliament building in Edinburgh as its inspiration. Also included in the exhibition are designs by other pupils, including the nursery, for a Children's Parliament for Scotland. This week, teacher Norma Mill took pupils took pupils down to Caithness Horizons see the exhibition, and to present their work to MSP's Rob Gibson and Jamie Stone. Earlier in the day the MSP's had been involved with the pupils in a debate at the school, over issues the children feel currently affect Thurso. Ms Mills was full of praise for her pupils, who worked with local artist Liz O'Donnell to produce their colourful artwork. 'The MSPs were delighted with what they saw and most impressed by the children's work. We will have the remainder of the work on display in the school on Open Night.'
The exhibition can be seen in Caithness Horizons Café until Sunday 27th June


Wick High 1982 Reunion Latest
23rd July 2010 - Not Long to Go Now
UPDATE---Things are going full swing for the reunion with people coming over from as far afield as Shanghai!........
PHOTOS---If anyone has any photographs from the high school days or from the 80s (the dodgier the better!) .............
DECOR!---We're able to decorate the club from 11am the morning of the reunion, any volunteers will be hugely welcome..........
Bushcraft Skills - Seadrift Visitor centre, Dunnet
Saturday 19th June 10.30am
Try your hand at survival skills like fire starting, bush tucker and lamp making. All materials provided. Booking recommended - Adults £3, kids £2
Neil MacLeod 01847 821531 Neil.Macleod3@highland.gov.uk
This event is organised by Highland Council Ranger Service