30 May 2010
Paul Cannop To Raise Funds for Cancer charity In Zip Slide Challenge
Paul says -"On the 24th July I'm going to tackle the 480 foot adrenalin-fuelled zip slide across the River Wick in Caithness to raise money for the children's cancer charity CLIC Sargent. I have never done anything like this before and I'm very worried and very excited about it! Please sponsor me so that I can raise a lot of money for the charity and help families who have children with cancer."
To sponsor Paul and aid Clic Sargent Cancer Charity head over to the Just Giving page
Latheron Art Show Opened By Jamie Stone MSP - Show Runs Until Thursday 3 June


The second Art Show got underway on Friday 29th May 2010 when it was opened by local MSP Jamie Stone. The second Latheron Art show has been well supported by a large number of artists entering their work. Some well known names are represented with Ian Scott notably entering several works. The Latheron Art Show runs From Friday 28th May until Thursday 3rd June 2010 at the Latheron Hall and is open 2.00 - 4.00pm and 7.00pm untill 9.00pm - Mon - Thur. Admission is free.
Court News Added To Police Pages
News From Wick Sheriff Court Is Now Being Added To the Police Pages
Community service for underage sex offender - Reporter Noel Donaldson
A young man, who had sex with an underage girl, has escaped a prison sentence.
Assault alleged - Reporter Noel Donaldson
A WOMAN made a private appearance at Wick Sheriff Court on Friday, (May 28) charged with assault.
I was blinded in street incident claims Wick teenager - Reporter Noel Donaldson
A WICK teenager claimed that she was temporarily blinded after she was attacked in a late-night incident in the town and sprayed with a canister.
Policeman Faces Trial - Reporter Noel Donaldson
THE case of a Caithness policeman, accused of mal-practice in the way he processed two criminal charges, may not now go to trial.
Took Car Without Owner's Consent - Reporter Noel Donaldson
KNIFE ASSAULT DENIED - Reporter Noel Donaldson
A THURSO woman is to stand trial on a knife assault charge.
WHERE THE BONES OF THE EARTH SHOW THROUGH


Art Exhibition By Patricia Niemann
At North Lands Creative Glass Gallery, Lybster
31st May - 18th June 2010
Patricia Nieman Describes Her Exhibition
I was originally trained over 20 years ago in Germany as a goldsmith through a classic trade apprenticeship and later through a degree course in gemstone and jewellery design. My workshop and showroom are set in Latheron. Normally, my main work is the making of one-off pieces of fine jewellery in gold, platinum, silver and gemstones.......................
Gala/Show Dates In Caithness - See Whats On For Individual Events
Lybster Gala - If anyone can confirm the date for this event email to bill@caithness.org
Halkirk Gala - 11th - 19th June
Halkirk Highland Games - 31st July
Wick Gala - 24th July - 1st August
Thurso Gala - 7th - 15th August
Bower Show - 21st August
Caithness County Show - 16th & 17th July
23 May 2010
HMIe Inspection Of Reay Primary School


As part of the inspectorate's ongoing strategy for evaluating the educational provision of local authorities, a report is issued today on the inspection by HMIe of the quality of education at Reay Primary School. The report is based on an inspection visit which was carried out in March 2010. Councillor Bill Fernie, Chairman of The Highland Council's Education, Culture and Sport Committee said: "This is an extremely good inspection report for Reay Primary; strengths are noted from all areas of the school as well as the strong links with the community. It was pleasing that the inspectorate noted how well the Head Teacher, staff, parents and pupils all work together and want to do their very best, congratulations to all involved."
Issued By Highland Council
TEMPORARY CLOSURE OF SEATER LANDFILL SITE DUE TO ESSENTIAL REPAIRS
SATURDAY 29TH MAY 2010
PLEASE NOTE THAT ESSENTIAL REPAIRS WILL BE CARRIED OUT ON THE ACCESS ROAD / WEIGHBRIDGE INTO THE ABOVE FACILITY DURING SATURDAY 29TH MAY '10.
THE SITE WILL BE CLOSED FROM 4.00PM ON THE FRIDAY AFTERNOON (28th) and WILL RE-OPEN AT 8.00AM ON MONDAY (31st)
HOUSEHOLDERS CAN TAKE THEIR WASTE AND RECYCLATE TO THE RECYCLING CENTRES AT THURSO AND WICK WHICH WILL BE OPEN FROM 9.00AM TO 6.OOMP ON SATURDAY AND 11AM TO 5.00PM ON SUNDAY
WE APOLOGISE FOR ANY INCONVENIENCE CAUSED. IF YOU HAVE ANY QUERIES PLEASE CONTACT 01955 641284
22 May 2010
More Photos From Mey 10k Run By Noel Donaldson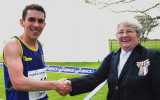 Puffin Walk


Drum Hollistan to Sandside - Thurs 27th May 12 - 2.30 pm A Highland Ranger Walk
Watch the puffins gathered at their burrows then walk along the coast to Sandside harbour. Lots of wildlife and plants to see on the way. Drivers returned to start. Meet car park on Caithness/Sutherland boundary NC 921 645 - Wear warm clothing and boots. Adults £3, children £2
Neil.Macleod3@highland.gov.uk 01847 821531 Seadrift Visitor Centre, Dunnet
Visit Badryrie Village - Le pays perdu - A Highland Ranger Event


Sunday 30th of May, 10.30 am
Visit the forgotten village of Badryrie and see how people used to live here. Learn about wildlife and ancient monuments along the way. Bring lunch. Meet at Loch Stemster road end at 10.30 am. (ND 186 422)
Fairly rough walk over open moorland/boggy ground, so wear appropriate footwear and clothing. Contact Dieter: 01955 607758
dieter.tuerlinckx@highland.gov.uk Adults £3, kids £2
Caithness Music Festival On Song!
Reporter - Noel Donaldson
CAITHNESS Music Festival celebrates its 56th birthday next month and is very much on song.
There are 242 classes reflecting a wide range of vocal solos, verse speaking, choirs and instrumental performances in the festival, which opens on June 7 and runs for five days. It has attracted entries from as far afield as Skye.
Veteran festival convener, Trevor Williams, is "delighted" with the entries response which showed an increase on last year's total and he was particularly pleased to announce a new class, Play for Pleasure. However, it could prove a tall order for Benjamin Denley-Spencer from Wick, who is more than a little outnumbered in what has proved to be an inter-town affair...all the other thirteen competitors are drawn from Thurso schools.
The Four Most Northerly Mainland Golf Courses Are Not To Be Missed


Caithness boasts four gold courses - three 18 holes and one 9 holes. If you are a golfer then you could do no better than head to the far north for pleasant week and try all four over a few days.
Check them out -
Lybster Golf Club Reay Golf Club Thurso Golf Club Wick Golf Club
Caithness clubs are very welcoming to visitors so throw those clubs in the boot and head north for a few days of far north golfing.
17 May 2010
Vandalism Down In The North As Police Targeting Bites
Northern Constabulary's North Division achieved significant increases in detection rates for vandalism over the past 12 months. Vandalism is frequently raised as a concern for communities. Whilst vandalisms, together with fire-raising, fell by 12% across the whole Force area, Caithness, Sutherland and East Ross saw a slight increase in this crime. However, successful efforts in targeting this crime resulted in nearly doubling detection rates.
Mey 10k Run - New Record Time By Halkirk Man



Report and Photos - Noel Donaldson
A field of more than 300 competed in the fledgling North Highland Harriers 10k run on Sunday 16 May 2010 and it was Halkirk man Andrew Douglas who was first over the finishing line. Andrew 23 who lives in Edinburgh and works there as a trainee fund accountant, set up a new record in his debut appearance with a finishing time of 31 minutes, 51 seconds clipping three minutes, 38 seconds off last year's best time. The run took entrants in a circuit from the Castle of Mey, along the north coast and inland onto the main John O' Groats-Thurso road before returning to the castle. Weather was ideal for the event which was flagged off by Miss Anne Dunnett, Lord Lieutenant of Caithness.
Blind Persons' Companion Reduced Travel Costs - New From Highland Council And Scotrail
The Highland Council and ScotRail have announced that from Sunday 23 May a scheme will commence allowing reduced cost rail travel for companions accompanying a blind person who has a Scotland Blind Persons Travel Card. The scheme will cover all internal rail journeys for companions within the Highland Council area and to and from Aberdeen, Edinburgh or Glasgow for a single fare of £0.50p or a return fare of £1.00. Tickets can be purchased at ScotRail staffed stations or, if boarding at an unstaffed station, on train.
16 May 2010
Wick gala embezzler warned - Pay up or it's jail
Reporter - Noel Donaldson
A WOMAN who swindled a town improvements charity out of thousands of pounds while acting as its treasurer was given an ultimatum by a sheriff in Wick on Friday 14th May 2010. Sheriff Ian Cameron warned Karen Spruce at Wick Sheriff Court that she must raise a further repayment of £5000 or face jail.
Consumers warned to be on their guard for doorstep callers in the Highlands
Highland Council Trading Standard Service is calling on consumers, to be on their guard against rogue itinerant traders calling door to door. Vulnerable consumers such as the elderly appear to be targeted by gangs offering to carry out work on home repairs and maintenance. Householders may feel that they are getting a bargain but reports suggest that some of the work carried out has been shoddy and overpriced.
Some doorstep callers are also using bogus names and addresses and in some cases claiming to be based in the Highland area, when they are not.
Council budget blog launched
A budget blog opened on Monday 10th May 2010 on The Highland Council's web site: www.highland.gov.uk, giving the public the chance to have their say on options for achieving major savings over the next three years. The blog, fronted by the Council's Budget Leader Councillor David Alston, is an important part of the Council's budget consultation which will run until the end of June. The blog begins with discussion topics on education and will continue with new topics every 10 days. The Council aims to make decisions on the budget savings in the autumn of this year.
9 May 2010
Creative Scotland CEO announces £500k boost for Highland arts programme
Andrew Dixon, Chief Executive Designate of Creative Scotland, has today announced that music, dance, literature and drama are among six creative disciplines to benefit from £500,000 funding this year for their development in the Highlands. Crafts and visual arts are also in line for a share of the support recommended by the Highland Cultural Strategic Board.
Dirlot Castle (a knight's tale) - Sunday 16th of May 10.30 am - A Highland Ranger Walk
Come explore Dirlot castle and the beautiful area it is located in. Meet at forestry car park (500 m past quarry) at 10.30 am Bring lunch ND 119 491
Adults £3 Kids £2 Contact Dieter: 01955 607758
7 May 2010
Election Result For Caithness, Sutherland and Easter Ross
John Thurso - Scottish Liberal Democrat Party - 11907
John Mackay - Scottish Labour Party - 7081
Jean Urquhart - Scottish National Party - 5516
Alastair Graham - Scottish Conservative and Unionist Party - 3744
Gordon Campbell - Independent - 520
Voter Turnout 61%
The count took place in Assembly Rooms, Wick
3 May 2010
Run Walk Jog To Help the Fight Against Breast Cancer
Saturday 10th July 2010 Starting At Lochmore
Tammy Connor is organising this fund-raising day in aid of Breast Cancer Awareness. It is a 13 mile wallk. There will be light refreshments, balloons, treasure hunt for kids with prizes. There are t-shirts available for £3 with all money going to Cancer Research UK. All entrants receive a certificate. To get a map of the route and for more information email tammy@tconner.wanadoo.co.uk tel 07889 072823
1 May 2010
Election 2010 In Highland
All the information is available on the Highland council web site
Have you sent your postal vote off yet? Remember to vote next Thursday if you are not using a postal or proxy vote.
The candidates for Caithness, Sutherland and Easter Ross Constituency are
Gordon Campbell - Independent (We could not find a web page for this candidate) See 2007 Election
Alastair Graham - Scottish Conservative and Unionist
John Mackay - Scottish Labour
John Thurso - Scottish Liberal Democrats
Jean Urquhart - Scottish National Party
Events For Your Diary
The Jacks Latheron Art Show Disability Pursuits