Latest
3 June 08
SNH To Open New Visitor Facilities At Fossil Quarry
Achanarras Quarry - (near Halkirk)
13 June 2008
10.30 am to 12.30 pm
opening of new visitor facilities
&
exciting New Fossil Finds at Achanarras
2.00 to 3.30 pm - Fossil Hunt
an afternoon with experts on hand to help you to try to find a fossil !
5.00 pm
Environmental Research Institute
Thurso
"The world-famous fossil fish of Achanarras Quarry"
A public talk about fossil fish and the new finds at Achanarras by Professor Nigel Trewin, Aberdeen University
For more details about these events, to which members of the public are warmly invited, please contact Jenny Grant or David Shaw at
SNH Golspie, Tel: 01408 633602, Email: North.Highland@SNH.gov.uk


pterichthyodes


Cheirolepis
19 May 08
The World-famous Fossil Fish Fauna of Achanarras Quarry, Caithness.
Lecture By Nigel H Trewin - University of Aberdeen
At ERI, Thurso - Friday 13th June
Achanarras Quarry in Caithness is World-famous for the exceptionally well preserved fossil fish that are found there. The fish lived in an ancient lake in the Devonian Period of geological time about 380 million years ago. With 15 different genera discovered this is possibly the most diverse and the best-preserved fauna of this age from anywhere in the World. The fish bed at Achanarras was deposited over a period of about 4,000 years in a seasonal sub tropical climate when Scotland lay about 25 degrees south of the equator The fish range from small shoal fish up to the top predator Glyptolepis that was nearly a metre long. The fish died when adverse environmental conditions in the lake caused mass mortalities of fish. Some of the dead fish carcasses sank into the deep lake where they were preserved in lake-floor muds. With burial over millions of years the muds were converted to flagstones, and eventually uplifted to the surface where they have been revealed by erosion.
The lecture will be illustrated with fossil fish and reconstructions of how they looked in life, together with interpretations of the Devonian environment in Caithness.
5 June 07
Environment Minister Launches World's First Fossil Code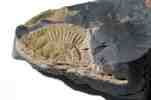 Scotland is pioneering a new approach to safeguarding the planet's ancient fossil legacy with the launch of the world's first national Fossil Code. The draft Scottish Fossil Code is launched for public consultation today in Edinburgh beneath Arthur's Seat - the famous extinct volcano and unlikely location for fossil finds - by Minister for Environment Michael Russell MSP.


Michael Russell MSP
The draft Fossil Code has been developed by Scottish Natural Heritage (SNH) in response to irresponsible collecting by collectors using crowbars, sledgehammers and powered rock saws which has damaged internationally important fossil locations across Scotland. Some fossils are known to be illegally traded on the international market and special sites in Skye, Caithness, Ayrshire and Lesmahagow in south Lanarkshire, are all under threat from irresponsible collecting.
Minister for the Environment Michael Russel said: "The fossil heritage of Scotland is incredibly important to Scotland's people as a scientific, educational and recreational resource. At this, the beginning of the public consultation on the draft Scottish Fossil code, we are calling for all those who recognise its remarkable and irreplaceable value to take part and have their say in how fossils should be collected and cared for. It is especially good to see young people here today learning about Scotland's fabulous fossil heritage in the very heart of the capital city beside two of our most celebrated modern sites."
SNH Chairman Andrew Thin said: "Small-scale fossil collecting is a popular hobby and amateur collectors often uncover rare and very important finds which can add to our wider understanding and body of knowledge. It is vital for the development of geological science that young people especially are encouraged to take an interest in our world-class fossil heritage and that responsible collecting, as outlined in the draft Code, continues. "
SNH produced the draft Code with assistance from fossil collectors, landowners, palaeontological researchers, Scotland's museums and others with an interest in Scotland's fossil heritage. The aim of the Scottish Fossil Code is to establish a nationally agreed framework of advice on best practice in the collection, identification, conservation and storage of fossil specimens. It also sets out guidelines on how to collect and look after fossils in a responsible way without damaging them or the areas where they are found.
Dr Colin Galbraith, SNH Director of Policy & Advice said: "Scotland boasts some of the rarest and most scientifically important fossils in the world, from some of the earliest land plants and fossil fish to early mammal and dinosaur remains. However, in some areas of the country, the fossil heritage is threatened by irresponsible collecting that causes tremendous damage and threatens to annihilate vulnerable sites and the fossils they contain. The Scottish Fossil Code will inform the public about Scotland's fascinating fossil heritage and the importance and fun of fossil collecting, but crucially it will also encourage the responsible collecting and care of fossils."
The launch took place alongside an educational 'Fossils in the City' event at Our Dynamic Earth for P4 and 5 pupils from Abbeyhill Primary School in Edinburgh. 'Fossils in the City' demonstrates that Scotland's fossils are to be found everywhere - from the heights of Arthur's Seat to the paving stones of Edinburgh's streets. It is a little known fact that although Arthur's Seat was a volcano, fossils of plants can be found in the volcanic ashes that once covered the slopes of this once volcanic island.
Mrs Irene Brennan, Head Teacher of Abbeyhill Primary School said: "Fossils have a fascinating and inspiring role to play in children's education. This has been reflected in the discoveries our pupils have made today here in the heart of Edinburgh and their excitement at seeing real Scottish fossil plants and animals. Their enthusiasm shows how much young people can learn from and be inspired by Scotland's fossil heritage. The launch of the Fossil Code today also highlights the importance of adding to that heritage by collecting more fossils responsibly."
Electronic copies may be downloaded from www.snh.org.uk/fossilcode
Obituary For Jack Saxon - Caithness Field Club 2006
29 September 05
Scottish Natural Heritage (SNH) Head For A Scottish Fossil Code
Scottish Natural Heritage (SNH) will launch new Scottish Fossil Code discussions today on the Scottish Fossil Code, which will provide guidelines on how to collect fossils in a responsible way without damaging them or the areas where they are found. The launch is part of Scottish Geology Festival and will be held at Petershill Wildlife Reserve near Bathgate, an example of a site which has experienced considerable damage from irresponsible fossil collectors using crowbars and sledgehammers. Small-scale fossil collecting is a popular hobby and amateur collectors quite often uncover rare and very important finds. But Bathgate is one of a number of important geological areas in the country, including Skye, Caithness, Ayrshire and Lesmahagow in South Lanarkshire,
August 05
Jack Saxon Dies
Sadly Jack Saxon one the foremost amateur fossil experts has died. Jack Saxon had a lifelong interest in geology and fossils. He discovered a number of previously unrecorded specimens and even had one named after him. A well-known person in the fossil world he also wrote many articles and books. He wrote many articles and quite few have appeared in the Caithness Field Club Bulletins that are now being republished on Caithness.org He put Caithness fossils on the map.
29 May 04
A New Fossil Fish (by Jack Saxon)
Cornovichthys blaauweni
13 February 03
A new section has been set up for Caithness Fossil Group
See Also
Fossil Links