29 December 07
Max And Sophie In Caithness For A Wee Holiday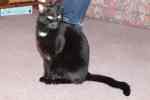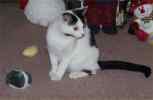 Max has been to Caithness several times to stay at the home of Caithness.org. His previous companion Harley died a while back to be replaced by another stray rescued cat the kitten Sophie who is now thriving. This is her first trip to Caithness but will no doubt be back with Max in years to come.
26 May 07
George's Saga taken over by our Pet's Corner
Many other cats and other pets are now heading there and you can send your Caithness pets photos to bill@caithness.org for inclusion. We may add the odd photo of Barney from next door who also featured in a few items. - Bill
Max & Harley's Wick Vacation
Two Stray Cats Made Good




Max Harley
Max and Harley both came from a rescue home near Glasgow and were adopted by Elaine Fernie and live with her in Balloch, Cumbernauld. They have visited the web site in Wick before. They are fast becoming accomplished travellers and settled down incredibly quickly this time round. Max the black cat (male) is only 18 months old and full of...........er mischief. Harley (female) is a much older cat and was two years in the cat home and extremely timid when Elaine took her. Harley treats Max like a naughty son and licks his face from time to time.
Would Like To Give A Home To A Cat?
Hop through this page for the Caithness Cat Protection group for news on cats looking for a home or to help with the group.
Barney
Barney the cat from next door has been over for auditions for a new section. A regular visitor to the web site he comes round to say hello most days. He usually hangs around for while and then heads off to see who else is around in the next house.
George Died 15 March 2004


We are sad to announce that George our cat has died. George had been ill for quite some time - in fact since May 2003. Medication in the form of tablets and injections had helped her lead a reasonable life with fortnightly visits to the vet to check her out.
George had become an even greater attachment to Bill as he worked on the web site and George sat for many hours on a chair nearby as the web site was loaded day after day for the last four years. She was always on hand to tell if it was time for a snack, toilet and scolded Bill regularly for not going to bed literally making enough noise to say it was time to stop typing call it a day - a wise cat.
After the evening meal George always made a beeline for Bill's chair in the living room and insisted on him sitting beside her for some time even if it meant she had most of the chair.
George was around 18 years old and we had played around a lot in the years since she came to live in Wick from Edinburgh. With all her own ways like most cats and always showing her own preferences in food and places to sleep. She was a great companion and will be missed.
George Winds Down For Christmas


George Relaxes In The Hot Summer of 2003
George - A Stroll In August 2002
October - Sleeping Arrangements For Winter
September - Takin It Easy Days
August Days 2000
Out and About 2000
George In July 2000
Barney - Trouble From Next Door