"George" - The Saga
An Aquaintance - "Chivers"
George Index

Chivers mum always told him that to get on in life fitness was important. Somehow Chivers always manages to find the kit and even the bag to carry it in but in the end it seems all that searching for trainers, rackets, balls, shuttlecocks and other paraphanal1ia just tires him out. So at least the sports bag comes in handy - its dry, warm and draft free and it's environmentally friendly recycling of the best kind......... How many of you curl up rather than finding those trainers?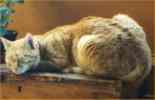 Chivers lives in Edinburgh now but he was born in Bristol. He coped with the change very well although complained about the cold weather at first. He has become a favourite with most of the neighbours - who tend to feed him extra tit-bits. NAUGHTY . He shares many a fireside on cold winter afternoons and keeps a few old Edinburgh ladies quite happy. But he's there in his own house every evening - you can likely hear him purring up in Caithness.