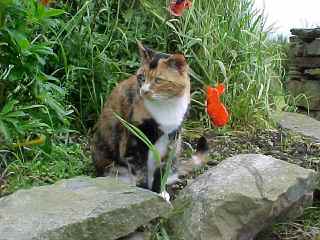 "Can't go too far today - I need to rest up"
I can honestly say that if Bill is going to rattle those keys then the best thing I can do is to snooze nearby just in case he needs me to get by those tricky situations. Usually I can deal with most of his problems by relating what I would do in similar situations.
Bill takes to his bed quite late and I try to lead by example. I get my 16 - 18 hours a day no problem and am always in tip top condition and ready to go whenever he takes a walk or moves over to the kitchen for a snack.
Having looked at the efforts to keep the birds off the strawberries I have to say that if they had let me wipe out those blackbirds a few years ago there would be no need for netting now.
Barney does his best but he does not have my camouflage. With all that white and diving in like a raging bull he only ever gets the odd one. But since I get in trouble I rarely go for it now. I like to keep my reactions in shape and keeping the folk in the house amused by tapping at their sticks and balls seems to easily amuse them.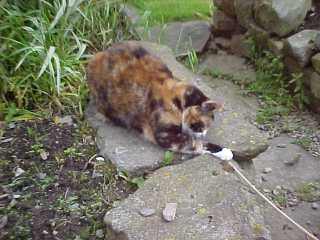 "I can catch any little thing that passes"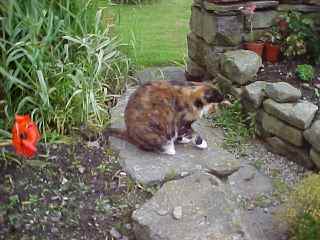 "If I wait here long enough something will pass by"
Once in a while there will be some problem that Bill needs fixing and I can sit there and offer the odd miaow. I know it works for lots of things as by modulating it I have trained Bill to open a can. Often takes a couple of goes before he realises I want the packet of biscuits and not the can but then he has a lot to learn. I have to give him a really lingering one when I want the door to the toileting facilities open.
I can see that if he is busy a quick word from me usually fixes the problems on that old keyboard