Dounreay News Index
Latest News On The Dounreay Web Site

Latest News Nuclear Decommissioning Authority
More Dounreay Items In Caithness Business Index
19 February 09
Hi-tech "Worm" Probes Subterranean Pipeline


A hi-tech "worm" is probing a subterranean pipeline used to discharge radioactive effluent from Dounreay between 1957 and 1992. The £100,000 pipe crawler has sent back video and radiation readings during its five-day journey some 45 metres underground. The data will be analysed by a project team investigating how to leave the disused system in a safe condition as part of the site clean-up. A bundle of four cast iron pipes, each 23cm in diameter, was laid in the 1950s to discharge effluent from the fast reactor experiment.
Dounreay News - 16 October 08
Cementation Plant Up And Running Again


Dounreay's cementation plant went back to work this year, following an extensive remediation programme. The plant receives highly radioactive raffinate (a liquid by-product of fuel reprocessing), and conditions it chemically, before immobilising it in drums of cement, making it passively safe for long-term storage. The whole procedure is carried out remotely inside heavily shielded cells. The plant had been shut down in September 2005 following a spillage of raffinate and cement powder in the cell. There was no release of radioactive material to the environment.
DSRL Announces A Change To The Senior Management
Michael Dunnett is to succeed Jerry Abbot as Head of Human Resources.
Countdown To Demolition For The Plutonium Criticality Laboratory
The last ventilation fan has been turned off for the final time in what was once Dounreay's dirtiest building.
Filter Idea A Crushing Success
Clever ideas are helping to improve ways of removing radioactive waste from some of Dounreay's dirtiest plants.
Largest Lab Comes Apart
Over a quarter of the laboratories in Dounreay's Fuel Cycle Area, which provided support to the whole of the site, have now been taken apart.
26 January 08
Dounreay Heritage To Be Preserved

He might not think so today, but future generations could regard James Gunn as the most important person ever to work at Dounreay. For the former chemist and project manager has taken up a new part-time role as the site's first heritage officer. His role is to preserve aspects of the site that will give future generations a glimpse of life at Dounreay when the site itself has long gone. Later this month, James will commission consultants to draw up the site's first heritage strategy. An important and headline-grabbing part of the strategy will be about whether to scrap the contaminated DFR sphere as part of the site clean-up and demolition. But James says there is a lot more to the site's heritage than just a giant steel ball.
24 May 07
Dounreay Not Listed As Possible Site For New Nuclear Power Station
Siting New Nuclear Power Stations - Availability and Options for Government' by Jackson Consulting
The UK Government has set out, as part of its May 2007 consultation on nuclear energy, a proposed process for a Strategic Siting Assessment (SSA) of potential locations for new nuclear power stations. This would be carried out only if the Government concludes following this consultation that nuclear should continue to be part of our energy mix. The report says that Dounreay is not an existing site of a power station and is not considered to be a potential site for new power station and that there are significant savings to be made if existing sites are used. Also building plants near to the point of use show big savings in transmission losses that private companies would want to reduce overheads. An article in New Scientist - "UK backs new generation of nuclear reactors" summarises the latest thinking as set out in the paper linked above. It would appear that Caithness cannot look to see a power station to replace any of the jobs currently due to disappear due to the decommissioning of the Dounreay site and other solutions will be required.
Energy White Paper DTI UKAEA NDA
Take part in consultation on the Future of Nuclear Power
Caithness Socio Economic Strategy Group
Dounreay Stakeholder Group
17 April 07
SUSPECTED RADIOACTIVE PARTICLE DETECTED AT MURKLE
A suspected radioactive particle was detected during monitoring of Murkle beach on Monday 16 April 2007. It was removed and taken to Dounreay for laboratory analysis. The Scottish Environment Protection Agency and other interested parties have been informed. In 2005, a single particle was detected during the monitoring of Dunnet Beach, which had been recommended by the Dounreay Particles Advisory Group. As a result, UKAEA undertook additional surveys of the nearby beaches at Murkle and Peedie in 2006, along with Dunnet again. No particles were detected. The Third Report by the Dounreay Particles Advisory Group, published in November 2006, recommended that the three Dunnet Bay beaches should be monitored annually and this is now underway.
22 February 07
New Director to Drive Forward Dounreay Clean-up


Simon Middlemas has been appointed as the new Director of the nuclear decommissioning site at Dounreay in succession to Norman Harrison. Simon has been Acting Director since August 2006 and prior to that he was Deputy Director. He joined Dounreay in 2004 as New Build Project Sponsor. Welcoming the appointment, Norman Harrison , UKAEA's new Chief Executive, said: "I am personally very pleased that Simon has been chosen as my successor. He has an exceptional grasp of every aspect of decommissioning at Dounreay and is totally committed to the site's success. He has already made a major contribution to Dounreay's new focus on project delivery and the recent site restructuring programme to prepare the site for competition. I am sure his appointment will be widely welcomed by the workforce and the community of Caithness."
26 January 07
Isolation Of Dounreay's Shaft Commences

Dounreay has started drilling up to 400 boreholes around the site's waste shaft in the biggest step so far towards its eventual clean-out.
Grout will be injected through the boreholes to seal fissures in the rock around the 65 metre deep shaft and so create a giant containment barrier in the shape of a boot around the shaft that will isolate the radioactive waste from groundwater. The project - the first of its kind in the world - will prevent large volumes of groundwater flowing into the shaft during waste retrieval and becoming contaminated. It will also reduce the risk of leakage from the shaft in the interim. Recent Photos From Dounreay
More About The Shaft UKAEA On Caithness.org
UKAEA In Caithness Business section UKAEA Dounreay Web Site Video Presentation On The Shaft
Dounreay News 2006 Archive
Dounreay News 2005 Archive
Dounreay News 2004 Archive
Dounreay News 2003 Archive
Dounreay News 2002 Archive
UKAEA History - The First Fifty Years
The Dounreay Project

This black and white film, produced in 1959, shows the construction of Dounreay and its effects on the surrounding community.
Historic Footage Of The Construction Of Dounreay
In a tiny rural hamlet in Caithness over fifty years ago, work began on the construction of Britain's first nuclear fast reactor. This historic event was filmed and was released in November 2009 for the fiftieth anniversary of the Dounreay Fast Reactor going critical.



19 February 07
Special Report On Nuclear Industry - Guardian
Dounreay.com
Dounreay Stakeholder Group - New Web Site
UKAEA
Dounreay Visitor Centre is closed.
Caithness Horizons opened in December 2008 and holds a Dounreay Exhibition
Dounreay - Community And Economy
Dounreay - Socio Economic Development Plan 2005 - 06 Particle Finds In Caithness
Particles Section At UKAEA Web Site
Particles In Marine Environment Public Participation
Consultation On Dounreay Particles
Dounreay Site Restoration Plan Public Participation
Dounreay Publications
Dounreay Contractor Information
The Shaft
Nuclear Industry Links
UKAEA History - The First Fifty Years
UKAEA History - Fast Breeder
Site Spend At Dounreay
Location Map and Getting There
Visiting - Site Requirements Access, deliveries,etc.
Jobs At Dounreay
Caithness Horizons - New Visitor Centre Plans
Civil Nuclear Constabulary Redesignated from 1 April 2005
Nuclear Decommissioning Authority
Took over responsibility for all nuclear sites being decommissioned on 1 April 2005.
Glassblowing At Dounreay, Caithness


Although, sadly, no longer in existence, many will be familiar with the setting up of the Caithness Glass Company in 1961, less will be aware that glassworking existed in the county several years beforehand. In September 1956 Caithness saw the arrival of the first glassblower at UKAEA Dounreay.
11 August 05
NDA's Draft Strategy
More About Dounreay
Site Summary (file size 989kb)
Category Summaries
New Construction (file size 886kb)
Decommissioning & Termination (file size 1.6mb)
Waste and Nuclear Materials Management (file size 599kb)
Site Support (file size 1.2mb)
Support Services (file size 1.5mb)
Stakeholder Support (file size 1.9mb)
Revenue Income (file size 1.3mb)
Near Term Work Plan - all UKAEA Sites
Site At Completion Of Decommissioning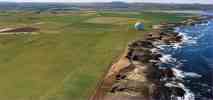 This is just one possible scenario. Other photos have been produced showing waste storage buildings.
Nuclear Industry News and Links
Dounreay Past Present And Future


The importance of Dounreay to the county - its people and economy is now extremely important. But it is the prospects of the work on decommissioning that holds the key to the future prosperity of not just Caithness but the wider area of the north of Scotland and beyond. The increasing magnitude of the undertaking is beginning to be realised by the whole country as very large contracts are being awarded. To reflect the importance to the area Caithness.org has been granted access to some historical photographs from the UKAEA archives for publication in a new section. The historical pictures have been set up in a gallery of their own and others will be added if they become available.
Dounreay Fire & Ambulance Service