28 September 04
Police, Council And Community Coming Together In Pulteneytown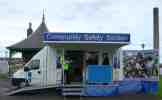 Pulteneytown is the focus this week of a high profile campaign by the Council Housing Department, the police and people in the area to combat vandalism and crime. It is part of an ongoing process by agencies to work with the public in the area to tackle problems. As part of the operation police and housing officials were available in the community safety mobile unit. The can mark mobile phones and offer information on making your home safer. The operation made it to the TV today - Watch online
Higher levels of policing have been brought into the area with further resources being targeted at those who cause trouble for law abiding people in the area.
Partnership Of Authorities And Local People Advice On What You Can Do
Sets Out To Reduce Vandalism and Crime In Wick
Police in Caithness have joined forces with the Local Authority Housing Department and Pulteneytown People's Project to combat vandalism in the area. Under the auspices of the recently formed Caithness Vandalism Action Group, partners have committed to a high profile operation in the upper Pulteneytown area of Wick.
"The initiative code named "Operation Values" although chiefly combating vandalism, is anticipated to attract information in relation to other issues such as antisocial behaviour, crimes of dishonesty and drug related offences" said local Area Commander Chief Inspector John MacDonald.
"We, the police, recognise that the vast majority of people living in the area initially targeted are decent law abiding citizens who have an absolute right to live in peace and free of the fear of crime."
"Although policing will go on as normal I have committed additional resources from throughout Caithness and Sutherland command area to Operational Values, directing our available resources to where they are most required."
Residents in the targeted area of Putleneytown should shortly begin to see high visibility Police patrols in their area and expect to receive and Operation Values leaflet through their letterbox.
The leaflet aimed at the law abiding and not so law abiding outlines various methods by which members of the public may contact the police and pass on information in entire confidence without any danger of being named or visited by the police.
Local councillor and Police Board member councillor Graham Smith said of operation Values, "As a local member of the Joint Northern Police Board, I very much welcome this initiative. the Police in a democracy like Scotland police for and with the consent of the people. Now is a perfect opportunity for the people, the local community to meet their part of the contract. in my local "watering hole" of an evening everyone seems to know who is doing what, where they are doing it and when. They want something to be done about petty crime, about vandalism, about drug abuse and rightly so. Well, this is a good way to start. without community support the Police function is made more difficult. Don't just sound off about the enemy within - help isolate, re-educate and thereby eradicate it".
In addition to both overt and covert Police patrols a "One Stop Shop" in the form of Northern Constabulary's Community Safety display vehicle will be visiting the area over a 4-day period. the display vehicle manned by the Community Safety Officers will be offering advice on Home Security issues, property and mobile telephone marking. the vehicle will also be manned by officials from the Local Authority Housing Department.
Local authority officials including the Dog Warden, recently appointed Community Warden and the area Traffic Warden will be playing close attention to environmental issues such as dog fouling, abandoned vehicles and other associated issues.
Local MSP and former police board member Jamie Stone said, "this is good news. At my Wick clinics issues such as vandalism have repeatedly been brought to my attention. The presence of friendly but firm "Bobbies on the beat" will make a big difference. We should all remember that the Police are the friends of the law abiding citizens and we must all help them and ourselves as much as we can".
Councillor Katrina MacNab who is also the manager of the Pulteneytown People's Project said, "I think that every one has a common aim to make Pulteney a safe place for our children to play, and everyone to feel safe and secure. We all need to work together to eliminate acts of vandalism by giving the police information that we know so they can act. they need to be able to build up a picture of events to get results. Everyone knows that in recent years there has been an increasing vandalism problem and residents need to realise that without their help agencies are restricted. the police and Highland Council are putting considerable resources into this event and to maximise its potential residents need to start taking a responsibility and report incidents to Crime Stoppers. I would urge local people to use Crime Stoppers not just for this high profile period but every time they see something however small. It may be the missing link that the police need. Don't assume other people will phone. the more people that give information the more likely they can get a result. If the community works with other agencies we can and will eliminate vandalism and other forms of crime to make Pulteney and Wick a safe and secure area to live in.
Councillor Bill Fernie area chairman of housing and social work joined with the other Wick councillors in welcoming the latest initiative bringing together the council housing department, police and Pulteneytown People's Project. Bill said, "Caithness is still generally a low crime area but in recent years vandalism and other crimes have increased beyond what people have been used to in the past. I would like to see a return to the situation where people reported crimes whenever they occurred or passed information to the police and housing department even if the details seem trivial. Vandals and criminals must realise that the problems they create will be faced up to with increasing determination by the authorities both council and police working with the community. This current strategy is aimed at showing local people that their growing concern over the past couple of years has had an effect. This is not the end of it and follow up actions both low and high profile are likely in the future. This is a different approach and it needs all of us to participate. The improvements in the housing stock in the area are obvious and the council is investing to improve the quality of life in Pulteney and that means much more than bricks and mortar."
David Dunnet chairman of the Pulteneytown People's Project said he wanted to thank the organisations involved in setting up this operation. " I hope that residents will take this opportunity to maximise the potential of this operation by coming forward with any information. They should also use this opportunity to get bikes and mobile phones marked at the Community Safety Display to help ensure they are less likely to be stolen
The Community Safety Display vehicle will be located from 10.00am - 4.00pm as follows -
Monday 27 September 2004 - Murchison Street, Wick
Tuesday 28 September 2004 - Smith Terrace, Wick
Wednesday 29 September -- Harrowhill, Wick
Thursday 30 September 2004 - Loch Street, Wick