31 May 2008
Rev Bill Wallace Set To Retire

The congregation of Pulteneytown & Thrumster Parish Church will be saying their fond farewell's to their much loved, and highly respected Minister Rev Bill Wallace and his Wife Jean, on the week-ending June 7th/8th 2008 Mr Wallace has been thirty four years as Minister at the Church in Argyle Square. A special service of thanksgiving and praise will be held on Saturday evening June the 7th and he will conduct his final services on the following Lord's day prior to his retirement. Rev William Wallace BDS BD was born in Falkirk Stirlingshire and brought up in the city of Glasgow. He qualified as a dental surgeon in 1964 and worked full time in dentistry for a year, and latterly part time, while he studied at New College Edinburgh for the Ministry.
30 May 2008
Mary Ann's Cottage Is Open For Another Season
Mary Ann's Cottage is now open for the season. Hours of opening are 2.00 - 4.30 pm Tuesday to Sunday (closed Mondays). If you have enjoyed visiting Mary Ann's Cottage and can spare one afternoon a week to help keep this croft experience alive, we always welcome more volunteers - for further details contact Chris Cariss on 01847 851765.
Big Taxi Fare Rises From July Due To Increased Fuel Costs
Taxi fare increases in the Highlands have been confirmed by The Highland Council's Transport Environmental and Community Services Committee following a period of consultation with the trade and the public.
The increases take account of increases in the costs of operating taxis, such as rising diesel, petrol and insurance premiums and recognise that Highland taxi fares are amongst the lowest in Scotland.
The increases will take effect from Monday 7 July 2008
Increases in Tariff 1 (7 am ~ 10 pm Monday ~ Saturday) range from 3.3% for a journey of one mile to 15.6% for a journey of 100 miles or more. Increases in Tariff 2 (10 pm ~ 7 am on any day , all day on Sunday or when five passengers or more are being carried) range from 7.7% to 16.4% and at Tariff 3 (Christmas Day, Boxing Day, New Year's Day and 2nd January) range from 6% to 15.9%.
Couple Say Thanks To Wick Caravan Site
I am just writing to publicly express our thanks to Mr Willy Miller, manager of the Wick Caravan Park.
Earlier this month my wife and I stayed at the caravan park while we completed the final leg of our walk from Lands End to John o' Groats. This was realisation of a long held ambition and also our way of repaying the N.H.S. following the excellent treatment Eileen received when she suffered with thyroid cancer 5 years ago. We were lucky with the weather and thoroughly enjoyed our time in Scotland, where we received good hospitality everywhere.
The facilities at Wick Caravan Park were of a very high standard and Mr Miller also made an unsolicited contribution to our charity, having suffered himself in the past.
We raised approximately £1500 for Cancer Researh U.K.
Mr Miller and his camping site are a valuable asset to the Tourism industry in the North of Scotland.
Thanks again Willy.
Rob and Eileen Moseley. Market Drayton
29 May 2008
Public Meeting - Have Your Say
Friends of Newton Hill Woodland - Newton Hill Community Woodland Closure




A public meeting is being held in Mackay's Hotel on Monday 2nd June at 7.00 pm to discuss the recent closure of the woodland as a safety measure. The meeting will look at what the closure means in the short and longer terms. Invitations have been sent to local council officials, councillors and community councillors. The meeting will hear about what could be done with the site to make it less of a risk, but will also consider alternative sites which could be developed as a local sheltered leisure area for walkers, dog walkers, joggers, horse riders and others who have used Newton Hill woodland. More about Newtonhill
Bluelight Discos Coming To Caithness
A new kind of disco will be launched in Caithness with the aim of offering youngsters an event that is sociable but safe. No alcohol will be allowed and it is a condition of entry that all youngsters undergo a breathalyser test and search by the police. Any young person who fails the test will be taken home. The new discos called "Blue Light Discos" will be run jointly by a number of key agencies working with young people including the police who will be in attendance to provide information on relevant subjects in the "chill out areas"
Winter Greens Over At Gardening In A Gale
Mike Clark has a few tips for you to think about in connection with next winter.
St John's Church In Wick Heading For Another Big Book Sale - Saturday 31st May
The book sales at St John's church in Wick are gaining in popularity. Another sale takes place on Saturday 31st May between 10.00am and 3.00pm. This results from generous donations of good quality books and videos over the last couple of months. The booksale will be in the church hall (half way up Moray Street from the main road). Organiser Gordon Johnson said: "Our booksale prices are slightly increased due to the improving quality of the donated stock, and we have lots more books than last time, so that extra books will be made available later in the day - you don't all have to come at 10 a.m. to get a bargain. Children's books will still be just 20p each, adult novels (hardback and paperback) all 40p, and adult factual books at 60p - still very cheap. We have a good stock of videos - films and TV series in particular- and music CDs at 50p. each. The proceeds all go towards the church's building and repair fund, so every bargain for you is also a boost for the fund! We will be preparing the booksale late Friday morning, and additional book donations are welcome on both days." Clear out your book-shelves and donate them to the booksale and buy some new ones.
Going Green Can Save You Money And Be Interesting
Taking time out to enjoy your local environment might make you and the planet feel that little bit better this Summer, says the Scottish Environment Protection Agency (SEPA). Avoid the traffic jams, take a walk. No matter where you live, you are never far from something beautiful or interesting to experience in Scotland. It could be a city park, a local museum or peaceful countryside, but so much more relaxing if you don't have a stressful drive.
27 May 2008
'The Foyer' A New exhibition space for Local Arts at St Fergus Gallery, Wick
We intend to use the corridor space outside the St Fergus Gallery as a permanent display and sales area for Local Artworks, to be known as 'The Foyer'. We are currently looking for artists. All work must be wall mounted. To apply please send an image of typical work to shelagh.swanson@highland.gov.uk St Fergus Gallery, Sinclair Terrace, Wick 01955 603489
Friends of Newton Hill Woodland - Newton Hill Community Woodland Closure
Public Meeting - Mackay's Hotel, Wick on Monday 2nd June at 7.00 pm
To discuss the closure of the woodland as a safety measure. The meeting will look at what the closure means in the short and longer terms. Invitations have been sent to local council officials, councillors and community councillors. The meeting will hear about what could be done with the site to make it less of a risk, but will also consider alternative sites which could be developed as a local sheltered leisure area for walkers, dog walkers, joggers, horse riders and others who have used Newton Hill woodland.
Sponsored Cycle for Caithness Early Years Autism Centre (CEYAC)



To raise funds for CEYAC three folk will be cycling 70 miles from Lairg to Thurso via Bettyhill on 14th June. Anyone who would like to sponsor the team or make donation can do so at the Bike Shop in Thurso.
The three cyclists are Picture one : Debbie Carr (left) and Sheila Finlayson (right) Picture two: Alan Irvine

26 May 2008
Feis Chataibh - Summer Week At Golspie High School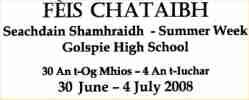 Feis Chataibh offers young people 8 - 18 an opportunity to develop a broad understanding of Gaelic and Highland traditions through language, music, dance and drama. Classes in fiddle, guitar, mandolin, percussion, Gaelic song, Clarsach, whistle, accordion. The Feis is supported by Highland council, Scottish Arts Council and Highlands & Islands Enterprise. Check poster for contact details to get an application form. Cost is £80 for 1st Child, £55 for second child and £45 for third.
25 May 2008
East End Junior Football Competition At Bignold Park, Wick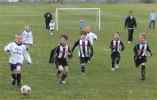 Bands Played All Saturday Afternoon At Market Square, Wick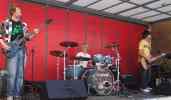 Music Link Media organised a showcase day for 10 bands in Wick. The Wick Pipe Band joined in and the sunshine made late spring seem more like mid-summer. We were there for only a short them so if anyone else has photos of the bands email them in to bill@caithness.org to add to this gallery.
Sunday Papers
Ewan Morrison: 'This was Wick, 1983. It really was the petrol station at the end of the world'
Robots scour sea for atomic waste - Guardian/Observer
What happened to the plutonium shipment? - Independent On Sunday - Bottom of the page
Oddly this item appears in the Food and Drink section alongside a perhaps more interesting story that may affect you more directly depending on the beverages you consume - Coca-Cola to phase out use of controversial additive after DNA damage claim - If you have any hyperactive children then this might be of interest.
24 May 2008
Caithness Youth Bank - Members Recruitment


Are you aged between 14 & 25? Do you want to give out grants of up to £ 1,100? Would you like to make a difference to young people in Caithness? Do you want to improve your confidence and team work skills? If so, Caithness Youth Bank wants to hear from you. Send us an email- robin.falconer1@btinternet.com and one of our members will get back to you with some more information about the youth bank and how you can get involved!


Castletown Junior Football Club Received New Footballs From Dounreay Communites Fund

Dounreay Communities Fund has supplied Castletown Junior Football Club with new footballs for this season. June Love of Dounreay Stakeholder Group presented the footballs to the under 15 team and their coach, Alistair Miller before one of their recent matches
Second Home Council Tax Funds To Help Meet Rural Housing Shortage
Extra Council Tax paid by owners of second and holiday homes in the Highlands is to be increasingly targeted at providing affordable homes in rural communities where development costs are high and a housing need has been identified. The additional income derived over the past two years from the reduction in Council Tax discount (from 50% to 10%) is £4.7 million. In the first year of the "windfall", this income has been used to buy land for future development and pay for the costs of preparing these sites as well as rural housing but in future it will be focused on high-cost rural schemes. Committee members recognised that major challenges are experienced in developing housing in rural areas due to site conditions, high infrastructure costs, the lack of contractors and the lack of economies of scale. Individual projects in high cost rural areas will be presented to the committee for approval as they are identified throughout the year.
23 May 2008
Help Caithness Partnership Improve Health Services in Caithness - Complete A Short Survey
Caithness Partnership is working with NHS Highland to find out what Caithness residents think about local health services and other health improvement issues. In order to get a representative sample from across the county the Partnership aims to survey at least 2,000 Caithness residents. If you live in Caithness and would like to express your views on local health services and understanding of health improvement issues please follow This Link The questionnaire will take no more than a few minutes to complete.
Can you help us celebrate our 60th birthday?
The NHS was launched on the 5th of July 1948, establishing a universal health care service for everyone in Britain free at the point of need. NHS Highland is looking for your stories to help us recognise and celebrate the achievements of the past 60 years. Whether you have worked in the NHS, been a patient or even volunteered we are keen to hear your stories. Garry Coutts, Chair of NHS Highland, explains: "60 years is an incredible milestone. In my four years as chair I've found the pace of change daunting and inspiring. In the constant drive to innovate and improve care for patients we might forget about the changes that have been made to the health of the population and to healthcare. I'd like us to take this opportunity to recognise the difference that has been made by staff, volunteers and patients who have contributed to the NHS." NHS Highland would love to hear from current and retired staff, patient sand volunteers so we can collect stories to use in displays and in an online record of the past 60 years.
Caithness Surgeon Given Prestigious Award


A retired surgeon from Caithness has been given a prestigious award for his contribution to teaching surgery. Mr Pradip Datta, 68 set up his world renowned course in 1981, one year after starting work at Caithness General Hospital. He continues to teach in Scotland and India three years after his retirement. Thousands of aspiring surgeons from across the world have taken their first step on the career ladder thanks to Mr Datta and in recognition of this he will receive the Farquharson Award at a ceremony at the Royal College of Surgeons in Edinburgh in November. Mr Datta said: "I was absolutely delighted to hear that I was to receive the Farquharson Award. It is the only award for teaching given by the Royal College of Surgeons and I was really moved to hear that they wanted to recognise my work this way."
Music Link Media and Wick Christmas Light Committee Present STREET GIG
Saturday 24th -Market Square, Wick 2.00 - 6.00pm
The young people of Wick Youth Club's Music Link Media group are working with the Wick Christmas Light Committee to help raise funds towards the festive décor in the town centre. Music Link Media are producing 10 bands to play at this Saturday's music event in Market Square in order to help raise funds for the Christmas Light Committee. Although the young bands involved are all doing it voluntarily they do hope it will raise their bands profile and the profile of Music Link Media. Music Link Media has now been successfully running for over 2 years and continues to attract large numbers of young people on a weekly basic. The night is aimed at 14+ year old and will be welcoming the new third pupils over the summer period. The Street Gig is taking place in Market Square between 2pm and 6pm. The Wick RBLS Pipe Band will also be making an appearance around 3pm. Throughout the event there will be snacks and refreshments, family fun and various stalls, including one from the Caithness Drug and Alcohol Forum which will be educating young people on the dangers of misusing substances. The stand will be providing alcohol free 'mocktails' for people throughout the event. All ages are welcome and the organised hope for a successful day of family fun.
'NIGHT AT THE RACES' - 2ND Annual Wick Groats FC Horse Racing Night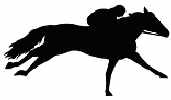 Wick Assembly Rooms - Sat 24th May - Kick Off 7pm
£5 per ticket (limited availability) - Booking essential to determine numbers
Please phone 07921 867863 to book - Individual seats or tables of 10 available
21 May 2008
Watch the Puffins - Ranger Walk - 22 May 7.30pm
Puffin walk At Drumhollistan
Meeting Point Layby at Caithness & Sutherland Border west of Reay
Free - Watch puffins close to border between Sutherland and Caithness. If the weather is calm we could see porpoise or other cetaceans. Booking recommended - call Mary Legg, Highland Council Ranger Service on 01847 821531.
Watch the birdie… SNH launches photography competition
Budding nature photographers in the Highlands and Islands are being invited to take part in a competition to celebrate Scottish Biodiversity Week which runs from 19-25 May. The Scotland-wide photography competition for all ages and abilities is being held online on Scottish Natural Heritage's (SNH) website. Its theme is 'Natural Inspiration' and entrants are invited to capture an image of nature on digital cameras and then email the photo.
5 Week Course In Basic Excel Spreadsheets In Wick - Click For More Details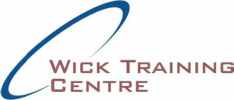 And the cost is incredibly low
The Excel Course will cost only £2.50 per session and and even lower 50p for concessions.
Spreadsheets used in almost every office in the land. So if you want to see how easy they are then go along for the five weeks.
You Really Can Make A Difference - Help HomeStart Caithness
HomeStart helps families with young children and volunteers really can make a big difference. Presently the group are looking for volunteers for a range of positions from directors and committee members to hands on aids to families. If you want to find out more phone the Homestart Centre in Wick (there are centres in Thurso and Wick but the office is in Wick) or go along to the AGM to find out ore.
Freedom of Caithness For Prince Charles
HRH The Prince Charles, Duke of Rothesay is to be granted the Freedom of Caithness. At a meeting of The Highland Council, members agreed to bestow this honour to His Royal Highness in 2008, the year of his 60th Birthday. Since the death of HM Queen Elizabeth the Queen Mother, The Prince has maintained a strong royal connection with her former private residence at the Castle of Mey, continuing her tradition of spending time in the summer there, and engaging with various aspects of local community life. In addition, through his North Highland Initiative, His Royal Highness continues to be actively involved in promoting the Caithness and North Highlands area at a national level. The Queen Mother was granted the Freedom of Wick in 1956 and The Freedom of the District of Caithness in 1990. Convener of The Highland Council, Sandy Park said: "The Highland Council is delighted to bestow this rarely granted honour on HRH The Prince Charles in recognition of his long and close association with Caithness and his commitment to promoting the North Highlands nationally. We look forward to hosting a special award ceremony later in the year to mark this honour."
Resounding YES Vote
By East Caithness Residents To Buy Part Of Rumster forest For The Community
Official confirmation of the results of the postal ballot conducted by The Highland Council - David Sutherland, Ward Manager - for purchase of land at Rumster Forest.
The results are as follows:
There were 1031 papers issued with 694 returned by the deadline of 12th May 2008. ( 67.3% ).
Of those returned
489 Voted YES ( 70.4% )
203 Voted NO ( 29.3% )
2 Papers were spoiled
20 May 2008
Lyth Arts Centre - Losing Their Scottish Arts Council Grant Next Year from April 2009
Few people can understand the Scottish Arts Council decision to remove the grant funding from this fantastic little theatre centre in the far north with over 100 miles too to Eden Court based in Inverness. But check Out Their Fantastic Programme in Coming Days and Weeks
Always varied, always fresh, always something new - Take a Membership out for this year...
Membership costs £15 per person per year or £25 for two people at the same address
Fiddle Exchange


21 May 2008
This unique tour brings together three duos consisting of fiddle players with contrasting styles from different countries together with their musical partners. The three fiddle players are Bruce Molsky (USA), Gerry O'Connor (Ireland) and Mike Vass (Scotland), all well-respected and highly talented. They are partnered by Gaelic singer and clarsach player Mary Ann Kennedy, French guitarist Gilles le Bigot and vocalist/pianist Ali Vass all superb performers in their own right.
Lyth Jazz Exchange 08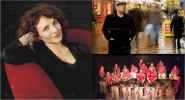 4th June 2008
Lyth Jazz Exchange June '08
featuring Jacqui Dankworth, Ian Shaw & The Caithness Big Band
This will be a gala evening of jazz featuring two of Britain's top jazz vocalists and the 17-piece Caithness Big Band. For this tour Jacqui, daughter of Cleo Laine and John Dankworth will have two guitarists Mike Walker and Chris Allard as an intimate backing to accompany her choice of standards - "In the Mood for Love". Supper Evening
I Lear - Astounding Comic Performances At Lyth Arts Centre


19th June 2008
In this anarchic character comedy, two of England's finest actors attempt to condense a lifetime's worth of roles into a single evening. It'll all end in tragedy. Watch agog as the secrets of acting technique are put into action by twin collossususes of the stage, Chester Blenheim (star of long-running firefighter sex comedy Blue Watch; winner of Moustache of the Year 1987) and Hugh Carpenter (whose one man show Voyage Around My Uncle brought down the Berlin Wall; perhaps best known to older fans as the face of Lord Trumpet).
Swindle & Death - Mull theatre At Lyth Arts Centre - Comedy


24th June 2008
What is the secret behind this most long-lived and ridiculous theatre company? For years they have been touring their sentimental porridge of tartan and nostalgia around the Highlands... how do they manage to keep going with this Cullen skink of claymores and crudity, sgian dubhs and sexual innuendo? Marjorie, an intrepid spy from the Scottish Arts Council, infiltrates the company to find out. And, by way of Mary Queen of Scots, the Flouers o' the Forest and a little touch of the Undead Shakespeare, she uncovers the hysterical horror at the heart of this Caledonian darkness... and what really happened that night in Ballachulish...
Thurso High Class Of 73 Reunion
A another reunion after 10 years for the Class of 73 from Thurso High School is now being organised for 22 August 2008 at the Weigh Inn, Thurso. Send in any class photos to bill@caithness.org for inclusion in the class reunion section. Caithness Schools Reunions Index
The Vikings are back! - A Great Day Out For The Kids With The Highland Rangers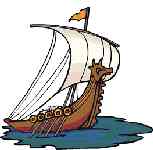 Saturday 24th May 11.00am - 2.00pm - Borgie Forest
Kids! Join the Highland Council countryside ranger and Forestry Commission to help assemble and decorate a wooden Viking boat in Borgie forest. Design a pattern and paint a shield to add to the boat and we will hoist the decorated sail at the end of the event.
All materials provided, bring plenty of enthusiasm and artistic flair.
Meet at Borgie Forest log cabins - grid reference NC 664575 at 11am.
Booking recommended.
Further details: Paul Castle. Highland Council North Sutherland Countryside Ranger. 01641 521884. Email paul.castle@highland.gov.uk Bprgie Forest
While the kids are busy take a short walk in the area - see core paths or head for the beach to relax.
The Big Project
Robin Falconer, Highland Youth Voice Executive Representative for Caithness will soon make an attempt to develop a project which will benefit young people in Caithness. In order to do this, he will require the assistance of at least 10 young people and 10 adults. The project will take around 2-5 years to complete depending on the complexity. Once the group (to be named the Caithness Youth Action Group) is formed, they will survey young people to identify their needs and act accordingly. Whether it is sports facilities, music facilities, youth café, etc. he hopes to have something up and running in the near future. If you are able to offer you help, no matter how little, please get in contact with him at robin.falconer1@btinternet.com providing your name, address, phone number and any skills you have which may be beneficial to the group.
19 May 2008
Oil price defies swelling supplies - Guardian
As the price heads for $130 a barrel this article sets out the facts regarding plenty of supply floating around but prices being held up by speculators. Perhaps if we all drive a few less miles and more slowly, save on burning all energy for a few weeks the price might be forced down.
Wick Training Centre Introduces New Business Support Coordinator
The first course Colin will be running will be in Basic Excel (Spreadsheets), which will run every Wednesday from 2pm to 4pm, starting on Wednesday 21st May and running for 5 weeks. To register for this course, or to find out more about it, please contact Tracey or Julie on 01955 606950, or call into the Pulteneytown People's Project office at 41 Murchison Street, Wick.
Men's Social Group At Pulteneytown People's Project
Pulteneytown People's Project has started a Men's Social Group This is a new drop-in group and will give men the opportunity to get together to socialise, read the papers, play cards, dominos, darts, etc, Tea, coffee and bacon rolls will be provided. The group will meet every Friday from 9.30am to 12.00pm at Pulteneytown People's Project in Murchison Street. For further information, or to register your interest please call Tracey or Julie on 01955 606950, or call in to the Pulteneytown People's Project office at 41 Murchison Street.
Listen up - Walk to School Week
The Walk to School Campaign for May 2008 is focusing on children exploring their local environment through sound and noise. Walk to School week is from Monday 19th to Friday 23rd May 2008. This year's theme will link with Noise Action Week, by exploring the links between noise and walking to school. Over 74 schools in the Highlands are actively taking part in walk to school week, and Edderton and Bonar Bridge Primaries are running a pedometer competition. Councillor Bill Fernie, Chairman of The Highland Council's Education, Culture and Sport Committee said: "The school run has a significant impact on rush-hour traffic. Parents are being encouraged to walk to school with their young children as often as possible during the week and beyond. If the journey is too far to walk, then the message is, drive part way and walk the rest - keep the school gate area clear of traffic."
The World-famous Fossil Fish Fauna of Achanarras Quarry, Caithness
Lecture By Nigel H Trewin - University of Aberdeen - At ERI, Thurso - Friday 13th June. 5.00pm
Cleo Missing From Swanson Drive, Oldwick Area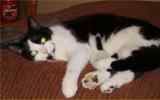 Cleo. Female cat about 7 years old. Missing for a week. Last seen Swanson Drive, Oldwick area. very friendly. no collar. please check sheds etc. please contact Karen Harper 07927 404664
Orgers Are Going To Lyth Arts Centre This Year Before It's Too Late
With the threat to Lyth Arts Centre following Scottish Arts Council decision to withdraw its funding after 31 March 2009 this year may be the last chance to see music, plays and much more at this oasis of the arts in the middle of Caithness. Next time you see something advertised and think - "I must go there one day" get on the phone right away and book a seat - take a years membership for a few quid and support them.
Thurso High School Parent's Evening - What do you want from your local High School?
The meeting begins at 7 pm in the Pentland Hotel upstairs lounge on Thursday 22nd, tea and coffee will be provided.
18 May 2008
New Caithness Cancer Support Group Up And Running
Caithness cancer support group hold meetings in Wick and hope to also hold them in Thurso in the near future.
Let's Get John O'Groats Sorted Once And For All - Please Complete This Survey
Thanks to Jamie Buchan and his Northlight blog (take look for plenty of great photos) for drawing this to our attention. If enough people complete this survey set up by Highlands and Islands Enterprise maybe something can at last be done to sort out Jon O'Groats.
Caithness Bloggers
I Flew With Fresson - Rain On My Window - Mr


ISLAND LIFE travel in my early days was of coal burning steam ships and stormy seas and days when the steamer could not make it - though there were not many of those when the crews were descended from the old Vikings, mostly Westray men. With the homes of the crews being in Westray, the Earl Thorfinn's North Isles sailings ended there on Saturday night, allowing the crews to be at home over the weekend before returning to Kirkwall on the Monday via the Islands of Papa Westray (sometimes), Eday, Sanday and Stronsay, in whatever order the tide decided.
Lessons from The Heart of Darkness - Mrs
I listened to a program on BBC this morning as I lay in bed waiting for the fog to burn off and reveal whether it was a gardening day or an inside chores day. The program profiled soldiers who had been injured in Iraq and Afghanistan to assess whether the convenant between government and soldiers, a promise to look after them, was being kept. As with so many programs, it was nominally balanced with some saying yes; some saying no, but left the listener with a lingering sense of failure: a diffuse failure so that no one could be blamed directly.
Concert And Dance In Aid Of Canisbay & Dunnet Day Care Centre
Canisbay & Dunnet Day Care Centre are holding a concert featuring local artistes in Canisbay Hall on Friday, 23rd May at 8.00 pm. Following the concert there will be a dance with top Stornoway Celtic rock band, Face the West. Samples of their music can be accessed through their bebo website. Face the West Main Site
From The Papers
Wick High report could support new-school plea - John O'Groat Journal
Stagecoach buys Scottish bus group - Rapsons - Hemscot
Airport security checks missed steak knife in woman's bag - The Daily Record
Clean-up slows down at Britain's obsolete reactors - Guardian
Lucky driver survives collision on train track - Scotsman
Clearing housing debt would be sensible investment - The Inverness Courier
Diversity Of Art - April 2008

Vera Ferguson from Kirkcaldy, an international demonstrator and judge, revisited Thurso for the April meeting of the Caithness Floral Art Club. Vera's designs depicting the Diversity of Art used a colourful range of seasonal flowers along with orchids, anthuriums, lisianthus, alstromeria, sunflowers and gerberas. Vera always brings unusual craft pieces with her to use along with her flower arrangements. This time several collages complemented her striking arrangements.
Floral Art Club Index
Photos From The Janetstown School Reunion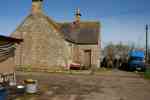 A visit to the old school and the reunion at night. Also a few photos taken on a visit in 1995 with one of former teacher Mrs Margaret Jack (nee Finlayson)
17 May 2008
Caithness Wildlife Tourism Discussed on TV Programme - Landward - Watch It On BBC iPlayer
Thanks to the folk on the Caithness.org forum for pointing out this programme last night that can be seen on the web for thenext few days. They look at wildlife tourism in Caithness - is the area being left behind in fast-growing industry? Norrie Russell from the RSPB reserve at Forsinardprovides some answers. Watch a web exclusive interview with Norrie Russell from the reserve.
Super Station Orkney


Caithness FM is restricted in what it can do and would need more income to increase its hours and offer a bigger range of programmes. Super Station Orkney broadcasts on the web but costs have proved prohibitive for Caithness FM so far. Should Caithness FM go the same route as Super Station Orkney. Would you support it? Would local advertisers use it? Would Caithness folk around the globe like something similar beaming out from Caithness? Join the debate in the Caithness.org Forum
16 May 2008
Obituary of John Sinclair Dunnett, d. 7.5.08, aged 76 - By Bill Mowat
Jock Dunnett of Staxigoe, John O'Groats and Wick, who had experience of more fishing methods than any Caithnessian of his era......
Get Out For Ormlie's Clean Up Day - Sunday 18th May - 2.00 - 4.00pm
Ormlie Community Association will be holding its annual clean up day in Ormlie Estate on Sunday 18th May between 2pm – 4pm. Volunteers have worked hard over the last few years to maintain and re-plant over 25 flower tubs throughout the area and the spring clean day will give the community the opportunity to plant summer flowers in the containers, the wavy wall, magic circle and garden area beside Ironside Place. The children will also have the opportunity to plant a sunflower seed and the tallest plant will receive a prize during the annual fun day in July. Ormlie's young people regularly help at this event and this year a group of girls aged between 9-11yrs are also organising a bring and buy sale to raise funds for Thor House and The Pentland View Nursing Home. This was their own idea as part of their weekly group sessions (Community Partners Programme) which are held at the Ormlie Community Centre. This event will also give residents the opportunity to tidy their gardens and get rid of all their garden rubbish. The Highland Council is supporting the clean up day by providing rubbish bags and gloves along with a skip for garden waste.
Caithness 2008 Birds Spring Migration One Of The Best


2008 spring migration in Caithness has been one of the more exciting in recent years. Although there hasn't been a 'fall' of commoner passerines of any significance, following the steady decline over the past 10-20 years in the county, the arrival of a variety of unusual species from March to May has been noteworthy. Straight To The Spring Migration 2008 Photo Gallery
NORTH AYRSHIRE COUNCIL SUSPENDS RIGHT TO BUY
Right to Buy has been suspended in areas of North Ayrshire to prevent serious shortages of affordable housing. Ministers have accepted North Ayrshire Council's request to apply 'pressured area' status to 11 letting areas. This will allow the council to retain homes for rent to people on low incomes in areas facing social housing pressures aggravated by Right to Buy. Communities Minister Stewart Maxwell said: "North Ayrshire Council requested the suspension of Right to Buy to ease the substantial pressures facing affordable housing in the area. "It is the ninth council to have successfully applied to use the pressured area mechanism and I would ask other councils to consider whether it could be used as a suitable response to particular pressures within their areas. "The Scottish Government wishes to explore ways of achieving greater local flexibility in the operation of the Right to Buy. The pressured area mechanism is only one way of achieving this........................ Highland (all areas excluding Caithness, Sutherland and some estates in Inverness and Fort William) on November 15, 2005.
The Crown Estate in Scotland - "Highland Cross Party Group Seeks Review"
For the first time in The Highland Council's history, the four political groupings on the Council have signed an agreement to work jointly and co-operatively to achieve a review of the Crown Estate in Scotland so that the resources involved, including Scotland's seabed and much of its foreshore, produce greater benefits for local communities. Drew Hendry, SNP, Chair of Planning, Environment and Development and Councillors Richard Durham, Independent, Michael Foxley, Liberal Democrat, and Jimmy Gray, Labour, have signed the agreement on behalf of the Council's cross party working group, which aims to achieve changes to current policy and operations of the Crown Estate in the Highlands and more widely. The cross party group will continue to promote the conclusions of the report - "The Crown Estate in Scotland "New Opportunities for Public Benefits" which calls for a review ~to ensure that the property, rights and interests which make up the Crown Estate in Scotland contribute more fully to the delivery of Scottish Executive policies and the well-being of the people of Scotland".
15 May 2008
The East Coast Of Caithness Opens Up With Boat Tours From Wick




Caithness Seacoast and Freedom Charters offer many opportunities to see the coastal waters of the East Coast of Caithness. From inaccessible cliffs and places where seals and seabirds hang out to diving trips for underwater exploration. Caithness Seacoast has a high powered boat that can take you on an exhilarating ride and yet slow down to view the sites whilst Freedom charters can take you for a few hours of sea angling or trips. On either craft you might see places and birds from the best vantage points.
UNDER 30s URGED TO HAVE THEIR SAY ON THE HIGHLANDS AND ISLANDS


People between 15 and 30 from across the Highlands and Islands and beyond are being urged to have their say in a major online survey launched this week to discover the deciding factors behind living and working in the region. Organisers are appealing to young people who have opted to stay in the Highlands and Islands; those who may return to the area and others who are considering moving to the region, to give their opinion of it as a place to live..........Designed to be quick and easy to do, the survey takes less than 10 minutes to fill in and can be completed by visiting www.youthmigration.org
Petition To Reduce VAT On Fruit Juice At 10 Downing Street Web Site
A petition running on the 10 Downing Street web site is gathering signatures fast and it does seem to be sensible. Why is there a high level of VAT on fruit juice and nothing on fruit? with the push to get more people to eat more fruit and veg this one seems more than sensible. Easy to sign up to the petition that reads - 'We the undersigned petition the Prime Minister to Cut VAT on 100% fruit juices and smoothies to the minimum 5% allowed by EU law to encourage shoppers to take the healthier option and achieve their 'five a day'.'
Caithness Recycling Service Expands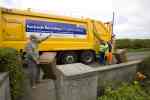 People in Caithness are benefiting from further expansion of The Highland Council's kerbside recycling collection service for paper, cans and garden waste.
Mr William Nicolson from Battery Road in Castletown is one of 500 households benefiting from the roll out of the scheme, bringing the total number of households in Caithness to 8,000 and around 70,000 in total throughout Highland. Chairman of TEC Services, Councillor John Laing said: "It's great to see further expansion of the kerbside recycling scheme throughout Caithness. People want to recycle, and they are supportive of the opportunities to do so." The introduction of the Kerbsider is one element of The Highland Council's strategy to fulfil the targets of the Highland Area Waste Plan.
'NIGHT AT THE RACES' - 2ND Annual Wick Groats FC Horse Racing Night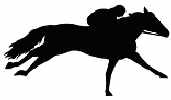 Wick Assembly Rooms - Sat 24th May - Kick Off 7pm
£5 per ticket (limited availability) - Booking essential to determine numbers
Please phone 07921 867863 to book - Individual seats or tables of 10 available
We can't wait 10 more years - John O'Groat Journal Wick High School - the fight goes on
Bid to secure the future of rural hospitals is unveiled - The Herald
The 2008 ASP European Pro Surf Tour Blessed with Great Action for its Kick Off - Surf Village
Keys to new Dingwall Academy handed over - Ross-shire Journal
13 May 2008
Help Caithness Partnership Improve Health Services in Caithness - Complete A Short Survey
Caithness Partnership is working with NHS Highland to find out what Caithness residents think about local health services and other health improvement issues. In order to get a representative sample from across the county the Partnership aims to survey at least 2,000 Caithness residents. If you live in Caithness and would like to express your views on local health services and understanding of health improvement issues please follow This Link The questionnaire will take no more than a few minutes to complete.
11 May 2008
Gardening In A Gale by Mike Clark


Mike Clark a gardener and writer resident in Caithness has lost no time in adding further articles to his new web site "Gardening In a Gale". His latest additions are "Bring In The Birds" and "How To Be A Gardeners Dog" In between getting the garden sorted out we hope Mike continues to add more gems from his assorted writing collection.
It's A Knockout At Thurso Gala
It's that time of year again when we are recruiting teams for the Thurso Gala 2008, It's a Knock Out Event. Teams of up to six people are being invited to apply to compete in this years competition to be staged at the Dammies, Thurso on Sunday the 10th of August, from midday onwards. The same three charities will be hosting the event, Thurso Town Improvements, Thurso Football Club, along with ourselves at Scallywags Nursery. Thurso Gala runs 2nd to 10th August 2008
Guided Walk - Armadale Burn - Wednesday 14th May. 10am – 2pm.
Join the ranger and enjoy a lovely guided walk along the beautiful steep sided river gorge at Armadale. Lots of Interesting plants, geology and archaeology along the way as we head out to a hill loch for lunch. Meet at A836 road bridge car park near Armadale. Grid reference: NC795639. One small river ford to navigate.
Please wear suitable footwear and bring warm waterproof clothing and a packed lunch. Sorry but dogs are not welcome on guided walks. Further details: Paul Castle. Highland Council North Sutherland Countryside Ranger. 01641 521884.
It's All Around Us - Geology
Let's rock on to bigger and better things this summer
By Ian Mitchell of Scottish Natural Heritage

British summertime officially started at the end of March and now is the time when we traditionally think about getting out there and seeing what this great area of ours has to offer. So why not take advantage of the wealth of fascinating geological features we have in the north of Scotland - with key sites Knockan Crag National Nature Reserve (NNR) near Elphin and the vast North West Highlands Geopark well worth a visit.
Special Charity Concert - Skinandis Night Club, Thurso - 7.00pm Friday 16th May 2008


Four rock bands are lining up for a one off charity gig at Skinandiis Night Club in Thurso next week. Disco Fish, Astronot, Liquid Blue and No Exit Wound are combining their talents to offer four live sets. This special event has been put together by local girl Kara Gray. Kara has organised the gig as part of a graded unit for her HNC Music Course she is studying at Aberdeen College. All proceeds from the show are going to the Multiple Sclerosis Society Caithness Branch and Kara said 'my grandad had MS and loved music and I thought it would be nice to give something back locally'. As well as setting up the event Kara will be playing with her band, Disco Fish. The Aberdeen based six piece also feature Laura Ryrie from Orkney on vocals, Steven Thomson from Orkney on guitar, Fraser Edwards from Birmingham on guitar, Luke Redpath from Aberdeen on drums and Ian Murray from Aberdeen on bass.
10 May 2008
Driving Forward the Gaelic Language Plan
The Highland Council has appointed a new Gaelic Development Manager to spearhead its promotion of the Gaelic language and culture. He is Donald MacNeill, a native Gaelic speaker who has wide experience in the public sector and in the media. Brought up in Inverness within a Gaelic-speaking household. Donald was educated at Crown Primary School and Millburn Academy before going to Glasgow University.
He had a ten year career in broadcast journalism (1988-1998) ~ in both radio and television ~ the bulk of which was in Gaelic. This included working with BBC Radio nan Gaidheal (Inverness), Grampian Television (Aberdeen & Inverness) and Scottish Television (Glasgow).
Call All Caithness South East Residents
Countdown For Important Vote - Deadline Monday 12 May - RETURN YOUR VOTE


Time is running out for one of the most important community requests ever put out in Caithness. The future of a potentially huge project may be in the hands of the residents of South East Caithness. To present evidence that the community want to take control of part of Rumster Forest the organisers need a resounding YES vote. This will enable them to carry forward their ambitious plans to ensure that in the future the area will have control of funds to then invest in further developments in the are in coming years. Residents are urged to get that vote in by Monday. Read more in Its Our Future
Halkirk Gala Walk - 7 June - Get An Entry



Closing date 31st May.
Car Boot Sale At Crossroads On Sunday 11 May Cancelled
The Car Boot Sale for Sunday 11 May at Crossroads has been cancelled due to lack of interest. No stalls have been booked.
Staxigoe Hall Committee Fundraising Night
Come and watch Rangers in the UEFA cup final on the Big Screen on Wednesday 14th May from 7pm, Licenced Bar, Raffle and half time refreshments Fun for all the family (under 16s must be accompanied by an adult)
6 May 2008
Bigger Group Photos Of Highland Youth Music Groups At Alness


5 May 2008
Sandwich Tern May Have died Due To Oil At Sinclairs Bay
The photo below shows a Sandwich Tern found at St John's Pool with oil in its feathers. the other photo shows Sandwich Terns as they should be. the dead Sandwich Tern arrived at St John's Pool on 30th April and was dead by 1st May.


From three days ago
Oil Spillage At Sinclair's Bay, Wick
The public is being advised to keep off the beach at Sinclair's Bay, near Wick, following the discovery of tar balls, which have been washed up along the length of the shoreline. The Highland Council is working with other agencies to clean up the beach. There is no evidence of oiling of birds or other wildlife. A spokesman said: "This is not a major incident. However, we have erected signs at either end of the beach advising the public to keep off until we have completed the clean up, which involves collecting the tar balls by hand. We will be working with the Maritime Coastguard Agency to identify the origin of the oil, which appears to have been at sea for some time. We are also checking other nearby beaches for evidence of these balls of oil." Bird Watching In Caithness
John O'Groats - Looking To The Future
Highland council is currently running an item about John O'Groats and have asked that it is featured on the web site. so here it is and if you have a few minutes head over and complete the survey.........
We need your help! Please help us to scope the potential for John O'Groats as a visitor destination.
We invite you to take part in an on-line survey which is aimed at both previous and potential visitors to John O'Groats, situated in the north of Britain. The purpose of the survey is to gather your impressions of John O'Groats (you can take part regardless of whether you have visited the area or not) so that a tourism and leisure plan can be developed for the future.
The survey forms part of a wider study that is currently being prepared by consultants RGA on behalf of Highlands and Islands Enterprise (HIE), to scope the potential for improving the visitor experience at John O'Groats.
To take part in the survey, simply click on the following link: Click Here to take survey
This should take no longer than ten minutes to complete and both HIE and RGA appreciate your input.
Roads At Two More Caithness Schools Get Speeding Restrictions
From today Monday 5th May new speed restrictions come into force at South School Wick and Lybster primary schools. The restrictions to 20 MPH applies when the flashing lights are showing at times before and after starting and finishing times. Many Highland schools now have the speed restrictions in place and eventually all schools in Highland will have them. As with other speeding restrictions Northern Constabulary will enforce the regulations with normal fines being charged if anyone is caught over the 20 mph limit within the zones.
Kayaking Round Dunnet Head In A Force Five Gale - Cailean's Blog
Elise Lyall Dancers Fundraisiing To Head Off To Canadian Championships 2008


9 dancers from the Elise Lyall school of dance ages 8-21 are making a 2 week trip to Canada leaving Wick on the 28th June, to compete in the Canadian Interprovincial Dancing championships held in Victoria, British Columbia. This competition attracts dancers from all over the world for the week long event. There has been various events to raise funds over the pass few months towards the dancer's travel expenses. The next event is a licensed ceilidh on FRIDAY 16TH May Assembly Rooms Wick, 9.30pm entertainment from Remix, Highland Dancers plus Andrew Harvey on pipes and there will be soup and sandwiches available at the break. Tickets are on sale from D.R Simpson Wick at £5 each. So come on down for a good night out and support the Dancers.
Gardening In A Gale - A New Web Site From Caithness Gardener Mike Clark


Mike Clark a gardener and writer living and working in Caithness has contributed a number of articles to Caithness.org over the years in a section called Gardening with Attitude. Mike's brand of wry humour is usually present in his articles that are full of tips and suggestions for gardeners in the north and any place were the climate is slightly more extreme than in the far south. Mike has now set up a new web site and kicked it off with a few articles to pass a rainy afternoon, cold evening or if the midges have won the outdoor battle that day. He kicks of with items entitled - Polytunnel on the Edge - Wild Wine - Love Your Legumes - Going Grey. With food prices still heading up maybe this years is the time to dig over that old vegetable patch to get some tasty food and lose a few pounds of excess weight at the same time. To exchange gardening tips or ask questions head over to the Caithness.org Gardening Forum
For the record Bill Fernie (Caithness.org web master) has planted his spuds - Pink Fir Apples and Kerr's Pinks, a couple of varieties of peas, swedes, turnips, radishes and the carrots are going in shortly. Bill has thinned out an overgrown strawberry patch, pruned a few over grown sycamores and cut the grass twice this year (He hasn't lost any weight yet but has lost an inch round the wasteline - so there is hope yet). All the best with the new web site Mike.
3 May 2008
Lyth Arts Centre To Lose Scottish Arts Council Funding From April 2009
The Scottish Arts Council (SAC) has announced that as from April 2009 it will cease to fund Lyth Arts Centre, the only dedicated professional arts venue in Caithness. The Council has funded the Centre on an annual basis since it first opened in 1977. For many years it was one of the Council's Core Funded Organisations. In 2006 the Council re-organised its methods of funding, awarding core-funded status to a small selection of what is regarded as key strategic organisations and reclassifying the others, including all of the Scottish theatre companies and many venues as Flexibly Funded Organisations. Lyth Arts Centre received Flexible Funding which is awarded (and has to be re-applied for) every two years. Lyth's Flexible Funding application for 2009 - 2011 was one of 106 eligible applications which requested a total of £14,677,011 across the country. But, with only £6,980,000 to distribute, the Council has given awards to only 63 applicants and Lyth's application has been turned down.
Vehicle Excise Duty - Discussed In House Of Commons
In 2008-09, according to an answer given by the Exchequer Secretary, VED will raise £2.9 billion—an increase of £1 billion in the space of two years. That is a significant tax take that has been justified on the basis that VED is an environmental tax. John Thurso MP pointed out the difficulties facing rural areas faced with ever increasing fuel costs. Caithness.org Comment - Does this go some way to explaining the council election results in England and Wales.
2 May 2008
Oil Spillage At Sinclair's Bay, Wick
The public is being advised to keep off the beach at Sinclair's Bay, near Wick, following the discovery of tar balls, which have been washed up along the length of the shoreline. The Highland Council is working with other agencies to clean up the beach. There is no evidence of oiling of birds or other wildlife. A spokesman said: "This is not a major incident. However, we have erected signs at either end of the beach advising the public to keep off until we have completed the clean up, which involves collecting the tar balls by hand. We will be working with the Maritime Coastguard Agency to identify the origin of the oil, which appears to have been at sea for some time. We are also checking other nearby beaches for evidence of these balls of oil."
First Meeting Of New Wick High Action Group
The first meeting of the newly formed Action Group aiming to get a new school for Wick will meet in Wick High School at 7.00pm on Tuesday 6th May. 52 people have already signed up to help the Action Group and the steering group are extremely pleased that so many people have already come forward. The group are under no illusions about the task ahead and volunteers for the group can still put their names down to help. There may be many small tasks that need to be undertaken from leaflet issues, poster distribution, fund raising and so on. All of this will need time so any small amounts that people can devote even one a one off basis occasionally will be very useful to the group. Anyone interested but who cannot make the meeting can email organiser Julie Mackinnon at julie.mackinnon1@btinternet.com
Anyone who has not signed the petition yet is asked to do so as soon as possible. The group want to reach at least 1000 signatures.

Sign the petition to support Wick High Parents Council demands to renew or seriously make building improvements at Wick High.
Caithness & Sutherland Walking Festival Is Underway - Check What's On for Details
The Caithness and Sutherland Walking Festival is underway with a variety of walks both long and short.
1 May 2008
Lovely Stray Cat Found At Newton Hill, Wick - Do You Know Who Owns It?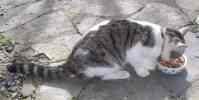 "We live up Newton Hill and have a stray cat roaming around the house since approximately 2 weeks. We do not think it belongs up Newton Hill. It must be about 4-5 years old and is medium sized. It is white and tabby. Very friendly. And has a green studded collar" Tel 01955 605319
Thurso East Beach Clean

The Thurso East Beach cleanup event organized by Thurso In Bloom and Thurso Rotary held last Friday and Saturday was a roaring success. Nearly 40 volunteers participated in picking up an entire skip full of litter. Thurso East Beach was completed the first day allowing ample time to clean up many areas of Thurso including Thurso Beach, a major portion of the river walk, and both sides of the road from Thurso East to the car bridge.
BT Payphone Consultation - 194 Payphones In Highland To Go


BT is proposing to remove 194 payphones from the network in Highland. BT say the increase in mobile telephone ownership has resulted in the number of calls made from payphones in the last three years being halved and therefore believes that there is a need for them to re-examine payphone provision. Under Ofcom regulations, the local authority has the responsibility of facilitating the consultation with the local community on these proposals. The Highland Council is therefore encouraging anyone, who wishes to respond to the consultation, to contact the Council with their comments. It is only three years ago since the last big removal of telephone boxes. It seems that the march of the mobile phone will carry on wiping out the telephone box where many rural boxes get only a few call made from them in a year.
Do you live in a remote place – miles away from the nearest town or built-up area?


Does your location make getting to the shops, schools and public transport a problem? We're interested in hearing from families, preferably with children, who feel that the remoteness of where they live affects their lifestyle and relationships. If this is you, then the new series of Wife swap would love to hear from you.
Contact Katie Yeats on 020 7013 4517 - katie.yeats@rdftelevision.com Or apply online at www.meontv.co.uk