30 June 2008
Wick Team Amongst Prize Winners At ICT Youth Challenge


A team from Wick won the prize for demonstrating the best use of communications in the BT sponsored category of the ICT Youth Challenge. The Mini-Tek team from Wick won a visit to BT's Futurology Lab in Ispwich. While there they will be able to pitch their idea for a multimedia belt offering a range of innovative features to sports users to make their fitness activities more enjoyable to the "BT Dragons".

29 June 2008
Lorna Gunn On The Radio - Posted on Caithness.org Forum by Badger
Heard a mention at the beginning of this programme yesterday morning that there was to be something about a postmistress in Caithness so wondered if it was Lorna but somehow missed the item and have only just got around to listening again. I used to be a customer at Latheron and, like so many, was very sad when she was forced to retire and close the Post Office. It was such a special place with always a fire burning - combination of old and new. Lorna took being "computerised" in her stride. She must now be in her late 80's. You can hear her version of My Space on http://www.bbc.co.uk/radio4/saturdaylive/my_space.shtml about 8 mins into the programme. Photo
Castletown Gala 2008
97 - 108


49 - 60 61 - 72 73 - 84 85 - 96





1 - 12 13 - 24 25 - 36 37 - 48





Canisbay Show 2008
Photos 1 - 12 13 - 24 25 - 36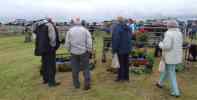 37 - 48 49 - 60 61 - 72 73 - 84





24 June 2008
County Snooker Singles 2008 -
When? : Saturday 28th June 2008 – 10.00am Sharp
Where? : Starts at 10.30am sharp after draw- In the Royal British Legion. Entry Fee -: £5
Contact Derek Johnston on -: 0790 77 55 777 to enter.
Names to be in by Friday 27th of June to Derek Johnston.
22 June 2008
The Race Is On As Drilling Rig Is Set Up At Lybster For Caithness Oil Ltd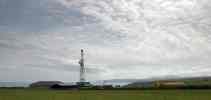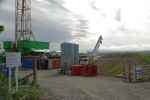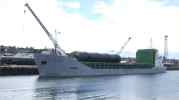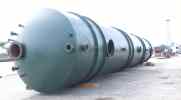 As the oil price rises ever higher suddenly the rush is on to bring in oil on land at Lybster. This will be only the second place in the UK to have a land based oil rig. Caithness Oil is a London-based company with interests in Scotland and Morocco. The field, in the Inner Moray Firth, was discovered two decades ago but was considered too expensive by the major oil companies to drill using offshore platforms. The rig is up At Lybster and plant and machinery is rapidly being brought in as can be seen by the huge tanks that arrived at Wick harbour on Saturday. Will this new feature on the Caithness skyline be joined by others if the oil price keeps rising?
RUMSTER RUMBLE RAMBLE AND RIDE - Sat 28 June.
Schools out for Summer! A Family Fun Nature Treasure Hunt Event.
On Foot, Mountain Bike or Horse at Rumster Forest with Free BBQ.
Joint event with Forestry Commission & HC Countryside Rangers. Horse and Mountain Bikes Welcome.
Come prepared for the Scottish Summer! Free Venison BBQ & Fruit Juice for completion of the hunt! Meet Rumster Forest `Paddock` by Lybster. Follow the Signs from the A9 and A99. Bookings only taken at the District Office on 01862 810359. Contact Event Leader: Stephen Fraser on 07771833377 for More Details.
Apologies from Wick Tri Club
The Wick Triathlon Club have sent out an apology to all hopeful participants for cancelling the Junior Triathlon today due to bad weather.
Pipers Trail Hits John O'Groats Today (Sunday 22 June) At 1.00pm
Never mind that it's presently raining in sheets - its only water. Go along and brave the weather and listen.
21 June 2008
Pipers Trail At Wick Is A Huge Success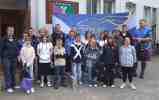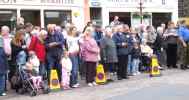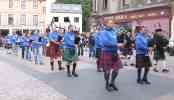 The Pipers Trail arrived in Wick and spent the morning teaching young people pipes and drums in schools at the TA Hall and the Pipe Band hall. the trail is being run to celebrate 100 years of the Territorial Army.
ARMY MARCHES INTO CAITHNESS AS PART OF 460 MILE JOURNEY - Today At Wick 2.00pm
The Pipers' Trail brings musical spectacle to Thurso, Wick and John O'Groats
The Army in Scotland's main effort to mark the centenary of the Territorial Army (TA 100), comes to Wick today (21st June 2008) as part of its 470 mile Pipers' Trail march through Scotland, calling upon all local musicians to join them along the way.
This leg of The Trail will began with pipers and drummers coming off the ferry in Thurso yesterday evening (20th June)and proceeding onto Wick where there was piping and drumming workshops and a full musical display. The Trail will also visit John O'Groats (22nd June). This is the first time the Army has staged anything on this scale in Scotland and provides local battalions with a unique opportunity to meet and interact with communities in a fun and expressive way.
Thurso High Pupil Was Finalist At Highland Young Musician Of The Year


Cellist Robin Nelson, aged 16 and a pupil at Fortrose Academy is the Highland Young Musician of the Year after winning the competition held on Monday evening at the Drummossie Hotel. Fellow pupil and cellist Stephen Laidlaw was runner up while Nairn pianist, Bethany King , 13 years old was named most promising talent. The other two finalists were clarinet player Erica Sinclair (16) from Thurso High School and trombonist Alister More (16) from Tain Royal Academy. All five young musicians currently perform in Highland Regional music groups.
17 June 2008
Change to Council's Bulky Uplift Service
As of 1 July 2008 The Highland Council will be changing its policy for the bulky uplift service for certain household wastes, by removing bagged or other contained excess household waste from the list of approved items. This amendment to the service is designed to help improve the environment by reducing the amount of waste going to landfill. It will also support the Council Administration's commitment to increase the amount of waste recycled in the Highlands to 40% by 2010.
Council Calms Traffic At Four More Schools
Part time 20mph speed limits have been introduced at another four Highland schools. The new speed limits operate when pupils are arriving and departing from Ullapool High, and Ullapool, Bower and Crossroads Primaries during term times.
The Campaign To Save Wick Tax Office Has Begun - 24 Jobs May Go


As another threat to jobs in the county gets underway with Her Majesty's Revenue and Customs (HMRC) "CHANGE REVIEW" the campaign to save the jobs in Wick has also started. Politicians and individuals are currently looking closely at the situation and making responses to the appropriate people. The possibility of losing yet more jobs from Caithness at a time when the rundown of Dounreay is beginning to loom ever closer takes us closer to economic meltdown than ever before. With a Regeneration project in place for Dounreay trying to replace jobs it seems the government's ideas may be partially thwarted by departmental reviews coming from other ideas to get value for money and make savings that have unintended but dire consequences for the well-being of Caithness. The campaign aims to point out the socio-economic outcomes and the potential to bring more jobs rather than take them away that represents good value for the taxpayer as well as for Caithness. Via Caithness.org we will try to keep you informed of the actions and progress being made. Time is short as the review will be completed by 6th August. If you want to add your voice some suggestions are made inside. A link to the section is now in the left hand column on this page.
Relay For Life Launched In Caithness



The Cancer Research UK Relay For Life is an overnight team event in support of those living with cancer and in memory of those who we've lost through it. The event is to be held in Caithness for the first time this year. It will take place at Sir George's Park (The Dammies) in Thurso on 30/31 August 2008 and will last for 12 hours (6pm - 6am). Teams of 8-15 people take turns around a track, with a minimum of one person per team on the track at all times. You can walk, run, crawl, hop, skip or jump your way around. It is not a race, it's not about distance, and it's about supporting those for whom cancer does not sleep. Want to form your own team for this great cause then read on.......Link now on this page left hand column.
16 June 2008
580 Properties To Buy Or Rent Now on Caithness.org
There is plenty to choose from if you are thinking about moving to the far north of Scotland. The Caithness.org property section continues to grow and attracts over 5000 visitors a day checking them out. New properties are added almost every day. Whether you are looking to buy a property or looking for a property to rent start on these pages. If you are thinking about moving to the area but want to check it out why not rent a holiday cottage or flat for week and take time to visit each part of the county properly. If you want to stay for just a few days there are plenty of Bed & Breakfasts or Hotels and Caravan Sites.
15 June 2008
Halkirk Gala - Children's Fancy Dress
Photos 1 - 12 13 - 24 25 - 29




Missing Person - Wick
Police in Wick are becoming increasingly concerned about a fifteen year old girl who has been missing from home since Friday 13th June. She is described as approximately 5'2" tall, slim build, with straight shoulder length light brown hair and blue eyes. She was last seen wearing a black 'Helly Hansen' jacket, blue jeans and white/pink 'Nike' trainers. She is possibly in the Thurso/Halkirk area.
Any person with information please contact Wick Police on 01955 603551. Information can also be left anonymously by using CRIMESTOPPERS 0800 555 111.
Sunday Papers
Many benefits to rail link in north - Scotland On Sunday
Halkirk Gala 2008 - All In Now
Photos 73 - 84 85 - 96



Photos 37 - 48 49 - 60 61 - 72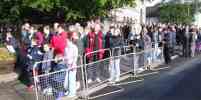 14 June 2008
Canisbay & Dunnet Day Care Centre AGM
Canisbay & Dunnet Day Care Centre AGM is on Monday, 16th June at 7.30 pm in Canisbay Hall. New members are urgently required.
Young Caithness Musicians Join Up With Ross-shire Wind Band - Support Their Local Concert
The Caithness Schools Wind Band who are joining forces with the Ross-shire Schools Wind Band, are travelling to France on Wednesday 18 June to perform in several concerts as part of the Fete de la Musique. On their way, they are stopping off in Alness to perform at the Alness Highland Games. The Caithness Schools Wind Band are holding a concert at Thurso High School on Monday 16 June at 7.30pm. Various soloists who performed in the recent Music Festival, and the Thurso High School Choir will also be performing. Tickets £2 and £1.
Photos From Golspie Car Sprints - Last Sunday
Angus Mackay was in attendance at the Golspie Car Sprints last Sunday and has loaded up a huge collection of photos on his web site.
Want to Learn About Archaeological Digs By Doing It? - Then Read On......
Is anybody interested in helping excavate at the ecclesiastical site at Ballachly, Dunbeath.
They are opening several large wide trenches and are in need of some diggers ( human not mechanical !). No experience is necessary as on site training will be given. All that is needed is stout footwear, appropriate clothing, a packet lunch and your trusty flask. Directions - Please park at the mill car park signposted from the A9 and walk up the Strath path for about 700metres. You will see the site on your Right hand side.
Times - Work should be taking place seven days a week, from between 10 am and 4pm. You will be made most welcome even for a short time. Work will be continuing from now (today 14th June ) until 11th/ 12th of July
Towards A Sustainable Future For Castletown - Your Opinion Is Wanted


The Old Parish Church, built in 1840 served the parish until 1929. In order to help build up a picture of public opinion on possible ways forward for the village, the Princes Trust for the Regeneration of the Built Environment has asked Castletown Heritage Society to research the feeling of the community on the future of the old parish church.
New Business Caithness Auctions First Auction 15th June
Sunday 15th June - Doors Open 9.00am - Viewing Starts 5.30pm Saturday 14th


A new auction business has been started to fill the gap after the one that used to be at Watten ceased. the auction takes place on Sunday. Items have been registered via a web site Caithness Auctions. You can still enter items in the auction by taking them personally to the Weigh Inn on Saturday evening. For further information call 01847 871 364
The Longest Day Bike Ride
On Saturday 21st June 2008, 45 members of UK adventure motorcycle owners web forum xrv.org.uk will ride from John O'Groats to Lands End non-stop – 874 miles in under 24 hours, raising funds for Macmillan Cancer Support The £5000 goal looks like being broken. Bikes will be arriving from Thursday the 19th and leave at 4am Saturday the 21st June. 45+ bikes are already booked in and some people will be joining in for a part of the way.
North Airports Strike Update
Highlands and Islands Airports Limited today confirmed that Inverness Airport will not be affected by strike action called by trades union Unite for 23 June and 4 July. The news came following local discussions between airport management and members of the Airport Fire Service. This means that the majority of the airport's traffic can operate as normal on the days of industrial action. However, flights between Inverness and Stornoway, Kirkwall and Sumburgh airports may be disrupted due to strike action at the island airports.
10 June 2008
Wick Training Centre - Courses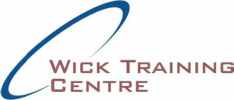 Photo Editing - Basic Computing - Microsoft Word
Starts Week Commencing 16th June - 41 Murchison St, Wick
For Further Details Contact - Colin Stewart 01955 606950
9 June 2008
Wick Girls Group Members Gain Emergency First Aid Certificates

Wick Girls Group all successfully achieved an Emergency First Aid Certificate. Upon completion of a training course in North Highland College, Wick. Group Leader Mhariann Plowman said that "the girls recently visited the Wick Ambulance Station and thoroughly enjoyed their visit. They were keen to build on their experience so I contacted Billy Nicholson who was able to provide a certificated first aid course appropriate to their average age of 13/14". All of the girls are very proud of their achievement and enjoyed the first aid training course, which was funded by Caithness YouthBank. Wick Girls Group operates on Thursday evenings from the Community Learning and Leisure Building. They undertake a variety of interesting outings that challenge and develop young girls form S1 onwards. For more information contact Mhariann Plowman on 01955 605932. Pictured form left to right Kimberley Fraser, Viv Gunn, Erin Sutherland, Faye Cormack, Chloe Graham, Becky Plowman, Rachel Graham, Anna Falconer, Mhariann Plowman, Lauren McWilliam Front row, Catherine Crawford, Amy Gunn, Louise Robertson and Chloe Plowman.
Wick To Lybster By Sea - Another Caithness Field Club Outing


Wick to Lybster was the section of the trip Bill took on Sunday 8th June 2008 with the Caithness Field Club on the M V Freedom. The boat however made a return journey from Lybster to Wick with the other half of the Field Club passengers. A mini-bus ferried one party to Lybster and then took the first group back to Wick but not until teas, cakes and sandwiches had been consumed at the Waterlines centre at the harbour.
8 June 2008
Big Turnout As Rev Bill Wallace Says Farewell At His Retirement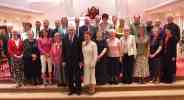 Pulteneytown Church saw a big crowd out to say farewell at the retirement of their minister the Rev Bill Wallace after 34 years.
Halkirk Gala Sunset Walk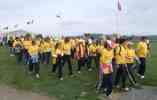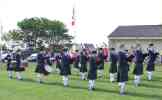 Halkirk Gala had a great turnout for their first ever 14 mile charity Sunset Walk. About 120 people decided it was good night for a longish walk in aid of charities. They were piped out of the field after first having had an aerobics warm up to music. Later they returned to a barbecue and cold beer. This looks like it could become a growing feature for Halkirk Gala in years to come.
Potential Pentland Firth Electricity by Bill Mowat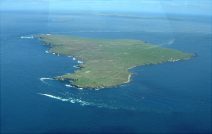 This article 'Potential Pentland Firth Electricity' generation was commissioned by the Energy Institute; it appears in this month's edition of its magazine aimed mainly at the renewables sector called 'Energy World'; its monthly 'Petroleum Review' covers international oil and gas matters. Bill Mowat hopes that his article will stimulate some debate on this important issue that has huge potential for both Caithness, Scotland and the whole of the UK. Read the article and then head for the Caithness.org forum HERE to add your comments or views on this important issue.
More about Pentland Firth
Thurso Bay Raft Race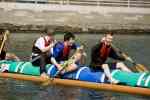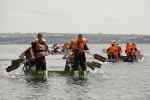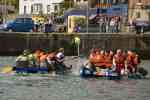 The annual raft race took place at Thurso Bay on Saturday 7th June.
7 June 2008
Caithness Girl In Highland Young Musician of the Year Competition
Five young finalists from Thurso, Fortrose, Nairn and Tain will be competing next week for the title of Highland Young Musician of the Year. Each of the talented musicians will perform solo for 20 minutes in front of an audience and a judging panel at the Drumossie Hotel on Monday 16 June. While Professor Pete Stollery, Head of Music at Aberdeen University, Jennifer Martin BBC Education Manager with Scottish Symphony Orchestra and Alison Lawrance, Principal cellist with the Scottish Ensemble are deliberating, last years winner, Graham MacKenzie, a 5th year pupil at Culloden Academy will play the violin. He will then be invited to present the trophy to the 2008 winner. All of the finalists currently perform in Highland Regional music groups. They are; clarinet player Erica Sinclair (16) from Thurso High School, two cellists from Fortrose Academy, Stephen Laidlaw (18) and Robin Nelson (16), pianist Bethany King (13) from Nairn Academy and Alister More (16) from Tain Royal Academy who will be playing the trombone.
Caithness Music Festival
Unfortunately Bill Fernie was unable to attend the music festival this year to take photos due to being away every day on council business. Fortunately local photographer Louise Bain was there and she has posted 60 photos on her web site. Go HERE to see them all
4 June 2008
North Coast Parish Church And Two Primary Schools Combine To Provide Fresh Water In Malawi
"North Coast Parish Church is combining with Reay and Melvich Primary Schools to provide 7 Fresh-Water Shallow Wells for Northern Malawi. These will be sited near two Christian Hospitals and provide a minimum of 100 gallons of fresh clean water per day. The cost for each well is £175 and they are being built on site in conjuction with Marion Medical Mission www.marionmedical.org during September this year."
Caithness Angler Takes Record Fish


When Caithness anglers Ronald MacKenzie and Raymond Millard set out for the day fly fishing on Loch Heilan, little did they know that they would end up in the record books for the second time in the space of 12 months. On 8th June 2007 the pair were out fishing on Loch Heilan when Millard hooked a huge Brown Trout which eventually tipped the scales at 10lbs 12ozs. At the time, this was recorded as the biggest wild Brown Trout to be caught in Caithness in living memory. That record stood until Monday 2nd June 2008 when this time it was Ronald MacKenzie who successfully hooked and landed an absolute monster of a fish weighing in at 11lbs 10ozs!
Old Pulteney Prohibition Ball raises over £5260 for the Royal National Lifeboat Institution


Last Friday (30 May 2008) saw the annual Old Pulteney Prohibition Ball being held at the Pulteney Distillery in Wick. Beating last year's record intake, an astonishing £5265 were raised and donated to Wick's RNLI Station. The ball took place to commemorate the repeal of prohibition in Wick and was held for the second time, after its inauguration in 2007. In a marquee that was erected especially for the occasion in the distillery's courtyard, and fueled with entertainment by local band KW1, a fantastic after dinner performance by Tom Morton was enjoyed by a lively crowd, who contributed greatly to the chosen charity through ticket sales and a silent auction. Fine dining, dancing, superb prizes and a fantastic atmosphere ensured a great evening for the local community. A further highlight of the evening was the recognition of James McCaughey, a local boatbuilder and businessman, who was awarded with the Old Pulteney Maritime Achievement Award.
3 June 2008
Your Chance To Learn To Paint


Over the course of the next few weeks CHS will be hosting a series of art painting classes for beginners in Castlehill Heritage Centre. The tutor for the sessions will be local Castletown artist Helen Moore who specialises in oils, acrylics and oil pastels. The sessions will run for six consecutive Mondays starting with a free introductory session on Monday 9th June. Sessions will run from 7-9pm and cost £8 per evening plus materials. To book a place contact castletown.heritage@talk21.com or come along to the free taster session on Monday 9th June.
SNH To Open New Visitor Facilities At Achanarras Quarry - (near Halkirk)




13 June 2008 - 10.30 am to 12.30 pm
opening of new visitor facilities & exciting New Fossil Finds at Achanarras
2.00 to 3.30 pm - Fossil Hunt
an afternoon with experts on hand to help you to try to find a fossil !
5.00 pm - Environmental Research Institute, Thurso
"The world-famous fossil fish of Achanarras Quarry"
Caithness Relay for Life 2008 - Launch Events
The first of the launch nights is going to be held on Thursday 5th June at the Pentland Hotel, Thurso, starting at 7.30pm. The second launch night is going to be held on Friday 13th June at The Waterfront, Wick, starting at 7.30pm. The Cancer Research UK Relay For Life is an overnight team event in support of those living with cancer and in memory of those who we've lost through it. The event is to be held in Caithness for the first time this year. It will take place at Sir George's Park (The Dammies) in Thurso on 30/31 August 2008 and will last for 12 hours (6pm - 6am)..........more
2 June 2008
Free Parent and Child Rock N Roll Class - Tuesday 10th, 17thand 24th June - 6.30 - 7.30pm
The classes will be held at Miller Academy Gym Hall - All primary 1 to primary 7 children welcome (kids must be accompanied by an adult). All participants must wear soft shoes. Anyone interested in more info or wishing to book a place should contact - Kenny Russell, Active schools coordinator, Community learning, Princes St. 01847 895782, 07899 001045
Community Woodlands Photography Competition - Get Your Local Woodland Noticed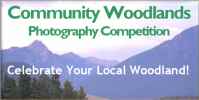 Community Woodlands Association is sponsoring a Community Woodlands Photography Competition. Individual Prizes - First, second and third prizes will be awarded in each of three age groups. First prize winners in each category will have their images reproduced as one of a set of four postcards to be distributed nationwide. The judges for the age group categories will include Matthew Dalziel of the artistic partnership Dalziel + Scullion www.dalzielandscullion.com A fourth, individual prize will be selected from all the other entries by CWA Directors. The winner in this category will also have their image reproduced as a postcard to make up the set of four. Community Woodland Prize - There is also a prize for one lucky Community Woodland member group. The prize will be a fantastic one day photography workshop with a professional photographer, for up to 10 participants. The photographer will be selected by CWA and we will also be able to offer support to arrange the event and take bookings if you would like help. All you have to do is provide the woodland venue. The winning community woodland will be chosen via a prize draw. All entries, submitted by the 1st September 2008 deadline, will go into a 'hat' and the workshop prize will be awarded to the first member woodland out the 'hat'. Full details and entry forms at www.communitywoods.org
Cruise The Caithness Coast - FRIDAY 6th June 7PM FROM WICK HARBOUR
Join the Freedom Charter & local ranger to admire the beauty of the Caithness Coast by sea; natural stone brigs, stacks & caves. Learn about the wonderful array of wildlife including hundreds of nesting seabirds, seals & perhaps even a whale or dolphin. Booking essential ~ £12 per person.
For further information or to book a place, please contact Highland Council Ranger Marina Swanson on 01955607758 or e-mail marina.swanson@highland.gov.uk THIS EVENT IS WEATHER DEPENDENT!
Caithness Crews Heads For The Scottish Tarmac Championship Round 3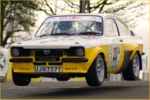 The second World War airfield at Crail, Astruther, Fife will host the third round of the Scottish Tarmac Championship on 14th and 15th June. Unusually this single venue event is being held over two days, comprising of 8 stages on the Saturday followed by 8 on the Sunday totalling 96 competitive mile made up of 85% tarmac 10% loose and 5% gravel. The event has attracted teams from all over Scotland and England, comprising of World Rally Car machinery, group N and clubman spec cars. Five Caithness Car Club Crews will be travelling the 260 miles down to compete in this eagerly awaited event.