1 June 06
DOGS TRUST DELIGHTED AT TOTAL TAIL DOCKING BAN IN SCOTLAND
Dogs Trust, the UK's largest dog welfare charity, is delighted that the Scottish Parliament has passed the Animal Health and Welfare (Scotland) Bill with a total ban on tail docking, for both working dogs and cosmetic purposes. Under the new legislation it will also be an offence to take a dog from Scotland to be tail-docked in another country.
The charity believes that tail-docking, the practice of removing a dog's tail within the first few days of life without anaesthetic, leaving a stump, is cruel and unnecessary, and should be banned for all dogs other than for therapeutic medical reasons.
Dogs Trust cares for over 13,500 stray or abandoned dogs every year through its network of 16 Rehoming Centres across the UK. The charity is shortly to open it's 17th Rehoming Centre, Dogs Trust Glasgow, later this year, a welcome addition to its very busy centre at West Calder. Together, the two centres will offer a second chance to hundreds more stray and abandoned dogs in Scotland every year.
A copy of the full bill
25 May 06
DOGS TRUST DESPERATE FOR NEW OWNERS FOR OADS (OLD AGED DOGS)
Staff at Dogs Trust West Calder are hoping that kind-hearted members of the public will come forward to offer homes to the many golden oldie dogs who are currently looking for somewhere to spend their retirement. It is so sad to see so many older dogs at the Rehoming Centre as these dogs will have spent the majority of their lives in homes and to now find themselves abandoned at an age when they are looking for security is heartbreaking.
For folk in Caithness there are usually a number of dogs of all ages looking for a home at the Balmore Animal Centre - Caithness
9 May 06
Liono the One Eyed Cat Who Turned Up


Recently Liono from Thurso was reported to us as missing but before we could add him to the lists he turned up home again. If you have a garage or out building keep a watch for cats wandering in before you lock the doors. If you are building a new house and are locking up check round as we have had reports of cats locked up for several days in new buildings. Cats are naturally curious and always investigating so may easily get locked in somewhere. Just check round if the door has been open for a while.
13 April 06
Pip Fine And Well After 70 Foot Cliff Fall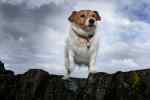 Pip a Jack Russell was rescued from the foot of the cliffs after falling over 70 feet into the sea. Local coastguards managed to rescue the dog who was apparently OK after being stranded in the sea for over 40 minutes.
13 March 06
Success - Lost cat At Durran reunited with owner thanks to Caithness.org
10 March 06
Lost Cat At Durran
A stray black and white cat turned up at my house a couple of nights ago. He is fully house trained and I would say not a year old yet. He's very friendly and cute!. I think possibly he's been dumped, but maybe someone has lost him...more
21 February 06
Massive Fines and Prison For Animal Cruelty
Fines are to be raised from £5000 to £20,000 for cruelty involving animals. Prison sentences will double from 6 month to 12 months. Tail docking of dogs will become an offence
Tough new powers relating to all aspects of illegal dog fights in Scotland were announced today.
The proposals will make it an offence to make, show or distribute film of animal fighting in the UK. Offenders will also face increased fines and prison sentences under the plans.
Environment and Rural Development Minister Ross Finnie revealed the changes to the Animal Health and Welfare (Scotland) Bill today and said they will put an end to criminals profiting from films to make money out of promoting illegal fights and gambling. He said:
"We are committed to reducing the needless suffering of all animals in Scotland and to protecting animals from one of the most shocking acts of cruelty.
"The act of dog fighting is already illegal, and these tough new powers will give us the tools we need to punish those responsible for this vicious crime by increasing the maximum penalty for the worst cases of animal abuse to twenty thousand pounds and or twelve months imprisonment."
Kay Driver, Chief Executive of the Scottish SPCA commented:
"Organised dog fighting is one of the most abhorrent acts of premeditated animal cruelty. The offenders operate within an underground network and we know the fights are often filmed to be 'enjoyed' later and to also highlight the aggression of individual dogs.
"The proposals announced today will assist greatly in cracking down on this most barbaric crime and will create another route to bring the perpetrators to justice."
The Executive's response to the Environment and Rural Development Committee's Stage 1 report on the Animal Health and Welfare (Scotland) Bill was published this morning.
The Stage 1 debate on the Animal Health and Welfare (Scotland) Bill will be held on Thursday 23rd February.
A further amendment to the Animal Health and Welfare (Scotland) Bill announced today includes:
A total ban on the tail docking of dogs. Having listened to the scientific and veterinary evidence given to Committee during Stage 1, the Executive has been persuaded that there is no case to allow an exemption for the tail docking of working dogs.

An increase in the maximum penalty for the worst cases of animal abuse. The Executive will bring forward an amendment to increase the penalties for animal cruelty from a fine of £5,000 and/ or 6 months imprisonment to a fine of £20,000 or 12 months imprisonment or both.
18 February 06
Kevin - Missing Harrow Hill, Wick Since 12 February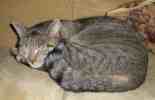 Kevin is a large brown/grey male stripey tabby who has been missing since Sunday 12 February. He lives in Harrow hill but is known to wander towards Albert street and Kennedy Terrace. He is well known in this area but appears to have disappeared without a trace. He is very partial to cars and may have wandered into one and been transported elsewhere. His distinguishing features are his white whiskers, quite a small head for such a large body, almost non existent meow and sooty paw pads. Contact us at 01955 605865 if you have seen him or know anything about his disappearance
3 February 06
Bonnie - Missing From Halkirk


Bonnie cat went missing from Bridge Street, Halkirk on 15th January. She is one and half years old. She is mostly white with ginger and black markings on her head and back with a black and grey striped tail. She is very friendly and goes to most people. She came from Balmore and was chipped but she did not have a collar on. If you have any information about Bonnie email the owner at fluffy007@btopenworld.com
15 Feb 06
Update on Runrig Runrig Back Home 15 Feb 06
Runrig has turned up after all these week at his old house. He is thin and hungry but otherwise OK
12 January 06 -
Cat Missing Brownhill, Road, Thurso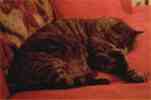 His name is Runrig he is about 12 years old. He went missing from Brownhill Road, Thurso after being moved from Pennyland Dr. So far he has not been back to either house. If anyone has seen him can they please give me a ring on 07715 106062. A reward will be offered if he is found.
2 January 06
From Gill Lowe
Cat Missing From Tansfield Castletown
27 December 05
Fudge Photos Gets On TV


Unfortunately Fudge died in November. Sarah entered his photo in "Pet Wars" competition on the CBBC programme Exchange and was delighted when he was chosen to take part! He was on TV every day during the second week in December much to Sarah's excitement! He did not gain enough votes to win, but we were very pleased anyway! Thank you to anyone in Caithness who voted! He had a short but happy life, and is still a star!! - From Sarah Paterson
25 December 05
Happy Christmas From Max At Caithness.org


Happy Christmas From Max and all of us at Caithness.org. Max is in Caithness with Harley from Cumbernauld and no doubt you will be seeing more of the mischievous rascal over the holidays.

17 December 05
Missing Pets Section
As the numbers of missing pet items are growing we have created a new page to keep all the missing pet items in one place. If you have an animal go missing and want to notify as many people as possible then send in details and a photo if you have one. Taking a photo of your pets now and keeping it in a safe place is good idea and help later if you need to notify it missing.
The Rags Problem -
The Dog Who Won't Go for A Walk


A couple of days ago we showed this photo and asked for any tips. Suggestions have begun to come in.


Farm Pets
For those larger pets
Unusual Pets Gallery
Another New Gallery In Pets Corner


Another new gallery for unusual pets is kicked off with this photo of three toed crab landed recently at Wick. the third toe can be seen clearly on the left mandible and is fully functional - ouch. Do you have an unusual or exotic pet to show in the new gallery?
Caithness Pet Stories
A new section to contain true stories about pets in Caithness
Pets Gallery
If anyone would like to send in a photo of their pet we will put it in the Pets Gallery. This can be anything from your cat, dog, bird snake or spider. Perhaps you have pony or pet chicken, hamster or guinea pig. Take a digital photo and email it to bill@caithness.org to have it added to the gallery.
Missing Pets Gallery
Unfortunately some pets go missing and we are increasingly being sent photos of missing pets. To make it easier for anyone to find the photos and information we will in future keep them all in one place and have created a Missing Pets Gallery to make it easier to view the photos all in one place in case you find a missing cat, dog or other animal that we have been notified about.
Balmore Animal Centre - Caithness
Remember that Balmore Animal Centre looks after many stray animals each year and if you are looking to get a cat or a dog they may be able to show you animals looking for new homes. Sometimes older people can no longer look after a well loved dog or cat or the animal may have gotten lost and no one can trace the owner. You may be asked to pay fees for injections or neutering and as the centre is charity you might consider making a donation.