Scottish Roads Weather Problems Bulletin Board
Click for Winter Emergency Numbers, Road Information etc
Highland MSP Mary Scanlon Seeks Help For "trapped" victims of violence"
Mary Scanlon MSP has highlighted the figures in The Scottish Executive's National Strategy on Preventing Domestic Abuse which worryingly point out that in 50% of domestic abuse cases recorded, the victims had previously been the victim in another recorded incident. Speaking in the Executive Debate to mark the International day to Eradicate Violence Against Women, 25th November, Mary commented that these figures indicate that victims are finding themselves trapped in abusive circumstances, and the abusers are not addressing their behaviour or, indeed, getting the support needed to change their behaviour and move away from physical abuse.
Highland MSP Maureen MacMillan Still Fighting To Retain Fire Control Centre In Inverness
Highlands and Islands Labour MSP Maureen Macmillan has questioned the Deputy Minister for Justice Hugh Henry on how the Scottish Executive will respond to the recent consultation on fire control rooms in Scotland. The report by consultants Mott MacDonald recommended that the existing eight fire brigade control rooms in Scotland be reduced in number to one, two or three.
28 November 04
Thurso Community Council Wins Award For Environment At Calor Scottish Community of the Year Awards
Pulteneytown People's Project receives commended awards at Calor Scottish Community of the Year Awards
Thurso Community Council has won the Environment category of the Calor Scottish Community of the Year Awards 2004, at a ceremony in Edinburgh. Representatives of the Community received the award from HRH The Prince Charles, Duke of Rothesay, at the event held at the Edinburgh International Conference Centre (EICC).
Commenting on Thurso's success, Gavin Tomlinson, Calor Scottish Community of the Year Manager said, "Thurso is a geographically remote community which has demonstrated tremendous self-reliance and community leadership.
Pulteneytown People's Project from Wick have been commended in the Business, Young People and Community Life categories of the Calor Scottish Community of the Year Awards 2004, at a ceremony in Edinburgh.
From NHS Highland
WORKING TOGETHER TO PLAN FOR THE FUTURE
Does Your Group Need Transport - NHS May Supply It
You may have read in the media recently that a national, independent group has been established to look at the future shape of the NHS in Scotland. In December, the 'Kerr Group' will be travelling round the country, holding a series of regional meetings, at which they want to meet with the public and professionals and take their views to help them draw up a national framework to guide future decisions on vital services. A newsletter from the National Planning Team is enclosed, which gives you some further information. The meetings are being led by the Scottish Executive but, as a Board area, we have been asked to host such a meeting. Highland's meeting is to take place on Thursday, 2nd December 2004 from 7:00 – 9:00pm at the Drumossie Hotel, Old Perth Road, Inverness.
Professor David Bellamy Talks Wind Farms
Rob Gibson SNP MSP Urges Caution
A Public Meeting Tuesday 23 November 2004 - 7.30pm
Thurso High School


Professor David Bellamy OBE look set to have a big audience as he steps into the controversy surrounding wind farms in Caithness. Professor Bellamy will be accompanied by advocate Bob Graham who will make a presentation. A Question and Answer session will be chaired by John Thurso MP. The session will pose questions for speakers across a spectrum of opinion. The Caithness Wind Farms Information Forum believes this will be an excellent opportunity for for this widely debated subject to be addressed at a local level.
MSP Rob Gibson Takes Issue with David Bellamy's Views
SNP MSP for the Highlands and Islands Rob Gibson has warned people in Caithness to beware the words of botanist David Bellamy when he visits Thurso next week.
Wedding Fayre Sataturday 13 and Sunday 14 November 12.00 - 5.00pm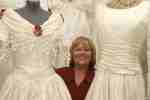 This weekend the Seaview Hotel in John O' Groats hosts a wedding fayre being put on by local woman Anne Baker, who's company Tickety Boo designs and makes customised bridal wear. She will have many of her creations on display and will be on hand to discuss details with brides to be.
DOUNREAY'S 1000th APPRENTICE TELLS FIRST MINISTER OF INTERNATIONAL VISION


UKAEA's 1000th engineering apprentice at Dounreay was introduced to First Minister Jack McConnell today and told him: "The skills I'm learning can become Scotland's newest export to the world." Gary Davidson (18) from Wick was speaking at the annual UKAEA apprentice-giving ceremony at the Pentland Hotel, Thurso, where the First Minister was the guest of honour. He visited Dounreay afterwards to see Scotland's largest nuclear decommissioning project.
HIGHLAND MSP VISITS INVERNESS FIRE BRIGADE CONTROL ROOM
Highlands and Islands Labour MSP Maureen Macmillan visited Inverness Fire Station to meet with the Firemaster and control room staff. A review of Fire Brigade control rooms in Scotland may result in the present eight being reduced to one, two or three. Mrs Macmillan is strongly in favour of the retention of the Inverness fire brigade control room, which could be achieved within the three control room option.
Highland MSP supports pensioners in older people debate.
Mary Scanlon MSP today said that any pensions debate is a far more complex issue than simply stating that there should be a rise in pensions. Speaking in the Scottish Parliament, Mary said; "Help the Aged state that 'means testing creates a complex and bureaucratic system with 145,000 pensioners in Scotland who are entitled to pension credit not receiving it.' She further commented; 'many pensioners with moderate incomes still feel they are little better off than those who never saved, stating that means testing could also dis-incentivise saving for young people.
GIBSON CALLS FOR TRADITIONAL MUSIC TUTION TO BE EXTENDED
The tuition of traditional music in schools through the Youth Music Initiative should be available in the mainstream curriculum to every child in Scotland, says Highlands and Islands SNP MSP Rob Gibson.
The initiative is a scheme set up by the Scottish Executive with the aim by 2006 that every primary child in Scotland should have access to at least one year's free music tuition. The SNP MSP's comments follow his visit to Dunbeath Primary School in Caithness On Friday Morning (5/11/04), where piper and whistle player Ross Ainslie and guitarist/bassist Barry Reid led the second of four music sessions for the children there.
National Strike Hits Government Offices In Wick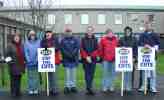 Civil servants were on strike in Caithness today joining in a national strike at the threat to up to 100,000 jobs . In Wick that might mean 25 jobs going in the Department of Work and Pensions alone. The benefits office in Thurso looks certain to close. Some of the jobs might transfer to Inverness where a new call certain is being proposed to deal with much of the social security enquiries.
DOUNREAY'S 50TH BRINGS £50, 000 WINDFALL FOR COMMUNITY REGENERATION
An award-winning community regeneration project in Wick is to benefit from a package of measures worth more than £50,000 in the same year that Dounreay celebrates its 50th birthday. UKAEA is making available £50,000 through its partnership with the British Trust for Conservation Volunteers to support local projects. UKAEA will also provide a team of staff for a day to help carry out some of the work. In addition, UKAEA has agreed to support a number of other initiatives being spearheaded by Pulteneytown Peoples Project. These include the donation of an outdoor storage facility, sports equipment for the local primary school and the services of a project manager to help bring plans for a skateboard park to fruition.
Gibson calls on underspend to be spent on relieving development constraints

Having visited the major Caithness water treatment plant Rob Gibson, SNP MSP for Highlands and Islands described the new plant at Halkirk as a shining example of what should be on offer to all Scottish Water customers.

2 November 04
GIBSON CALLS FOR NEW APPROACH TO HOUSING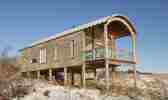 SNP MSP For the Highlands and Islands Rob Gibson has lodged a parliamentary motion calling for more eco-friendly homes and businesses to be built throughout Scotland. His motion highlights the success of Danish artist Lotte Globes environmentally-friendly house (situated on the shore of Loch Eriboll Sutherland) that made the final shortlist of last weeks Royal Incorporation of Architects Scotland competition for Scotland's best building.
HIGHLANDERS URGED TO STAND FOR THEIR RIGHTS
TO ACCESS THE COUNTRYSIDE
People in the Highlands with an interest in public access rights to the countryside are being invited to stand as representatives on Local Access Forums. Six forums are currently being established by The Highland Council in Caithness, Sutherland, Ross and Cromarty, Inverness/Nairn/Badenoch and Strathspey, Lochaber, and Skye and Lochalsh. The forums are being set up by the Council in order to meet the statutory duties of the Land Reform (Scotland) Act 2003. Each forum, of up to 12 members, will operate in a local advisory capacity to the Council on matters relating to the exercise of public access rights in the countryside.
1 November 04
SCOTLAND'S FIRST EUROPEAN GEOPARK AWARDED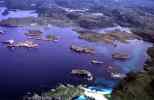 The North West of the Highlands is the first area of Scotland to be awarded UNESCO-endorsed European Geopark status following an announcement made this morning in Sicily during the European Geoparks Networks annual meeting. Geopark status has been awarded to the area which encompasses parts of Wester Ross and the whole of North West Sutherland on the basis of its outstanding geology and landscape, the strength of its partnership approach to sustainable economic development and its existing geological interpretation facilities. Stretching from Coigach in Wester Ross to Cape Wrath and Loch Eriboll in the north, this 2000 square km area takes in some of the finest mountain and coastal landscapes in Britain and contains a wealth of classic geological localities.