Scottish Roads Weather Problems Bulletin Board
Click for Winter Emergency Numbers, Road Information etc
GO AHEAD FOR COMMUNITY OWNERSHIP PROGRAMME BID
The Highland Council today (Thursday) agreed to apply to join the Scottish Executive Community Ownership Programme, which commits the Council to pursuing the option of transferring the ownership and management of its stock of 15,500 Council houses to a new Highland not-for-profit landlord. Convener Councillor Alison Magee was seconded by Councillor Margaret Davidson, Chairman of the Housing and Social Work Committee, in proposing the successful motion which will start a two year period of discussion before Council house tenants will be asked to vote on detailed proposals. In reaching their decision, the Council agreed to make Community Ownership a standing item on the agenda of the full council in the run up to the ballot; to consult very closely with tenants and to seek to ensure that the interests of Council staff are recognised during the transfer process.
COUNCILLORS TO HELP DEVELOP NEW MODEL OF MATERNITY SERVICE AT CAITHNESS GENERAL HOSPITAL
Highland Councillors have agreed to play their part in developing a solution for the future provision of maternity services at Caithness General Hospital, Wick, which will enable as many babies as possible, including first births, to be born in Caithness and at the same time enhance other specialist services locally. Meeting in Inverness on Thursday 28 October 2004, the Council welcomed news that, as the result of consultation, NHS Highland is considering a new model of service delivery, which could mean two-thirds of births can take place in Caithness General Hospital.
Wick Councillors Pleased To See Heating Scheme Reach Next Stage
The Highland Council gave the go ahead on Thursday 28 October 2004 for arrangements to be made to establish a not for profit company to implement and manage a biomass district heating system to serve Pulteneytown, Wick. The Council will participate in the formation of the dedicated company which would deliver, own and manage the proposed system to ensure with compliance with appropriate legal, financial and contractual requirements. Nominations for members to serve as Directors will be delegated to the Caithness Area committee of the Council.
TRAIL-BLAZER -
Looking Back To The first Apprentice At Dounreay

This year marks an important milestone in the history of UKAEA craft apprenticeship scheme at Dounreay; it appoints its 1000th apprentice. The identity of this person will be revealed at the annual apprenticeship and trainee certificate presentation awards, to be held insert as appropriate. This person will carry that honour as a badge of pride, and a symbol of a scheme, started in 1955, that gave young people from Caithness and Sutherland, and eventually from further afield, a first-class training in their chosen engineering career. Ten of the first eleven entrants were from Caithness, with Jim Macdonald from Sutherland, completing the number.
SMALLER COMMUNITIES MUST BENEFIT
FROM SAFEWAY SALE
SNP MSP for the Highlands and Islands Mr Rob Gibson has today Monday 25 October 2004 welcomed the end of uncertainty over the smaller Safeway stores which will now be taken over by Somerfield. This following recent price hikes in rural stores and some smaller city centre stores. Commenting, Mr Gibson said: "I welcome an end to uncertainty for users of smaller Safeway stores. Morrisons sent an early signal of their lack of interest in their recent purchases by hiking prices for known valued items in the so-called compact stores.
CD Factory At Wick Closes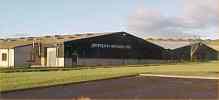 The CD factory run by James Yorke Ltd has closed with the loss of seven jobs. James Yorke Ltd took over the factory from Grampian Records that went into receivership with debts approaching £900,000. the company also employed 25 people at their factory in Cheltenham and they have also lost their jobs. Grampian Records ceased operations in January 2003.
MSP Rob Gibson Sounds The Alarm For Air Ambulances
"Ambulances must be based in Northern and Western isles"
'The Scottish Executive must consider gale force weather conditions, basing air ambulance planes on islands, increasing cover and treating Caithness as an island for air ambulance purposes,' said Rob Gibson SNP MSP for Highlands and Islands. ' I am increasingly alarmed that local opinion is being ignored in favour of cost cutting measures,' he continued.
'In light of proposed changes to the air ambulance services for remote and rural areas I have lodged a raft of questions to new Health Minister Andy Kerr to find out how the service would function should preferred bidder Gama Aviation be awarded the contract.'
NORTH MSP QUESTIONS MINISTER ON
WAVE POWER DEVELOPMENT
Highlands and Islands Labour MSP Maureen Macmillan has queried the Minister for Enterprise and Lifelong Learning Jim Wallace on what action the Scottish Executive is taking to encourage the development of wave power. Speaking today Mrs Macmillan said, ďI raised the question during Ministerial questions in the Scottish Parliament on Renewable Energy and was encouraged by the Ministerís response. Mr Wallace highlighted a contribution of over £2 million of Executive funding which was used to construct the European Marine Energy Centre on Orkney, where the Pelamis device is currently being tested."
DOUNREAY CLEAN-UP TIMESCALE AND COSTS REDUCED
Another Reduction In Decommissioning Takes Original 100 Years Down To 32 Years
UKAEA Slashes One £Billion From Costs In Advance OF Nuclear Decommissioning Authority
UKAEA today announced substantial reductions in the forecast timescale and cost of decommissioning its former experimental reactor establishment at Dounreay. Completion of the programme has been accelerated to 2036 and the undiscounted cost reduced from £3.695 billion to £2.695 billion. Across the UK, the UKAEA today is announcing it has cut the estimated cost of the clean-up of all its nuclear sites by almost a third. The revised forecasts are contained in long-range plans submitted to the Government and regulators in preparation for the launch next April of the Nuclear Decommissioning Authority.
SHELTER AND CHURCH LEADER CALL ON NEW MINISTER TO GRANT HOMELESS CHILDREN'S CHRISTMAS WISH


New Communities Minister, Malcolm Chisholm, has been urged to ensure, as his first priority, that no homeless child in Scotland will spend this Christmas in Bed and Breakfast accommodation. The call comes as Shelter joins forces with the moderator of the General Assembly of the Church of Scotland to highlight the plight of over a million children in Britain suffering in bad housing. Former Minister Margaret Curran pledged, last December, to end the scandal of children living in B&Bs by this Christmas. But regulations to ban the use of B&Bs for families are still not in place.
A9 TRUNK ROAD - HELMSDALE TO ORD OF CAITHNESS IMPROVEMENTS - PHASE 1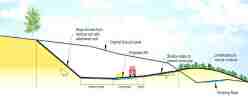 The Ord of Caithness known as one of the most dangerous places to be caught in winter and still today a place to avoid in the snow due to the tendency for snow to pile up into drifts. today drivers know it as the place they often get trapped behind slow moving lorries, vans and other heavy traffic. Now the biggest improvement of the road is finally underway. The improvement work started in August and will last until September 2005. Finally cars may be able to pass the larger vehicles and hopefully there will be less chance of drifting snow blocking the road in winter - time will tell. For now the hillside is being cut away at the edges to make way for the new road and extra lane in places.
8 October 04
Water Burst At Bridge Street, Wick


SCOTLANDíS FIRST NUCLEAR REACTOR IS OPENED TO VIEW



Decommissioning engineers have looked inside Scotlandís first nuclear reactor for the first time since it was built almost half a century ago. A remotely-operated video camera and radiation measurement probe was inserted inside the Dounreay Materials Test Reactor to explore its condition.
LOCAL MSPs 'SIT-IN' FOR SHELTER



Highlands and Islands MSPs Rob Gibson, Maureen Macmillan and Eleanor Scott have joined Shelter's red chair 'sit-in', to show their support for the charity's campaign to end the scandal of the over one million in children in Britain who are suffering in bad housing.