Gala Queen & Court
Gala Queen Jodie Stewart
1st Attendant Lyndsey Malcolm
2nd Attendant Donna Douglas
Flower Girl Alex Paul
Flower Girl Hannah Cormack
Page Boy Rhys Mackay

Programme

Saturday 4th August
8.30am Continental Market, One MarketÖhundreds of flavours. (Begins Thursday 2nd August until Sunday 5th)
5.00pm Childrenís Fancy Dress judging in Sir Johnís Square. Under 5 years to 12 years, entry Free
5.45pm Adult Foot Collectors judging, Sir Johnís Square, 13 years and above, entry Free
6.30pm Judging of Floats & prize presentation, Sinclair Street.
6.30pm Mina MacKayís Highland Dancers Display in Sir Johnís Square.
7.00pm Gala Queen Ceremony, Sir Johnís Square followed by the Gala Parade.
10.00pm Gala Dance Skinandis, over 18's only see posters for details

Sunday 5th August
8.30am Continental Market, One MarketÖhundreds of flavours.
Noon Itís A Knockout competition with various teams & family fun in the Dammies. Bouncy castles etc.
6.30pm Car Treasure Hunt, starting in Janet Street & returning to the Janet Street Club for results, entry £5 per car.

Monday 6th August
7.30pm Fashion Show in Skinandis with Kaithness Kickers Line Dancers, Jewellery & Health products displays, entry £3

Tuesday 7th August
2.00pm Teddy Bears Picnic & childrenís games in Skinandis, prizes for best dressed teddies, entry £2
6.30pm Family Bingo in the Royal British Legion, books are usual prices, entry £1

Wednesday 8th August
7.00pm Beach Party, weather permitting, Race of Tasar & Laser Yachts.Hee-Haw Donkeys, Beach Treasure Hunt,
BBQ, Sand Castle Competition & Karaoke, Caithness Classic Motor Cycles and Vintage Cars Display, Canoeing, Jet Skiing, Kite Surfing, Surfing & water skiing Demonstrations.

Thursday 9th August
7.30pm Quiz Night in the Janet Street Club, Disco to follow, entry £2 per person
7.30pm Whist Drive, Scout Hall Riverside, entry £1.

Friday 10th August
10.00am Coffee Morning in Royal British Legion, Mina MacKayís Highland Dancers display, entry £1
2.00pm Family Treasure Hunt with varied starting times starting from the boating pond. See posters.
6:00pm The Big Gig with various local bands, Sir Georgeís Park (The Dammies), entry £2.
8.30pm Taste of Tartan Ceilidh in the Royal Hotel, entry £3

Saturday 11th August
2.00pm The Big Gig with various local bands, (The Dammies) entry £2. .The grand Raffle Draw, tickets £1 each.

Sunday 12th August
1.00pm 10K Run. Over 15ís only, entry £5. 1.15 pm 3K Fun Run/Walk Under 8yrs must be accompanied by an Adult
entry £2. Registration for both walk/race, Thurso Youth Club, Millbank from 11.30am-12.30pm on the 12th August.
2.00pm Baby Show in The Royal British Legion, entry £2

Extras: SWRI are celebrating 90 years and are having a craft and flower display in St Peters & St Andrews Church Thurso,
1st- 4th August 10am-4pm, also 6pm-8pm on the 2nd & 3rd August. Beach fishing competition, see posters for more details.
Sea Boat fishing competition, contact Harpers Fishing Tackle shop for more details. Red herring, word search and colouring competitions, all entries must be returned to Cairngorm Windows (Gala Office) by 12 noon Friday 10th August.
Collection cans are available from the old Victoria Wine shop Friday 3rd August evening and Saturday 4th August.

All Thurso Town Improvements Association profits are
redistributed through projects within the Thurso area.

POLICE SAFETY NOTICE
Thurso Town Improvements Association & The Northern Constabulary wish to remind the Public that COIN THROWING, can cause serious I Injuries and may lead to a criminal conviction. For the SAFETY of everyone, please DO NOT throw coins Inappropriately or allow children to do so.

Some events may change or be cancelled see www.Thurso.org for details.
The Big Gig - Thurso 2007

The Big gig played over Friday Night and Saturday from 2.00pm till 11.45pm with long list of local bands. Lots of photos are now on the Northern Imaging web site compliments of Stuart Rollinson. The Big Gig is part of Thurso Gala
Thurso Gala 2007
Thurso Gala 145 - 149


Thurso Gala 97 - 108 109 - 120 121 - 132 133 - 144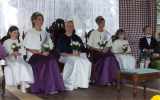 Thurso Gala 49 - 60 61 - 72 73 - 84 85 - 96







4th to 12th August 2007 featuring The Continental Market and the return of an even bigger BIG GIG plus all the usual features like Baby Show, Treasure Hunt, Quiz Night, Fashion Show, Teddy Bears Picnic, Taste Of Tartan etc
( exact day times and details tba)
The 2007 Big Gig At Thurso - Friday 10th August


The Big Gig returns once more to Thurso thanks to the Thurso Town Improvements Association on Friday 10th August. Non-stop music from a huge line-up of bands from 2.00pm until 11.45pm.
Print Out A Bigger Poster To Help Advertise the Big Gig
A Slightly Bigger Poster
Earlier Thurso Galas
2006
2005
2004
2003
2002
2001
2000
Thurso Gala Queens from 1950's Onwards
26 May 07
Its A Knockout Competition - Enter A Team


As part of Thurso Gala week, Thurso Town Improvement Association are organising an 'It's a knock out' event on Sunday the 5th of August 2007 at the Dammies, Thurso.
We are inviting local organisations and businesses to enter teams to take part in this excellent funday event, along with raising funds for 3 local charities - TTIA, Thurso Football Club and Scallywags Nursery, Dunnet. The winning team will also have the opportunity to nominate £100 prize money to their chosen charity.
The competition will kick off at 12 midday* and last for 2 hours, allowing the public access to the equipment for the rest of the afternoon. There will also be a bar, barbecue, children's' bouncy castles, Hee Haw donkeys and a load of other events yet to be confirmed.
The competition will comprise of the following pieces of equipment -
50ft inflatable assault course,
giant inflatable slide,
an inflatable boxing ring, bungee run,
gladiator joist and sumo suits.
Other events on the day are yet to be confirmed
he entry fee to the competition is £5 per person, with a maximum of 6 people per team. If you are interested in taking part in this fun event, I urge you to fill out the application form and return it to me, no later than Friday the 15th of June. Payments are to be made out to Thurso Town Improvements association.
We do believe that this event will be very popular, to avoid disappointment, please return your forms early. Do not hesitate to contact me for further information.