Saturday 5th 9am-4pm Rabbit Show in Thurso Auction Mart Courtesy of Autoparts. See posters for details
2.00-3.30pm Photos with the Vikings in the precinct
5.00pm Childrenís Fancy Dress in Sir Johnís Square
5.45pm Adult Foot Collectors in Sir Johnís Square.
6.30pm Judging of Floats.
Shoestring Circus Street Performers presented in partnership with The Highland Council, Community Learning & Leisure Service.
7.00pm Ceremony in Sir Johnís Square
7.20pm The Parade lead by the Thurso Pipe band and the Caithness Junior Pipe Band.
7.30pm Mina MacKayís Highland Dancers display on the stage in Sir Johnís Square.
7.50pm Burning of Viking Boat at the Riverside
8.30pm Various stalls in the precinct.
9.30pm Family Dance in Royal Hotel
Sunday 6th 2.00pm Baby Show & Family Fun Day (Old Fashioned Sports Day), including
Cheerleaders, Ballet Dancers, Candy Floss, Stalls, BBQ and Music at
Sir Georgeís Park. Dammies
6.30pm Car Treasure Hunt. Entry £5.00 per car starts at Ellan Bridge Car Park Return to Redwood for refreshments.
Monday 7th 7.30pm Whist Drive in Redwood, Raffle & refreshments. Entry £1.00
Tuesday 8h 2.00pm Teddy Bears Picnic in Skinandis. Entry £2.00
7.30pm Fashion Show in Skinandis Courtesy of MACKAYS
& Line Dancing Display. Entry£3.00
Wednesday 19h 5.00pm Fishing Competition. Entries at Susanís Tackle & Harperís shops.
7.00pm Beach Party Extravaganza. Weather permitting
Thursday 10th 7.30pm Bingo in Skinandis - Doors open 6.30pm. Entry £1.00
Friday 11h 10.00am Coffee Morning in Royal British Legion. Entry £1.00
7.30pm Taste of Tartan Ceilidh in the Royal Hotel. See posters for details
Saturday 12th 7.30pm Pub Quiz Janet Street Club, Teams of four. Disco to follow Entry £2.00 per person
Sunday 13h 12.00pm Music Festival, Auction, Grand Raffle Draw at Sir Georgeís Park

Extras:

Sunday 13th 10 Run & 3k Fun /Run Walk Courtesy of C.A.A.C. See posters for details

Thurso Bowling Club Gala Weeks Open Pairs Competition, Monday 7th Ė Friday11th August Sponsored by UKAEA.

All Entries Sent or Telephoned To Club by 28th July at 6.00pm

Ten Pin Bowling see posters for details.

Red Herring, Word Search, Colouring Competition and the grand raffle can be picked up from the Gala Office.
All competition entries must be returned to the office by noon on Friday 11th August.
Collection cans may be collected from Monday 31st July all week from the Gala Office at the old Victoria Wines
Shop and on the Saturday 5th August up until 7.00pm.

The collection cans may be returned to the Gala Office until 10.00pm on the evening of the Gala thereafter to the Royal hotel.
Gala Queen And Court 2006
Gala Queen - Maxine Whale
1st Attendant - Stephanie Kelly
2nd Attendant - Tricia Whitson
Flower Girl - Rebecca Paterson
Flower Girl - Stacey Halliday
Page Boy - Alan Cowan
Our web: www.thurso.org
All Thurso Town Improvements Association
profits are redistributed through projects within the Thurso area.
POLICE SAFETY NOTICE
Thurso Town Improvements Association & The Northern Constabulary
Wish to remind the Public that COIN THROWING can cause serious injuries and may lead to a criminal conviction. For the SAFETY of everyone please DO NOT throw coins inappropriately or allow children to do so.
Thurso Gala 2006 Short Films
Thurso Gala 2006 - The Floats
Thurso Gala 2006 - Queen and Court
Thurso Gala 2006 - Procession Preparations
Thurso Gala 2006 - Speeches
Thurso Gala Photos - 151 Photos In this Latest Gallery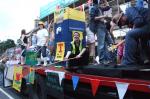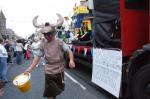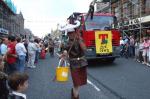 Thurso Gala - 84 Photos Thurso Gala Queen and Court - 39 Photos -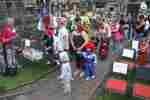 The Bands hit the Dammies in Thurso on 13 August 2006. A ten hour concert in the open air in the heart of Thurso. A great day out with non-stop music. Beer tent and food nearby. Free entry with collection for Thurso Town Improvements and Caithness General Hospital.