NEW IMPROVED ROV TESTED AGAINST DIVERS
FOR DETECTION OF BURIED RADIOACTIVE PARTICLES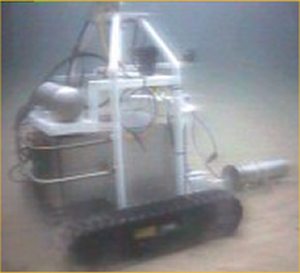 Dounreay's latest investigation into offshore particles will see an improved Remote Operated Vehicle (ROV) put to test off the North coast where a comparison will be made of its detection efficiency compared to divers, the use of which is being phased out on safety grounds.
The ROV, nicknamed "Trol", is operated for UKAEA by Wick- based firm Fathoms Limited which has been awarded a two year contract. It is about the size of large washing machine, moves over the seabed at a speed of just under one mile per hour, and carries an ultrasound positioning system, two video cameras and a large sodium iodide gamma ray detector which can detect radioactive particles buried down to about 50 cm in depth.
Typically, a crew of 10 including divers is manning the first phase of the operation, which started from the 8th August 2005 for 12 days. The team come from all over the UK, ranging from the far north in Sutherland to the far south in Somerset. Should the weather conditions deteriorate, the team will be sent to the calmer waters of Dunnet Bay.
Following this first phase, Trol will be used in the second phase of Dounreay's investigation. This is due to be completed by the end of September 2005 and requires Trol to go further offshore in search of more particles. These areas are too deep and dangerous for divers.
In this second phase the ROV will map eight areas to the North East and two areas to the South West of Dounreay's diffuser, which forms part of the historically used low active effluent system. The diffuser, positioned 600 metres out to sea and in waters 23 metres deep, is believed to have been the route by which particles left the site many years ago.
Dr Joe Toole, the particles monitoring projects manager at Dounreay, said that "mapping completed by the ROV will give UKAEA and SEPA a clearer understanding whether there is or not a well defined particle plume as suggested by diver finds in previous years."
Current computer models predict where the particles are present and absent in the local marine environment and the mapping phases is intended to validate these model predictions.
"We want to know how far the particles have travelled and or how well confined they are in the offshore sediments. If we don't have too many bad weather days, we would hope to cover over 60,000 m2 this first year. Ultimately, the information from the particle maps will be useful for the Best Practicable Environmental Option," said Dr Toole.