17 November 04
UKAEA Police Now In New Building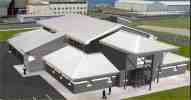 Officers and staff of UKAEA Constabulary (UKAEAC), recently moved into a new police headquarters on site, officially titled the Police Command Control Building, having previously operated from a number of centres. The centralising of their functions makes sense to Chief Inspector Martin O'Kane: "Whilst I would claim the unit was a very efficient one in the past, the bringing together of all staff and all the operational requirements under one roof, greatly adds to that efficiency and good management."
A feature of the project, and something CI O'Kane argues added value to the end product, was the assignment of a serving officer, David Sutherland, to the project team from the outset.

"My role was purely advisory," said sergeant Sutherland. "However good the design is, it is only when you commence building that you can be completely certain that all features are in harmony with operational requirements. In the event only one or two amendments were made, but that truly allows us to say that this is a fit for purpose building."
Both CI O'Kane and Sgt Sutherland were quick to praise the UKAEA project team, led by Kevin Mackenzie. "This is a specialised, bespoke building," said CI O'Kane. "This means it was a demanding specification containing many unique features. Nevertheless, the project team and the contractors can be very proud of the finished article."
In April 2005 UKAEA Constabulary becomes a stand alone police force, known as the Civil Nuclear Constabulary, but its core business, the armed physical protection of nuclear sites, remains unchanged. "At Dounreay we will continue to meet the dynamic pro-active policing requirements during the decommissioning process," said CI O'Kane.
The main contractor for the project, representing an investment in the region of £4M by the UKAEA, was R J McLeod (Contractors) Ltd, of Dingwall. A number of both Caithness and highland firms were also involved in the project. These included G&A Barnie, Wick, who were the main electrical contractor.