SUCCESS OF CAITHNESS KERBSIDER COLLECTIONS
The number of households across the Highlands able to recycle at home has reached 48,000 as the result of the expansion of kerbside collections. This has enabled The Highland Council to almost double its recycling rate.
Initial results show 550 tonnes of paper, 20 tonnes of cans and 2140 tonnes of green waste have being collected across the Highlands since the new door-step collection schemes started this year.
The Kerbside Recycling collection started in Caithness on the 11th April and since then over 650 tonnes of material has been collected. After a slow start, the amount of garden waste collected each month is now around 100 tonnes but this figure is increasing. This waste is taken to Seater Landfill site where it is shredded on site and composted into a soil conditioner.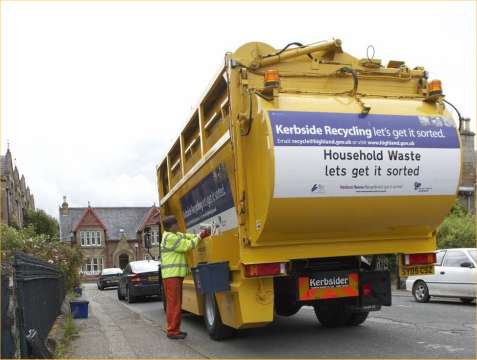 The paper collected along the routes fills three lorries every month and these then transport the waste paper south every month for reprocessing into newsprint.
It is estimated that each household in the UK produces around a tonne of waste every year which is equivalent to the weight of an average family car. Since introducing the Kerbside Collections in Caithness, Ross & Cromarty, Inverness, Lochaber, Nairn and Badenoch & Strathspey, the Council has been very pleased with the amount of paper, food and drinks cans and garden waste that people have packed into their blue and brown recycling containers. On average 7 kg of paper and 25kg of garden waste
has been collected from each household on the recycling routes, although some routes have collected over 20 tonnes of garden waste in a day.
The Highland Council's overall recycling rate for the first quarter of this financial year is around 17% compared with 9% last year. This is on course for the Council reaching the target of nearly 18% recycling set by the Scottish Executive for the end of the year.
Councillor Bill Fulton, the Council's spokesman on waste management said: "This is very encouraging news. The roll out of the Kerbside Recycling to nearly half the homes in Highland in just over 3 months has been a huge effort by staff of Transport, Environmental and Community Services. I would like to thank all staff involved in delivering leaflets, boxes, bins and also the on going collection of the recycling. I would also like to thank householders for their great effort in reducing the amount of waste that ends up going to our landfill sites and encourage everyone to continue to support the kerbside collection and other recycling services to ensure we reach our target."
Further improvements to Recycling Points are currently ongoing with paper and can banks going out to most recycling points throughout the Highlands.