14 May 05
New Arts Index Up and running
the new Arts Index for anything connected to Arts including music, drama, dance and much more is now up and running. Contact listings from these pages are being moved to the new section. This section will make it much easier to find anyone connected to the arts or music. We hope that anyone in any of the fields concerned will contact us to keep their details up to date and anyone who is not listed can get a FREE page simply by completing the online form. We will continue to link photos of the events and they will also go into the Arts news section as well as on the main front page of the web site.
12 May 05
Music Contact list
Bands, Choirs, Jazz, Country Groups and more - anything in music going in here. If you would like your band or organisation added to it just email bill@caithness.org or phone 01955 604648
A new Arts and Music section will be launching very soon so make sure you are in and get your free page with link to your web site and all basic contact details. Later a photo can be added free of charge to your free page. Caithness.org is working with Caithness Arts Group to bring all the information in their recently printed guide on to the web site. If you missed the printed guide for this year don't worry you will be able to get your information on the web site very soon. So if you are in any way connected to music or the arts get ready to be entered in the New Arts Section with its own Arts and Music site map, individual listings of everyone in art and music in Caithness and search engine. If you are a music or dance teacher, painter, sculptor professional or amateur and want to be known about then you can get a free page. We will be transferring all of the information we hold and combining it with the Caithness Arts directory information to produce an even more comprehensive listing.
10 May 05
Forget The Sale in Your Local Hall To Raise Funds Try The Web Like Caithness Junior Pipe Band
Caithness Junior Pipe Band Take To Ebay For Fund Raising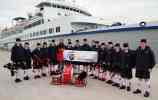 Caithness Junior Pipe Band are taking their fund raising to the global market rather than the local hall. Here is an interesting try out by Caithness Junior Pipe Band to raise funds to pay for their trip to take part in Pipefest 2005 in Edinburgh on August 21. The hope is to break the world record for a massed pipe band, which presently stands at 8,800, and involves pipers and drummers from all over the world. Good Luck in raising the cash and representing Caithness in Edinburgh. Caithness Junior Pipe Band
22 April 05
UKAEA Helps Dress Caithness Junior Pipe Band For Pipefest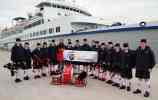 The members of Caithness Junior Pipe Band are very grateful to UKAEA Dounreay for supplementing their uniform with fleece jackets. Since its formation in 2002, the band is appearing more often in public events and the provision of a suitable uniform is essential especially in the winter months and cool summer evenings. The band relies heavily on fundraising to buy uniforms and equipment. The highlight for the band in 2005 is playing in Pipefest in Edinburgh on Sunday 21st August.
21 April 05
Joe's Music Garage -
Another New Web Site Based At John O'Groats


Joe's Music Garage, a new record label based in John o Groats. First CD release is 'Now there's a thing..' an album of non traditional instrumental music by Geoffrey Fulton inspired by the Caithness countryside and the first album to be recorded in John o' Groats. The album is available for sale on line through Paypal and some tracks are available as MP3s.
19 April 05
Identity Crisis - A Wick Band - New Web Page
30 March 05
Second "E" Rock Concert - Viewfirth - 2 April 2005


The 2nd 'E' Rock Concert takes place this Saturday night at the Thurso Viewfirth and looks set to be a cracking night of live rock music. Six rock bands will take to the stage over the course of the evening, each with their own distinctly different style. Headlining the event will be hotly tipped Inverness band Findo Gask, who have enjoyed success over the last year supporting the likes of InMe and Scottish rockers Biffy Clyro. If you like your music fast, energetic and loud then this is the band to see. Also lined up are local bands Boss Hogg, Crimson Tide, All Stitched Up, Stevie Taylor Band and Estrella.
27 March 05
Over At Halkirk
For The Northern Nashville Country Music Festival 2005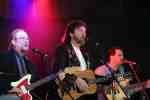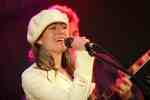 The three day Northern Nashville Country Festival continues today over at the Disabled Riding Centre at Halkirk.
Traditional Music Workshops in Wick High School
Saturday 16th April 2005 Application by 6 April
Evening Concert In MacKay's Hotel Wick at 8pm
Tutors
Duncan Chisholm – Fiddle - Wolfstone / Session A9
Ruby Rendall – Groupwork - Ruby Rendall Band
Kevin Henderson – Fiddle - Fiddlers Bid
Iain MacFarlane – Fiddle - Blazin Fiddles
Louise MacKenzie – fiddle - Feis Tutor
David Bowen – Accordion - Inverness Band Leader
Brian McAlpine – Groupwork - Session A9
More Details from Gordon Gunn
North Highland Juvenile Pipe Band
Check out this web site for the up and coming young pipers in Caithness.
10 February 05
Band Of The Year Award Goes To Shogun


The committee of the Northern Nashville Country Music Club recently presented the Orkney based band "Shogun" with the "Band of the Year Award" on behalf of the club members and guests at their show held in the Royal British Legion, Thurso.
25 September 04
Fiddle Workshop & Masterclass 30 October
Iain MacFarlane - Blazin Fiddles
Iain was born in Glenfinnan, a small village in Lochaber. Whilst being taught the fiddle from his father and also from Donald Riddell, he also started to receive tutelage on the bagpipes from pipe Major Evan MacRae at the age of 10. Since his teens Iain has played in many musical formations and projects such as Gaelic Drama, Contemporary Dance, Radio and Television, while still playing with local "greats" such as Fearchar Macrae, Angus Grant and Fergie MacDonald. Following an HNC in Gaelic Language in 1996, he graduated from the Royal Academy of Music and Drama with a BA in Traditional Music. Since then he has been teaching at many Feisian, festivals and schools, as well as playing on many albums, and standing in whenever necessary for the great Aly Bain of "Boys of the Lough.
Iain MacFarlane's exquisitely lyrical, west coast accent, produced a typical heart-in-the-mouth set..with his superb technique and mellifluous tone.
FIDDLE WORKSHOP and MASTERCLASS
Saturday 30th October 2004
Lyth Arts Centre
Phone Gordon Gunn on 01955 602831 for further information.
www.gordongunn.co.uk
Places for the workshops are strictly limited and will be on a first
come first served basis.
16 September 04
Traditional Fiddle Classes Changed Dates - Plus Additional Workshop With Gordon Gunn
The workshop has had to be rescheduled to the weekend workshop at the end of October until Mid April but there is also another doing one 1st week in November 2005. At present we are running a smaller workshop on 30th October with one fiddle tutor in Lyth Arts Centre, this is something intended to do on a 3 monthly basis between the larger event which will be held in Wick to keep momentum going.
Down load application forms and more info on the day at http://www.gordongunn.co.uk/wtmw.html
Earlier Items Archived 2004
Earlier Items Archived 2003
Earlier Items Archived 2002