Area Secretary: Alastair Geddes, 2 Pollock Place, Thurso, tel 01847 894157
Area Commissioner: Robert Barton, 3 Stanergill Crescent, Castletown, Thurso,
Caithness, KW14 8UT, tel 01847 821437, email caithness.scouts@ntlworld.com
Area Chairman: Alf Gunn, Barrogill, Northcote Street, Wick, Caithness, KW1 5QP,
tel 01955 605409
Treasurer... Mrs. J Sloss, 4 Scaraben Court, Thurso, Caithness KW14 8QN
Tel: 01847 892908
Lapwing Lodge Scout Centre
Renfrew and Inverclyde Area Scout Council
located 5 miles (8 km) from Paisley, Renfrewshire, 15 miles (24 km) from Glasgow.
Auchengillan International
Outdoor Centre
Greater Glasgow Scout Council
Located 12 miles (19 km) north of Glasgow
Douglaswood Scout Centre
Dundee Area Scout Council
located 7 miles (11.3 km) North east if Dundee.
ScoutBase UK Camp Site Directory
A range of campsites throughout the UK
Bonaly Scout Centre
Edinburgh City Scouts
located 4 miles (6.4 km) from Edinburgh City Centre.
Fordell Firs Activity Centre
The Scout Association
Connecticut Yankee Council
Baden-Powell Council BSA Scouts
Pictures from Blair Atholl 2000 by Craig B.
Ayrshire Scout Council, Scotland Blair Atholl 2000 Patrol
Forth Valley Area Scouts- Blair Atholl 2000
John Matsui's, a member of Santa Clara County Council, Blair Atholl pages.
Pete Cowans Blair Atholl Pages
Gordon Area Contingent South Patrol Blair Atholl Pages
Latest Scouts News
Click Here For Wick Scouts Latest
1 October 03
Explorer Scouts Attend Scottish Launch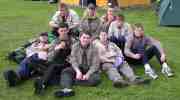 Last weekend, 9 Explorer Scouts from Caithness Explorer Unit joined more than 500 others from all over Scotland for the official launch of Explorer Scouting in Scotland. The 'In The Beginning' camp was held at Scottish Scout Headquarters near Dunfermline. The Explorer Scouts from Wick and Thurso spent Saturday morning and afternoon and Sunday morning doing activities including mountain biking, kayaking, caving and archery..............
25 June 2003
Caithness Cub Camp At Olrig


Last weekend the first ever Caithness Cub Camp was held at Olrig, by Castletown. There were 50 cubs from 1st Dunnet Bay, Reay, 1st Thurso, 2nd Thurso and 1st Wick packs. The cubs were mixed into 4 teams for the activity bases over the weekend.
22 September 2002
Chief Scout Geerge Purdy Visits Caithness



Scouts Back From Mini Jamboree At Blair Atholl


Six Scouts from Wick and Thurso have recently returned home after attending the Scottish International Jamborette at Blair Atholl which ran from July 15 to July 26 2002. All Scouts successfully completed 14 challenges and earned the "Challenge of the White Cockade". As part of the international experience, the Caithness Scouts are billeting 1 Canadian and 3 Austrian Scouts during their visit. Blair Atholl Jamborette Web Site