The centre is being created from the old salmon bothy at Lybster harbour. It will chart the rise and fall of the herring trade. It was once the third busiest herring port in the country.

The centre will also focus on the bird life in the area. There will be improvements to the surrounding paths in the area to make it easier to see the birds on the coast.

Closed circuit television cameras are to be installed on the cliffs and pictures relayed to the new centre.

Four people will be employed at the centre and any profits made will be put back into local amenities.

A nineteenth century style boat is being commissioned and will be on the display.

A new coffee shop will make it possible to relax in pleasant surroundings.

New toilet and shower facilities will also be available to visiting yachtsmen and women as well as other visitors to the harbour.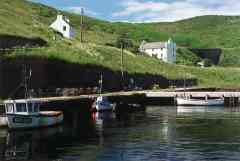 Part of the harbour near ther new centre.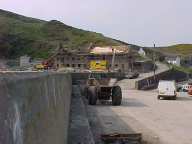 Earlier in 2000 - Major upgrade work.