Contents
Editorial - See Below
Caithness Field Club Summer Programme 2008
Some Highlights of Natural History in 2007 (by Mary Legg, and Ken Butler)
Field Club Activities in 2007 (by Marion Owen)
A Survey of Aspens on Dunnet Head (by David Glass)
The Congash Symbol Stones (by Geoff Leet)
A Circular Tour of Old Wick (by Eleanor Leishman)
Beware of Lyme Disease (by NHS Direct)
Caithness Plant is new to Science (by Ken Butler)
Hetty Munro's War Diaries (by Elizabeth Rintoul)
Biodiversity and Fungi Conservation (by David Savage)
Two Winter Solstice Observations (by Geoff Leet)
CAT Chronicle (by Gordon MacLachlan)
Sir Patrick Sinclair of Lybster (1736 – 1820); the Army Years (by Dr George Reeves)
The Juniper Survey Project 2007 (by Myra Wilson and Ken Butler)

Your Committee
Chairman: Geoff Leet Tel: 01847 89 6989

Secretary: Marion Owen 9 Tormsdale Place
Thurso
Caithness
KW14 8PZ
Scotland
Tel: 01847 89 2999

Treasurer: Jack Barnaby Tel: 01847 89 2583

Editor: Ken Butler Tel: 01847 89 3549
e-mail: kbutler243@aol.com

Committee Members: Eleanor Leishman, Gordon MacLachlan, Calum McKenzie, Elizabeth Rintoul, Myra Wilson, Jennifer Bruce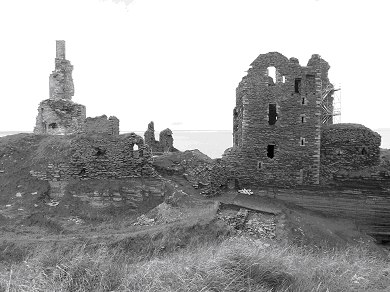 Cover picture: Castle Sinclair at Girnigoe was visited in 2007.
Editorial
I try to get a balance of topics to address the full range of member's interests. This year the pages are well filled, though the archaeologists could pick up their pens and write more. Also I would like a supply of little bits to fill the odd quarter or half page, so can I encourage you to send a haiku or a joke or a photo which might suit the magazine?
Overall, I am pleased that the material came along without too much chivvying, which is because there is a continuing interest in doing things in the outdoors and writing about it. Long may it continue!
Ken Butler