The Congash Symbol Stones (by Geoff Leet)
On the Sunday of the 2007 Club weekend at Nethy Bridge we visited Congash. This lies at NT058262, about 2 miles SSW of Granton on Spey, off the A95. The stone makes a gatepost at the edge of the numerous scattered stones of a chapel site extending over the area of a few tennis courts. We only found stone No 2; Stone No 1 may be in care, stolen, or just less easy to find.
The excellent Victorian "Early Christian Monuments of Scotland", by Allan & Anderson, see below, shows our stone clearly. The Z rod and mirror case still showed clearly, but the ground level has come up obscuring the lower portion of the "helmet". The image we could see looked like a gymnast inside a hoop, or Saint Catherine on her wheel !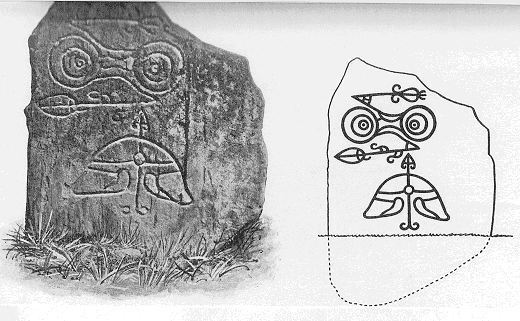 Congash Number 2 Pictish symbol stone