29 August 2009
Marymas Fair At Dunnet Today Moved To Britannia Hall Due to Rain
The field where the Marymas Fair is held annually is waterlogged but it will go ahead at the Britannia Hall with as much as possible inside.
Public Consultation On Shaping the Future Of The Highlands
A series of Information Days will take place across the Highlands to give people the opportunity to find out how they can get involved in shaping the future of the Highlands. These events have been arranged to complement the official ten week public consultation on the Highland-wide Local Development Plan which starts on Monday 31 August.
Wick Heritage Museum Seeks Help Gathering Photos on Trades
Wick Heritage Museum has identified that certain trades are under represented in the their growing photo collections. If anyone has old photos (30 years or older) that they could lend to the museum or send digital copy they would be most grateful. The trades they are particularly looking for are Blacksmiths, Farriers and Boat Builders from the Wick or surrounding area. Digital copies can be sent to the email address on the museum web site or to bill@caithness.org for forwarding and perhaps adding to the web site here also. Send as much detail as you have on each photo. Original photos can be taken to the museum for scanning and return. Do not post photos but rather have them scanned as large a file as possible and send by email.
Cross Roads Care Fundraiser
Mrs Sue Mileham, our energetic Care Manager for Crossroads, is intending to walk the West Highland Way [95 miles from Milnagarvie to Fort William ] on September 2nd 2009. She is seeking sponsors for this worthy venture. Sponsor forms can be obtained from the Crossroads Office by phoning 01847 895483 or by email to crossroadscaith@aol.com
Free Lecture at ERI Thurso - Thursday 3 September 5.00pm
A requiem or renaissance for mixed-pine forest ecosystems in the northern Lake States of the USA?
Sponsored Walk For Assynt Mountain Rescue and Alzheimers Scotland Highland Carer Services
"The 12th annual sponsored walk in aid of Alzheimer Scotland Highland Carer Services and Assynt Mountain Rescue Team takes place on Saturday 12th of September 2009. This year's walk is up Conival, a Munro of 987m (3238ft), starting from Inchnadamph Hotel in Assynt, Sutherland. The walk has become an annual pilgrimage for some and a weekend escape to the hills for others. Previous walks have been fun for all ages, successfully raising much needed funds for both charities. As usual, following the walk there will be a BBQ for all walkers, friends and families. For further Information and an application pack please contact either: Bruce Maltman, Telephone: 01847 895524, E-mail: brucemalt2@aol.com or Sue Agnew, E-mail: sue.agnew@virgin.net or visit www.assynt-mrt.co.uk
28 August 2009
Wick HarbourFest - Official Souvenir DVD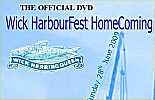 This official Harbourfest 40 minute DVD captures the excitement and atmosphere of the whole 3 day event. The filming, editing, singing and some music was all done by young volunteers as a Caithness Youth Bank project. The present is deftly mixed with the past, from 20, 60 and more years back to give the viewer a feel for the heritage of Europe's Herring Capital - WICK. Soundtrack by kind permission of Session A9, from their new CD. DVDs are available at £7 each from Volunteering Highland, Telford House - telephone 01955 605941 - email caithness@volunteeringhighland.org
Thurso Town Improvements Association AGM - Monday 28th September 7pm
Caithness Horizons - Everyone over 16 years old is welcome.
24 August 2009
HomeStart Caithness AGM - Monday 14th September 7.00pm




The AGM of HomeStart Caithness will be held in the Community Education Office Ackergill Street, Wick.
Come along and find out more about HomeStart and its valuable work in the community of Caithness. Chairman Bill Fernie said "HomeStart is celebrating 10 years and the support that can be offered by its volunteers makes a valuable contribution to families in our area. At the AGM this year we will go over what has happened in the past year, update you on our finances all the usual formalities. In addition a talk will be given by a guest speaker on the Highland Children's Panel offering a great chance to hear about the work they do followed by a light supper. If you would like to help with the work in any way as a volunteer, fund-raiser or board member then come along to meet everyone.
Home Start Caithness HomeStart UK
SUPPORTING FAMILIES IN OUR LOCAL COMMUNITY
23 August 2009
Caithness Floral Art Club Has A Web Site

Caithness Floral Art Club celebrated 40 years in June 2009. The founder chairman was at the celebration. the club now have their own web site at http://floralartcaithness.webs.com/ Former photo galleries can still be viewed HERE
Halkirk Win Against Invergordon 6 - 2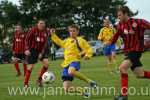 A few photos of the action at the James Gunn Photography blog. This was the first game for Halkirk in the new season at the Recreation Park.
Elsewhere Wick Academy drew 2 - 2 against Forres Mechanics at Mosset Park. See Match Report
Police Notices
Greenhouse Vandalised At Shelligoe Road, Lybster
Police in Wick are appealing for witnesses in relation to damage caused to a Greenhouse at Shelligoe Road Lybster. The vandalism occurred overnight between Saturday 22/08/09 and Sunday 23/08/09.
Items Stolen From Garden Shed At Southend, Lybster
Police in Wick are appealing for witnesses to a Theft from a Garden Shed at Southend, Lybster between Saturday 22/08/09 and Sunday 23/08/09 where a number of items were stolen.
Police Seek Witnesses To Beer Can Throwing Incident In Wick - Saturday 22 August
About 8:20pm on Saturday 22nd August 2009 on Francis Street, Wick a male was struck by a beer can which was thrown from a red Vauxhall Astra car. Wick Police are keen to trace to the occupants of the Vauxhall Astra and speak with anyone who witnessed this incident.
Witnesses To Car Damage In Castletown - Friday 21st August
Police in Thurso are appealing for witnesses regarding damage caused to a car on Mackay Street, Castletown, between 1730 and 2220 hours on Friday 21st of August 2009.
Highland Council Pilots Web Casting Of Meetings
Highland council has added the first web cast recorded of the recent meeting of the Planning, Environment and Development Committee. This is the first in a series of pilots to trial web casting committee meetings to allow folk to see the business being done by councillors. So if you have four hours to spare you can watch the whole meeting. Initially certain meetings will be recorded and added to the web site but later it is hoped to stream the meetings out live.
Thurso River On A Recent Sunny Day

Dance To The Swing Era To Help Church Funds
Royal British Legion, Thurso at 8pm on Saturday 29th August

If you'd like to dance the night away to the sounds of the swing era, here is your chance! There will be a dance in the Royal British Legion, Thurso at 8pm on Saturday 29th August to the tunes of the Big Band era favourites such as Glenn Miller, Duke Ellington and Count Basie, as well as some more contemporary big band music. The night's entertainment will be provided by Caithness Big Band, an 18 piece band of local players reformed back in 2002 after an absence of many years by the late Jim Marshall. The traditional Big Band line up of trumpets, trombones, saxophones and rhythm section is complemented by the vocals of well known local singer Celia MacDougall and the repertoire includes standards such as Little Brown Jug, Tuxedo Junction, Sentimental Journey, Stardust and New York, New York.
Scottish Opera Coming To Wick With Russian Drama


Thursday 1 October, 7.30pm - Wick High School - Tickets £10, £5 (u26s)
Scottish Opera will perform Leoš Janáek's intimate and intense love story, Kátya Kabanová, in 21 venues across Scotland this season. The production will take in Giffnock, Drumnadrochit, Cromarty, Stornonway, Elgin, Aboyne, Lerwick, Kirkwall, Wick, Strontian, Dundee, Fort William, Linlithgow, Glenrothes, Irvine, Helensburgh, Dumfries, Galashiels, Easterhouse, Aberdeen and Inverness. Kally Lloyd-Jones directs her first opera for the Company. As well as running dance theatre company Company Chordelia, Kally has worked with Scottish Opera as choreographer/movement director on a number of highly regarded productions in recent seasons including Cimarosa's The Secret Marriage, Weir's A Night at the Chinese Opera and Smetana's The Two Widows, which won a Herald Angel Award at the Edinburgh International Festival last year.
Caithness Arts Drama Festival - 4th & 5th September


Caithness Arts will be presenting a mini 'Festival of Drama' early next month. Grey Coast Theatre Company will be spearheading the festival with a new play from Caithness writer George Gunn. 'Fields of Barley' revolves around a love story between a female farmer from Lower Pulteneytown and an Italian-American pilot and is set in Wick during the dark days of World War II. The play, which will form part of the nationwide Homecoming Celebrations, will be directed by Edinburgh based drama student Iain MacDonald with young performers, Peter Gordon of Edinburgh and Sheila Smith of Murkle in the leading roles. Originally from Thurso, Iain is currently in his fourth year at Queen Margaret University, Edinburgh where he is studying towards a BA (Hons.) in Drama & Theatre Arts. Before moving to Edinburgh, Iain worked extensively with both Thurso Players and Grey Coast. He was also amongst the first group of students to graduate from the North Highland College with an HNC in Acting and Performance.
Caithness Bloggers
The Joys Of Lambing - Rain On My Window
Catch Up With Jamie Buchanan's Photo A Day - Linked To His Slideshow
A Visit To A Toy Store - Home In the Highlands - Mrs P is on holiday/vacation in USA
Joanne Kaar's Paper Boat Blog - the Great Online Auction and Exhibition At Caithness Horizons
22 August 2009
Noctilucent Clouds Over Thurso




Thanks to Gordon Mackie for these photos of Noctilucent Clouds over Thurso around midnight on 30th/31st July. Gordon has suggested a link to many more photos of this feature of the night sky HERE
See the above photos enlarged HERE and HERE For an explanation of this feature go HERE. If anyone else has taken any great nightsky photos and wants to share them in this gallery send them to bill@caithness.org
Astronomy Event


Borgie Forest - Friday 18th September at 1930hrs
FREE ENTRY - All Welcome
Illustrated talk on "Skywatching" by local amateur astronomer Jim Johnston. Find out what can be seen in the night sky. Observing session (weather permitting) – the opportunity for all to look through a variety of telescopes and see sights such as Jupiter and its 4 largest moons, the outer planets in our solar system Uranus and Neptune, distant galaxies, star clusters and other deep sky delights. Also enjoy views of the Milky Way from this excellent dark skies observing site. The chance to see a range of telescopes and other observing equipment and browse through a variety of astronomy related materials.
Caithness Astronomy
Planning for the Future in Caithness - Public Meeting
Residents, Community Councils and community representatives in the Caithness Wards of Wick, Thurso and Landward have the opportunity to say what they think the area should be like in the future at their Joint Ward Forum on Tuesday 8th September. In the run up to this meeting there will also be an opportunity for people to take part in two special information days as part of the Council's consultation on the new Highland-wide Local Development Plan. The first information day will take place at the Wick Assembly Rooms on Monday 31st August from 10am to 5pm and it will be followed by another event on Thursday 3rd September at Caithness Horizons in Thurso which will run from 10.00am to 6.00pm. More information on the Highland wide Local Development Plan consultation
Eatery owner had illegal workers - Press & Journal
Three were taken away by police after they executed warrants on the Indian Palace, in Thurso, and the K2, in Wick, on May 29. Further information led to the..............
Focus on Council Tax
A new information resource has been produced by The Highland Council on its web site: www.highland.gov.uk to help customers better understand Council Tax. The Focus on Council Tax, which has been written by Business & Technical Support staff in the Finance Service, is a useful reference site on all Council Tax matters. It includes direct links to other relevant pages of the Council's website, wherever appropriate, such as Council Tax Benefit Quick Assessment leaflets and the Valuation List for Council Tax bandings. See New Council Tax Help Pages
Countdown to Highland Homecoming Begins


The countdown to Highland Homecoming began this week with the launch of the full programme at Eden Court Theatre, Inverness. Over 100 guests gathered at the launch to learn about the programme of more than 100 cultural and heritage events, all taking place around the Highlands between 19 and 31 October 2009. The events range from performances by some of Scotland's leading artists to ceilidhs, heritage events, exhibitions and walks, all aimed at giving people a flavour of the unique culture of the Highlands.......
To find out more about Highland Homecoming and the programme of events log on to www.highlandeventsandfestivals.com
For more information on Homecoming Scotland please visit: www.homecomingscotland2009.com
George Gunn Steps Down As Artistic Director of Grey Coast


After 17 years and more than 35 productions, George Gunn is stepping down as Artistic Director of Grey Coast Theatre Company. George founded Grey Coast in 1992 to produce theatre which is relevant to the culture of the North, to promote new writing for the theatre in the North and to bring the culture of the North of Scotland to the rest of the country through locally produced theatre. George Gunn emphasised that his vision for the Company had never been simply to produce his own work but that it should become a strong, independent organisation.
From A Concerned Orger
I've just received an invitation from 'SHS Collection' to leave my unwanted clothing, blankets, cosmetics etc in the attached bag for collection on Monday. At first glance, this appears to be a charity collecting clothing for distribution to people in third world countries. However, I became suspicious on reading that they will 'provide people...with clothes they can afford' - i.e. someone is making money from the stuff they want us to hand over for free.
I googled the company and found this: http://andy.2boyz.co.uk/?p=618=2 Worrying, no?
18 August 2009
Milton Fun Day



2009 is the year celebrating the 10th anniversary of Milton Residents Associations establishment as a community group. To mark the occasion the residents held a Fun Day and BBQ with lots of activities enjoyed by the entire community. The Association would like to take this opportunity to thank Tannach Community Council, Kongsberg Simrad Ltd & Dounreay Community Fund for their support in enabling them to purchase goods and equipment which can be used in the future.
Record Turnout for Sand Sculpture Contest

A record number of people took part in the annual sand sculpture contest, on Clachtoll Beach in North West Sutherland which was organised by The Highland Council's Countryside Rangers based in Assynt. The contest which has now been running for 10 years attracted 88 entrants from around Assynt and Ullapool as well as visitors from around the world, including the Netherlands and the Philippines. Among some of the creatures created in the sand were a gigantic edible crab, a lobster, dolphins, whales, sea creatures, mermaids, castles, volcanoes, boats and other mythical and fictional characters. The Council's Senior Countryside Ranger Andy Summers said: "We were lucky to have a really bright sunny day and there was a fantastic atmosphere amongst all the participants working away on the white shell sand with families standing by and spectators admiring the digging, sculpting and creative skills. All the sculptures were great and we had a very difficult job in selecting winners for the various categories." Prizes were donated by The Assynt Tourism Group and volunteers from the RNLI provided a BBQ for the spectators and participants before the winners were announced. The RNLI Lochinver branch raised £797.06 with BBQ sales and souvenirs and donated £100 to the Lochinver Wildlife Watch for children 8-14 years. Click HERE for BIG Photo - Shows we do get some great summer days for the beach.
Successful Summer Activities At Farr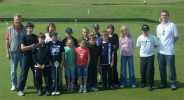 The children of Farr took part in a busy schedule of activities during the Active Schools Summer Activities Programme. The activities took place at different venues throughout the north coast from Tongue to Reay and were well attended by between 9 to 16 children during the week. With the exception of one brief shower the group enjoyed magnificent sunshine for the entire five days. Creative activities included puppet making and T-shirt printing, and sporting activities such as water polo, rugby, beach rounders, horse riding and golf. The group also joined up with the Highland Ranger, Paul Castle, during a rock-pooling event held at Portskerra. Younger children aged 0-5 years and their parents also enjoyed a Rhyme-time session run by Alison Macleod of Highland Libraries in the comfortable surroundings of Farr High School's library. Thanks to the volunteers and Highland Council partners and who gave up their time to run activities, supervise and drive the group to the various venues. All assisted in making the week an enjoyable success.
Secret Village of Badryrie - Wednesday 26th August - A Highland Ranger Walk
Come along on a fascinating walk by loch Stemster and learn about the abandoned crofting community at Badryrie, the Achavanich stone circle and the burial cairn. Wear appropriate outdoor clothing and bring lunch. Meet at the Loch Stemster road end at 11am. Please book for this event with:
Dieter Tuerlinckx Tel: 01955 607758 Mob: 07500 784123
Thurso FC To Set Up Draw To Raise Funds
Thurso FC are hoping to run a draw from 1 Sept to help fund their participation in the North Caledonian League and cup competitions - details are available on our website www.thursofc.info
For a Standing Order contribution of £21.66 a month (£5 a week) participants have a 1 in 100 chance of winning £50 per day.
Batty About Bats - Friday 21st August- A Highland Ranger Walk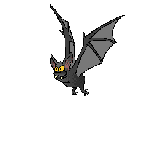 Come for a walk up Dunbeath Strath to see if we can get any signs of bats. Please bring a torch with you, wear appropriate foot wear and dress warm.
Meet at the Dunbeath Heritage centre at 20.45
Please book for this event with:
Dieter Tuerlinckx Tel: 01955 607758 Mob: 07500 784123
17 August 2009
Administrative Assistant Wanted In Wick
Administrative Assistant - (3 year Fixed Term Post) - Salary: £16,380 pro-rata
The Caithness Partnership brings together the public, private and voluntary sectors to enhance the wellbeing of the people of Caithness. We are seeking to recruit a competent and enthusiastic individual, who is able to use their own initiative, to provide a high level of administrative and clerical support to the Caithness Development Officer. Duties will include arranging meetings and taking and producing minutes of same, maintaining paper and electronic files, payment of invoices, monthly reconciliation of accounting system and PAYE and NIC for staff salaries.......
Probationer Teachers Welcomed To The Highlands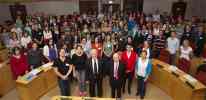 Councillor Bill Fernie, Chairman of the Council's Education, Culture and Sport Committee, and Hugh Fraser, The Highland Council's Director of Education, Culture and Sport, welcomed 112 probationer teachers who will be working in Highland schools in the new session at their induction day in Inverness. The new teachers will be starting work in schools across the Highlands on Monday (17 August). Pupils return to school following their summer break on Tuesday. In total, 39 probationers have been allocated to secondary schools and 73 to primary schools. Click HERE for Very Large Photo
Opening Of New Highland Inter-agency Centre For Autism


A new £1.2 million centre has opened in Inverness to improve outcomes for children and young people with Autism Spectrum Disorders and their families throughout Highland. The Pines is a purpose-built building, which has been funded by The Highland Council and NHS Highland to provide improved diagnostic, assessment and support services for children and young people who may be affected by autism. The building was officially opened today (Monday 17 August 2009) by Councillor Bill Fernie, Chairman of The Highland Council's Education Culture and Sport Committee, and Pam Courcha, Chair of the Highland Joint Committee for Children and Young People. More Photos From The Opening
16 August 2009
Meur Ghallaibh den Chomunn Ghaidhealach - Caithness Branch of An Comunn Gaidhealach
INVITES YOU TO A - CEILIDH & SUPPER DANCE - Sat. 29TH August, 7.30pm - MEY HALL, MEY
Guest Artists: ALASDAIR WHYTE & NINA MACKELLAR
Royal National Mod Gold Medallists - Supported by local guest artistes
Admission: £5 (£3 concession)
Bower Gala 2009
13 - 24 25 - 36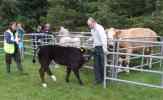 1 - 12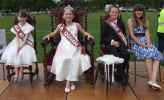 Keiss Gala 2009
61 - 65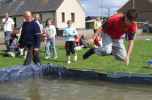 13 - 24 25 - 36 37 - 48 49 - 60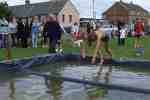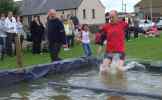 1 - 12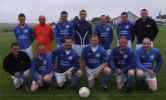 Halkirk V John O'Groats 5 - 2 - Photos At James Gunn Photography


A few action shots from James Gunn from last Thursday's game (13th August 2009) with Halkirk in fine form.
15 August 2009
Ormlie Summer Fun Day - Today
Fun Day to be held on SATURDAY 15TH AUGUST from 2.00pm – 4.00pm at the Ormlie Community Centre, Henderson Street, Thurso. We have a fun filled afternoon planned including a children's fancy dress competition, bric a brac, book and bottle stalls, children's races, baking, face painting, hot dogs, a bouncy castle and much more. Something for all the family to enjoy so please come along!!
11 August 2009
Golspie Banger Derby 2009

Caithness was well represented at the Golspie Gala Week Banger Derby once again. 128 cars competed for the prizes, with Alan O'Brien from Wick coming out on top in the Mens' Heats. Several Caithness cars competed in the grand finale, the All in Final, which was open to all cars which were still running, with the crowd being treated to an action packed end to the day. After a few re-starts, with red flags coming out with some cars not managing to stay the right way up, the overall winner on the day was Fraser MacGregor from Dingwall. See 407 Photos At Angus Mackay's Photography Web Site
Caithness Glass - Photos taken by the visitors - Send In Your Caithness Glass Photos
Marc Macdonald has come up with this idea to build a section of photos of earlier days at Caithness Glass.
The people of almost every country has visited the world known Caithness Glass Visitor Centre in Wick which was sadly closed by it's owners in April 2004. The company had been running in Wick for over 40 years. The Glass workers in Wick are interested in seeing as many photo's as possible which were taken by the visitors during the 40 years. The staff in the glass making, finishing and engraving departments will always remember the hundreds of camera flashes they seen every day and wonder if we could possibly see these snaps of the workforce. There are some of the glass blowers who don't have a single picture of themselves working with the hot molten glass at the very hot temperature of 1300°c or 2400°f as the vases, paperweights etc had to be made by the very highly skilled craftsmen, not thinking they would like to have a picture of them working in the hot environment. We ask if you could send a copy or a scanned copy of your photo's of the Caithness Glass factory's in Wick
email marc_macadee@yahoo.co.uk for his collection and to bill@caithness.org for display here on the web site in a new permanent gallery. If you worked at Caithness Glass send in photos and we will build a workers gallery also.
Caithness Waybaggers Programme 2009 - 10

A few walks are now past but still plenty to come if you would like to see the countryside and get fitter.
North Sutherland Ranger Walks This Week
Castle Varrich - Tuesday 11th August 10am – 12pm
Take leisurely walk up to the castle remains overlooking the Kyle of Tongue. Enjoy stunning views, varied wildlife and habitats including river, bog, woodland and see the most northerly palm tree. Meet at car park in Tongue (by the Royal Bank of Scotland) at 10am. Grid ref. NC 592566.
Tongue Causeway to Ard Skinid - Tuesday 11th August 2pm - 4.30pm
Walk alongside the Kyle of Tongue with the local ranger looking at the natural history, local history and the geology of this beautiful part of the Highlands. Meet at Melness cemetery car park at 2pm. Grid ref. NC 574594.
Pond Dipping - Wednesday 12th August 11am – 1pm
Bring all the family and have fun learning about the fresh water creatures we catch in Nelly's Pool at Bettyhill. Some nets provided but you can also bring your own and your wellies. Meet at Nelly's Pool car park at Bettyhill (on way to Naver Pier). Grid ref. NC 705624.
Strathy Picts, Priests and Pools - Friday 14th August 2pm – 4.30pm
Guided walk to see the Pictish Priest's Stone, then on to the Rocking Stone (used to call the clan) and return via a lovely bog pool system. Meet at the Strathy Inn car park at 2pm. Grid ref. NC 831 656.
10 August 2009
Community Dig at Castle Sinclair Girnigoe Has Started - You Can Be Part Of It


All are welcome, whether you have taken part in an archaeological excavation or not, to join the community dig at Castle Sinclair Girnigoe. There are professional archaeologists from Field Archaeology Specialists Ltd to teach and supervise you. Come to the Castle on weekdays for the next two weeks and join in the experience.
Young People Urged To Apply Now For £30 A Week Free Money
Young people in the Highlands who have decided to stay on in education are being reminded by The Highland Council's Education, Culture and Sport Service to apply now for an Education Maintenance Allowance (EMA). The Highland Council has mailed EMA application forms for 2009-10 to young people aged 16 - 19 in its area urging them not to miss out and apply for an Education Maintenance Allowance. Previous applicants must re-apply each academic year in order to receive their EMA. An EMA is a weekly payment of up to £30, paid directly to eligible young people who stay on in education after they reach statutory leaving age. Young people may also be eligible for two bonuses of £150 if they remain on their course and make the necessary progress with their learning.
WICK FAMILY CENTRE = Fun Day & Car Boot Sale - Saturday 15th August
We are having a Summer Fun Day and Car Boot sale at Wick Family Centre, Bank Row (opposite Heritage Centre) on Saturday 15 August, between 11am and 4pm. Come and try our bouncy castle, face painting, hot dogs, burgers, chocolate fountain and candy floss. What about our Prize Square boards for exclusive prizes such as a genuine 'Guest' watch etc. Car Boot stalls are £5 each with set up from 10am. Come along and meet all our Childcare & Young Carers staff, come along and grab a bargain at our Car Boot stalls, come along and bring the family, come along and have some fun, some food and a fabulous time at Wick Family Centre. To book a table or for further information call in or contact us on 01955 606065, wickfamilycentre@mail.com
9 August 2009
Passenger train in lorry collision - Scotsman
Train hit a bin lorry on a level crossing at Dalchalm north of Brora - no one hurt....
Thurso urges heating oil and LPG users to have their say
Local MP, John Thurso, is calling on constituents who use heating oils and liquid petroleum gas (LPG) to have their say on the problems affecting them in an investigation by Consumer Focus. Consumer Focus, the independent champion for consumers, launched the investigation into this often ignored market following a raft of consumer complaints. It will look at the problems faced by those who use heating oils or LPG and what can be done to ensure the market better meets the needs of customers. More than a third of households in Scotland are not connected to the mains gas supply.
Mey Highland Games 2009
1 - 12 13 - 24 25 - 31




Frayed Edges At Popeyes Bar Scrabster on Saturday Night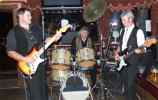 8 August 2009
Charles enjoys Highland games - Galloway Gazette
Highland Dancers In Front Of the Royal Tent At Mey Highland Games On Saturday

Prince Charles Referees Tug-o-war At Mey Highland Games

Summer Portraits By John Baikie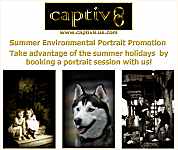 John Baikie will be running a Digital SLR course for beginners on 20 September. See Here for more details
New Web Site For Pulteneytown People's Project
Pulteneytown People's Project based in Wick has recently launched its new website
http://www.pulteneytownpeoplesproject.org.uk/ PPP Chairperson, Grant Ramsay explained, "PPP Directors and staff hosted a series of open days and presentations over the last year and it came to light that there were still areas of the community who were unaware of the services offered by PPP, or that these services extend to areas outside Wick. Many people are not aware of the full extent of our activities and that the project is used by over 600 users per week, ranging in age from babies to pensioners in their 80's. We have also made major developments with our ambitions to provide a Community and Training Facility within the town in recent months and we expect to hear by the end of the month whether our £1 million application to the Big Lottery was successful.
7 August 2009
Pilot Webcasting Scheme for Highland
The public will soon be able to follow debates on important Highland planning and licensing issues from the comfort of their own homes. In a pilot scheme starting soon, meetings held in the Council Chamber at Inverness of the strategic Planning Environment and Development Committee as well as Inverness Nairn Badenoch and Strathspey Planning Applications Committee and Inverness Nairn Badenoch and Strathspey Licensing Committee will be broadcast live via webcasting on the Council's web site: www.highland.gov.uk The first meeting to be broadcast live will be the Inverness Nairn Badenoch and Strathspey (INBS) Planning Application Committee on Tuesday 8 September.
Child Minding Courses At Lybster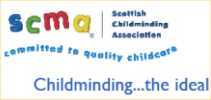 Langwell Gardens Open To The Public - Sunday 9th and 16th August


Situated at Berriedale and open 2.00pm - 5.00pm
6 August 2009
Warning To Householders About Bogus Door To Door Sellers
POLICE are warning householders in the Caithness area about bogus door to door sellers, offering sub-standard goods. There have been a number of reported incidents in the Caithness area of people having purchased items from door to door salesmen, which have subsequently turned out to be faulty or poor quality.
Success For Dingwall But Not Wick, Thurso, Fort William and Nairn
The Highland Council has been successful with a funding bid to the Scottish Government for a facelift of Dingwall High Street. A grant of £462,000 will contribute towards a £947,000 package for town centre improvements.................The Council was unsuccessful in the first round with bids for funding towards town centre improvements in Wick, Thurso, Fort William and Nairn. It will consider alternative options for these schemes including the use of its Capital Programme.
4 August 2009
Dunnet Forest Open Day
Family fun day Saturday 8th August 12.00 - 4.00pm with lots to do and see, admission free. Chainsaw carving demonstration, storytelling, face painting, wood turning, treasure hunt, kids fancy dress for under 12 years, log hauling demonstration, stalls, food available. see www.dunnetforest.org
"Writing On The Wall" - A Caithness History Play Performed At Noss Head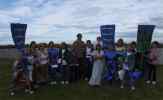 Young Folk who took the opportunity for drama sessions at Caithness Horizons last week performed their short play at Noss Head on Saturday 1st August. The play was included along with other events under the banner of "The Gathering" which is itself part of the Sinclair Odyssey a year long community arts programme run by Lyth Arts Centre.
3 August 2009
Prince Charles Visited Scrabster Today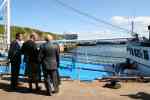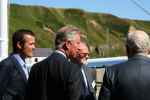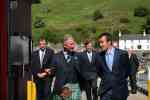 As part of his annual visit to Caithness Prince Charles visited Scrabster harbour today and spent some time at the fishing boat "Boy Andrew".
Prince opens Caithness cultural centre - The Herald
Jacobites And Redcoats At Noss Head Last Saturday
1 - 12 13 - 24

Despite the windy weather on Saturday the hit of the day was Battlescar entertainment with their vivid representations of fighting and demonstrations of weapons along with lots of good humour and backchat from the recruits.
Charge Of the Highlanders At Noss Head

More Videos From Noss Head Battle Scenes
Battle Scene 1 Battle Scene 2



Fundraiser For Thor House Multi Sensory Garden - Friday 14th August 11.00am - 2.30pm
On the 14th of August there is a fun day being held at Thor House (Provost Cormack Drive, Thurso). It's running from 11 AM - 2.30 PM and is planned to be held in the garden although if the weather is poor it will be moved inside. There are going to be lots of stalls from face painting to teas, coffees and cakes and various competitions running through the day and all money raised is going to be used for the multi sensory garden.
Charles to open historic centre - Stornoway Gazette
The Prince of Wales is due to open a new centre which celebrates the history of an area with close royal links. Charles will view a number of exhibitions and meet staff at Caithness Horizons in Thurso before officially declaring it open..........
New Mey Hall Opened By Prince Of Wales
The new village hall at Mey was officially opened on Sunday 2 August where invited guests were entertained by musicians from the Royal Academy of Music and Drama. The three highly talented musicians will perform tonight Monday 3 August for the public - See details HERE So head over to Mey for the concert and a chance to see the new Mey hall.
Mey Highland Games - Next Saturday 8th August
Wick Academy Scorrie Scoop Prize Money Now At Record Breaking £5700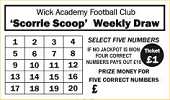 Local footie team Wick Academy's fund raising Scorrie Scoop has not had a jackpot winner since August 2008 and with the prize money increasing by £100 every week it may well be worth a punt. Tickets are available at various local Wick Shops listed HERE
Academy had their best season 2008/09 and in their first game against newest team to join the Highland League team Strathspey Thistle on Saturday 1st August brought in a thumping 8 - 1 win - Report in Scotsman Wick Academy web site
2 August 2009
Thurso Gala 2009
217 - 228 229 - 240 241 - 252 253 - 264






169 - 180 181 - 192 193 - 204 205 - 216






133 - 144 145 - 156 157 - 168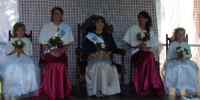 85 - 96 97 - 108 109 - 120 121 - 132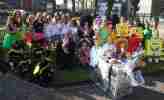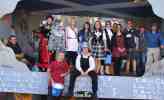 49 - 60 61 - 72 73 - 84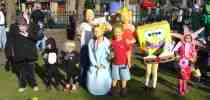 1 - 12 13 - 24 25 - 36 37 - 48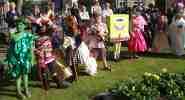 More Thurso Gala Photos Here and Here
1 August 2009
Wick Zip Slide - A View From The Top


Last weekends Zip Slide at Wick river attracted a good number of entrants raising funds for CLIC Seargent the cancer Charity. This photo from Terry Page give a good idea of what the intrepid sliders had to do.
Caithness.org What's On Section's Phenomenal Record In July
July saw the What's On section reach amazing records when 2,594,642 pages views were recorded. Over the past few days the daily page views peaked on 28th July with 288,370 views for one day. If you are running an event in Caithness or Sutherland (For some time we have allowed Sutherland events to go in as we know may folk travel across the area) then make sure it is in the listing for huge FREE coverage. The What's On is FREE to any group, organisation, commercial venture for coffee mornings, musical events, special meal nights such as Mexican Nights etc - in fact anything you want people to know about that is happening. Events of any kind in the voluntary and commercial sectors are allowed free of charge - it is all about letting people know what is happening in the north. The page views to the What's On were in excess of 13 million over the past 12 months. Make sure your event is in as soon as you have firm details - dates times etc. The earlier your event is in the better to allow folk travelling to the county to plan. In fact for Galas etc we receive many requests asking for the dates of next years galas from folk planning trips to Caithness so get them in soon. It's easy to get an event in - Submit Your Event Here