Janetstown school closed in the summer of 1970
Tickets For Janetstwon School Reunion Now Available
Tickets for Janetstown school reunion on 3rd May 2008 now available from Tickity Boo, Rotterdam Street, Thurso
or send a S.A.E. to Wilma Farquhar, 23 Crescent Street, Halkirk, Caithness, KW12 6XN. Price £5 each.
On Saturday the 3rd of May 2008 we hope to have a reunion of former pupils.
Contacts
Anyone wishing to attend could they please contact -
Dorothy Macivor
Tel 01847 896221
or
Wilma Mackay
Tel01847 831702 email wilmafarquhar@hotmail.co.uk
Photos From The Janetstown School Reunion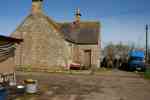 A visit to the old school and the reunion at night. Also a few photos from a visit in 1995 and one of former teacher Mrs Margaret Jack (nee Finlayson)

Send School Photos For The Gallery
Send Janetstown Photos by email to bill@caithness.org for inclusion