Raffle Prize Draw - Saturday 20 August 2005
The draw for the Pugwash Lane Action Group Buggy raffle took place on Saturday 20th at the Round Table Summer Fayre at the High School in Thurso. The draw was made by Michael Dunnet, chairman of Thurso & District Round Table. The first ticket drawn out for the Buggy was bought by David Dunnet of Wick, who is now the proud owner of a Tiger Ninja offroad buggy. The Group would like to thank all those who bought a ticket and the support they received from people all over the Highlands was tremendous.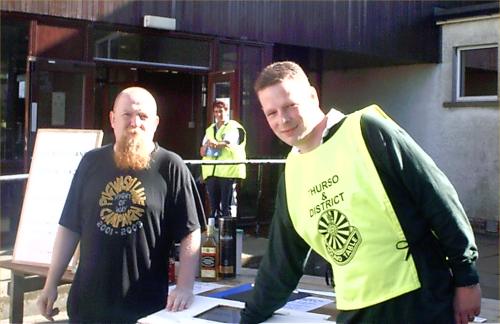 Michael Dunnet, chairman of Thurso & District Round Table makes the draw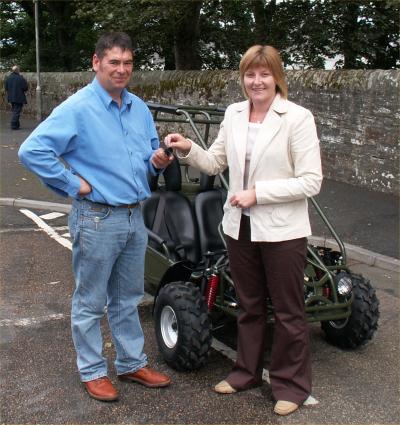 First Prize winner David Dunnet of Wick gets the buggy keys
Below is a list of the other prize winners.
£50 Cash Prize - Reece Smith, Thurso.
4 Quad bike sessions, Donated by W. Gunn, Quoys of Reiss. - Graeme Mcleod, Thurso.
15 year old Malt Whisky, Donated by Highland Waste Services. - Ewan Mackay, Brora.
Bottle of Malt Whisky - Mchael Foubister, Forss.
Bottle of Vodka - Mrs Welding, Lochcarron.
Box of Red Wine - Connor McDonald, Forss.
Bottle of Whisky & Pugwash Lane Tee Shirt - Mrs K.A. Sutherland, Orkney.
Car Vacuum - J Hamilton, Orkney.
Bath Towel - Sophie, Aboyne.
Selection of table beers - David Dunnet, Wick.