18 October 2019
New Balfour Hospital, Kirkwall
18 October 2019
Walkabout to Kirkwall Harbour
2 November 03
Kirkwall Library Old and New



2 November 03
Junction Road, Kirkwall


2 November 03
St Magnus Cathedral, Kirkwall


31 October 03
Around Kirkwall Harbour


29 October 03
Orkney Communities Web Site
New web site launched 28 October 03
Orkney Blues Festival
26 - 28 September 2003
www.orkneybluesfestival.co.uk
1 July 03
Horse Power Round Orkney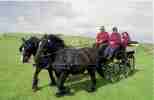 Visitors to Kirkwall are 'chomping at the bit' to experience the town's newest tourist attraction. Horse power will help visitors view the sights of Kirkwall from the comfort of a luxury carriage driven by South Ronaldsay farmer, Geoff Linnitt. Geoff - a member of the Orkney Carriage Driving Association - decided to offer the tours as a way of diversifying his farm business. Geoff and a pair of ponies will take visitors from Hatston Pier,
13 June 03
HIAL Board Reviews Progress at Kirkwall Airport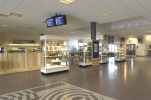 Progress on developments at Kirkwall Airport were reviewed today (Friday 13 June 2003) by the directors of Highlands and Islands Airports Limited during their June board meeting in Orkney. Board members toured the airport and met staff during their visit on Thursday prior to their formal meeting today. Airport staff members were also praised for their performance over the past year that saw passenger numbers at the airport increase by 15% to 111,445 for year ending 31 March 2003.
Orkney Folk Festival 22 - 25 May 2003
Northlink Ferries are offering to Festival Patrons 30% discount when travelling between 17th May - 2nd June for both passengers and vehicles.

Orkney Teams Had A great Day At The Mini Rugby In Wick 26 April
Over 50 boys in rugby teams from Orkney were just a few of the teams from all over the Highlands and Islands playing in the Mini Rugby competitions at Wick High School today. Orkney teams did very well. We caught up with them after they bought nearly all the ice cream in the Harbour Cafe. With seriously good weather the boys had lunch at the school after the rugby and then took the afternoon to look round the town before getting the ferry from Gills.
23 April 03
HAMNAVOE MAKES MAIDEN VOYAGE FROM STROMNESS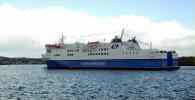 The £28m NorthLink vessel, MV Hamnavoe, made her first commercial sailing on the Pentland Firth route on Monday, April 21 after engaging in a busy weekend of public events in Stromness and Scrabster. Two trailers, 52 cars and 250 passengers were welcomed aboard the maiden voyage.
Birsay - A parish of Mainland the largest island
More Kirkwall From the air - Start Here
More aerial views with Helliar Holm

Aerial Views
Starting a run of Orkney Aerial Views with Kirkwall. The pictures are shown as a whole and then some of them zoomed in on different sections to allow a better view of some areas. More to come in the Kirkwall series and a few later of some of the other islands all from the air. Later will add other pictures as time allows. The URL for the section is easy.... www.caithness.org/orkney