"LOCAL HEROES" FEATURE PROMINENTLY IN A HIGHLAND EXHIBITION WHICH CELEBRATES 300 YEARS OF NATURAL HISTORY

Great Glen House - Scottish Natural Heritage Headquarters Inverness
Leading figures from the Highlands' natural history community gathered at Great Glen House in Inverness recently to celebrate 300 years of recording the area's nature and wildlife. The event was the launch of Scottish Natural Heritage's (SNH) Highland Naturalists exhibition and website – one of SNH's key contributions to the Year of Highland Culture 2007 events programme.
The exhibition, officially opened by Highland Council Convener, Sandy Park, tells the stories of people who have passionately studied and recorded the area's landscape and wildlife with images, writings, sounds and artefacts. It is now on display for free public viewing at the SNH headquarters in Inverness over the next three months.
SNH Chief Executive Ian Jardine welcomed the Highland Council Convener. He said: "SNH set out to deliver its contribution to the Year of Highland Culture 2007 with a project focused on the important role natural history plays in people's lives. In the Highlands we have a great tradition of the study of natural history and this is reflected in the work of the individuals featured in this new exhibition. We are especially delighted to host this exhibition here at Great Glen House at a place where, historically, the links between Highland people, landscape and wildlife have been closely interwoven."
| | |
| --- | --- |
| | The exhibition features a selection of 30 naturalists who, over the last 300 years, have influenced the way we think about nature conservation or have made an impact by their work to understand and help conserve a particular species. They include Mary Legg, Highland Council's senior Countryside Ranger in Caithness, who as a keen field naturalist, has inspired many school children in the north with her work in environmental education; |
Alan Joyce, formerly an inspirational biology teacher at Golspie High School and regarded now as a leading authority on freshwater algae in Scottish lochs; highly respected Sutherland botanists Ian and Pat Evans from Nedd who are tirelessly active in The Botanical Society of the British Isles, Assynt Field Club and Sutherland Partnership Biodiversity Group; and Robert Dick, the 19th Century Thurso baker who was entirely self-taught but went on to become a famous and respected authority on plants, insects and geology. Robert Dick's collections of 200 mosses, ferns and flowering plants, together with hundreds of specimens of bees, beetles, butterflies and other insects are now housed in Thurso Museum. He also collected fossils and had several new fossil fish, such as Dickosterus, named after him.
The Highland Naturalists exhibition uses artefacts, text and pictures relating to the work of 15 of these and the remaining Highland Naturalists feature in the website which will go "live" later on this year.
Highland Council Convener Sandy Park said: "This fascinating exhibition reflects the impact individual people can make in contributing to the wider community's greater knowledge, understanding and enjoyment of the world around them. In Highland Naturalists SNH have given us a distinctive and commendable addition to the Year of Highland Culture 2007 programme in a stunning setting on Craig Dunain. I hope many people will take the opportunity to visit Great Glen House to enjoy these exhibits, and learn about some special people who have so inspired others to take an interest in natural history over the last 300 years."
SNH development officer for Caithness & Sutherland, Ian Mitchell, said: "SNH's initial idea was to look at the work of one or two eminent people from the past who had made a name for themselves studying the wildlife and landscapes of the Highlands. However, the more we looked at this the more we realised there were lots of people; dedicated, fascinating and pioneering people who have done so much to improve our knowledge of the natural world in the north and to share that knowledge with others. The thirty naturalists are a mix of young and old, men and women, but all with an insatiable curiosity about nature and a desire to understand it.
Mary Legg clearly deserves her place in the Highland Naturalist's Hall of Fame. She has been a Highland Council Countryside Ranger in Caithness for 18 years, based at Dunnet Bay, and has, over this time, developed a very wide knowledge of the flora and fauna of the area. She is a great communicator, has led innumerable guided walks in Caithness, and worked with most of the schools in the area helping to raise awareness of environmental issues and explaining what natural wonders there are on our own doorsteps."
Mary was interviewed for the Highland Naturalists project and acknowledges that her inspiration has come, not only from the rich wildlife of Caithness, but also from a number of people including the late Jimmy Gunn from Reay. Jimmy was an excellent all rounder in natural history and a great communicator. He had a great knowledge of the county, was very well respected, and is fondly remembered, by many.
Mary admits that Caithness is a strange place for someone who likes hills and mountains, but rightly points out that the coast is unbelievably beautiful and the peat bogs have their own hidden beauty. She also enthuses about some of the local "specialities" such as Scottish primrose, and holy grass. Robert Dick the 19th Century Thurso baker (also from her home county of Clackmananshire) found the first Hoary Whitlow Grass growing on Morven. Mary, accompanied by another friend and botanist, Bing White, found it still growing there two centuries later.
Speaking about her work as a Countryside Ranger, Mary explained "Rangers are very lucky. In the summer I take parties of adults and children around. The kids in particular do not need to be enthused, they are naturally enthusiastic. There's always something out there in the natural world that will surprise and delight if we only take the time to look around."
She added "I am always optimistic about young naturalists of the future. Young children may lose interest as they get older but it is something that they can come back to in later life – like gardening."
After 2007, the Highland Naturalists website will continue to be developed as a legacy and lasting educational resource, expanding its archive and introducing the work of other naturalists.
The Highland Naturalists exhibition is open to the public at Great Glen House, Inverness, weekdays from 10am – 4.30pm until the end of September.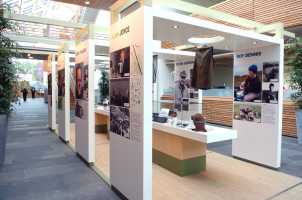 The Highland Naturalists Exhibition
Getting To Great Glen House
Great Glen House, Leachkin Road, Inverness, IV3 8NW
Tel: +44 (0)1463 725000
Fax: +44 (0)1463 725067
Getting There
Map Route - Multi-Map
Map Route - Google
Scottish Natural Heritage (SNH)


Holy Grass Hierochloe odorata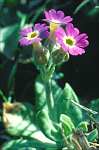 Scottish Primrose Primula scotica