Initiative At The Edge - South East Caithness
24 August 07
NEW PLAYING FIELD EQUIPMENT AT DUNBEATH
South East Caithness Development Group are delighted to announce that a project to supply and install new play equipment in Dunbeath Playing Field has been successfully completed. The group worked in partnership with the community council, the community centre, the Highland Council who installed and will maintain the equipment, and the Rural Development Small Award Fund who provided the funding to purchase the equipment.

Neil Buchanan Chairman of the Community Council said, "thank you to the funders and the council as the play area now has equipment suitable for pre school as well as primary school children. It is all part of a long term strategy to give all ages in the Berriedale and Dunbeath area entertainment without having to travel very far."

Eric Larnach Development Officer said, "This is part of our development plan to improve the facilities available for the children and youth in the South East Caithness area". "We hope this will encourage locals to stay in the area to bring up their families here, and also attract new families into the area". "If the youths do leave the area for what ever reason, that they will have good memories of this area and may return at some point in their life".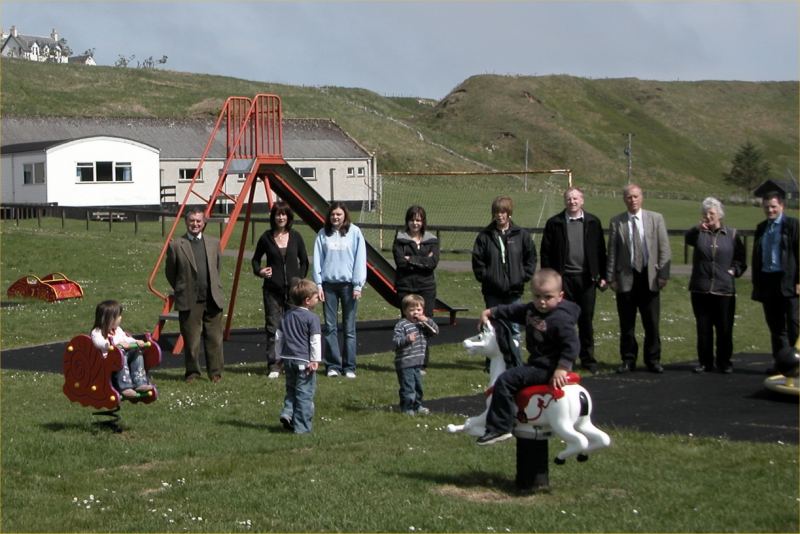 Click For Larger Photo
In the photo from left to right:
Iain Gunn, Chairman South East Caithness Development Group; Audrey Mackenzie, Mother; Ellen Irvine, Pre School Leader: Jenna Sutherland, Mother; Lee Cormack, Hall Committee; Eric Larnach, Development Officer; Neil Buchanan, Chairman Community Council: Elizabeth Cameron, Secretary Community Council; Stuart Bell, Highland Council.
The kids enjoying the new equipment, Natalie Cowie, Ross Cormack, Steven Cormack, Brian Irvine.