Initiative At The Edge - South East Caithness
1 August 2007
New Transport Initiatives for South East Caithness
South East Caithness Development Group is happy to confirm that 2 transport initiatives have been approved by Highland Council and funding is in place to provide the services until 31st December 2011. As with all contracted services they are subject to survey and review. If there is no evidence of use then we would have to consider its provision.
David Summers, Highland Council's Transport Development Officer, said "I am very pleased that we have been able to support this service. The community has made a strong case for it and I hope it succeeds."
The Rapsons evening services will operate on Thursday, Friday and Saturday between Wick and Dunbeath.
The services will start on Thursday 9th August 07.
Please see timetable below for details.
Wick > Lybster > Dunbeath

Dunbeath > Lybster > Wick

75E

Thursday to Saturday

HCB

Thursday to Saturday

HCB

HCB

75E

75E

75E

Wick, Tesco

2015

Dunbeath

1815

2100

Wick, Somerfield

2020

Latheronwheel

1820

2105

Thrumster

2030

Latheron

1822

2107

Ulbster

2035

Lybster, Harbour re

1829

2114

Lybster, Harbour re

2045

Ulbster

1839

2124

Latheron

2052

Thrumster

1844

2129

Latheronwheel

2054

Wick, Somerfield

1854

2139

Dunbeath

2059

Wick, Tesco

1859

2144
In brief a bus leaves Wick at 8.15pm and travels to Dunbeath
In brief, buses leave Dunbeath at 6.15pm and 9.00pm and travel to Wick
These services will cover issues identified in recent consultations. Transport arriving in Wick before 7.00pm allowing people to do hospital visits, late shopping, college classes, swimming and visit relations and friends. The bus leaving Wick will allow people to return from hospital visits, late shopping, college classes, swimming, youths attending football and music projects, visiting relations and friends and anyone working late at the new retail developments in Wick. Please make full use of the services as it is a case of "USE IT OR LOSE IT
Community Transport For Dunbeath Area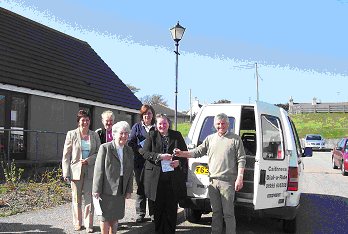 The five seater people-carrier which has wheelchair access will be stationed at Dunbeath Daycare Centre. The scheme is being run by Caithness Rural Transport (CRT).
Coreen Campbell CRT Manager reports "The Dial-A-Ride service in Dunbeath is now in its second year of operation and has proved so successful to the residents in the area that we have secured further funding from Highland Council which will enable us to continue the service until December 2011. We operate the existing service with volunteer drivers all of whom are Midas trained, and can foresee a need to increase our pool of drivers as the usage continues to increase".
The vehicle has regular runs ferrying the elderly people to and from the Dunbeath Daycare Centre. Outwith the regular runs, the vehicle is available for use within the local community and it is expected the Pre-school, school, youth, sports and any other community groups will make full use of vehicle. Membership to the scheme costs £1 per person. There is a charge of 15 pence per mile to any user to help cover the running costs. Please make full use of the vehicle as it is a case of "USE IT OR LOSE IT".
If you want to book, or find out more information please contact Coreen on 01955605588.