Community Transport For Dunbeath Area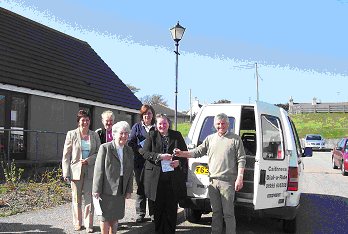 The handover of the keys taking place at Dunbeath Daycare Centre on 10th May 06. In the picture are some of the voluntary drivers with their MIDAS Certificates; Coreen Campbell (far left), manager of Caithness Rural Transport; and Clive (our old milkman) Duchart (far right), of CRT. In the forefront a happy Gladys Lyon of Dunbeath Daycare Centre who has worked long and hard to get a community vehicle in Dunbeath.
The five seater people-carrier which has wheelchair access will be stationed at Dunbeath Daycare Centre. The scheme is being run by Caithness Rural Transport. If you want to book, or find out more information please contact Coreen on 01955605588.
The vehicle will have regular runs ferrying the elderly people to and from the Dunbeath Daycare Centre. Outwith the regular runs, the vehicle is available for use within the local community and it is expected the Pre-school, school, youth, sports and any other community groups will make full use of vehicle. Membership to the scheme costs £1 per person. There is a charge of 15 pence per mile to any user to help cover the running costs. Please make full use of the vehicle as it is a case of "USE IT OR LOSE IT".
The service is being subsidised through support from Caithness and Sutherland Enterprise, the Highland Council, the Development Group and Initiative at the Edge.