Caithness.org is pleased to promote this new and rapidly expanding activity in Caithness. From the gentle run along the beach using the power generated by various sizes and types of kite this sport can at times using bigger kites generate all of the thrills and excitement of some extreme sports. Like many activities it needs to be approached with safety in mind and that is why we are delighted to announce another series of courses At Dunnet in April 2003. Here are some preliminary dates for some buggy courses at Dunnet over Easter. If you are interested or just curious come along and take a look. Last years course were very popular so to ensure a place you need to book. Further courses may be arranged in the summer.
Kite Buggy Course
St Andrews, Troon - All Year.
For more details contact grantgolding@hotmail.com
Easter and Summer Courses At Dunnet.
2003 Courses In Caithness
Monday 7th April - Tuesday 8th April
Wednesday 9th April - Thursday 10th April
Friday 11th April - Saturday 12th April - Sunday 13th April
There will be 4 spaces on each day for the Powerkite/Buggy Course and 2 spaces per day for the new advanced/freestyle buggy course.
The Powerkite/Buggy course usually runs 10am - 3pm.
This course covers safety, site assessments, Kite skills and Basic buggy skills. It covers everything you need to get into this exciting sport or if you decide it isn`t for you you will have had a good day at the beach trying something completely different!
The cost for this course is £60 per person which includes a 10% discount for Windthings
The Advanced Buggy Course is aimed at people who have got to a good basic level in the buggy or completed a buggy course.
The course covers coping with larger kites/more power and freestyle tricks like power slides, 2 wheels, reverse and spins. You should be competent with turns, upwind/downwind and travelling at speed.
Your skills will be assessed at the start and the course will be tailored to suit your needs. As this is a brand new course from the British Buggy Club the cost is still under discussion. You will receive a 10% discount voucher upon completion of this course.
We will also be using new equipment this season including 2 complete sets of the fantastic new kite the BULLET from flexifoil.
Grant Golding is the Kite Buggy instructor for Windthings in Edinburgh www.justfly.net and is one of the few Kite Buggy Instructors in the UK to be qualified for the Advanced Buggy Course.
All Course Candidates will be Insured by the British Buggy Club
WINDTHINGS www.windthings.co.uk
www.justfly.net
Other Kite Places
Kite Buggies On Ice
Kit Kat Ice Kites Expedition
Did not make the pole this time but check out what happened
Advance Kites
BBC video (Realvideo).
Kites.org
Masses of Kite Links here.
Useful Links
Tide Predictions From UK Admiralty
Caithness.org Weather Links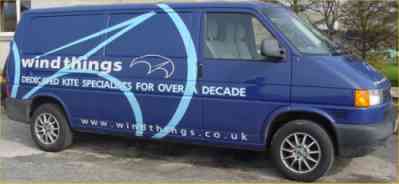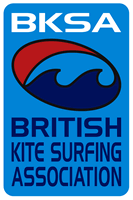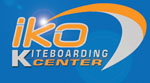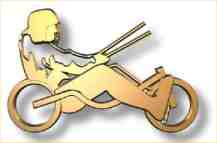 Wide Open Long Sandy Beach
With low gradient, smooth firm sand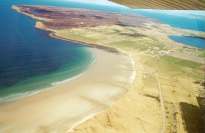 Dunnet Beach From The Air
24 March 03
Loadsabuggy Pics From Dunnet At Kite Power
More Dunnet Beach buggy pics from last year as Grant gives the web site a spring clean.
1 March 03
Kite Experts Lining Up For April Kite Week In Caithhness
Monday 7 April - Sunday 13 April 03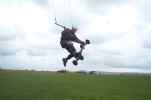 The Kite Buggy courses set up for April will be further enhanced by the spectacle of some of the top guys in the sport arriving in the county. Take a look at the photographs to see some of what these guys can do with kites.. They will be doing it on Dunnet Beach - a wide open expanse of sand on the Caithness coast and made famous in the days of Sand Yachting. More than just buggies these guys have other areas of expertise and you can expect to see some difficult moves being performed and highly acrobatic as they take to the air.
Grant Golding an advanced instructor who will be running the courses has some able help in these stunt performers making the trip for the week. Stuart is the Managing Director of Windthings, and Adam and Matty from UK Kiting

20 July 03
Something different!
Part 3 - Kite Mountain Boarding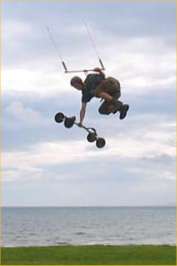 The same principals as buggying but with a mountain board, at the extreme end of the sport huge hangtime beyond that of skate boarding, bmx riding and snowboarding means tricks like board off`s can be done, your imagination and nerve is the only boundry.
The course is ran in the same format as the buggy course but uses the mountain board, we can also offer advanced coaching sessions for advanced riders from Mark Somerville seen above.

18 July 03
Try something different!
Part 2 - Kitebuggying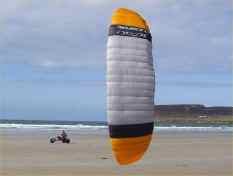 Imagine using mother natures natural forces to cruise down the beach, no noise and no fumes. Kite buggying is fast becoming one of the most popular beach sports around.
The sport can be as sedate or as extreme as you wish from gentle runs down the beach to extreme freestyle fun (Balancing on two wheels, reversing, high speed slides and spins) Age is not a problem, Kite Power Scotland has taught people from the ages of 16 - 72!
The Powerkite/Buggy course
Basic Buggy Course – Includes safety, power kite skills, buggy skills and finishes with a blast down the beach!
This course usually runs 10am – 3pm with a break for lunch. (Times may vary due to tides)
The course is aimed at people who have little or no buggy experience, or kite experience. "A good fun day at the beach" The Course covers safety, site assessments, emergency procedures, kite skills and buggy skills . Course numbers - 4 people more can accommodated with notice.
Cost £65 please book through grantgolding@hotmail.com or www.kitepowerscotland.fsnet.co.uk or 07815 599 719
15 July 03
Try something different!
Part 1 - Kitesurfing.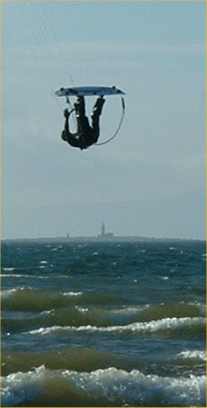 Windsurfing, wakeboarding, paragliding and kite flying all rolled into the most radical, extreme 3D water sport.
Kite surfing (a.k.a. kiteboarding and flysurfing) is the most extreme new water sport. windsurfers, wakeboarders, surfers, paragliders and power kite flyers are all buzzing with excitement as the most dynamic convergence of these disciplines. Discovered by the French, popularised by the Hawaiians, kitesurfing is now going big in Scotland.
Kite Surf Taster Day 1 day introduction to kitesurfing @ £85.00 per person Seen kitesurfing but not 100% sure its for you yet? Maybe you have a friend or relative who'd appreciate a taster day as a gift? This gives you an introduction to the sport with a brief overview of the equipment used and lots of hands on kite flying time using two line water re-launchable kites and introducing the use of the board with a view to giving you your first sensation of kitesurfing. Nb It should be noted that the Taster Day is intended only to give you the experience of kitesurfing and is not intended to replace the full IKO course syllabus.
For more info or details on the full IKO 3 day course go to http://www.kitepowerscotland.fsnet.co.uk/dunnetsummer2003.htm
Spaces are limited so book soon to avoid disappointment.
Book via the above address or contact Craig on craigwearing@supaworld.com or call on 07813 921 843.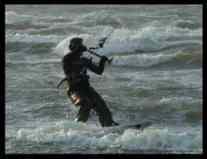 Courses 21 - 28 July 03



Details and booking now available
Summer Kite Buggy Courses


The full windthings team are due up with the windthings traction school offering courses in Kitesurfing, Buggying, Basic powerkite flying, Advanced Buggying, Advanced Kitesurfing and Advanced Mountain Boarding.

Courses in Caithness Are held at Easter and Summer
For more info and booking go to www.windthings.com and www.kitepowerscotland.fsnet.co.uk Kite surf details at.....
http://www.kitesurfscotland.supanet.com/
The buggy course is £65.
21 April 03
Kite Days At Dunnet On Windthings
The Windthings web site is featuring Caithness as a place to come to get great kiting conditions following a highly successful and enjoyable few days. The guys will be back in the summertime with more courses and the latest kites. If you are interested in courses then just keep checking from time to time. In the central belt of Scotland Grant Golding runs a variety of levels of courses at beaches and details can be found via Kite Power Scotland
13 April 03
Kite Buggy-Surf-Board Days At Dunnet





Some of the top kite people have not gone home but lessons are continuing over the next few days at Dunnet and plans are already underway for a week in the summertime. Just keep checking for details....
13 April 03
Summer 2003 Courses Information
There will a week in 2003 - dates to be decided
Want To be emailed about Summer Courses at Dunnet then contact Instructor Grant Golding grantgolding@hotmail.com
1 April 03
Mountain Board With Kites Course
There are still spaces available for Kite Buggy courses and new spaces for the kite Mountain Board Course which is a new course similar to the buggy course but using mountain boards, this course will be ran on Sat 12th April by Stuart Potter of Windthings.
The Mountain Board Course deals with Kite control then Basic Board skills etc. The course is £60 per person.
E mail grantgolding@hotmail.com to book either the buggy course or the mountain board course.
Grant will be arriving on Tuesday and will be joined by Stuart (managing director of Windthings) on Friday.
We will have 2 complete sets of the new Bullet by Flexifoil for people to try and when Stuart arrives there will be the Storm 2 by Flexifoil plus much more.
We are looking at making this a twice yearly event at Easter and in Summer, and hoping it will eventually culminate in residential courses