She was born on the 11th of January 1902 at Loch Roy, Invernaver, Bettyhill. She is the daughter of Donald (Hamish) Mackay and Christine Bell (nee Mackay) (Newlands)
She had two brothers, George and Alexander John and three sisters Isabelle (Belle), Margaret (Meg) and Christine (Teen). Teen lives in Thurso and will be 95 at the end of January.
She attended Bettyhill School and Golspie high School. On leaving school she taught children of shepherds and gamekeepers in their homes as they had too far to travel to the nearest school
In 1920 Jessie started her job at Halkirk Post Office. (wages 15 shillings a week plus lodgings)
Post Office was open 8.00am - 8.00pm plus half an hour to do the daily accounts, six days a week with one hour 9.00am - 10.00am for Sunday telegrams. closed only on New Years Day except one hour for telegrams.
It was there that she met her future husband, Johnny Paul, a postman. They married in Reay in October 1922. Johnny died in 1956 aged 63. She was a widow at the age of 54.
She went back to work at the Post Office in Halkirk and latterly at Bettyhill. She retired two weeks before her 70th birthday.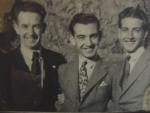 They had three sons -
David , who was born deaf, Ian (deceased) who emigrated to Canada joining the Canadian Air Force and Gerald.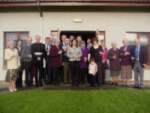 The boys all married and have five children each, giving Jessie 15 Grandchildren. she also has 14 and nine tenths (watch this space) Great Grand children. She also has one Great Great Grandchild.
Family Group
The family has spread out and now stretches from Lerwick in Shetland to Cambridgeshire in England. In Canada the family lives in Saskatchewan and Vancouver.
Many members of her family were at the Pentland View Nursing home in Thurso where she now lives to wish her a happy birthday. she also received a telegram from her majesty the Queen delivered by Graham Dunnet the Lord Lieutenant of Caithness and congratulations and flowers from the council from convenor in Caithness John Rosie