28 July 07
Notice
Crowning Of Gala Queen Ceremony Switched To Market Square, Wick due To Soft Ground At Riverside
Following advice on safety issues of erecting the stage on the ground at riverside that has become saturated in the past few days the decision was taken to change the location to Market Square. Floats and foot walkers will still begin at the usual place. The route of the gala procession will be as in previous years and not as had been posted on anew route

GALA DAY
SATURDAY 28TH JULY
10am Coffee Morning Entertainment
Majorettes and Highland Dancers Admission £1 Raffle Baking Stall 10am An t-Sireadh 'Eu-Comasach (Adventurers Unlimited) Children's Entertainment Riverside Children £2.50 (8 and upwards) Adults £1 Meet at Boating Shed BOOK YOUR PLACE Tickets available from Blythswood Shop Wick
LIVE MUSIC
LIZ MACKENZIE CEILIDH BAND
AND
EYES OF THE NORTH BAND
IN THE MARKET SQUARE
Post Procession
UNTIL 9.30pm
(Weather Permitting)
6pm Gala Walking Entrants: Judging at
Riverside Rose Garden
7pm CROWNING OF GALA QUEEN AT
RIVERSIDE
9.30 Presentation of Prizes at Assembly Rooms
Master of Ceremonies Mr Eric Farquhar
COLLECTING TINS
To be picked up at Assembly Rooms on Friday 27th July between 6 and 8 pm only
Sun 29th July
3pm Blessing of the Fleet Wick Harbour
Mr John Craw
Mon 30th July
2pm Pet Show Assembly Rooms 50p entry
7pm Children's Cycle Races and Gymkhana Riverside
7.30 Wick Players Assembly Rooms
3 x 1 Act Plays Admission £5
Tues 31st July
10am onwards Viewing Isabella Fortuna plus
Film Shows Old Fish Mart
2pm Baby Show
6-8.30pm 100 years Scout Hall Display
Cub Gang Show Films Admission Free
7pm Children's Fancy Dress and Pipe Band Braehead
7.30pm Whist Drive – Assembly Rooms
£1 entry – Prizes
8pm Kids Disco – Assembly Rooms Children in Fancy Dress Free Others 50p Age limit 14 Spot Prizes
8pm Ladies and Gents Darts Francis St Club
Wed 1st Aug
10.30-12 Children's Walking Treasure Hunt
with Caithness Ranger Service
7pm Caithness Car Club Auto-test Airport
7.30pm New Look Fashion Show Adults £3.50, Children & OAP's £2, Wine & Shortbread included. Raffle.
8pm Scottish Variety Show Pipe Band Hall Admission £5 OAP's £3. Coffee, Tea and Biscuits included
Thurs 2nd Aug Gala Golf Competition All day
2pm Teddy Drive Assembly Rooms Entry 50p
6pm, Wheelbarrow Race – Kids – Airport 50p per wheelbarrow
7pm Bed Race Adults – Airport £1 per bed
7pm Janet MacDonald – Talk and Film Show
Assembly Rooms Admission £1 Children & OAP's 50p Tea and Biscuits included
9pm Gala Golf Competition Prizegiving
Fri 3rd Aug
10-4pm WRI Crafts Baking Stall, Teas – Entry £1.50
2pm Teddy Bears Picnic FIND A TEDDY BEAR AND HAVE A PICNIC (Meet at Swing Park) Riverside Entry 50p
2pm onwards "The Third Millennium Book 1 Encounter" reading Wick Library All Welcome
6.30pm Car Treasure Hunt Entry £5 starting from Assembly Rooms
7pm DEAL/NO DEAL Assembly Rooms Top Prize £200 Wine & Shortbread during Interval Raffle
Adults £3 Children & OAP's £2
Sat 4th Aug
12 onwards Book Signing by Adam, Calum and Donald Risbridger "The Third Millennium Book 1 Encounter" in D.R. Simpsons
1-4pm Antiques Roadshow Assembly Rooms Wick Admission 50p £1 per item for valuation Raffle Refreshments available
2pm Fayre in Market Square LIVE BANDS
Stalls
4-5pm Antiques Auction Assembly Rooms Wick
8pm Barbecue at Riverside Mums and Dads bring the Children for a smashing fun night for everyone
10pm FIREWORKS
Gala Photos at Foot Of Page
Wick Gala Fireworks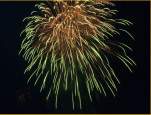 Comments about the fireworks on the Message Board
QUEENS COURT
Gala Queen:
Marianne Hughes
Attendants:
Amanda Sutherland
Vikki Smith
Court:
Susie Lyall
Jade Plowman
Leanne Rosie
Robyn Risbridger
Herald:
Kyle Sutherland
TROPHY TO BE AWARDED FOR BEST
DRESSED SHOP WINDOW
JENNY STEWART TROPHY FOR BEST
SLOGAN ON FLOATS
The Association take this opportunity to thank all the shopkeepers and tradespeople of Wick who so generously donated prizes. Our thanks also go to you, the public, for your continued support and never ending generosity.
Revised - Route of Gala Procession for 2007
From Riverside to George St, onto Henrietta Street, onto Green Road, onto High Street, onto Bridge St, onto Demster Street, through Argyle Square onto MacArthur St into Breadalbane Terrace.