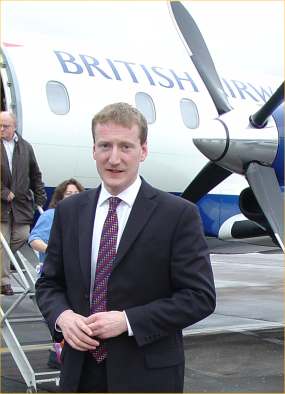 Tavish Scott spoke to Bill Fernie at Edinburgh airport after travelling from Shetland after making his announcement about the new support of Fares Structures in Highland and Islands
Transport Minister Tavish Scott, announced innovative proposals to deliver lower air fares for people who live in the Highlands and Islands. (Tavish Scott is the Member of the Scottish Parliament for Shetland)
In a UK first, the devolved Scottish Government plans to employ the Aid of Social Character scheme. This allows public sector support to reduce air fares in remote and peripheral regions on approval from the European Commission, improving access for remote communities.
Under the ground breaking scheme, residents of Shetland, Orkney, Western Isles, Islay, Jura and Caithness will be eligible for an estimated 40 per cent discount on trips to Inverness, Glasgow, Edinburgh and Aberdeen.
These innovative proposals are a crucial step in delivering on the commitment made by the First Minster, Jack McConnell in 2002. They will stimulate the market and open up competition - boosting the capacity,
frequency and number of air routes available in these areas.
An annual budget of £11.2 million has been allocated to deliver the scheme over the next two years (2006/07 and 2007/08).